Follow us on
Facebook
,
Twitter
,
Instagram
,
Pinterest
,
Google+
,
Youtube
or subscribe to our
newsletter
.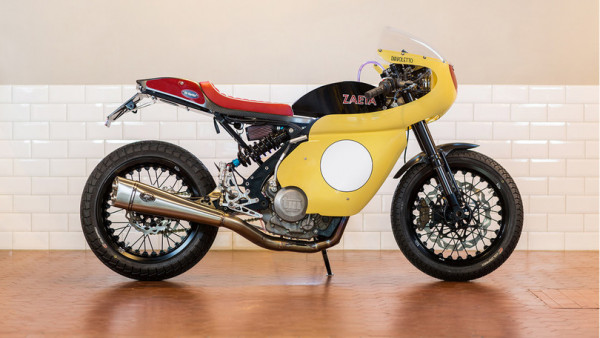 It's a total coincidence, but this week looks like the "single cylinder week". First I posted this cool Kawasaki KLR650 Scrambler and yesterday this awesome Honda FX650. Both built on bases that we don't see that often. This machine right here is even rarer: it's based on a Zaeta 530 DT. Never heard of Zaeta? Don't blame yourself. It's a small Italian brand that was founded in 2008 by Paolo Chiaia and Marco Belli, who met in 2007 in the US at a Daytona short-track race. Short-track and flat-track racing is not a real sport in Europe and as fellow Italians, the two guys began to talk about how they could get this sports to Italy. While talking about this, something else happened:  why not build an own unique track racer, the Italian way? The goal was simple: create a lightweight machine with a powerful engine that is perfect for riding sideways on short and flat tracks. Project Zaeta was born.
Later that year, Paolo and Marco talked with "father of" and former motorcycle racer Graziano Rossi about their project and what would be the perfect machine for MotoGP riders to train on. Rossi himself is a strong believer that "sliding around on the dirt" not only is beneficial for the fitness of GP riders, but also is the best practice for body positioning, weight distribution and wrist-to-traction control. So the first prototype actually was built for the Rossi's and was built on a J&M frame with a Yamaha YZ450 engine. With a total weight of 110kg (240lbs) and around 50hp the perfect ingredients for rocketing on the dirt tracks.
The 450 engine soon was replaced by a 528cc Single from Pesaro (also from Italy) which if built for TM (which are considered to be the lightests MX machines) which resulted in a (street legal trim and Euro-3 compliant) 55hp on the rear wheel to push 115kg (250lbs). Pretty impressive! Due to the use of anti-corodal 6082 billet aluminum for the frame, swing-arm, hubs, rims and triple clamps, all built by IN-Motion, the bike is not only strong but also low on fat. Zaeta offers now three factory machines:
450DT: the "early days" machine
530DT: the real dirt tracker
530SE: a more road oriented special edition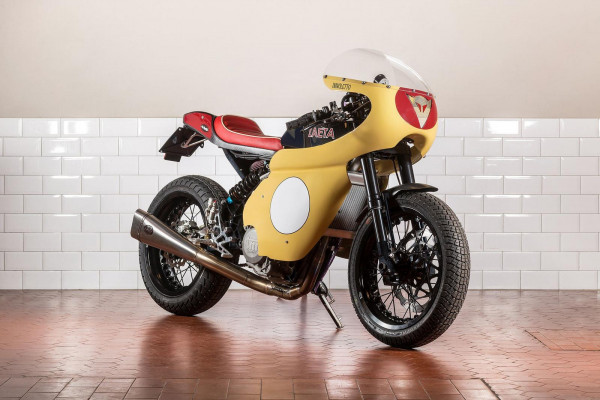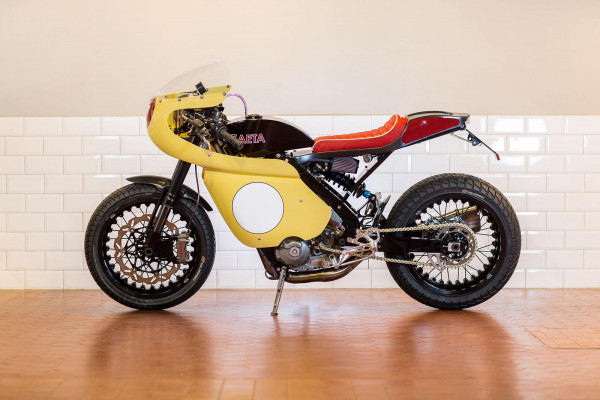 So, now you know a little about Zaeta. But what do we have here? Well, this is a Zaeta 530 Cafe Racer and it's called "Diavoletto" (Devil) It's the result of a collaboration between custom motorcycle builder Mr. Martini and Dainese. Based on the Zaeta 530DT and built for introducing a new heritage line from Dainese on the Motor Bike Expo 2017 in Verona last week.
To give the Zaeta that typical classic cafe racer look Mr. Martini created a beautiful full fairing with retro shapes with the Dainese logo in the headlight. The rear end is from carbon fiber with a handmade leather seat, of course finished with the Dainese logo. To contrast the yellow hull, a lot of black was used such as the gas tank, rims, hubs and suspension (both from Öhlins). Stopping power is delivered by Brembo and a Zard exhausts screams out the sound of that punchy 528cc engine. Both simple and high-tech combined in one machine with the right details on the right place.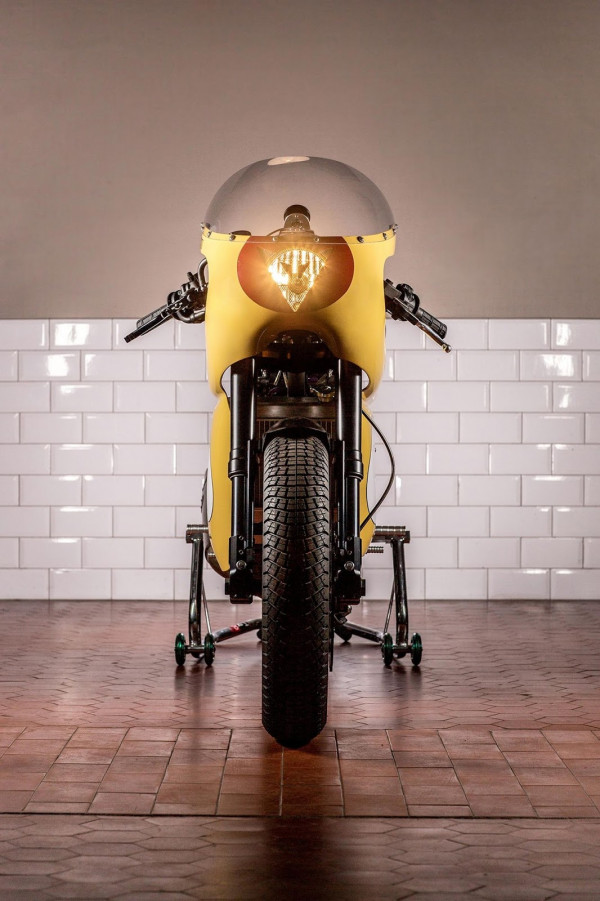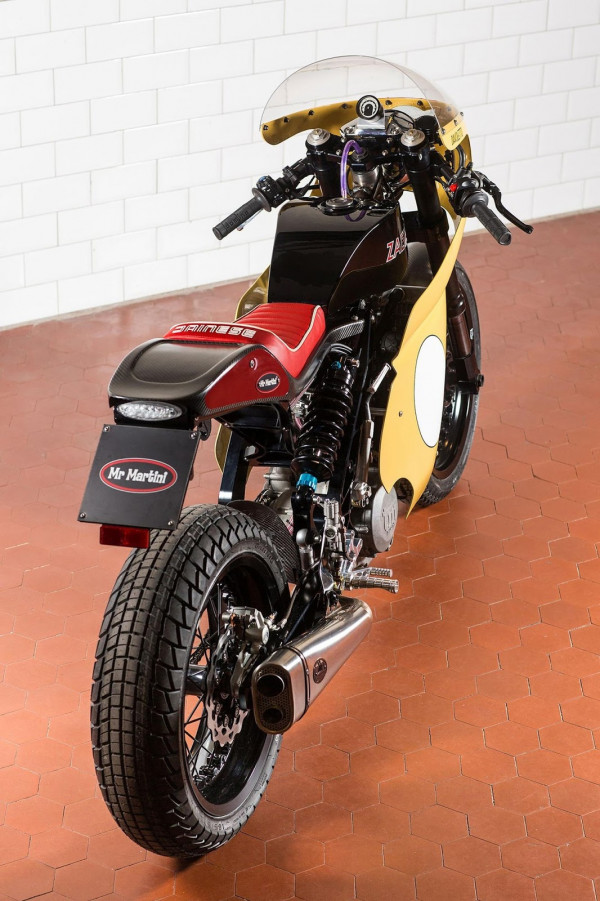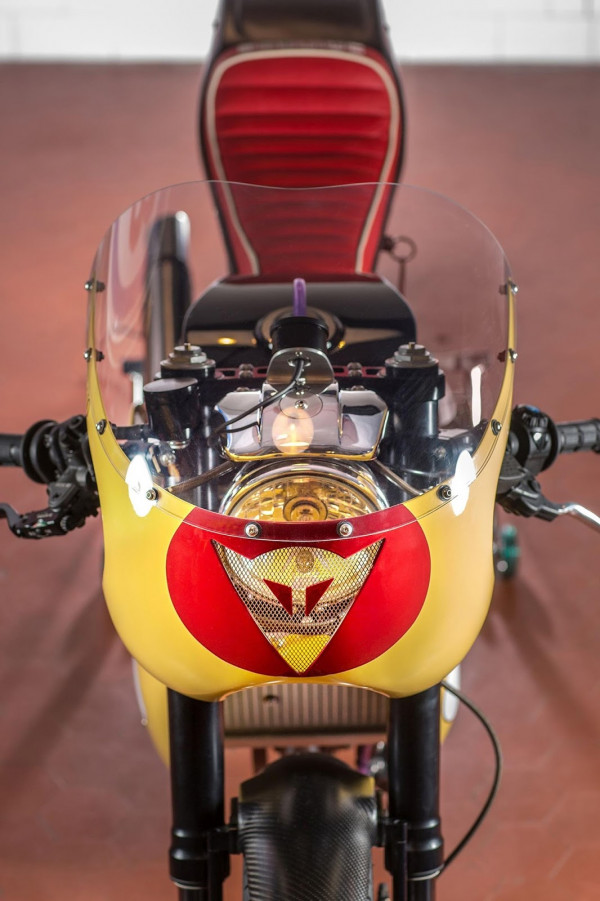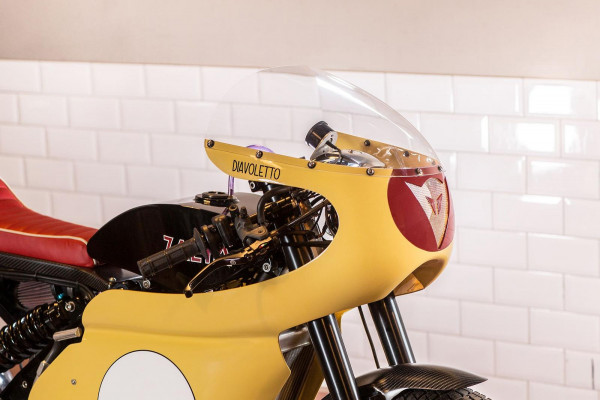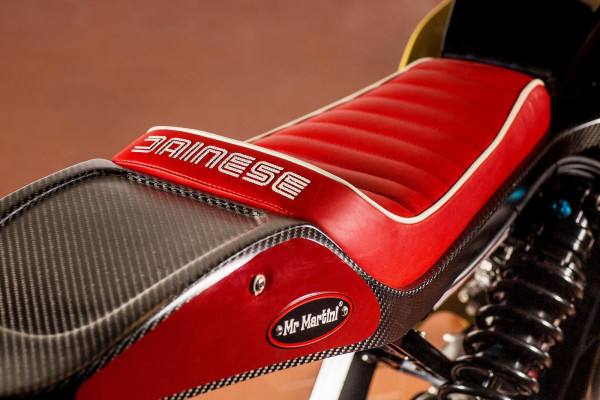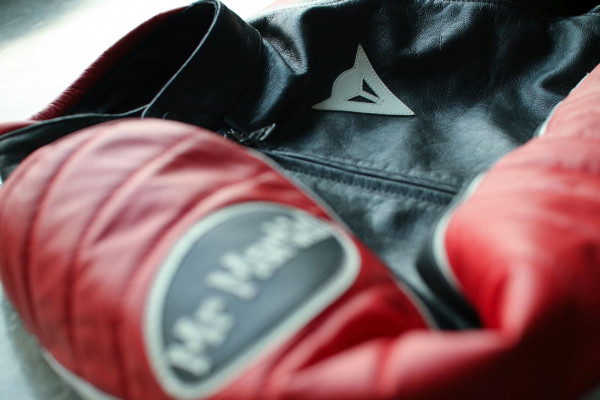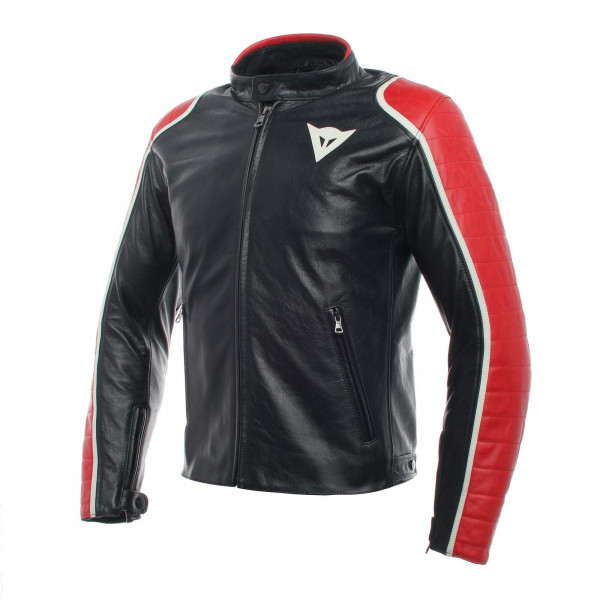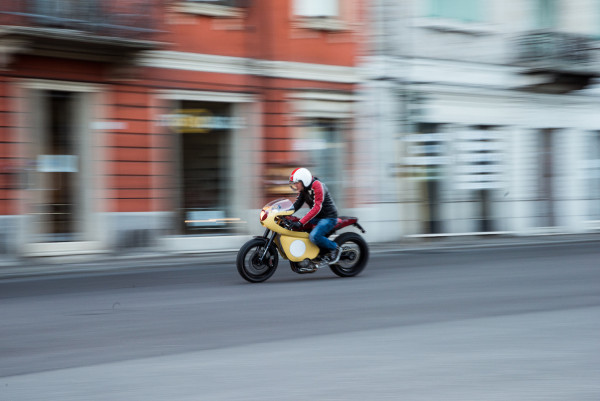 Share This Story, Choose Your Platform!
Tags