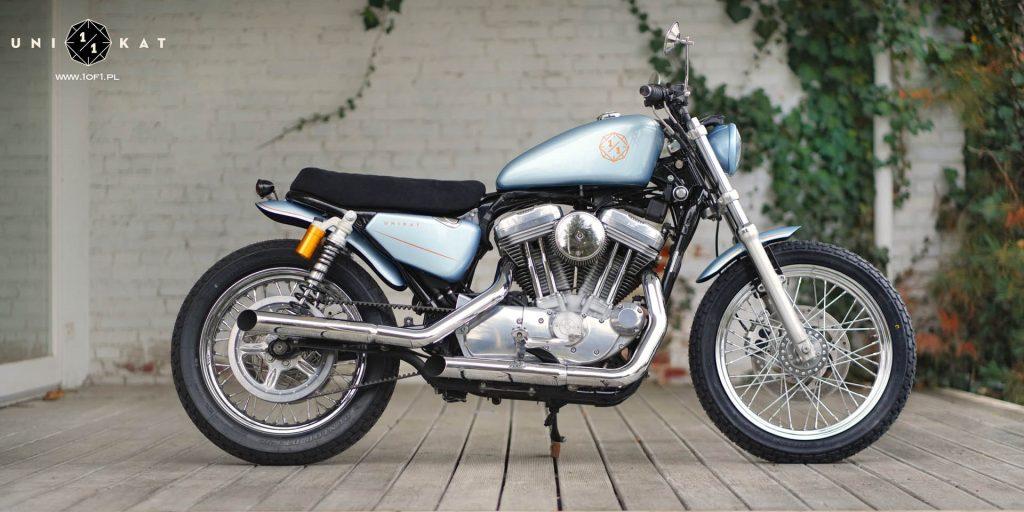 On a cold winter day in Wroclav
It was a cold winter day when BikeBrewers took the trip to pay a visit to the digs of UNIKAT Motorworks. It had been a visit which was long overdue.
We have been writing about Grzegorz Korczak and his team of highly skilled professionals for many years and each time he has managed to surprise us with incredible gems that rolled out of their workshop.
It was a long ride to get there from the, but fortunately there was no heavy snow in Poland at the time, which made for a long but comfortable ride. Grzegroz was already waiting for us with a nice cup of coffee and local pastries, but we were in for a bigger treat.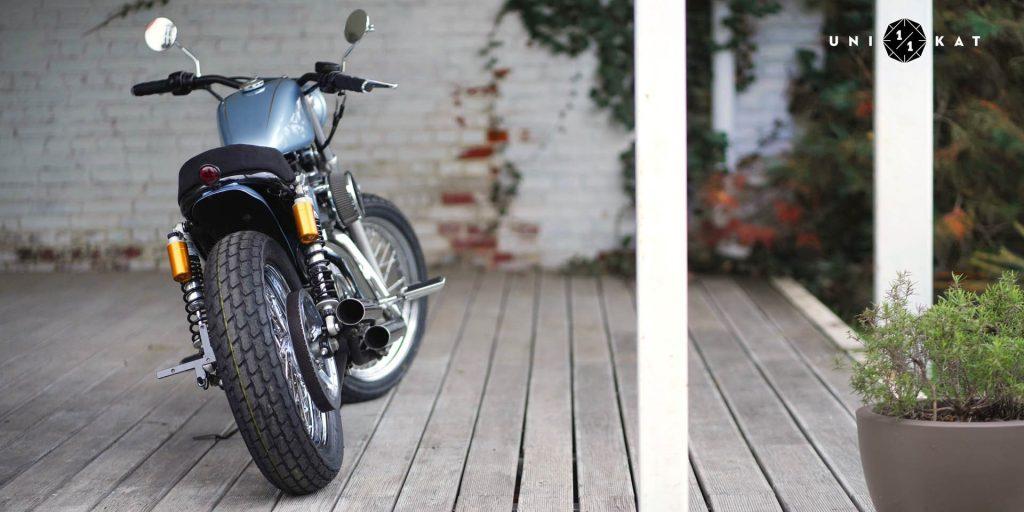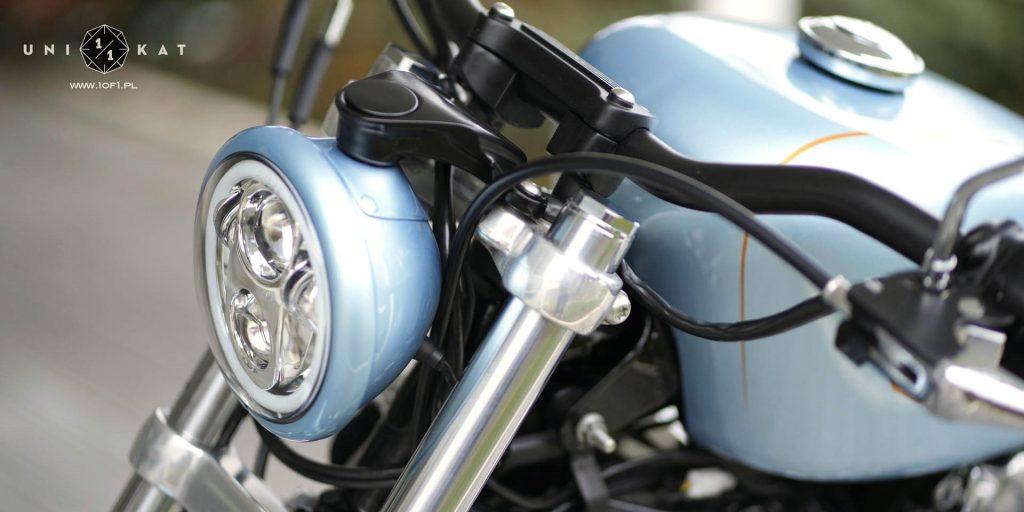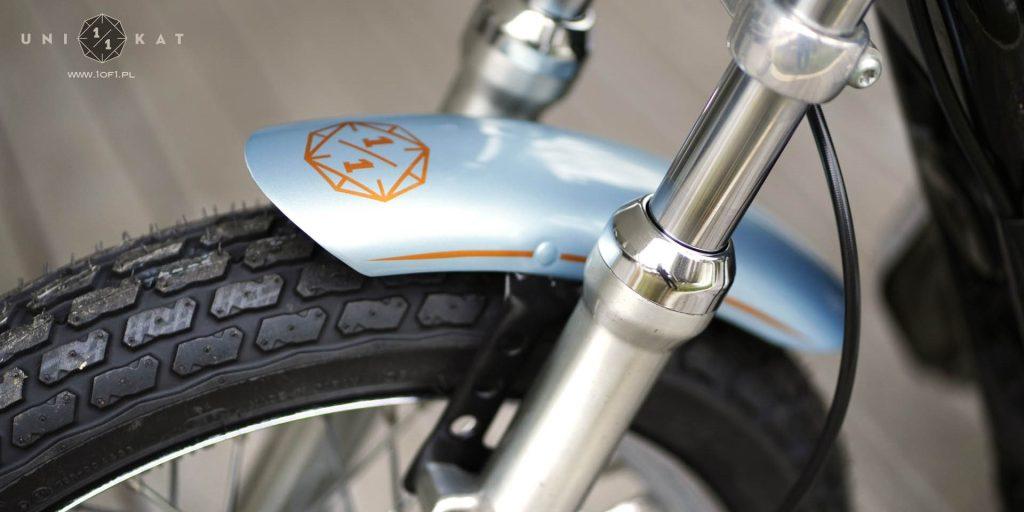 About UNIKAT
Grzegorz Korczak– a graduate of the Lodz Film School (trained as a cameraman), repeatedly awarded at international festivals; director of special effects (including an Oscar nomination for "Rabbit a la Berlin"). As a visual artist, he has exhibited his works in the most important museums in Poland, and thanks to his creativity and creative courage, he has collaborated with artists around the world.
Now he uses his creative skills to spoil custom bike afficionados with the magnificent fruit of his imagination.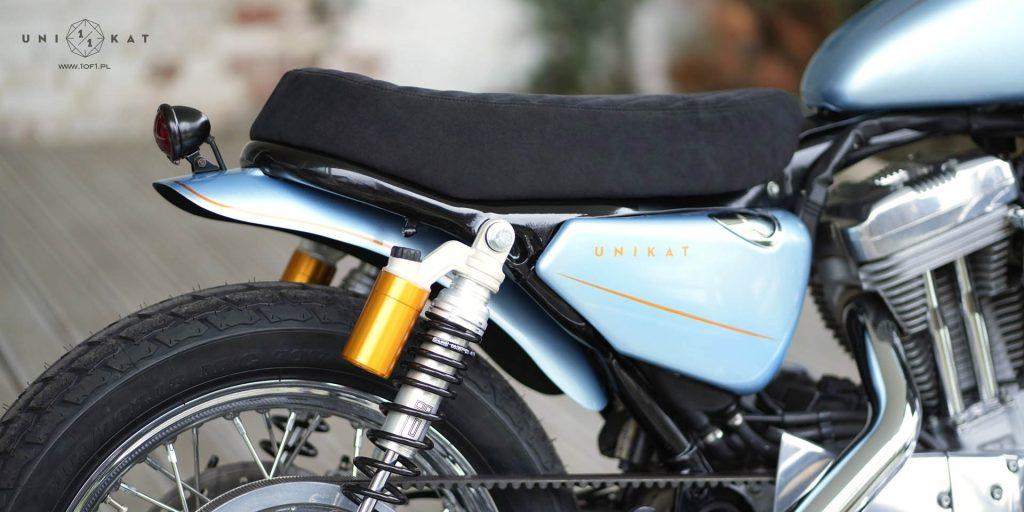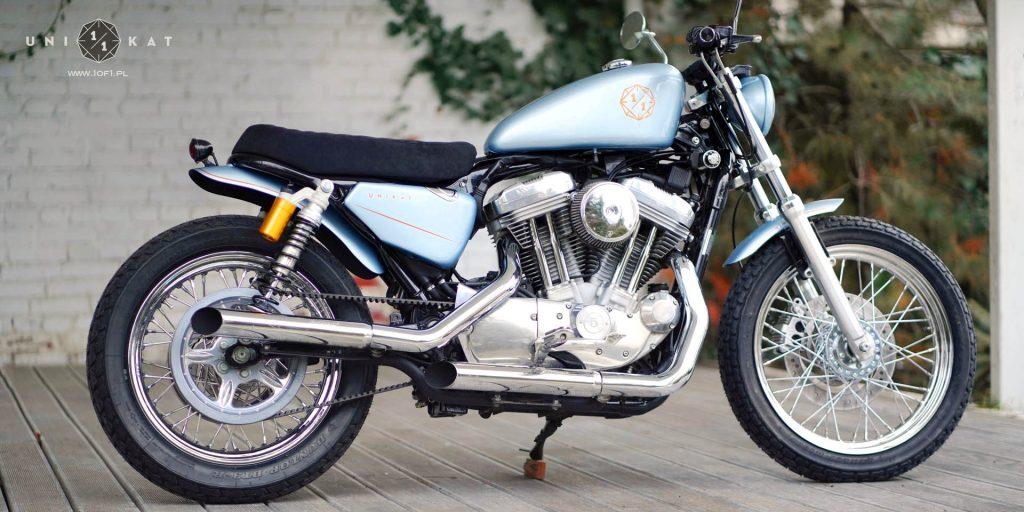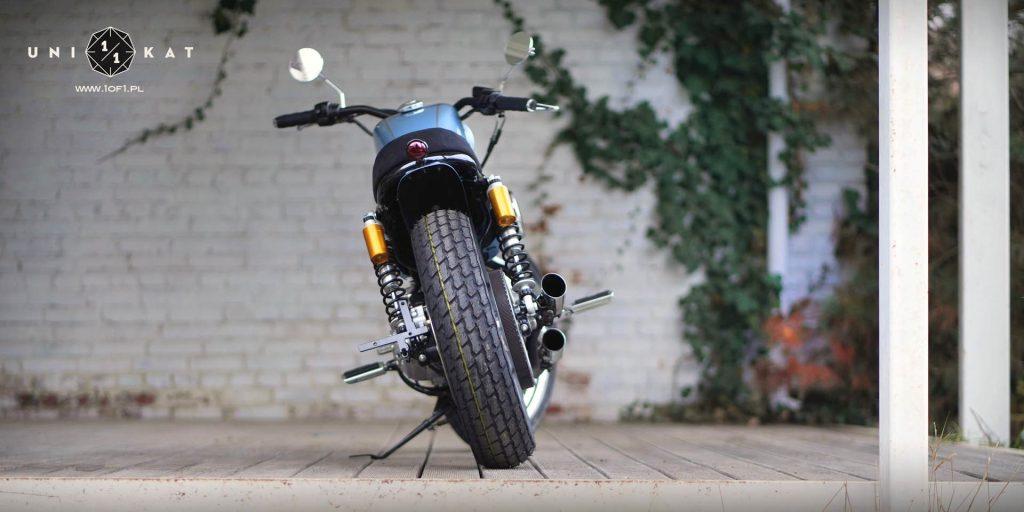 Every machine we have been writing about is even more special than the one before. A recognizable feature of UNIKAT machines is their extraordinary appearance, taken to the limit of perfection.
A true modern day creator, Grzegorz motorcycles are designed virtually, before his colleagues start fabricating the bike in their well equipped workshop. 
It is often from scratch they start their work on a bike, turning a, sometimes decades old, machine into a true head turning piece of art.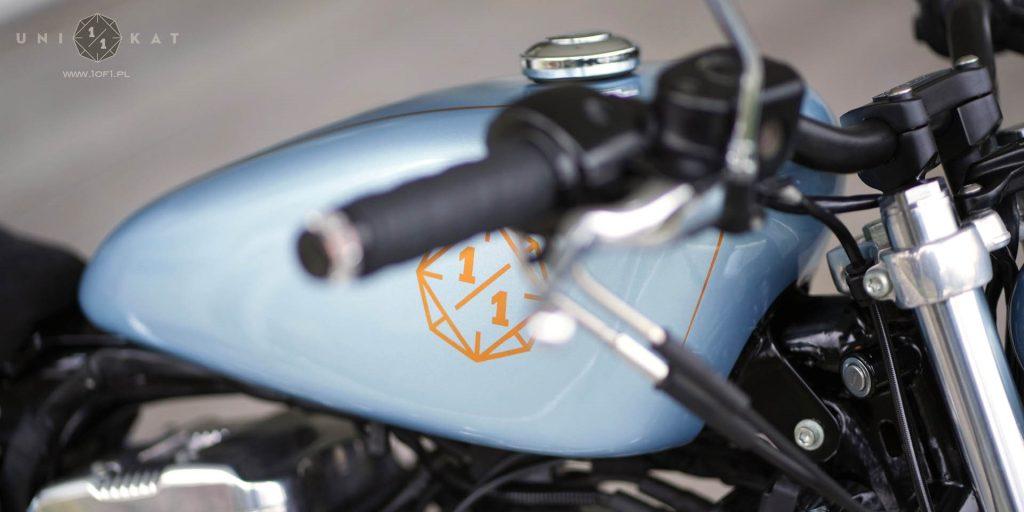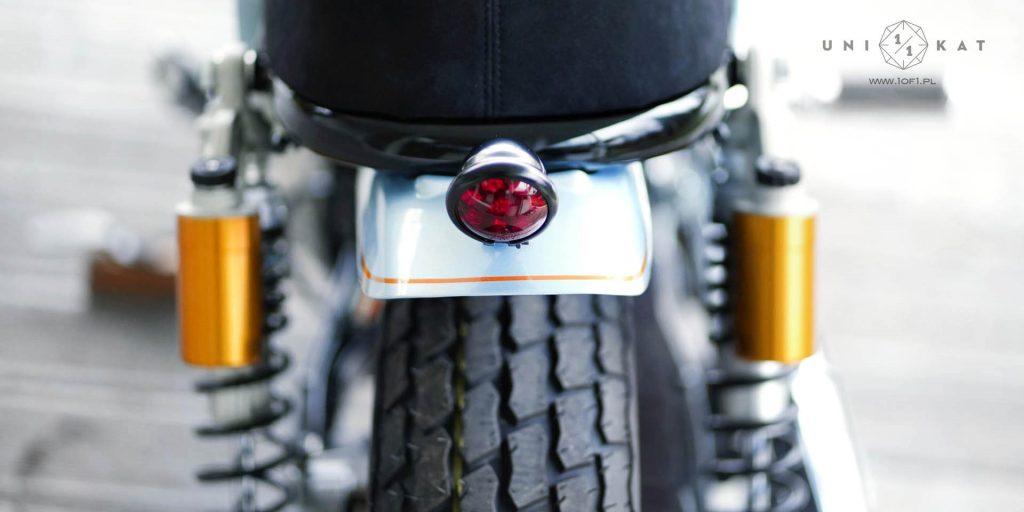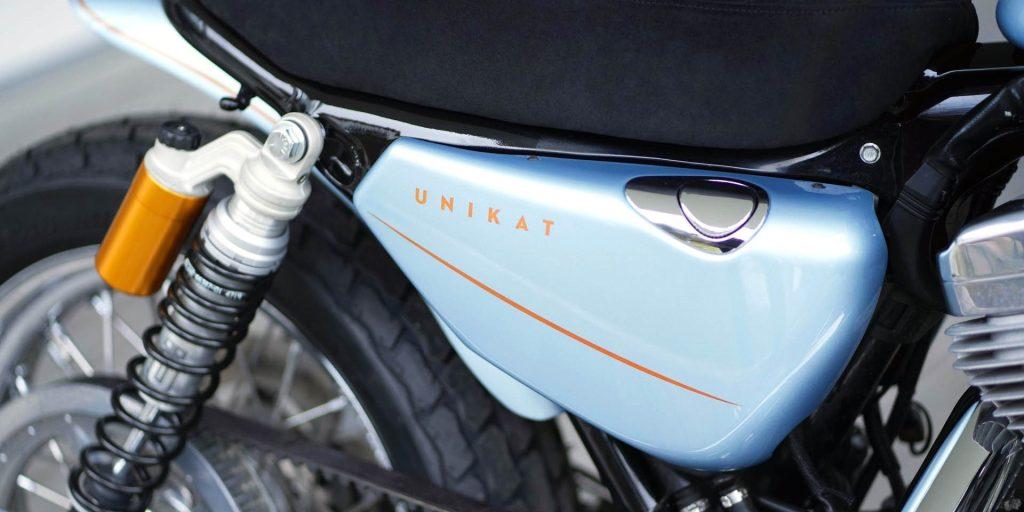 Harley Davidson Sportster 883
This can also be said of the 2006 Harley Davidson Sportster. In just a few years it will be celebrating its 20th birthday. Gearing up for this occasion, its owner decided to let the UNIKAT team handle the intensive mechanical spa treatment.
With the coffee in our hands we walked to the showroom where the blue diamond was shining rays of light, illuminating the place and silently screaming for attention.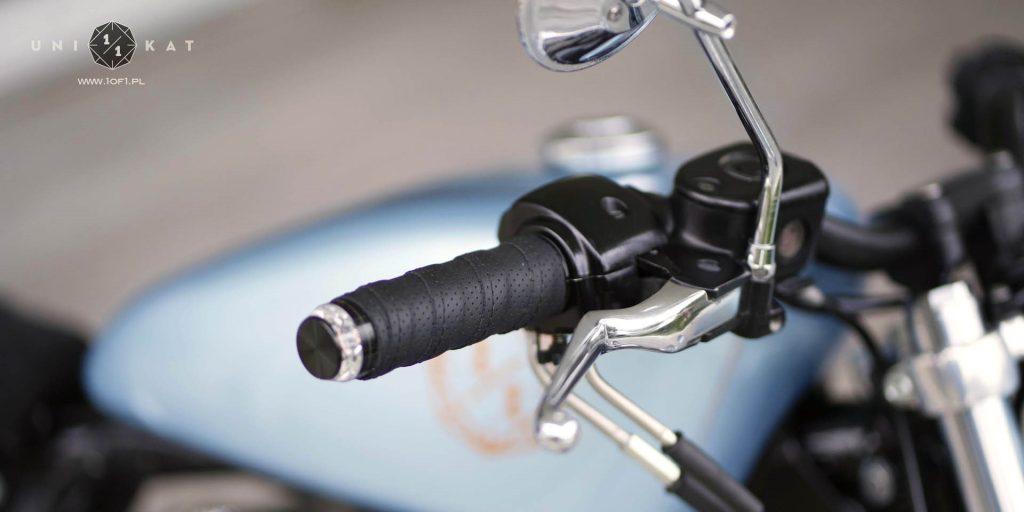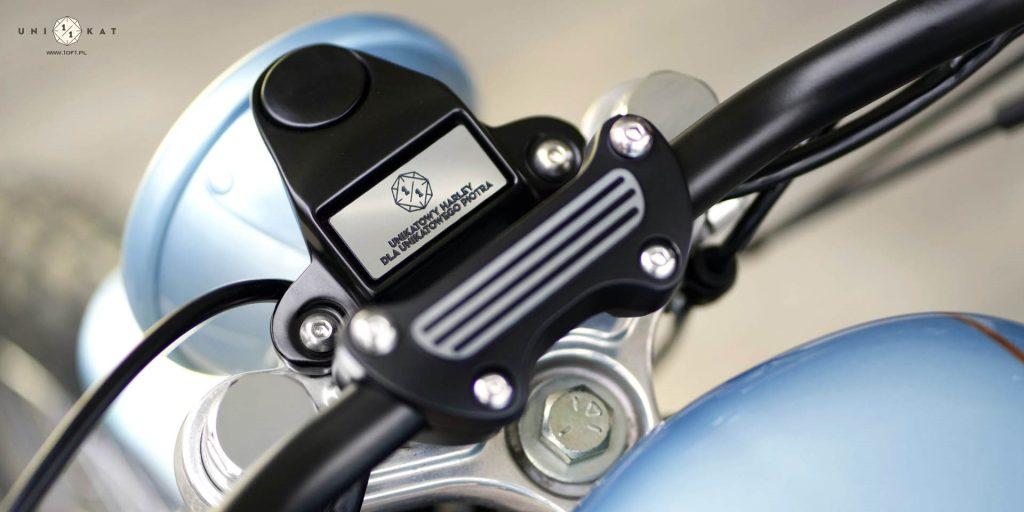 Gazing at the Harley we asked Grzegorz how this project came together. 
His response: "I've met the owner at the little event where our bikes and motorboats where presented.
He was there with his wife and they admitted that their motorcycles had been stashed away far too long in the garage, and were now covered in dust. But being confronted with our 1/1 craft and design the passion was re-sparked and they were eager to have work done on the white Sportster Low.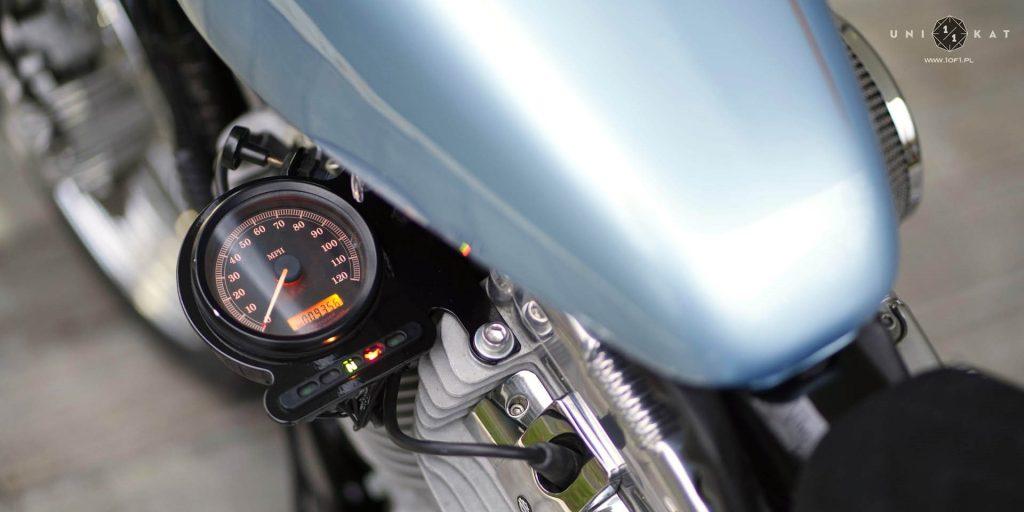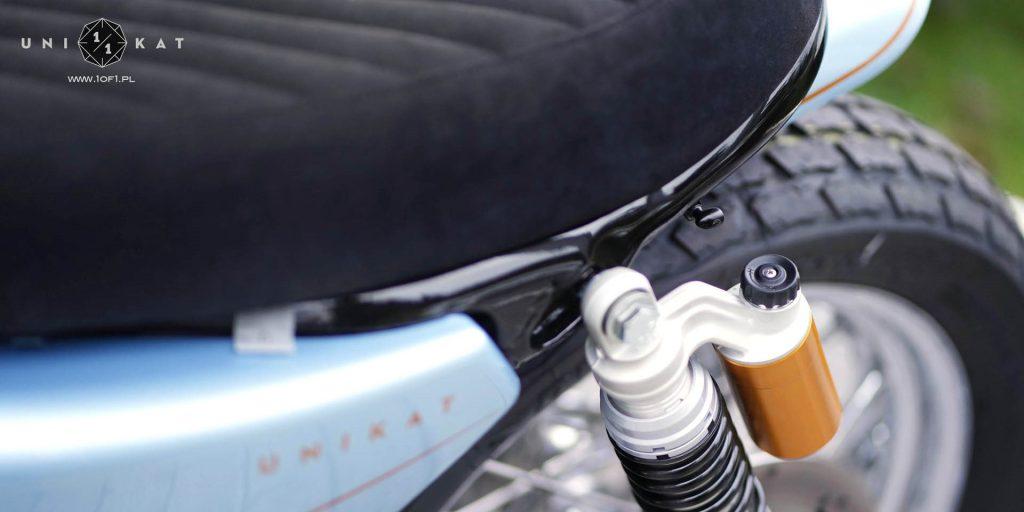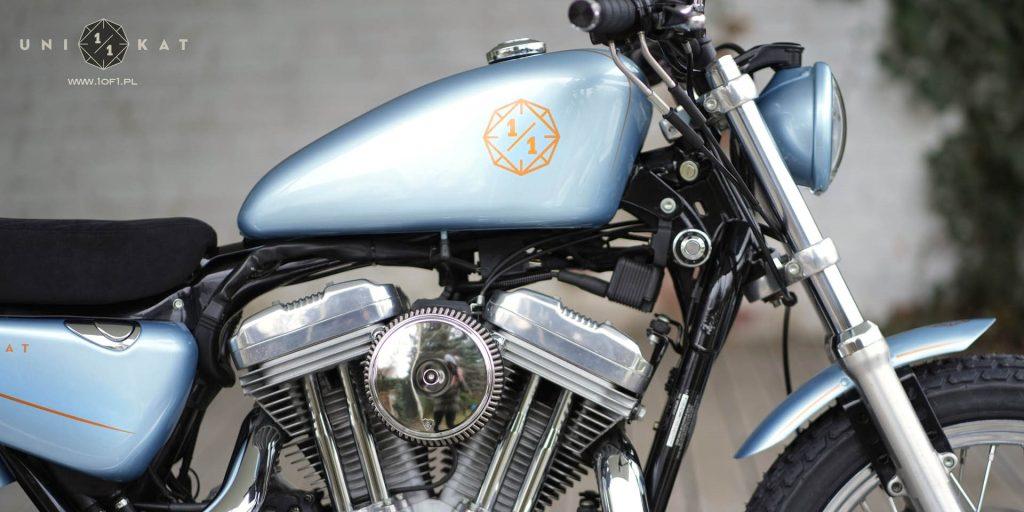 Two weeks after the show Piotr called me and said he could no longer resist the urge to customise his machine. He said he had no specific idea except for two factors: 
he wanted his HD to be a comfortable and easy to handle ride 

he wanted me to also enjoy the project and have fun
To be very honest; these are the type of clients you normally can only dream about! 
I came up with the concept of a "city scrambler" and Piotr instantly liked first digital visualisations of the new lines and shapes.
We spend some more time on choosing the perfect colour match, than we did on the design of the bike" the designer laughs. 
Continuing: "Numerous colour schemes were discussed. From all black to silver with golden pinstripes…
Finally we decided on the light-grey-blue and we added stripes and logos to perfectly match with the copperish tone of the Öhlins piggyback rear suspension.
To sum it all up; the cooperation was purest of pleasures, as Piotr was involved but trusted the professionalism of the UNIKAT team at the same time. It's yet another client that became a friend and we are still in close in contact. Now this exactly is why I love this job so much!" he smiles broadly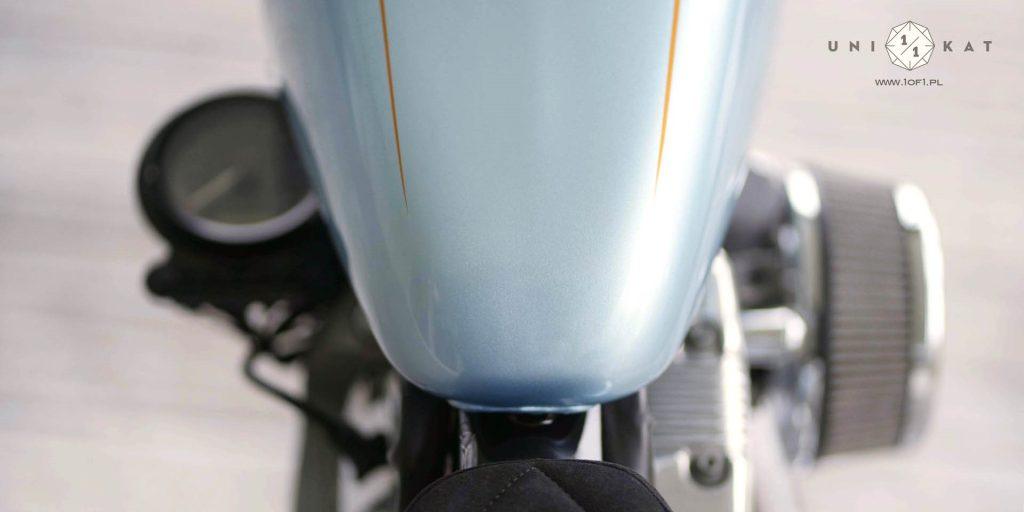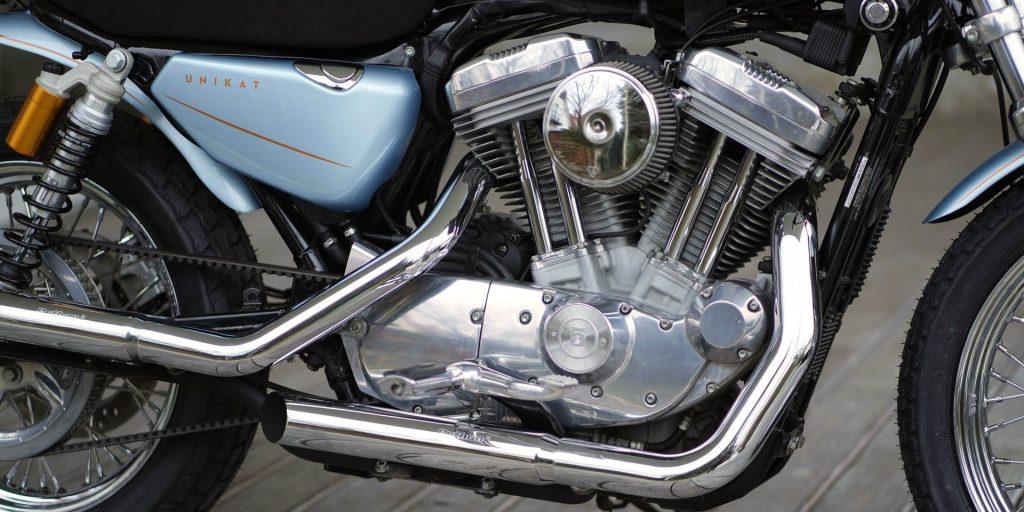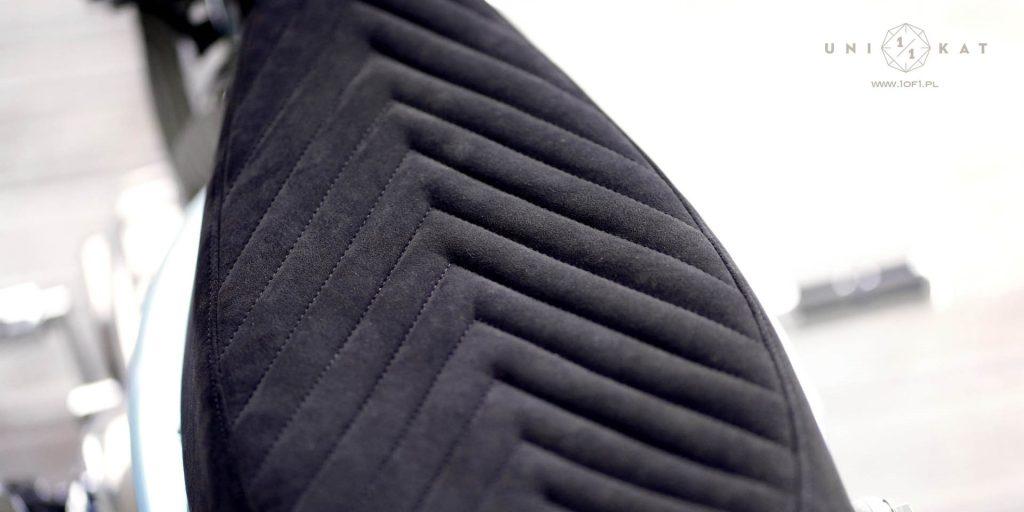 Taking it all in
We took another sip of our coffee and took our time to take in the polished beauty of this bike. It is interesting to discover all the bits and pieces that have lovingly been reshaped into exquisite elements that make up the total picture.
Sportsters that leave the Milwaukee plant are nice machines, but they make even better canvas for builders who know how to mold them into an even better shape. The first thing you notice when sitting on the XL883, is the completely changed geometry of the bike. A change for the better that is.
This is largely due to structural modifications related to the use of high shock absorbers, the position of the swing arm and motorcycle drive.
Unfortunately the weather was not good enough to take the Harley out for a spin, but we are convinced the modifications will make up for a much better and sportier ride than originally designed.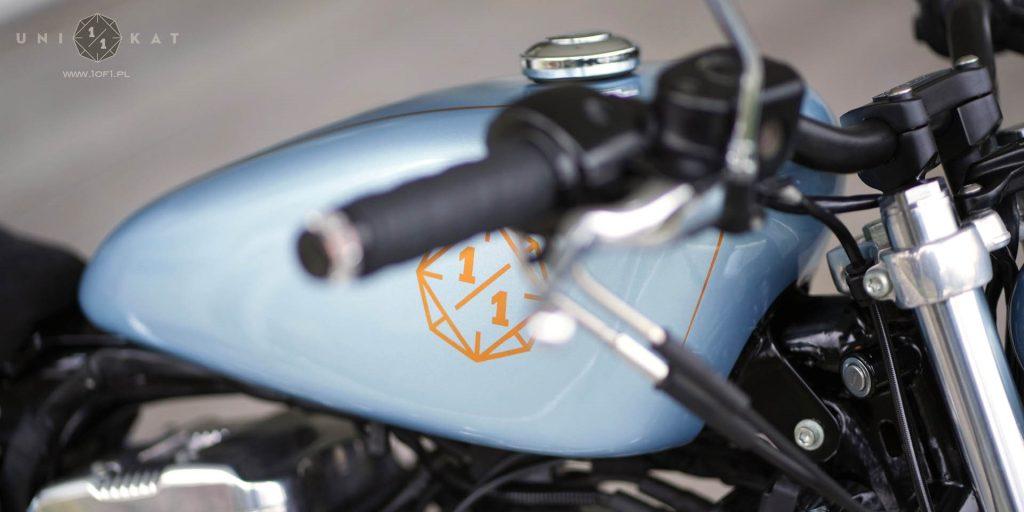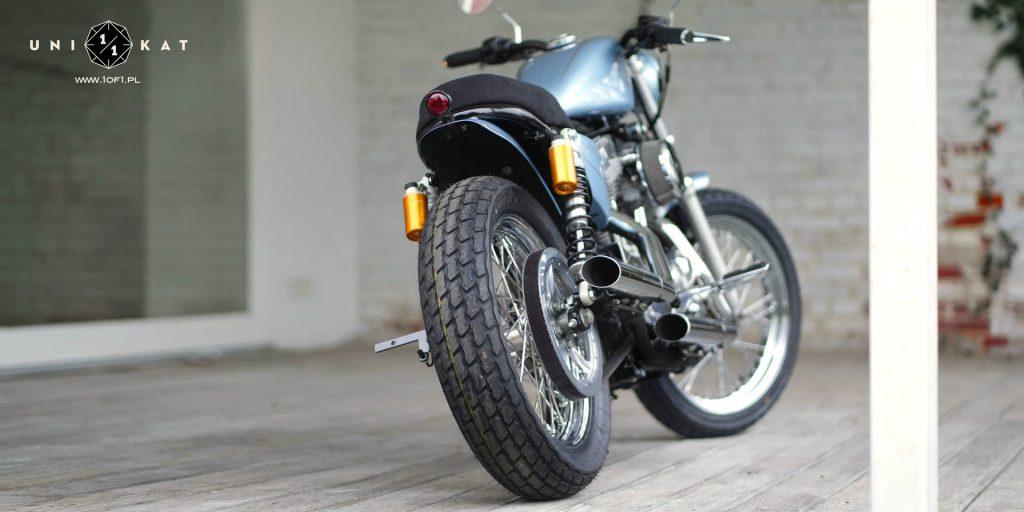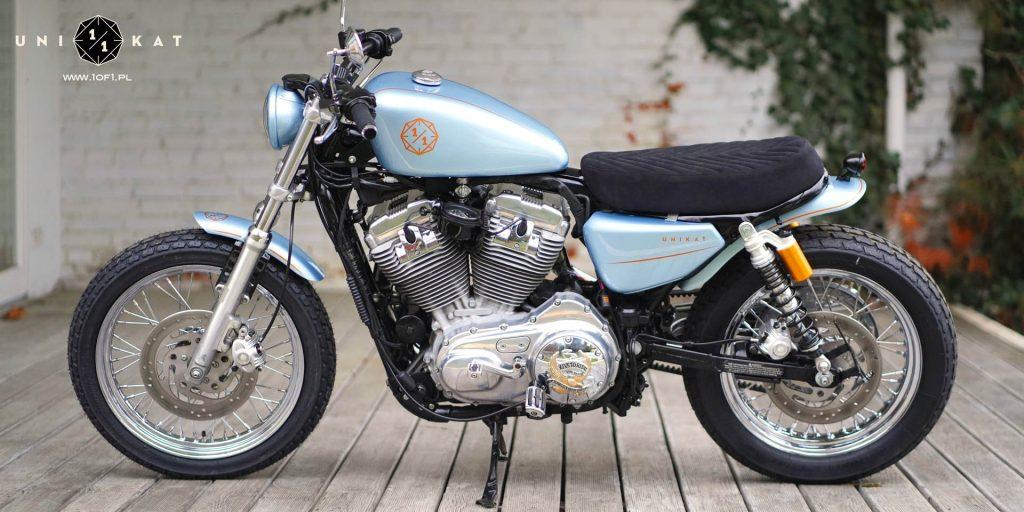 Modifications
Let's zoom in on the most important details and enjoy the pictured elements:
Front
– spoked, custom made 19" wheel 
– Dunlop flat track tire 
– shortened front fender 
– wider and lower handlebars
– leather, hand-crafted grips 
– mo.blaze disc front turn signals from Motogadget
– classic, old-school Highsider mirrors
– LED lamp insert
– relocation of the speedometer mount and controls
– Arlen Ness accessory air filter 
Rear
– spoked custom made 18" wheel 
– Dunlop flat track tire
– new handcrafted (in-house) motorcycle frame end loop, 
– new seat made from scratch and upholstered (covered with alcantara)
– Öhlins rear suspension 39 cm long
– rear, minimalistic fender
– Bates Style LED rear lighting
– Kellermann Atto rear turn signals
– side license plate mount
– new, unique blue paint with subtle copper details
Share This Story, Choose Your Platform!