So what do you do when you want your vintage 1969 Honda CL350 turned into a caferacer – to not only bomb around the city on, but which also turns heads wherever you take it?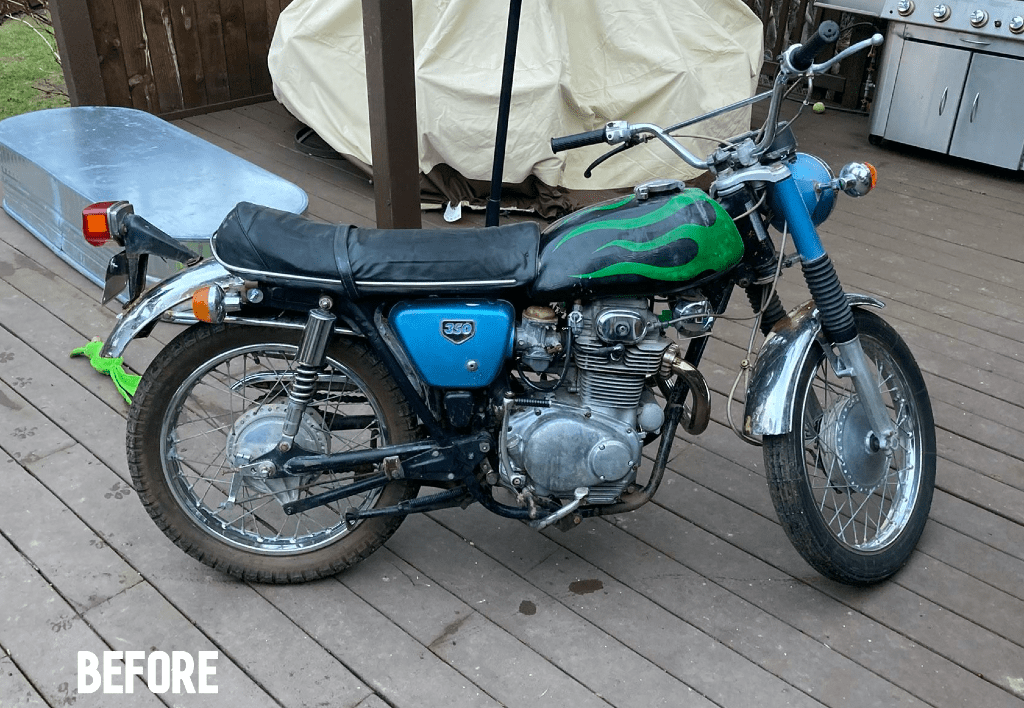 You stuff the bike in the back of your VW Golf, throw in a couple trash bag full of parts that either fell off or you had already gathered, and drive the 90 miles or so from Seattle up north to Bellingam, WA. Cause that's where Moto Design Garage are based, a motorcycle building shop who like to do everything themselves, including CNC-ing parts from scratch. Plus – they are big fans of 3D printing and design, another great way to reproduce obsolete parts or even better – reimagine them!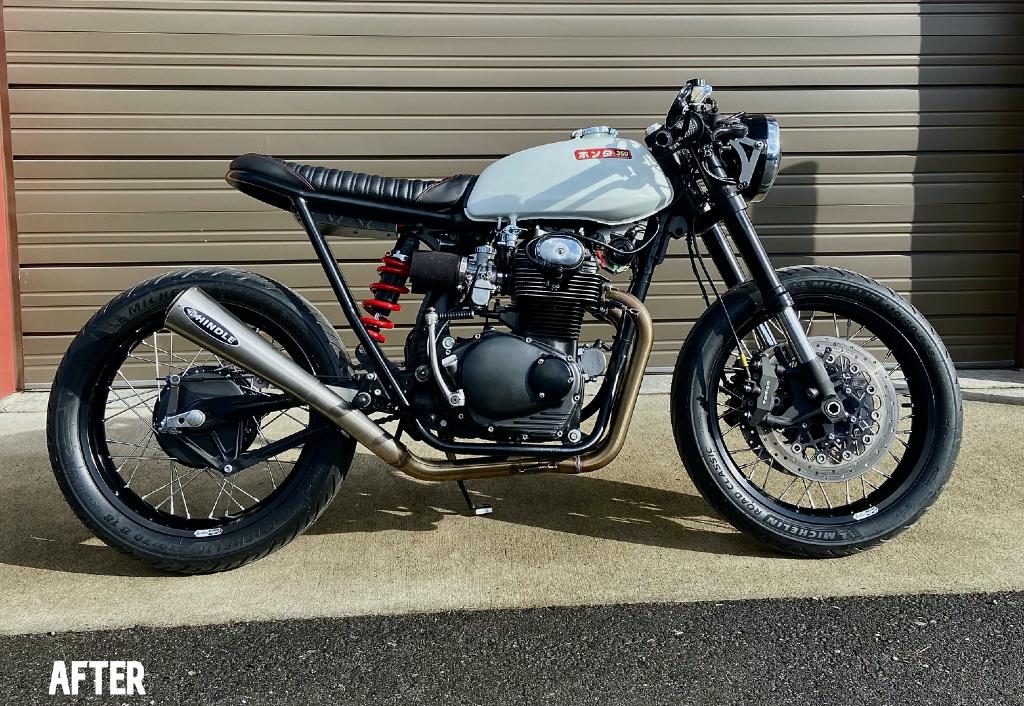 For this bike, the customer's original plan to keep the dual shocks was abandoned in favor of a mono-shock setup. A Ninja 650R rear shock was mounted with custom CNC-cut brackets. This proved to be quite a challenge, as a mono shock conversion drastically changes the ergonomics of the bike and they had to to find proper spring rate, movement, etc… They did reuse the stock hub, refurbished and powder coated it, laced it to a new rim and voila – a smoother ride, and the back part of the bike looks really clean and mean now!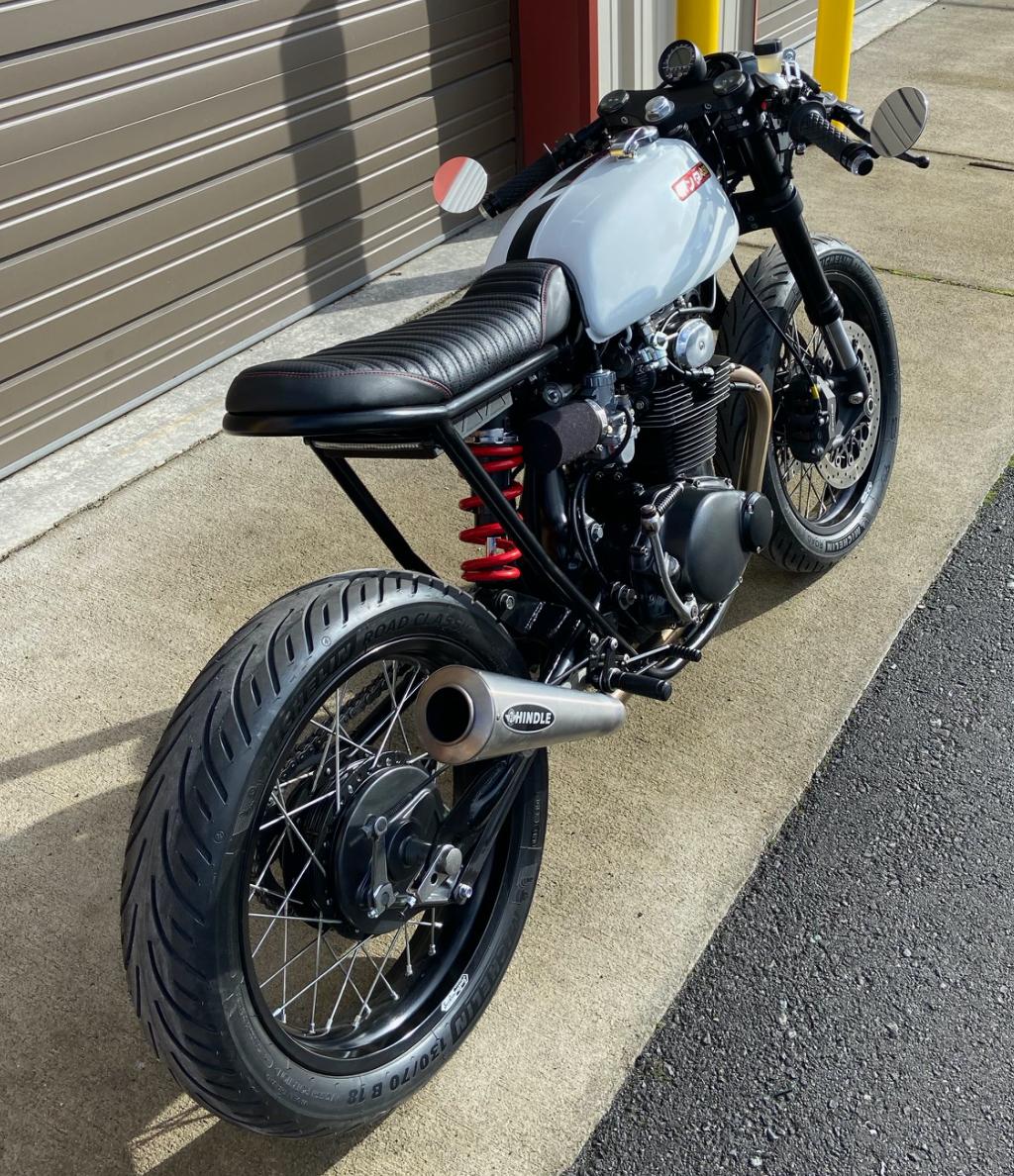 The whole front end was replaced with one from a GSXR and fitted with all new 17" SunRims and billet front hub. New headlight was joined to the bike with in-house 3D-printed headlight fork clamps and CNC-cut headlight brackets.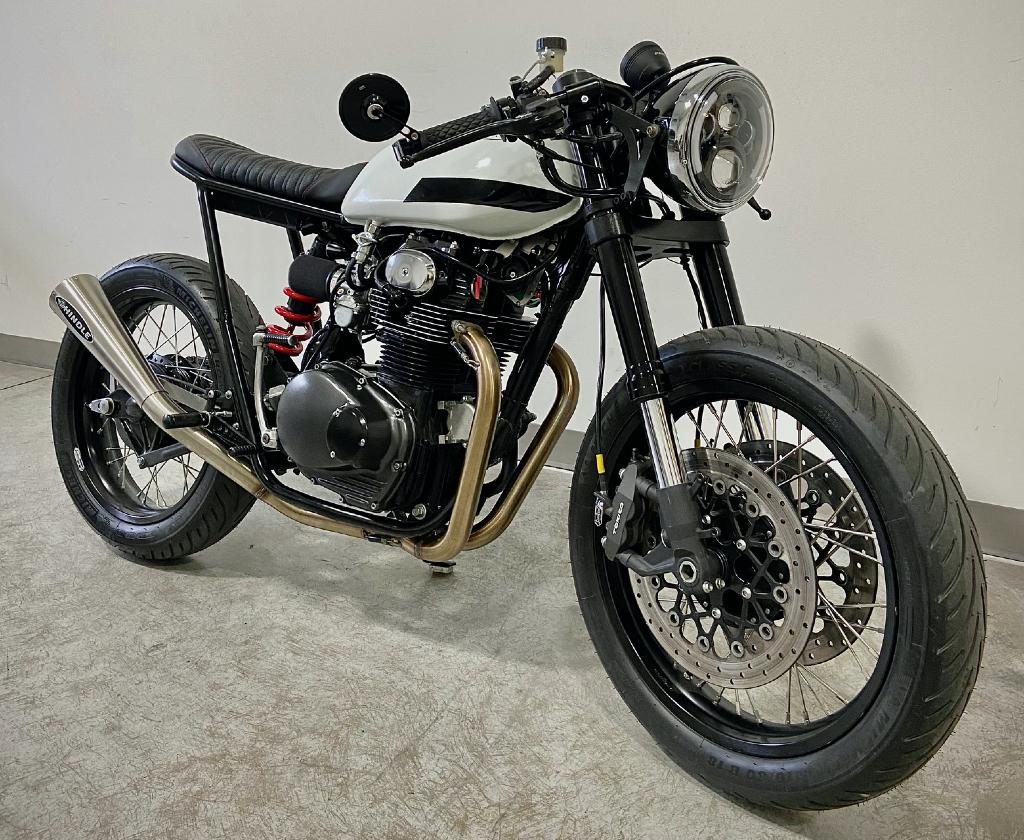 And then for the important part in the middle, the motor. It did not just get that stylish black and Evo gray finish, lots had to be done before it was ready to hit the street again! The motor needed a new cylinder, a good used one was found and serviced along with new piston and rings. All seals and gaskets where replaced and the top end went through. Plus, a new Shockwave electronic ignition system, VM30 Mikuni carbs, and an appropriately loud 2-1 exhaust setup…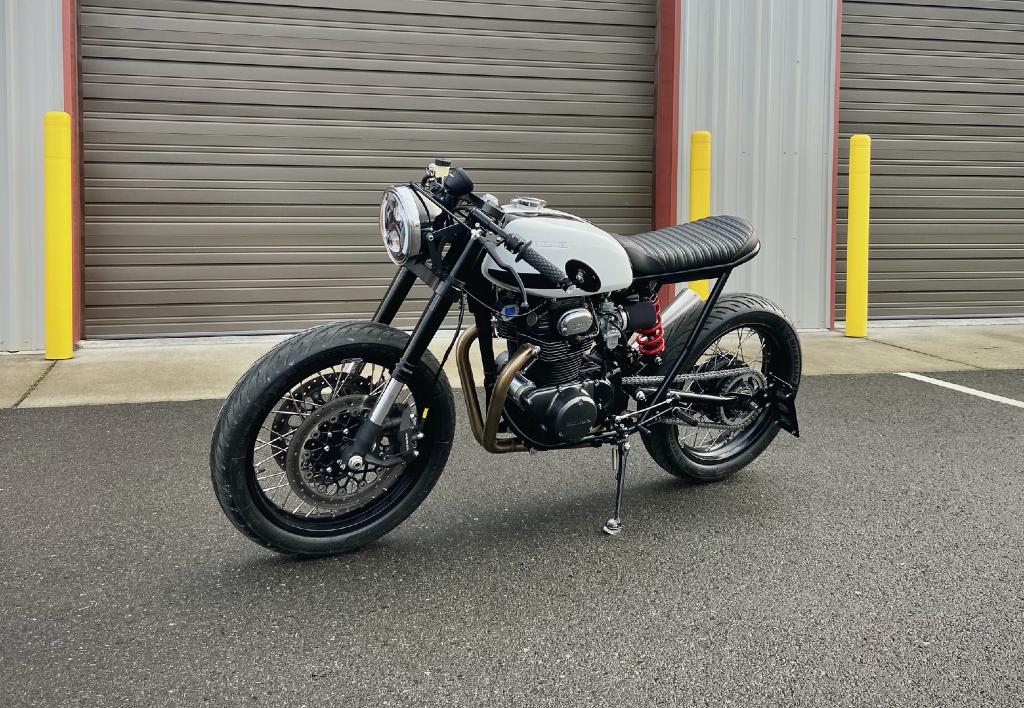 And it does not stop there: the entire electronics tray, which you can see under the seat, was 3D-printed in-house. Reinforced with trellises and underbracing to provide structural strength, it holds an M-unit and a AG801 battery.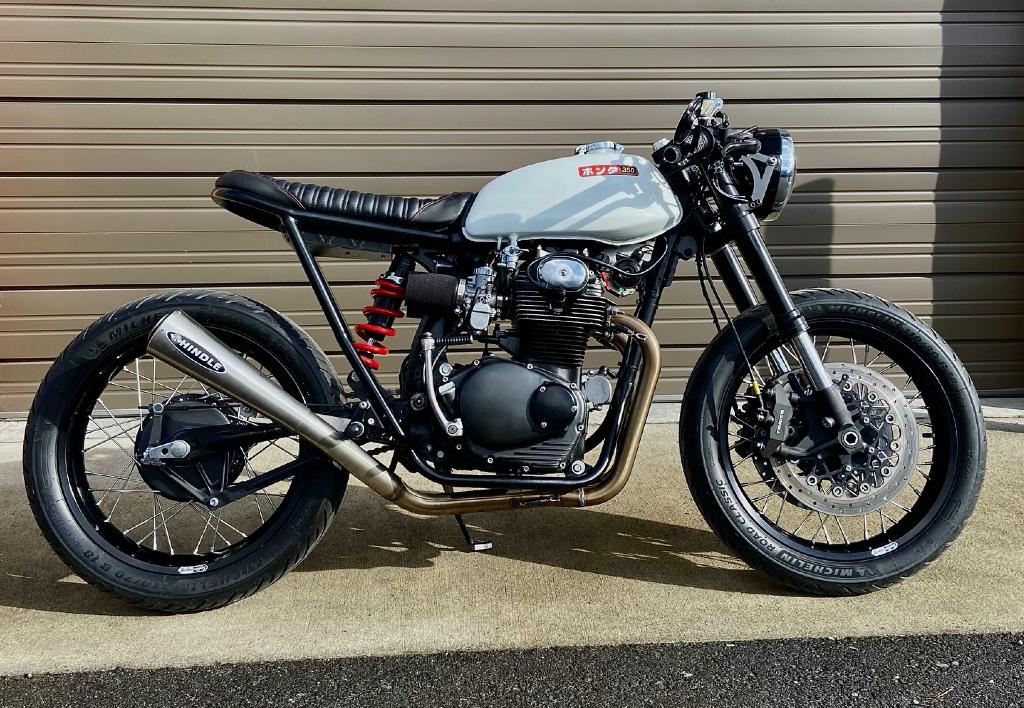 The only custom work not done by themselves was upholstering the seat cover, which they outsourced to a long-time partner who they trust, gets their style and makes the seat look good to boot!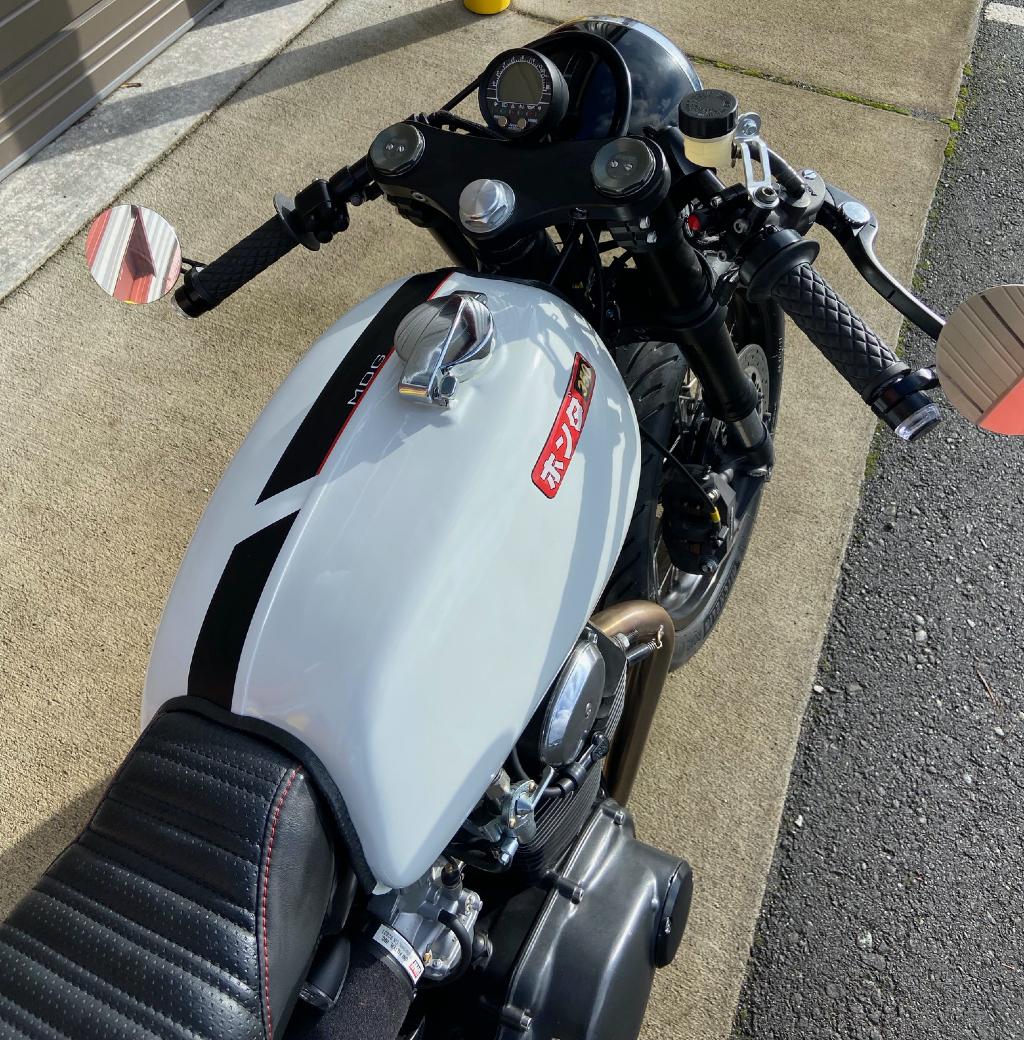 When asked about the end result of this cool conversion, Moto Design Garage said: "It rides so well! Keeping in mind it is a 1960's machine with new parts but it still has that old school feel. It vibrates, it smells, it needs to be spoken nicely too haha but it is a fun nostalgic type of ride for sure!"
Share This Story, Choose Your Platform!
Tags