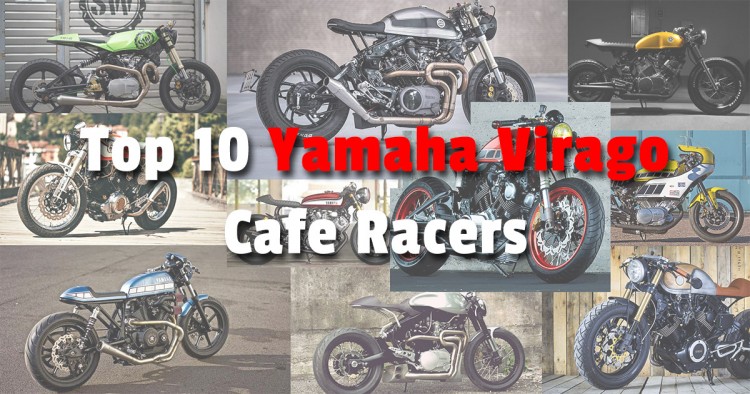 From mild-mannered cruiser to hard-edged café racer, change is a beautiful thing. Check out this Top 10 Yamaha Virago Cafe Racers and see if you agree.
The Yamaha Virago was a significant milestone in the Japanese Cruiser family tree, but before we get there, here's a quick cruiser history lesson. Not surprisingly it starts off with Harley-Davidson. Back in 1969, Harley-Davidson was on the brink of fading away, when a last- minute rescue from AMF saved the day. That was initially good news, but the Japanese superbike invasion had already begun, with the revolutionary 750 Honda. Plus, Harley Davidson was getting a kicking. Later that same year, Easy Rider hit the big screen, and  North America went chopper mad. Willie G. Davidson was bright enough to see the potential of and in 1970, cobbled together a new model from existing stock. The bike was the Super Glide, and it saved the company's ass.
Towards the 1980's all of the Japanese manufacturers had some lightly customized model in their line- up. But the brown stuff hit the fan in 1981 when the Yamaha Virago rolled onto the showroom floor. The 750cc Virago was the first Japanese V-twin cruiser to take the fight right to Harley's door, and they didn't like it at all. Verbally mauled by Yamaha for having the audacity to produce a V-twin cruiser. Harleys were sufficiently rattled by this and lobbied for an import tariff that loaded an extra 45% on imported motorcycles over 700cc.
Anyway, enough of the history lesson (you can read more on Wikipedia if you like), suffice to say that the tariff was eventually lifted, leaving the Japanese manufacturers free to follow in the Virago's wake.
Disclaimer: this is a totally subjective selection. Want to share your thoughts? Feel free to comment.
#10: XV750 Take Two by Hageman Cycles (1/2)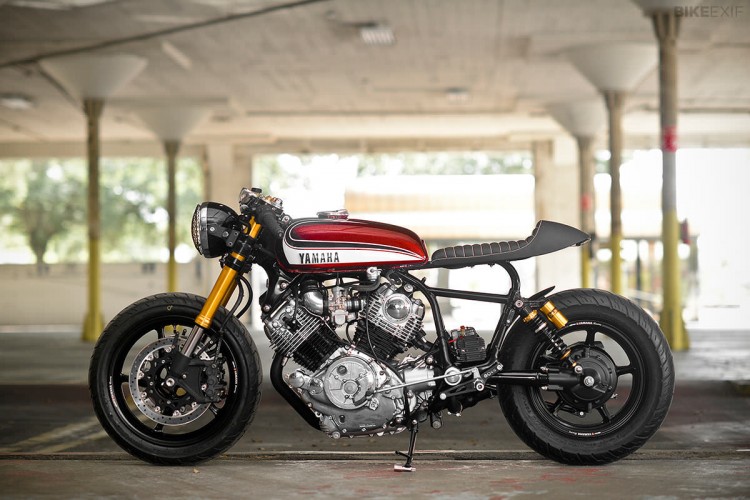 We are looking at the top 10 Virago Café Racers here, so it shouldn't be a surprise that Greg Hageman would have two in that list.
The first thing that catches your eye on this beauty is the gas tank. The 1973 RD350 unit has been brought back to life and looks just right perched on the top tube. Hageman usually makes a rather nifty subframe that bolts on to the standard Yam backbone. But in this case, he's fabricated a complete subframe, to take the club man style seat.
This innovation cleans up the back end and makes that engine look huge. Keeping things clean is a blacked out 2-1 exhaust that finishes in a Norton Peashooter type silencer. The forks are from a '08 R1 and piggyback reservoir Öhlins make sure the back keeps pace.
#9: All Hail the King XV750 by Ville Hanninen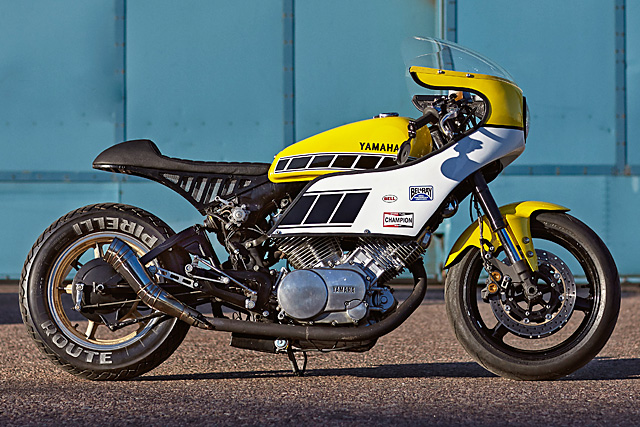 Some people can look at a grungy old bike and see its potential for a cool custom while others can look at a single component and build an entire bike around it.
Finnish custom builder Ville Hanninen falls into both categories. This whole build started with a ¾ fairing found hanging on a friend's wall.  Being a massive fan of road racing, Ville decided there and then to build a café racer in homage to his all-time favorite racer, King Kenny Roberts.
Finding a 1983 XV750 that looked like it had seen better days, the intrepid Finn fabricated an entirely new subframe. He also made new trees to fit the R1 front end and constructed the seat unit. A 2-1 exhaust and GP silencer completed the look, with the only thing left being a King Kenny speed block paint job.
#8: This is Sparta XV750 by Sparta Garage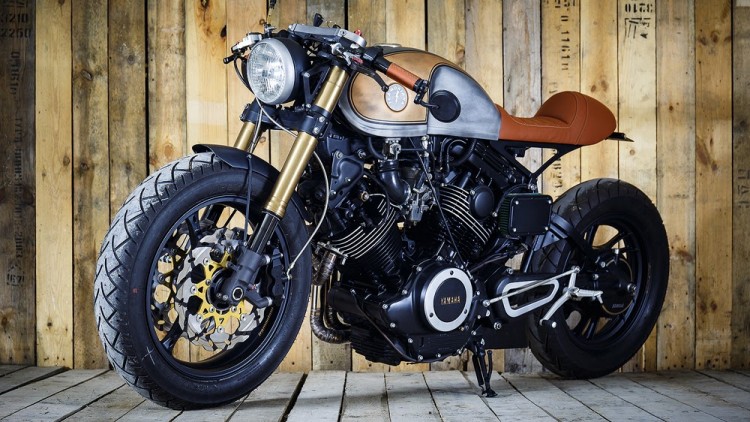 I love custom bikes from far-flung places. It usually means they've been built with passion and against the odds. Exactly the case with this XV750 built by Spartak Malkevich of Sparta Garage in Belarus.
According to Spartak, a customer brought this Virago into the shop. He had already christened it Tramontana (which means, strong winter wind) and although it had the Suzuki GSX-R 750 front end, it was so poorly fitted, it needed major metal surgery to rectify. The blacked in an engine, weld-heavy exhaust and matt paint, work well to give the bike a real-world functionality that still screams custom.
#7: Skinny Beast TR1 by Schlachtwerk
German Bike builder's Schlachtwerk is better known for their Kawasaki W650 conversions than their drag racing prowess, that was until the unleashing of the Skinny Beast. It's one thing, giving a Virago the look and handling capabilities of a café racer. However, turning an aging TR1 into a rip-snorting, nitrous guzzling strip shredder is entirely another, but that's' what Tom Thoring did. 
Taking a grossly overweight TR1 in full touring mode, he kept cutting it down until the overweight Yam was almost half its original weight!  In its first guise, it was a street sleeper, before going on to part-time race duty, with Tom finally going the whole hog in 2016.
The bike now has a seriously souped-up engine and Nitrous injection and has dominated German one-eighth mile sprints for two years running. But the picture of the bike you see here isn't really up to date. Tom keeps re-inventing this custom bike and just transformed the TR1 into a hardcore drag racer with a strechted rear and and some serious performance upgrades. Check it out here. 
#6: Proportion is Everything XV750 by Plan B (1/2)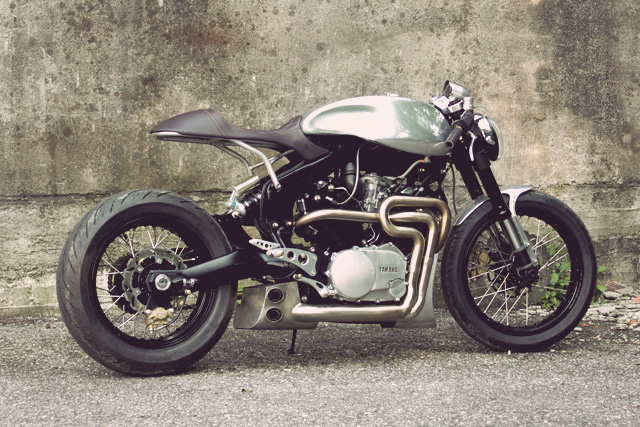 You can have the best parts or the most incredible paint, but if you haven't got an eye for detail and a feel for proportions, you're a non- starter. Christian Moretti of Italian custom outfit Plan B, has both of these qualities in huge bucketfuls.
This nifty little XV750 has a real club-racer vintage feel to it. Helped considerably by the handcrafted seat unit that flows seamlessly from the Benelli gas tank, which in turn sits on a lowered frame section. The look may be from yesteryear, but the suspension components are bang up to date. A Ducati 916 front end sitting in custom trees graces the front, while a Yamaha R1 shock on a strengthened swinging arm sits at the back.
#5: New Wave XV750 by KSC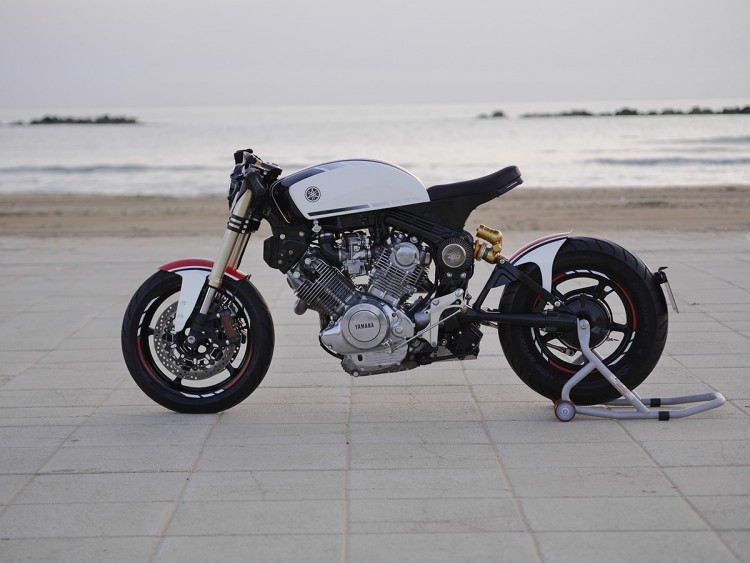 This is what happens if you mix the Italian design DNA with a classic XV750. This bike is the new wave version of the Virago and is built by KSC from Italy. A bike with a minimalistic design, high-end parts, and a racy spirit: it not only looks beautiful, it also performs pretty well while the KSC team did a good job on adjusting the handling to more modern day race bike standards. A Yamaha R1 front end, custom and adjustable Sachs rear shock, Brembo braking, complete engine refurbish and saved a lot of weight.
Read more about this bike here.
#4 Industrial Power-Plant XV750 by Moto Adonis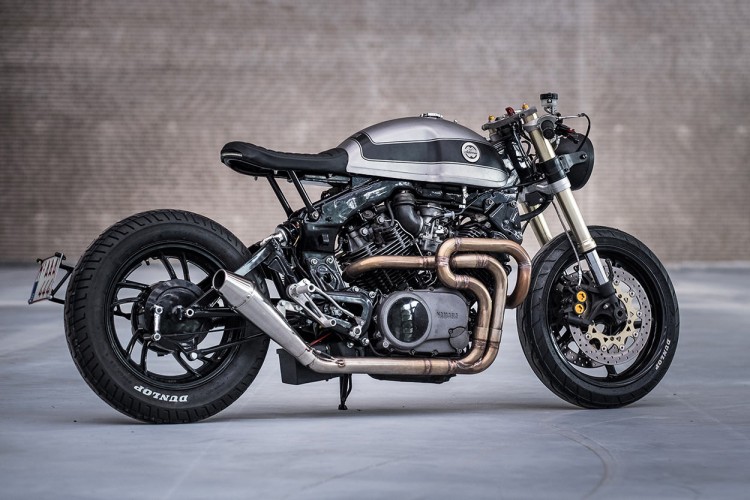 If you look at most custom bikes specifically built for a customer, they're usually pristine works of art you could eat your dinner off. Daan Borsje of Moto Adonis in Holland built this XV750, and it looks meaner than a junkyard dog.
It's got a rawness and a sense of purpose that mirrors the original, classic café racers of the 50′ and 60's perfectly. Adding to its hard knock looks is a Yamaha R1 front end. While the back has a fabricated subframe to accommodate the short bench seat. A MotoGP style megaphone looks just right on the exquisitely crafted down-pipes. And the vintage Benelli gas tank together with the engine casings have been sandblasted back to the raw metal.
#3: Classic in the Making XV750 by Hageman Cycles (2/2)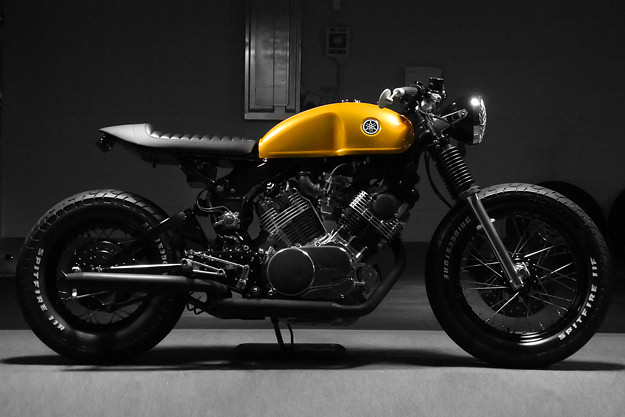 Ex-Harley-Davidson technician Greg Hageman gave up his monthly paycheck from the Motor Factory, to pursue his dream of building custom motorcycles. Over the years, Hageman has earned a justifiable reputation for building beautiful custom bikes. His calling card is to create a simple elegance that belies their technical excellence and this beautifully executed 82' XV750 is a perfect example.
Built for the second season of Discovery Channel favorite, the Café Racer Show, Hageman stayed away from any drastic alterations. Preferring instead, to focus on attention to detail, such as blacked in Mac Performance exhaust, matching matt black rims, fins, clutch cover, and headlight. The standard carbs have been re-jetted, with a K&N filter on the frame airbox and Italian café racer specialists Tarozzi supplied the rear sets, clips-ons and fork brace.
This Virago Cafe Racer serves as an example for many, many XV-builds. In fact, this Virago Cafe Racer Top 10 only contains four bikes with that exact same gas tank. And while this lacks originality, it shows us that the overall design is pretty timeless.
#2: Grade A from Plan B TR1 by Plan B (2/2)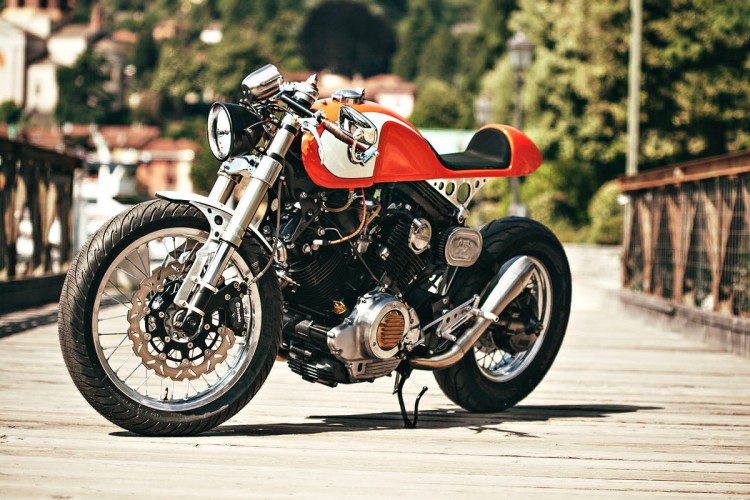 Some bikes beg to go for a ride, some demand you look at them and drink in every detail. Fireball is one of those rare bikes that possess both qualities. Just by looking at the quality of the handmade aluminum parts, you realize that this motorcycle can only come from one part of the world, Italy. 
Just take a look at the gas tank made from sheet aluminum. Beaten stretched and curved on an English wheel into a three-dimensional work of art, its simplicity framed by the elaborate stainless exhaust. The same goes for the skeletal sub-frame and seat, and the billet triple tree, clamping on to 43mm USD Showa's.  That's a Ducati 999 swinging arm back there too. If this was Plan B, imagine what Plan A must have been like to execute. 
#1: Metal flake Masterpiece TR1 by Roland Snel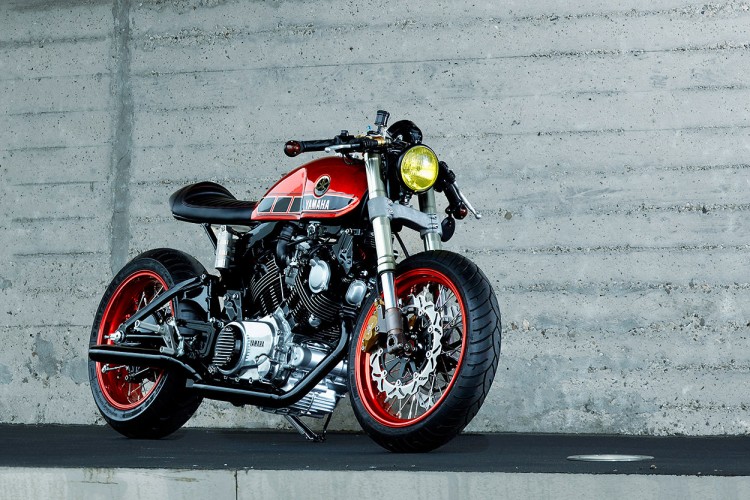 It's a funny old world when a bike manufacturer puts a shaft drive on their custom cruiser (XV750), but chain drive on their tourer! (TR1) But regardless, this is one of the best-looking, nicest detailed yam V-twins around. It was built by amateur builder (!) Roland Snel, also from Holland and it's based on a 1984 1000cc TR1. The front end was lifted from a Ducati 916 and topped off with an Ohlins steering damper and digital speedo. On the back, a Triumph Speed Triple Showa unit keeps things bouncy and inline with the upgraded front.
A tangerine, metal flake paint job graces a Benelli Mojave gas tank, which is paired beautifully with a Motolanna seat unit. Machined cylinder fins make the engine pop and the orange anodized rims tie in perfectly with the tank. And you don't need a keen eye to see where the inspiration of this bike came from…
Wrapping up
I hope you've enjoyed my Virago Cafe Racer Top 10 from around the world. And the fact that we can produce such a feature proves three things: firstly, the café racer style is embraced right around the globe. Secondly, craftsmanship knows no borders. And thirdly, never look at a bike and think, no way, because someone somewhere will have turned one just like it into a work of art.
Like top lists? Check out these articles:
Share This Story, Choose Your Platform!
Tags