Follow us on
Facebook
,
Twitter
,
Instagram
,
Pinterest
,
Google+
or subscribe to our
newsletter
.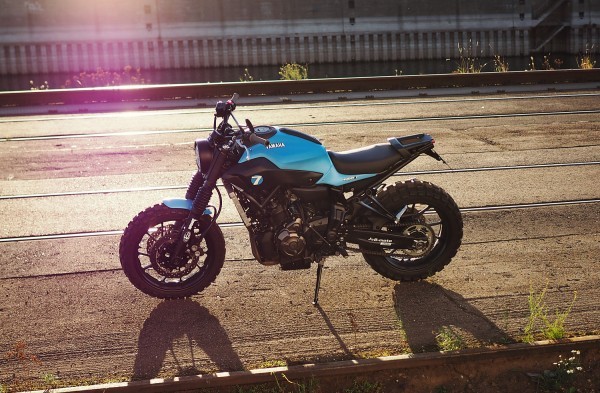 Yamaha made a strong move with the introduction of the their 07 and 09 models of the XSR and MT series. Where the 09 models have an awesome, high performing 3 cylinder, the 07 models are fitted with a 270 degree twin engine with Yamaha's crossplane engine philosophy. Both engines have their own strong set of characteristics and both are extremely fun to ride.
With the 07 models, Yamaha has a clear "value for money" aim, and both the MT-07 and the XSR700 are very affordable and successful. Several prices where won around the world and Yamaha stole the heart of a complete new audience.
Al bolt-on parts are available here.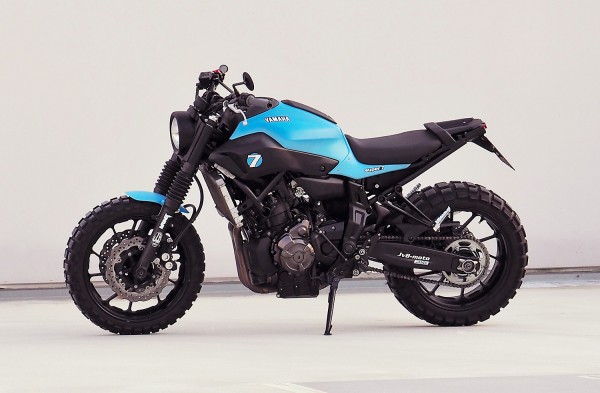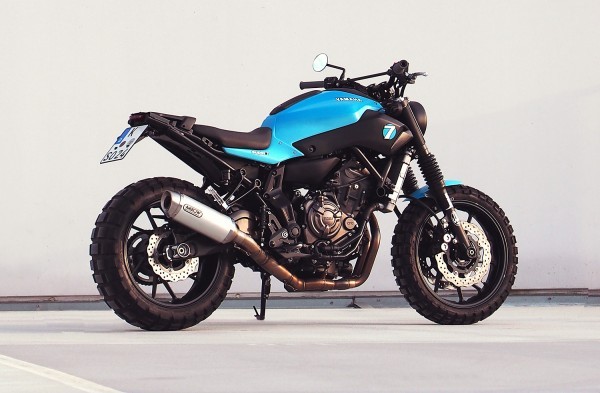 But that's just some background info… What do we have here? Well, it's another cool creation of one of these Yamaha's by JvB Moto, a German brewer who melted down the internet a with their custom Yamaha XSR700 called the "Super 7". The Super 7 was such a success, that all custom parts are now offered as a complete range of bolt on parts in several Yamaha shops.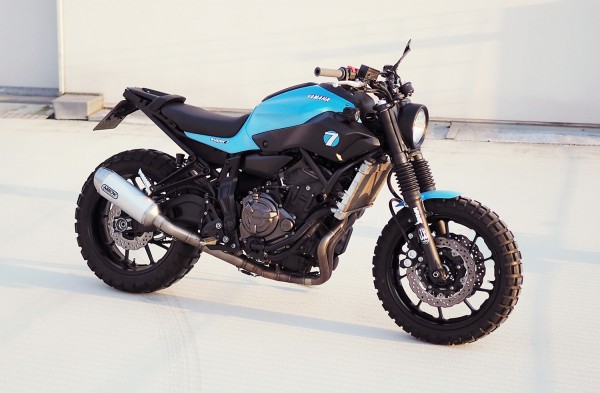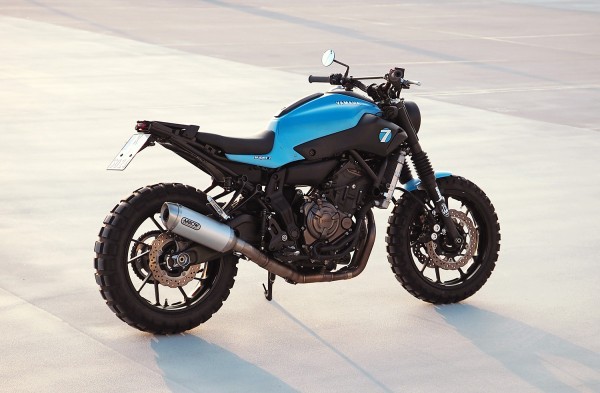 So what do you do with a successful concept? Right: modify it a little bit and try to make another success of it. That's exactly what JvB Moto did with this custom MT-07 Scrambler. Where the XSR had a more retro and racy design, the MT-07 Scrambler keeps it's design as a modern bike, but with a more off road ambition. To keep it simple, they also call this "Super7″…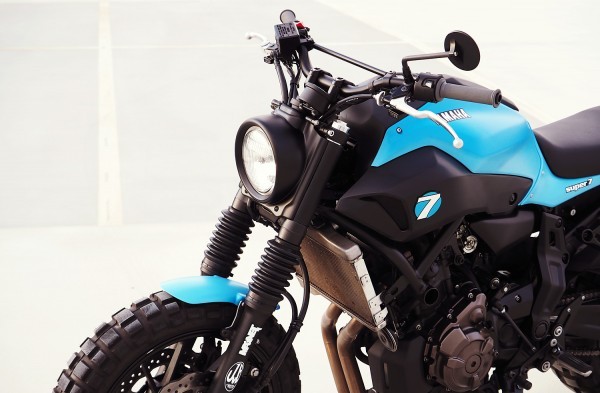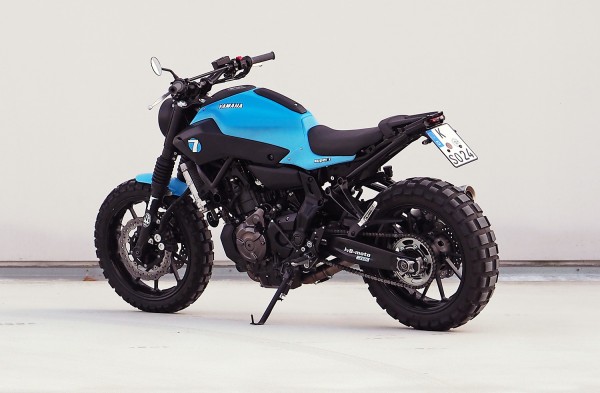 So what did they do to the stock MT-07? First off all: all technical components of the original machine are untouched. No wires where stripped and no disc grinder or welding machine where used. This means that the average biker can create this own Super7 without having difficulties with the insurance or warranty of the bike.
Some mods:
Removing of some covers at the rear and the engine area
Custom front fender with lightweight brackets
New headlight
Wirth front springs with "heavier" fork oil
46mm Öhlins rear shock
Arrow exhaust system
LSL handlebar with risers
New grips
LED indicators
Simplified dash/speedo
Replaced the stock mirrors with a single one
Conti TKC off road tires
Just like with the custom XSR700, all parts and mods will be available as bolt on parts later on.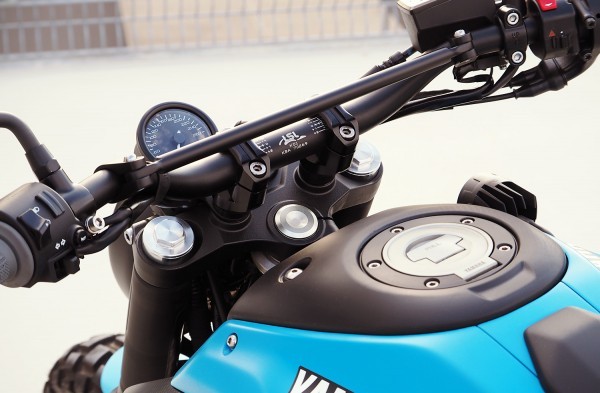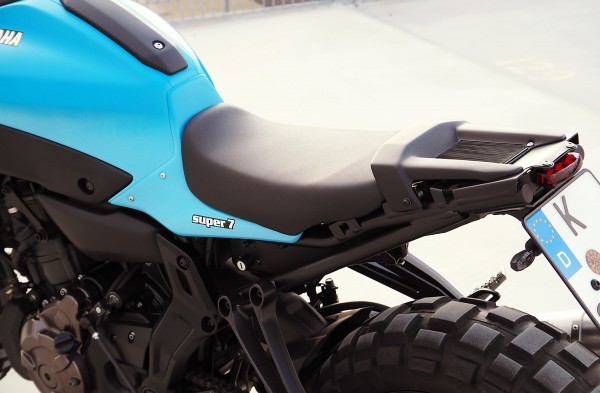 Unless the fact that the principle of this MT-07 Scrambler Super7 is the same as it's XSR700 brother, it's a bike with a completely different image.
Owner Jens vom Brauck:
"You can also put your sleeping bag and a tent, or a big beer case on the rack and do the scrambler thing. Cruise around in the country side with your friends or go to the beach. It is all great fun with this bike, I tried it myself…"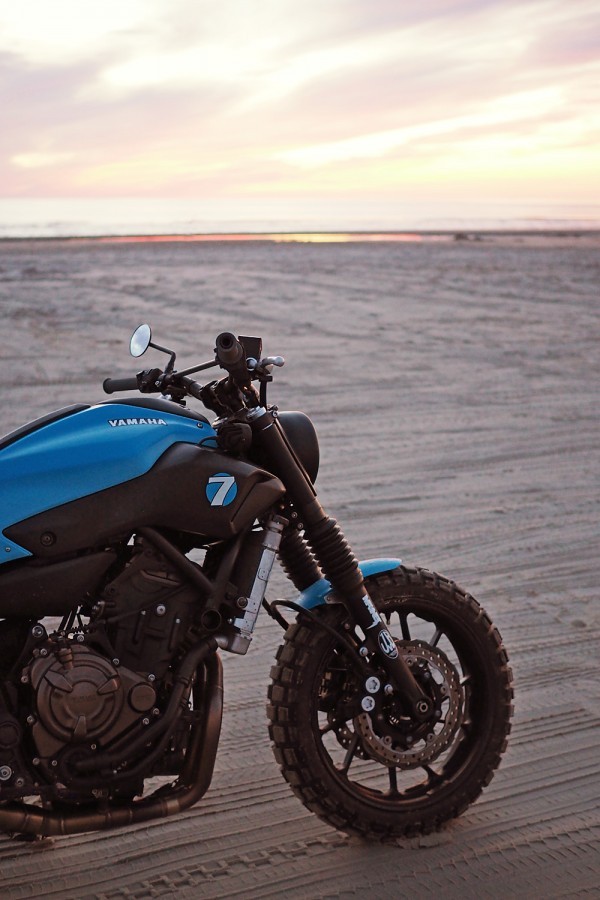 Share This Story, Choose Your Platform!
Tags