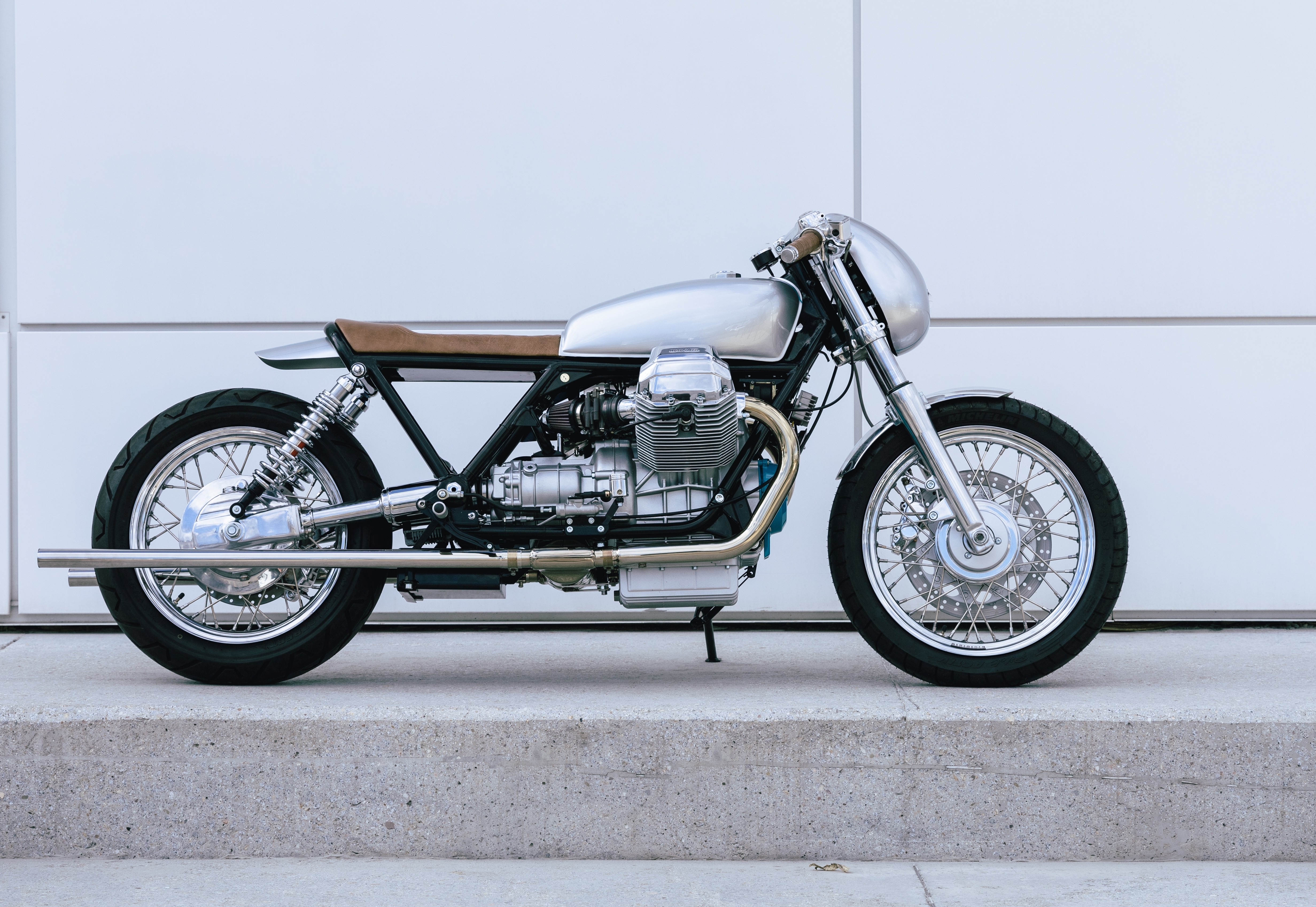 Regular guests
It may look as if UNIKAT have a subscription on our platform. Nothing of the sort, but the Polish team just keeps on churning out pure art that we simply cannot ingnore.
This time it is a 2001 Moto Guzzi California 1100, which was transformed from a nice bike to a 'living room worthy' object of desire.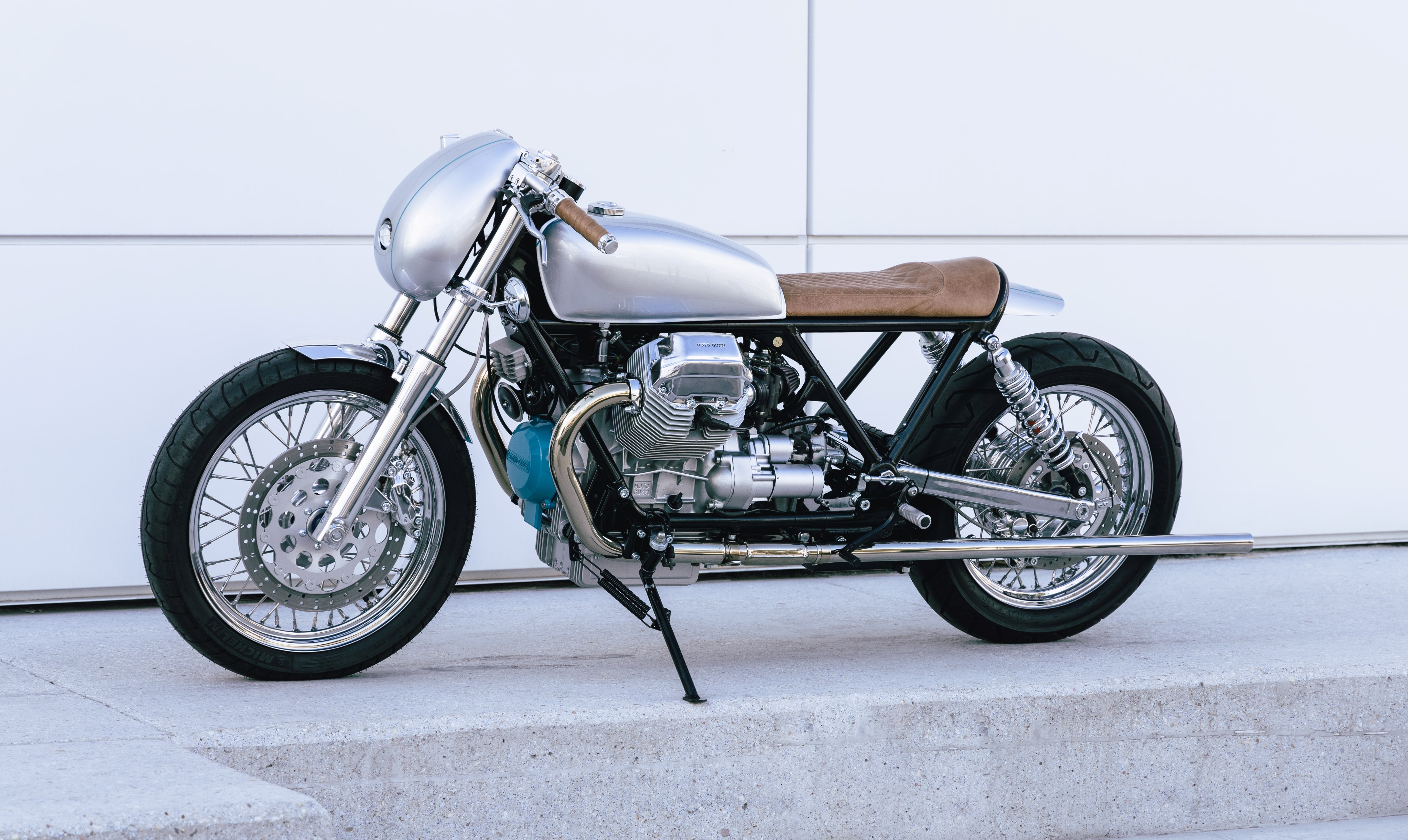 Take apart and rebuild
The motorcycle has been completely restored and rebuilt, with nothing more than the wheels, the beautiful engine and part of the frame remaining from the original design. According to our Eastern European friends "such a dramatic rebuild requires a massive amount of time and UNIQUE skills". We second that motion, after all 'UNIKAT' is Polish for unique and you have to live up to that promise.
Director's chair
The owner, Pawel, was very much involved in the project. It is not very often that BikeBrewers get such elaborate insights from the clients themselves. Here's what he has to say: "My adventure with motorcycles began when my grandfather gave me a light green mini motorbike. It was a life-turning moment for me and something that made me feel special. Already then, I was very much drawn to personalize this small moped, of course everything was done using whatever materials were available to me, so I applied stickers, wraps, painted lettering on the tires, trimmed the fenders.
In the following years the passion developed with more motorcycles, i.e., Simson, Yamaha and Honda the crowning moment of which being when I finally parked a Harley Davidson in my garage.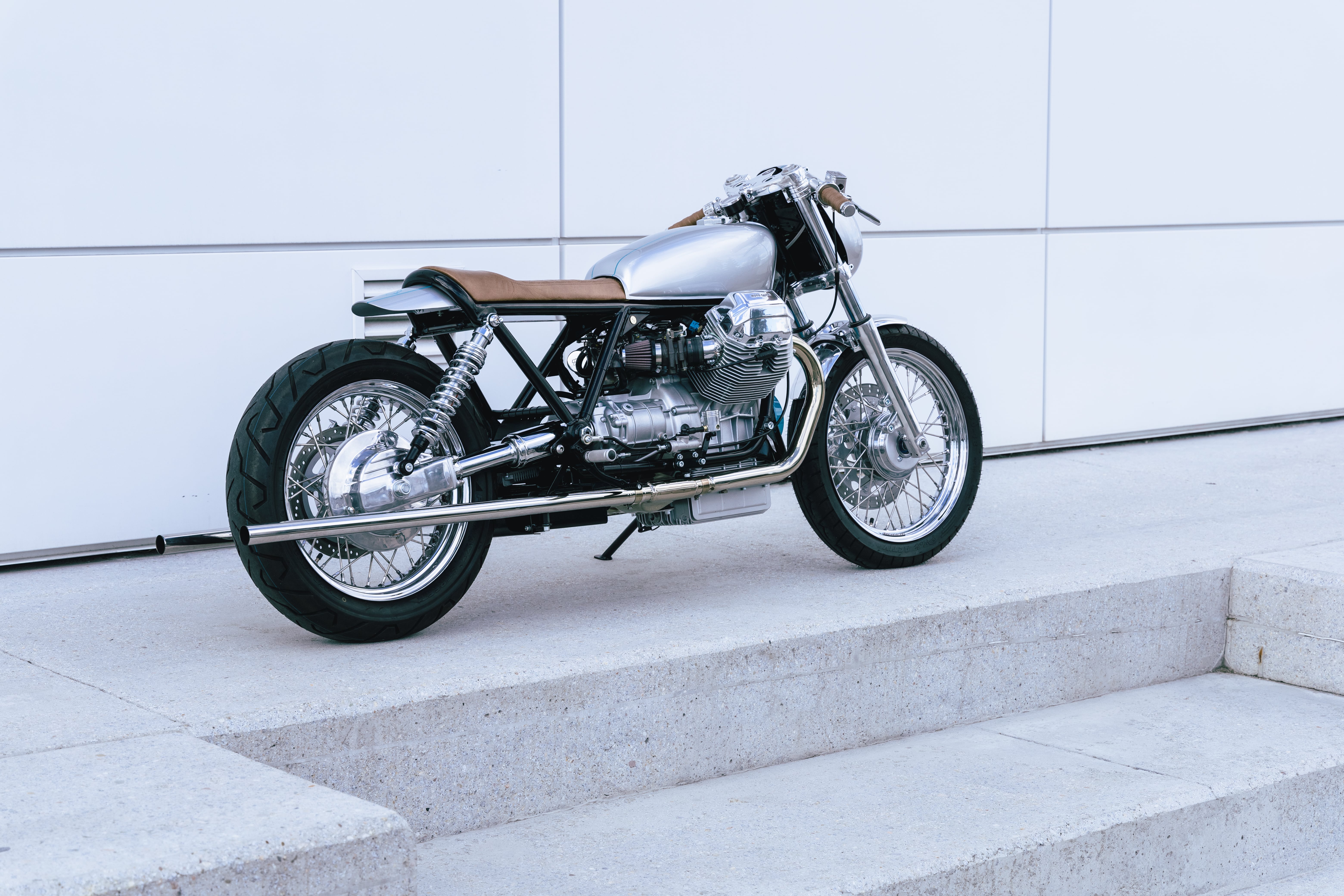 For a few years I've been watching how motorcycles are customized all over the world, and already then, I knew that I would like to build such a motorcycle, but the possibilities and number of available places in Poland were limited. I could not make up my mind, and I wanted this project to be unique, stunning design-wise but also in terms of technical solutions. I wanted it to be professionally executed by a team of professionals.
I once read that there is a place in Wrocław that is quickly gaining recognition because of the projects it puts out of its garage.
When I arrived at their doorstep, I met the team, Grzegorz, Michał and I knew that this is a place full of passion, professionalism — and this is how we'll build a brilliant project."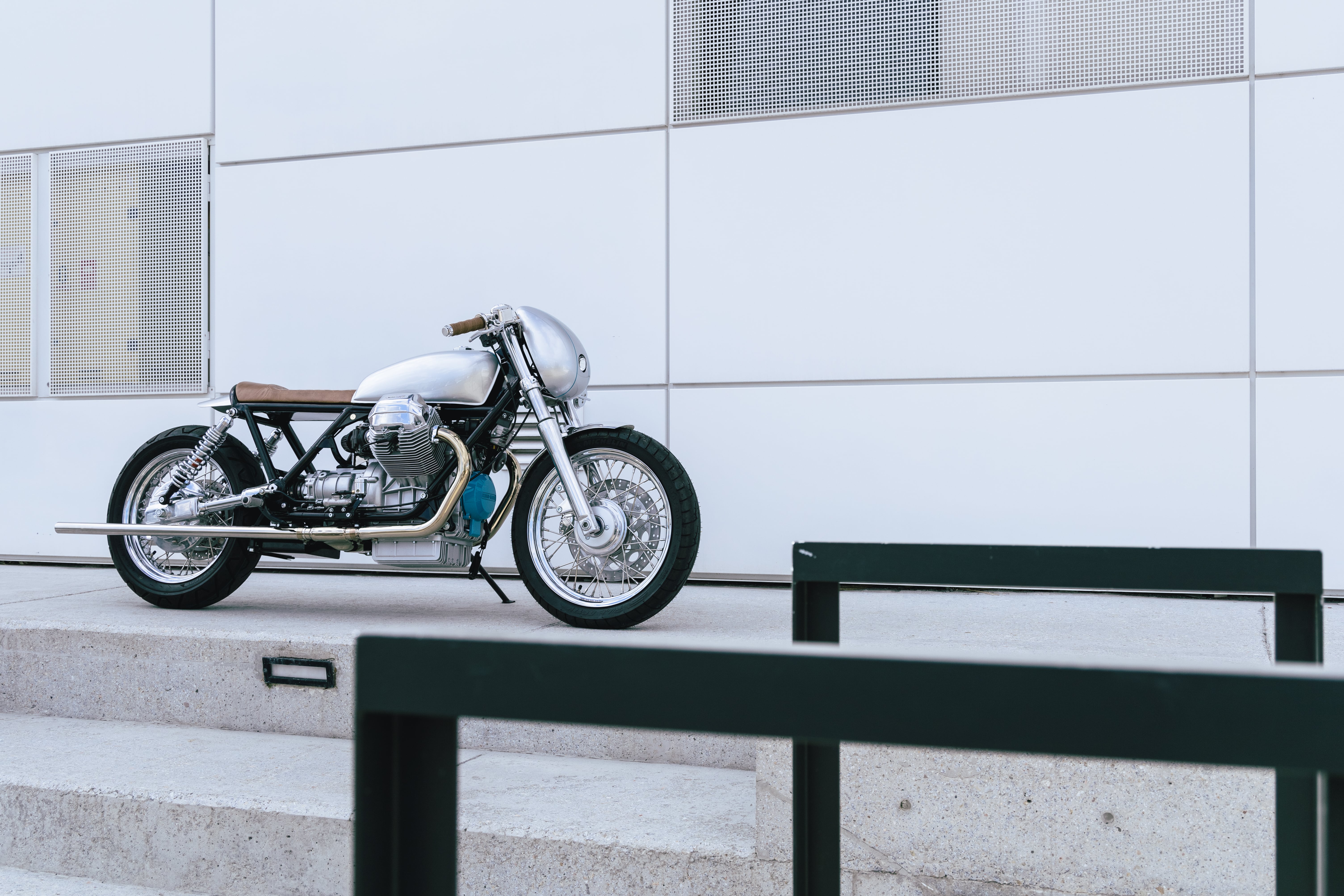 Teamwork
The modifications were done under the watchful eyes of Tomasz (mechanic) and Grzegorz (designer) with the bike's charismatic owner Paweł in his Director's Chair.
Grzegorz: "In order to achieve the perfect look and beautiful lines of the café racer, we completely changed the geometry and design of the original frame. This required us to shorten the front suspension and use new rear shocks from Bitubo, for which we made new mounts. To complete the look, two fairings (front and rear) were made from scratch by our mate Tomasz."
Continuing: "The use of a new accessory fuel tank was also linked to the modification of the frame by making new mounts. Since this Moto Guzzi model features a fuel injection system, we had to use an external pressure regulator and redo the whole fuel system."
As the team were using a custom pressure regulator as mentioned above, they were able to modify the intake and exhaust system. The factory air-box was ditched in favor of a pair of K&N performance cone fitters. Out went the original exhaust to make room for minimalist slash cut tail pipes, which combined with the Guzzi V-twin, produce a unique sound!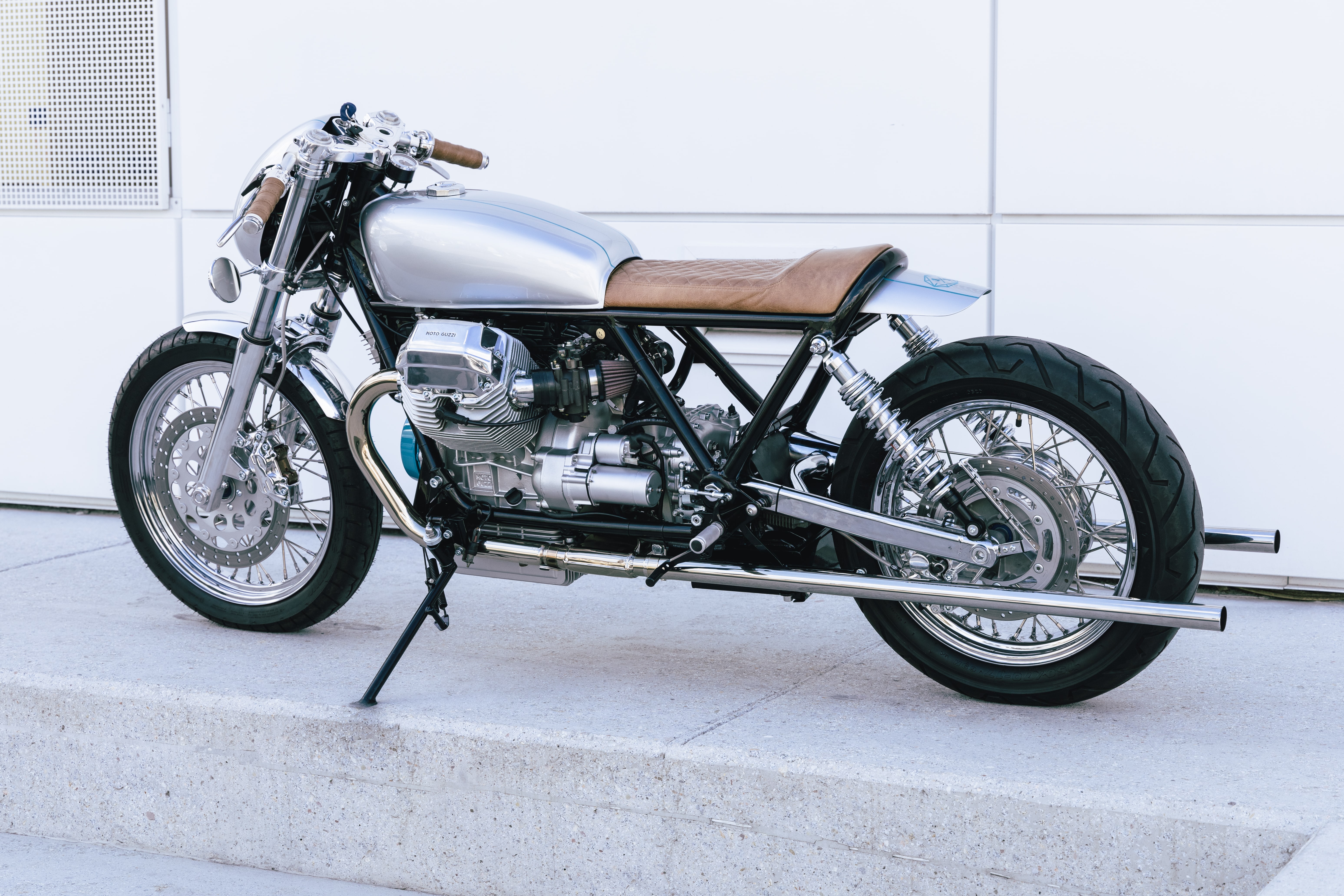 Café racer in true style
As befits a true flesh-and-blood café racer, clip-on handlebars were mounted. These new handlebars, along with the changed frame geometry forced the Polish outfit to relocate the rider's footpegs. As the original ones were completely unusable, a decision was made to use a set from a sports bike with a racing pedigree.
All switches on the handlebars were replaced to go for a clean and minimalistic design. Buttons and turn signals in the handlebars are from Motogadget. A new Motoscope Tiny speedometer, a LED headlamp concealed in the fairing, and a full LED rear lamp dictated creating nearly a full new wiring harness, powered by a battery that currently sits under the swingarm in a box which was custom made for this purpose.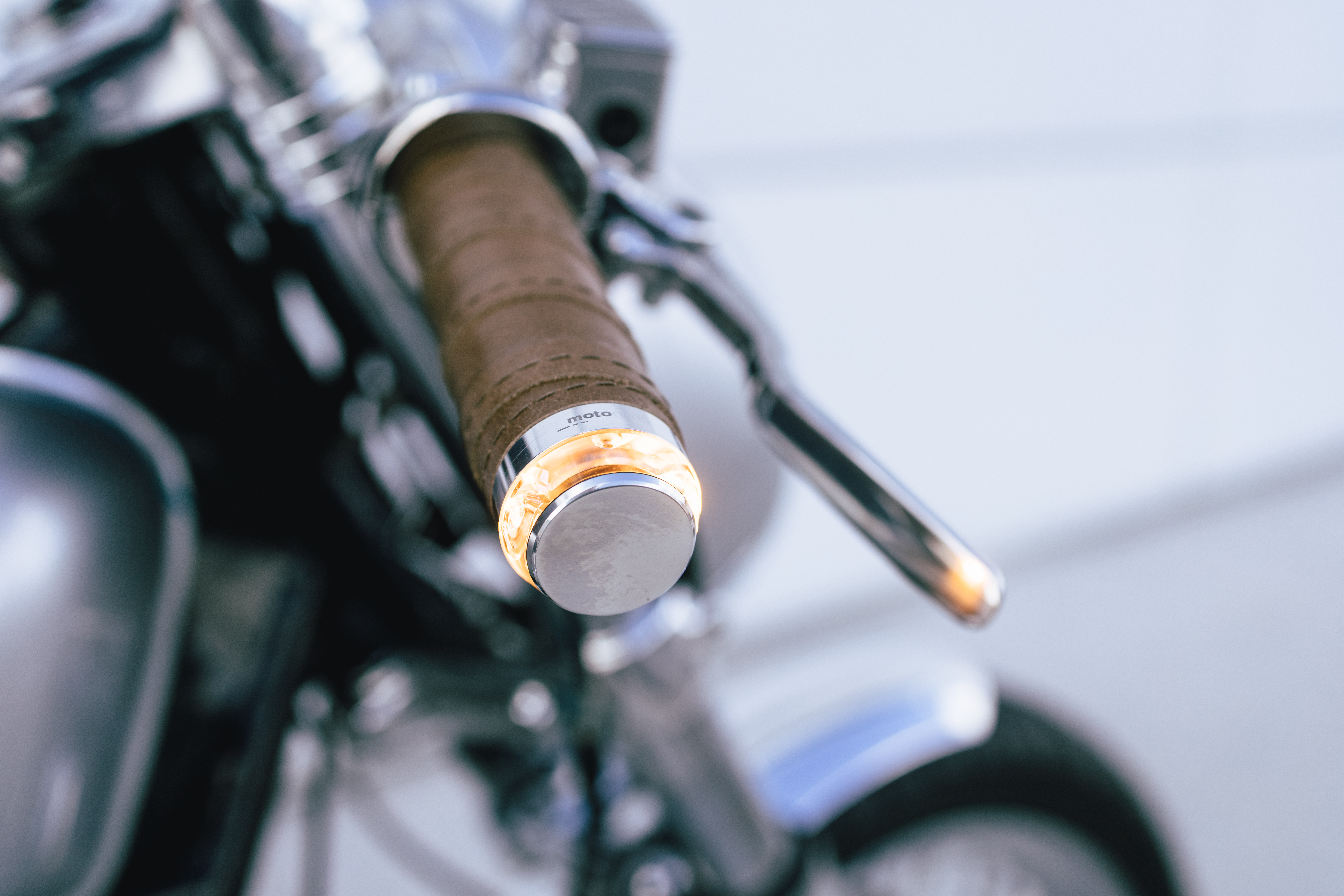 The engine, including the transmission, did not require a complete overhaul and tuning. A proper paint job to make it shine was enough.
Wheels are from the legendary Borrani company, completed with thicker stainless-steel spokes. With such magnificent objects you obviously need a new set of tires .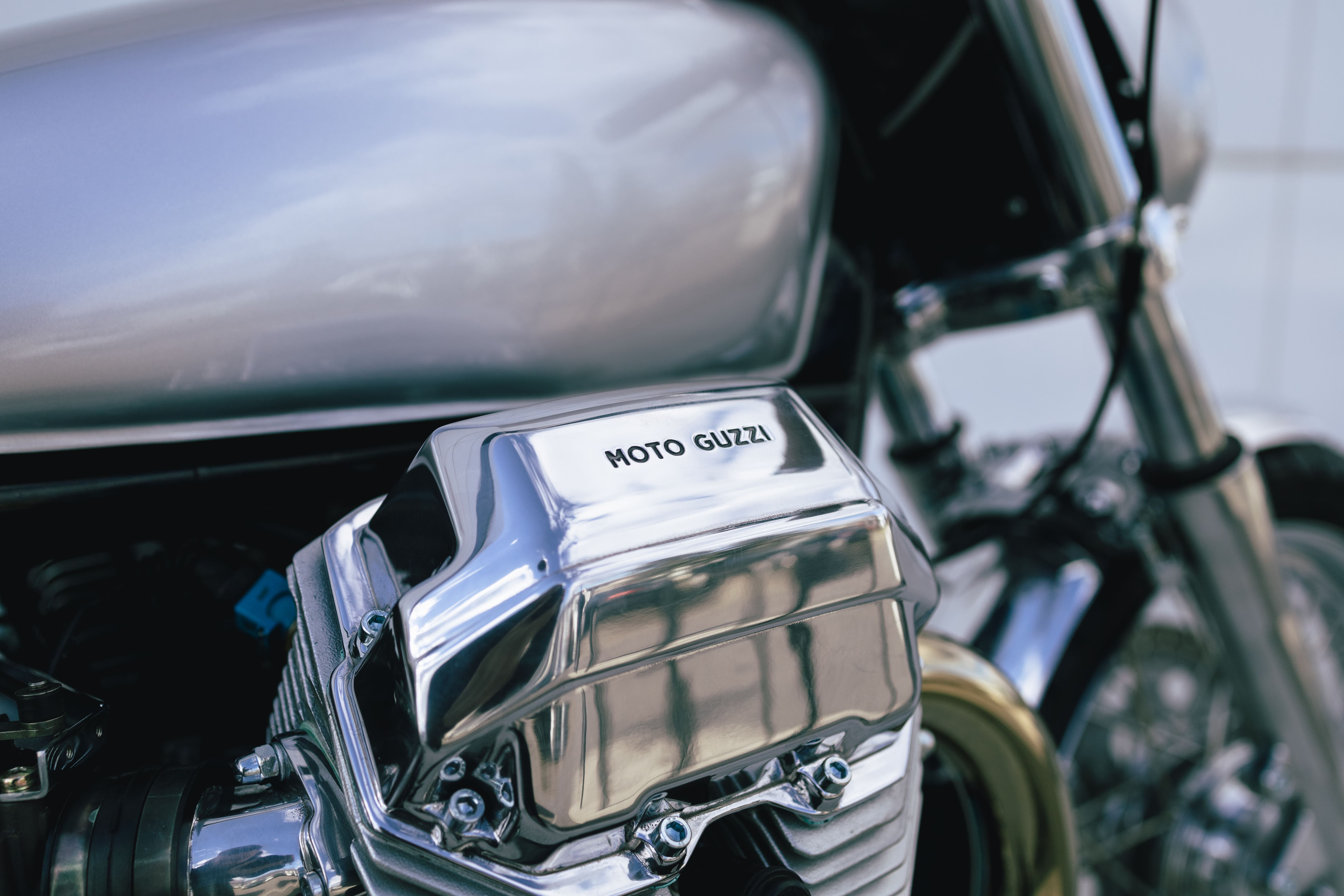 Most of the parts have been polished or mirror-finished, including the wheels, front and rear suspension, valve covers, exhaust system, handlebars, triple clamps and swingarm, as well as a number of other small components. All bolts were re-galvanized or were replaced with new ones.
The bodywork, front and rear fairing were perfectly painted by Marcin, creating a coherent whole with polished and chrome-plated elements.
The entire project was finished off with a warm touch of leather elements, such as the upholstery on the seat, the construction of which was made by us from scratch, and hand-wrapped handles.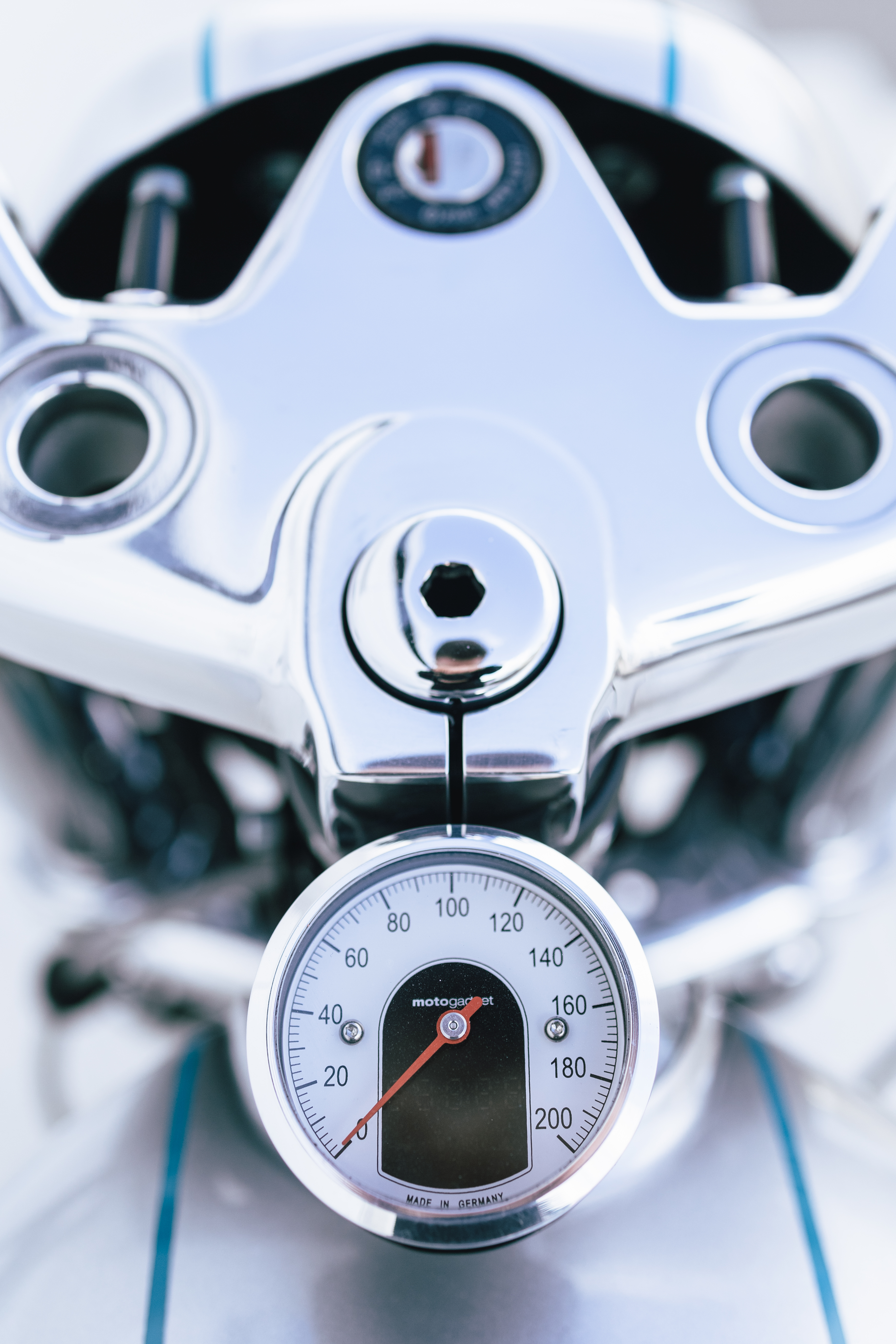 The owners perspective
Being heavily involved with the project the BikeBrewers team was interested to hear his reaction to the end result.
Pawel: "We talked a lot about the technical possibilities, aspects of working with older motorcycles, what should be included in such a project and where it needs to be included to make it unique in every way possible.
We agreed that we want to choose a motorcycle that would be an excellent base and the potential to be unique, and here it is — the Moto Guzzi California 1100.
Was it worth it? For all intents and purposes, the design was great, but it was the execution that knocked me off my feet. Perfection and pure design in every element. The motorcycle impresses with its light, simple, yet detailed design, as well as with the technical solutions.
If we can call anyone artists in the custom scene it is undoubtedly the crew of Unikat Motorworks. I am incredibly happy with the end result and the roads in Poland have just gotten a bit more beautiful with this Moto Guzzi gracing them with its presence."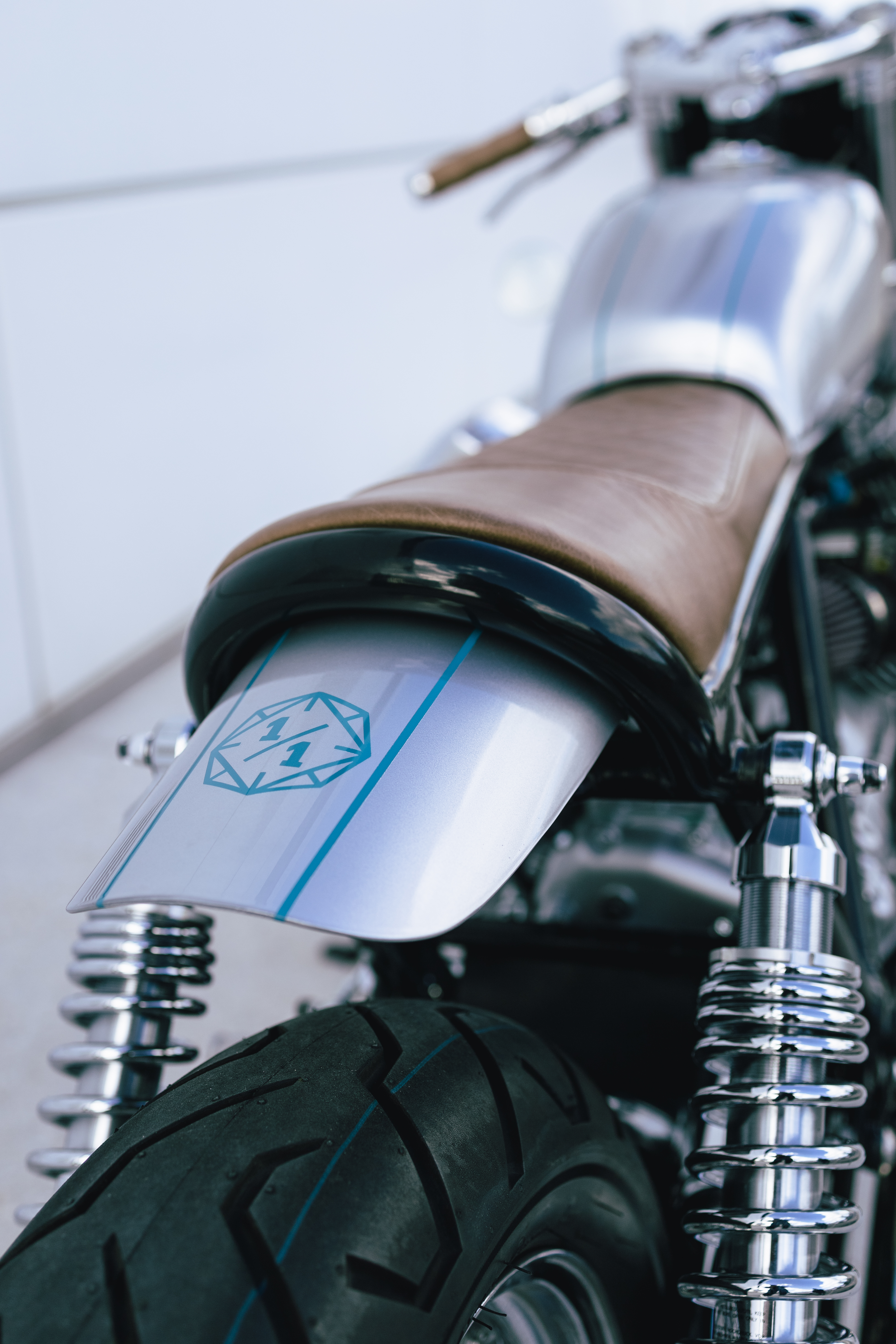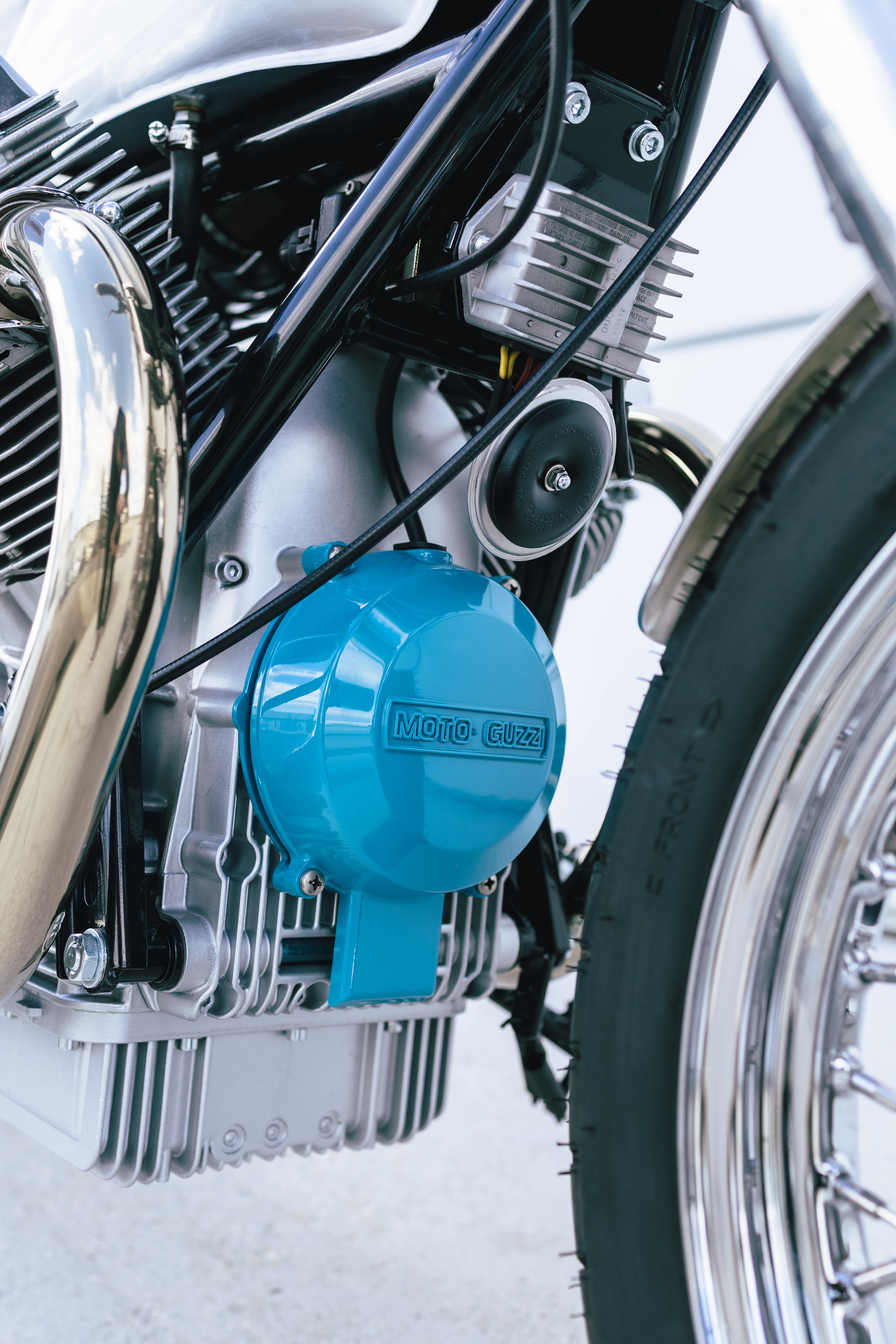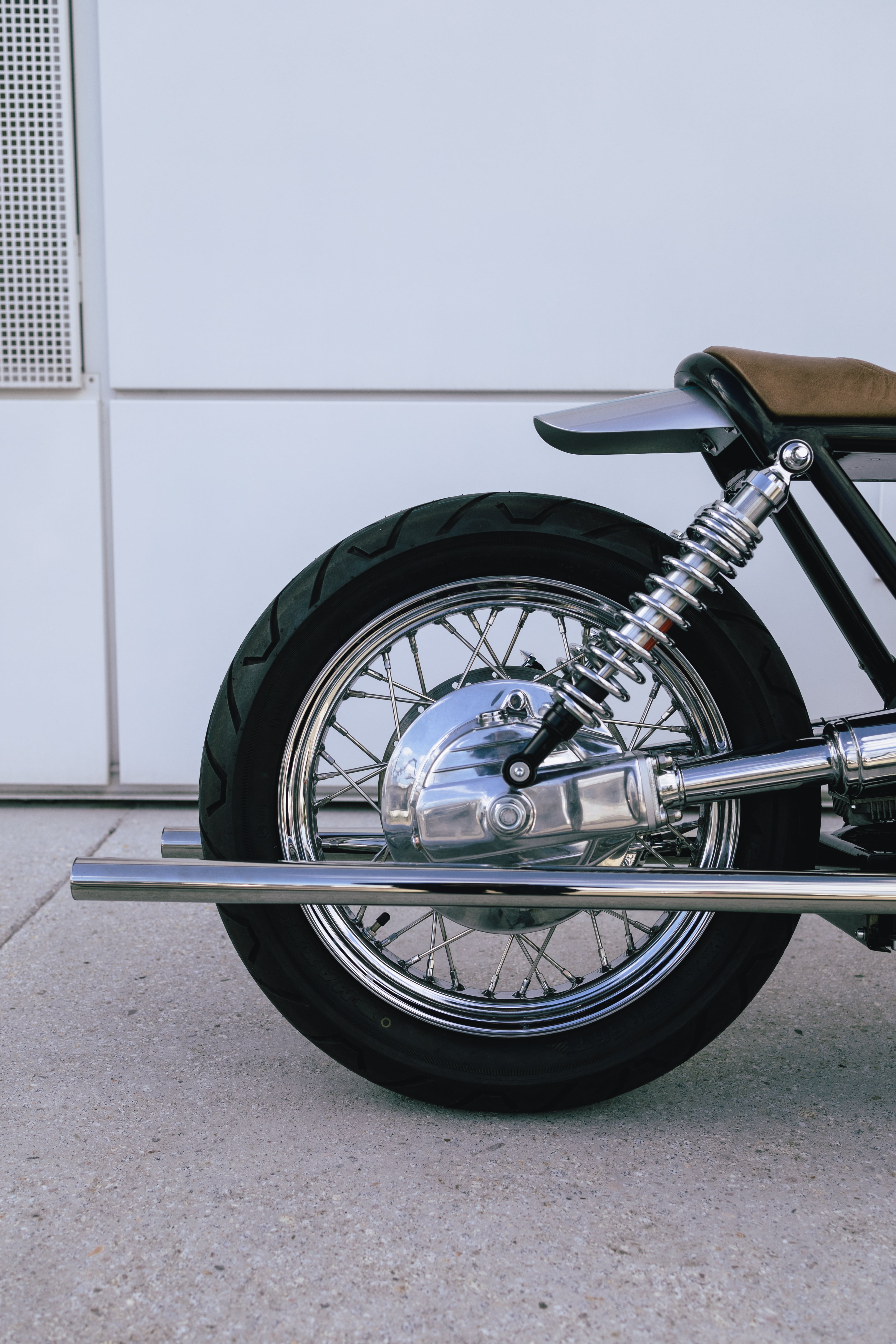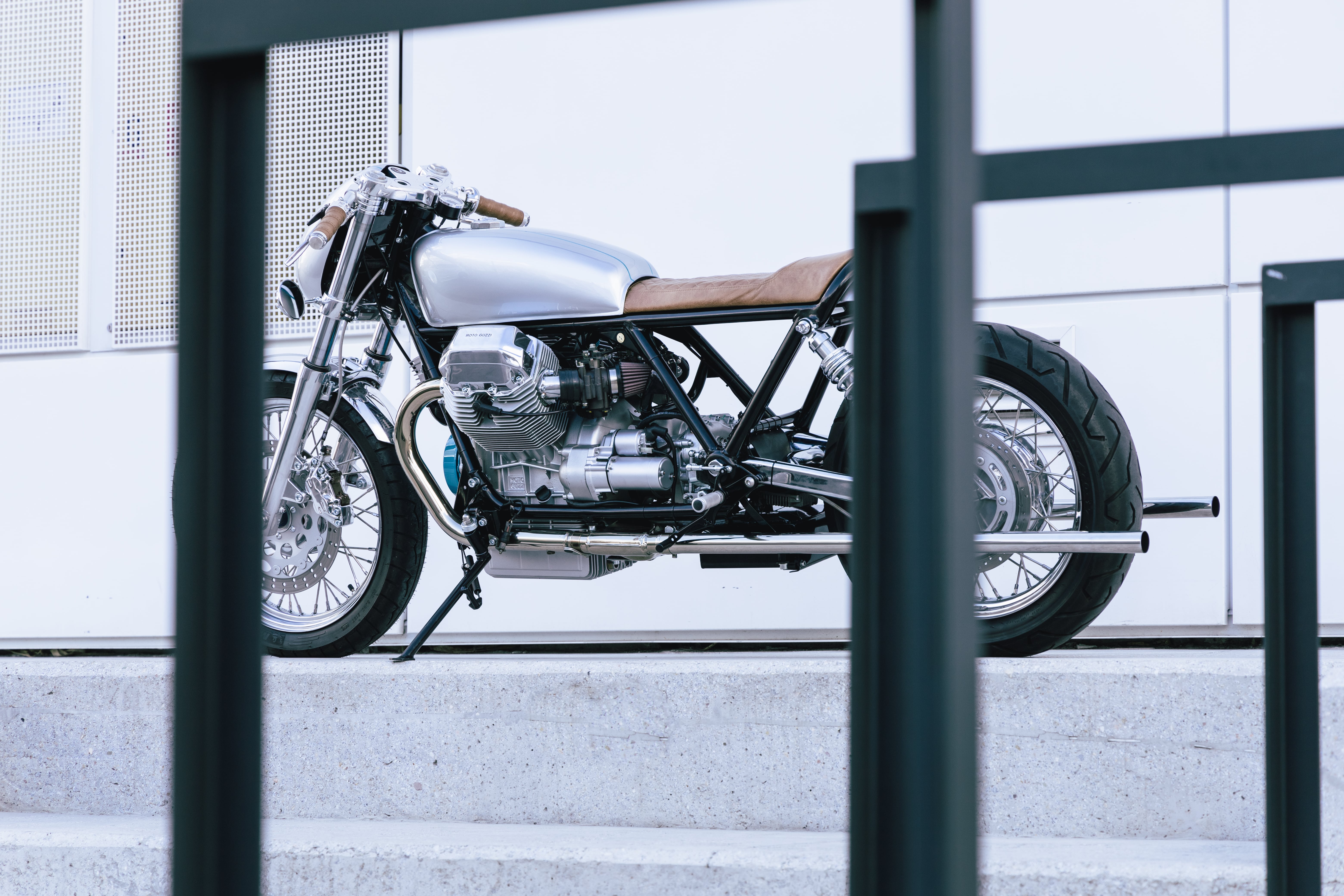 Share This Story, Choose Your Platform!
Tags