The apple does not fall far from the tree
We recently came across 29-year-old Anton Knutsson From Sweden on Instagram. This being his primary communication channel for the bikes he produces under his company name 'Injustice Customs'. The bike that caught our attention was quite a stunner and within the hour we were online with our new friend from Stockholm. This son of a former European motocross champion was born with petrol in his veins and literally grew up riding bikes, the first one being a Yamaha P50 which he got for his second birthday (..). It has been bikes ever since, although he took a year off in 2008 after a bad motocross accident, which left him with a broken hip and two broken arms simultaneously. It already hurts just writing about it.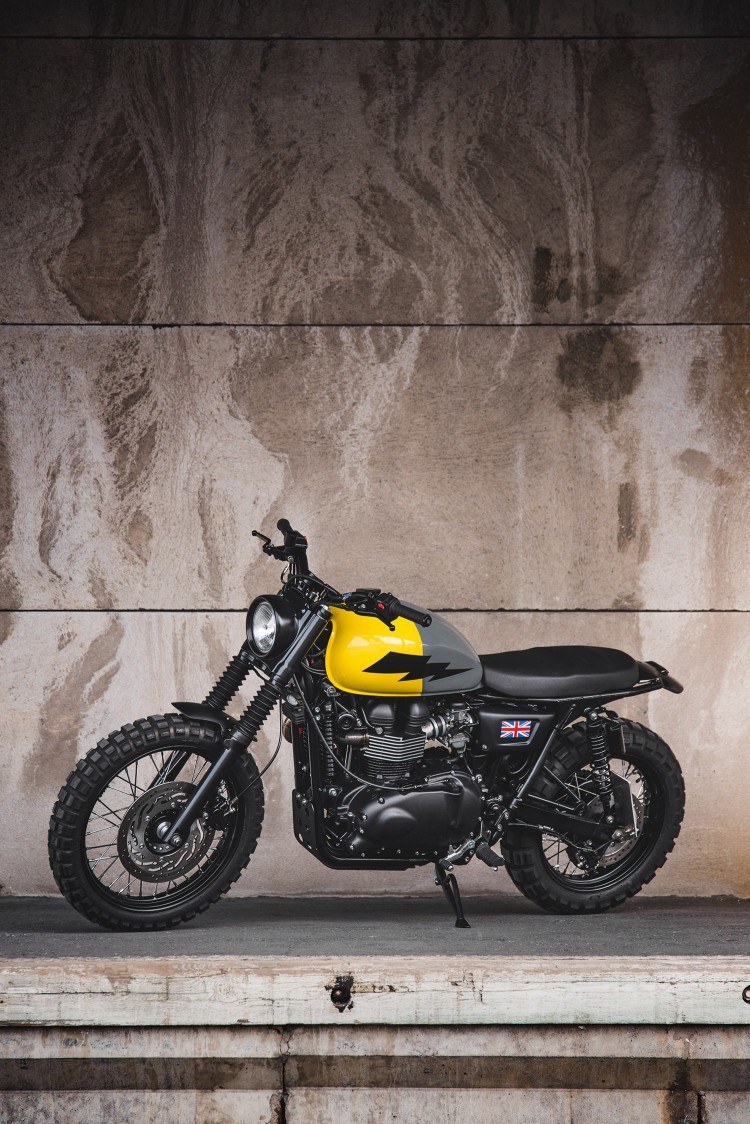 Riding & designing
But, with a 24/7 focus on bikes, it is no wonder he bounced back after seeing all his friends starting to ride street bikes.  He started off on a Ducati 1200 Monster, but it was not entirely to his liking. Anton was convinced he could improve on the looks as well on-road handling and got to work on the Italian. The bike attracted attention and was soon sold to a guy who came up to our rider and said he wanted to buy the Ducati. Having tasted the thrill of customizing, the designer had a mind full of ideas what to do with his next project and now had the cash to start his next project. The sale really jumpstarted his hobby and the rider turned wrencher.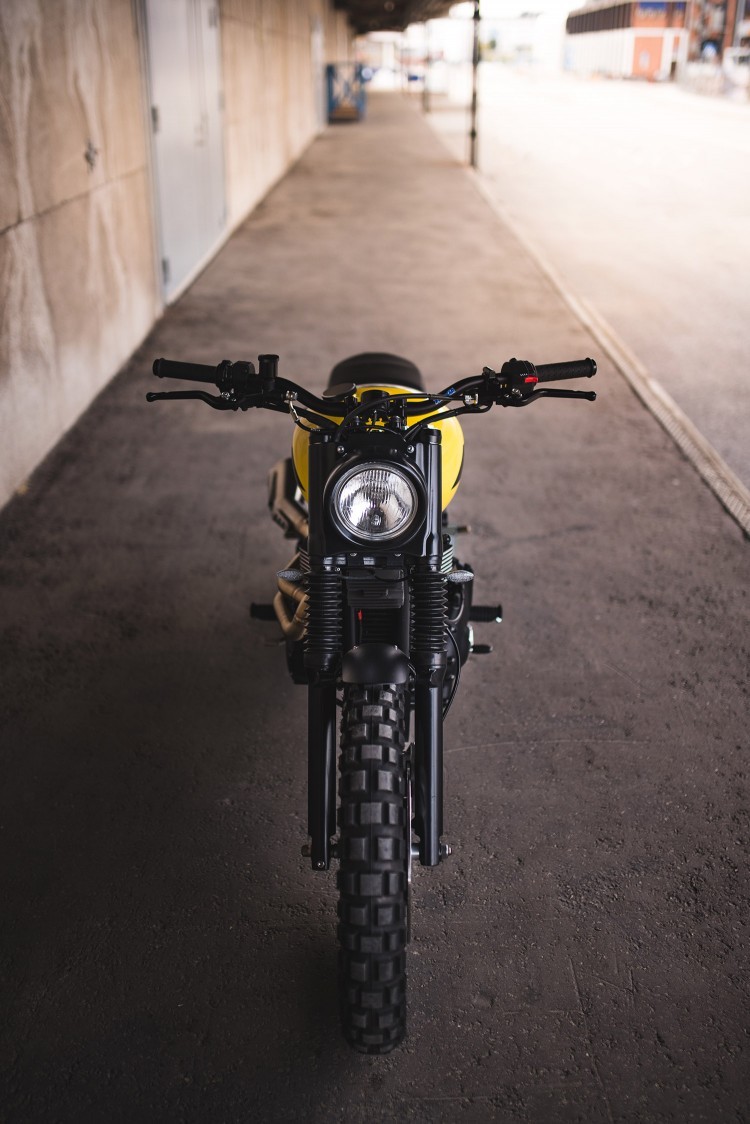 Turning pro
It took a few years for him to grow it from hobby to business, but our man from Stockholm has been a pro builder since 2016. When asked about his preference, he demurely responded 'wrenching' being his favorite. He would have loved to say 'riding', but the weather up North often is not very inviting to take the bike out to ride in the rain and/or cold.
A few things he shared with us about riding are his antics when the weather permits him to ride. Signalling where is about to go is not one of his strong points, although it irritates him when others show similar behavior. Speeding is another, which could be hazardous to your wallet as fines in Sweden are notoriously high. The best, however, originates from his background in motocross. He recently jumped a brand new Harley Davidson Roadster. We would have loved to witness that!
His best ride so far? From Vancouver (Canada) down south to San Francisco. As the Swede describes it "the sceneries make you feel you are riding in a car commercial".  Dreaming about great rides he muses that riding in Australia or South America would be kind of cool too. His reaction to a curvy road? "Fun"!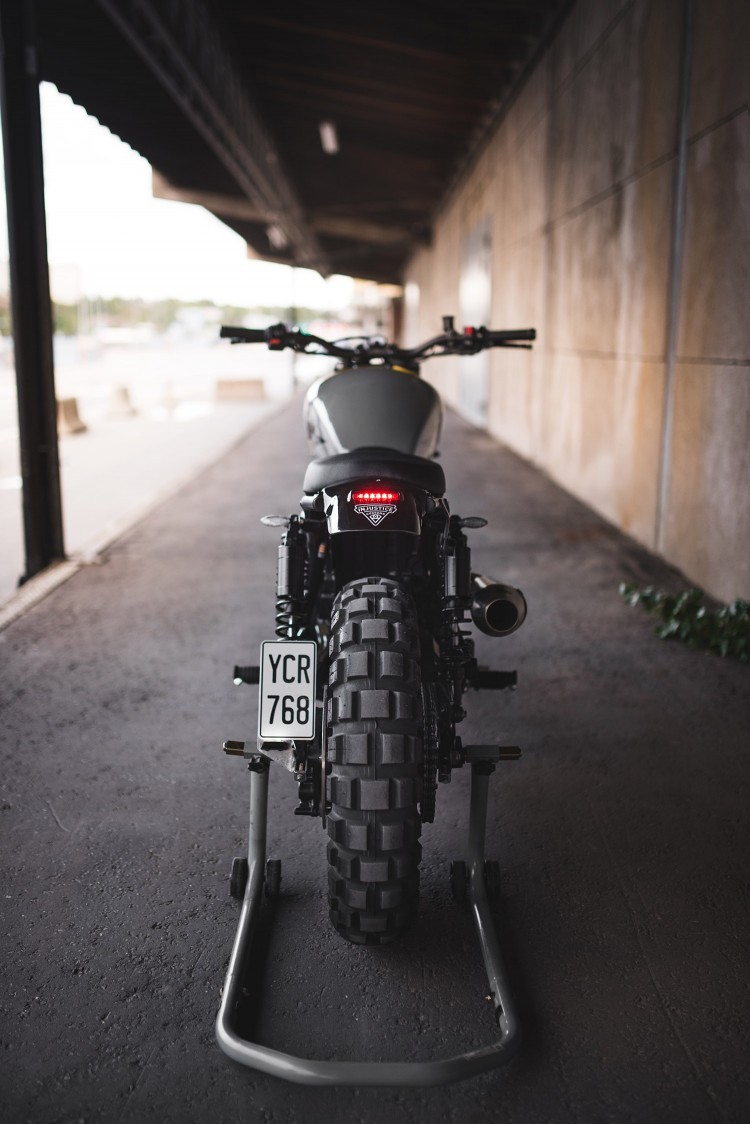 Using technology
When our bearded friends decide it is time to take things seriously, all other things become side-issues. As a result of Anton already has a full order book for the first part of 2018 not even having celebrated his first anniversary as a pro-builder. Quite a feat. Building iconic bikes with an instantly recognizable signature is what he wants to achieve. When you see an 'Injustice' bike on the road there will be no mistaking it for another brand.
Being a 'Millennial' means using technology as a base. At 'Injustice' our designer uses CAD-programs to get started. A CNC tops his wish list, with Anton looking forward to being able to manufacture parts straight from the computer. By doing so, he would also go straight for the title "Master of exhaust manufacturing".
We asked Anton how he managed to get a full order book. His response is simple: "Stockholm is not exactly a gigantic city. People come up to me in the street and word gets around quickly. To generate international  attention I use Instagram." As far as he is concerned the customer is not always King. When someone comes up with suggestions for a build that the Swede does not agree with, he will certainly try to convince them to choose an alternative. Thus making sure the end product deserves the Injustice branding.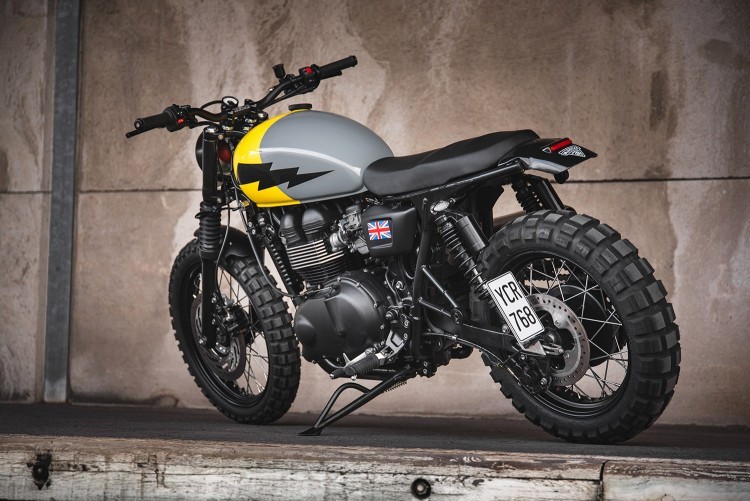 Inspiring heroes
When we ask builders about their source of inspiration they often come up with intriguing names. Anton's hero Alec Monopoly is no exception. This contemporary artist is known for his provocative designs and we can't wait for an Injustice bike based on his art.
As a matter of fact, this Stockholm wrencher would love to sink his teeth into a custom build for Alec himself. Would be interesting to see what happens when these two creative minds get together. Closer to home, there is London based Charlie Stockwell, the "Mastermind of custom and design at  Warr's Harley Davidson" whose influence has also permeated the Scandinavian. "This guy never misses a detail in his designs" Anton explains. "He has the highest quality in the business which sets a great example for me. I have my own creative views on where to take a project and my background in motocross gives me a very good feeling when it comes to minute changes in settings which make a major difference in the riding experience also."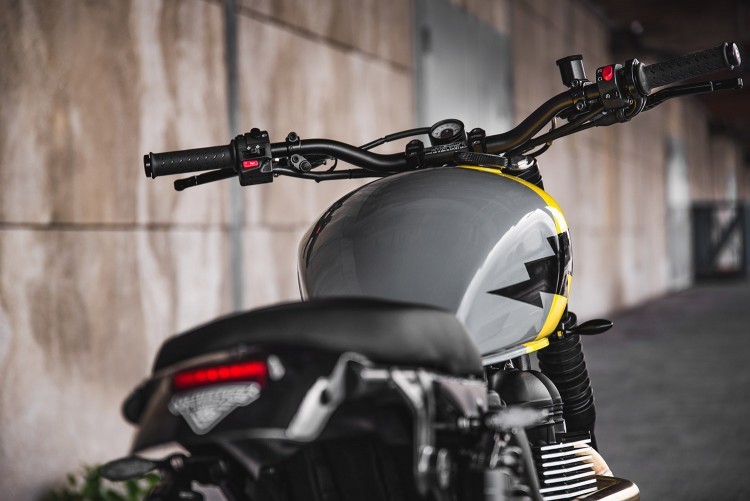 2014 Triumph Scrambler
The featured bike in this article is based on a 2014 Triumph Scrambler. "The bike is a great base for custom projects. It has a great classic look, is modern, reliable and does not have tremendously complicated systems" the builder shares. Its owner is a fast-paced big city tech entrepreneur during weekdays. Over the weekend this guy turns into a wild adrenalin pumping junkie and Anton wanted to reflect this in the design of the bike. BikeBrewers agree he has managed to do just that.
While the Stockholmer concentrated on designing the Triumph, he got help from outside with some of the specialist's jobs. With clear instructions what to do, the painter delivered an outstanding job doing justice to the overall composition. With some assistance from the UK, the ECU was reset to maximize the results of the changes made to the bike's inner being.
A very nice color scheme completes the picture. Not too flashy (except for the lightning – joke) and tasteful. The choice for the handlebars and the simple Motogadget clockwork give the Scrambler a beautiful very clean look.
We love what this Scandinavian magician has done to the bike. Currently, he is riding a HD Sportster which will make a transformation to 'tracker' this winter. We already look forward to seeing this project when completed and promise to share this with our fans.
Modifications and new parts:
Motogadget Speedometer
JVB front and rear fender, seat and headlight
Renthal handlebar and handlebar mounts
LSL brake and clutch grip
Tech rear shocks
Progressive front springs
LED indicators
K&N air and oil filter
TriumphTwinPower breather and ECU-mapping
Continental TK8 Tires
SC-Project exhaust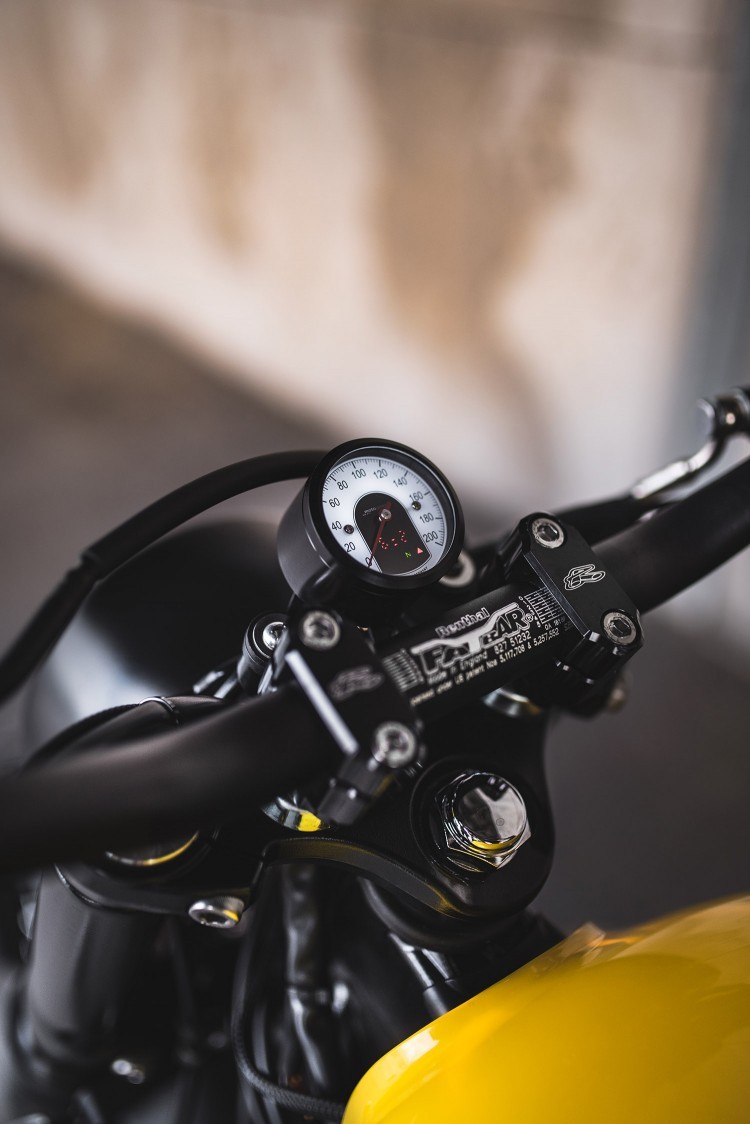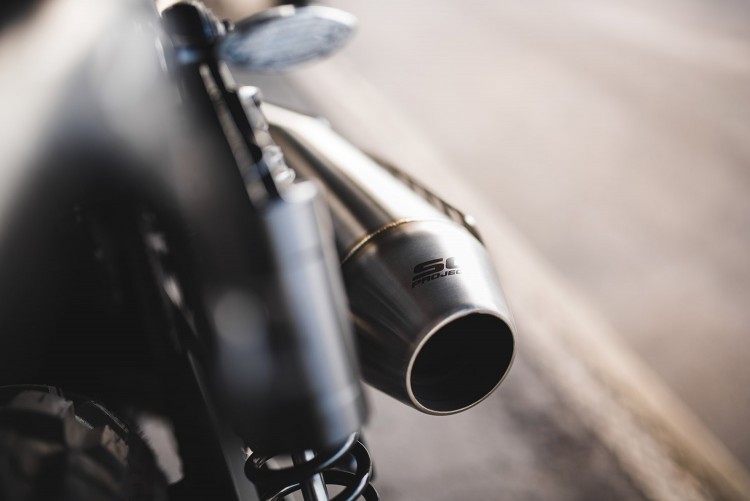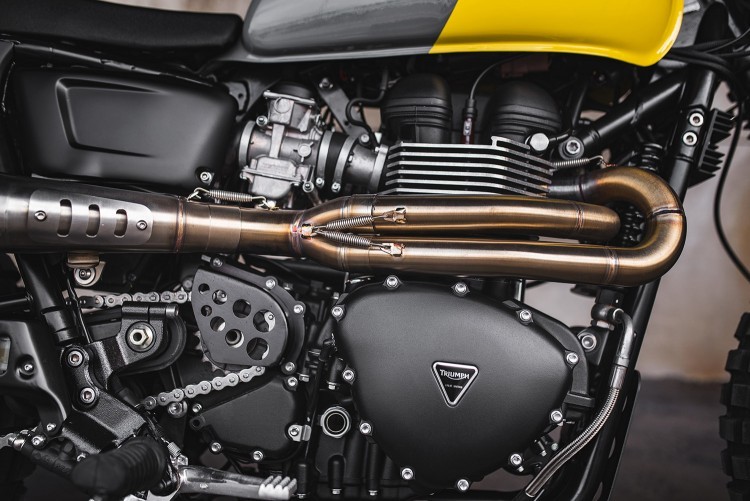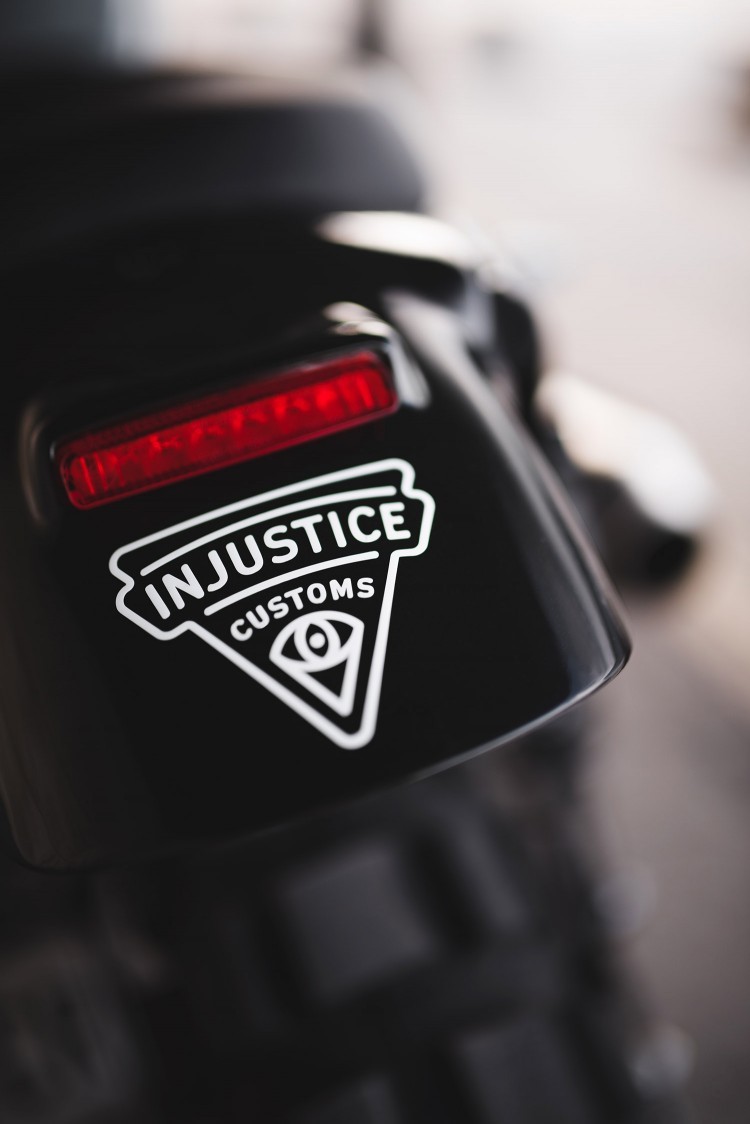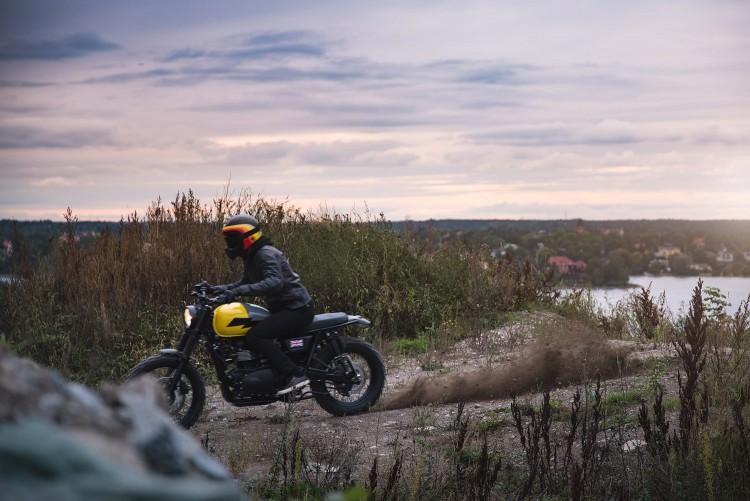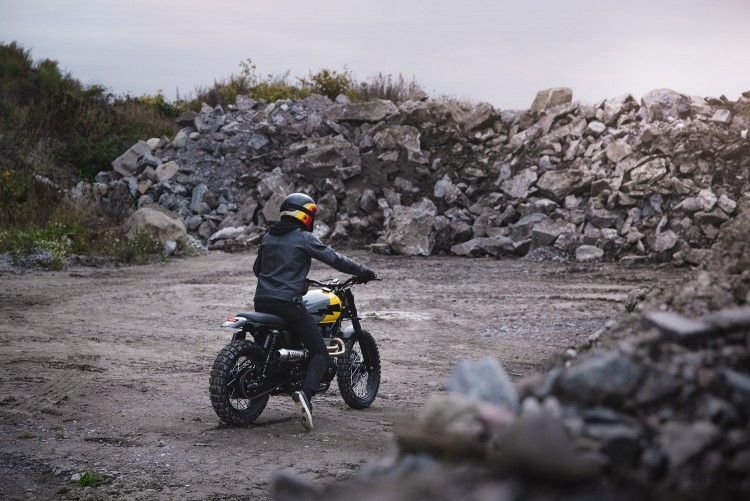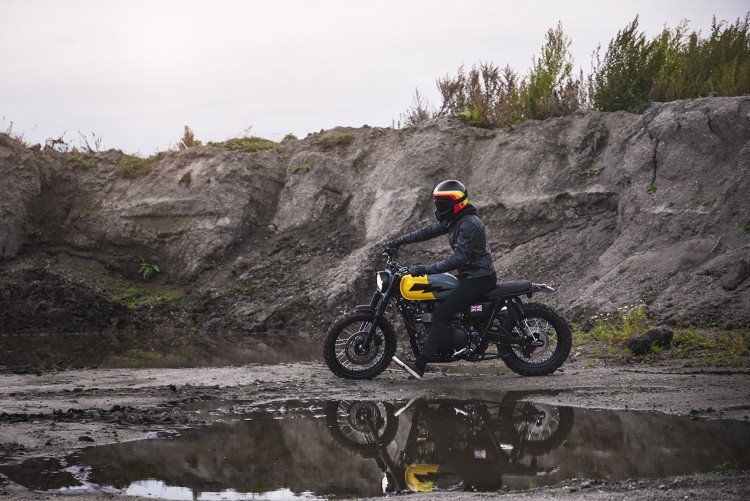 Share This Story, Choose Your Platform!
Tags