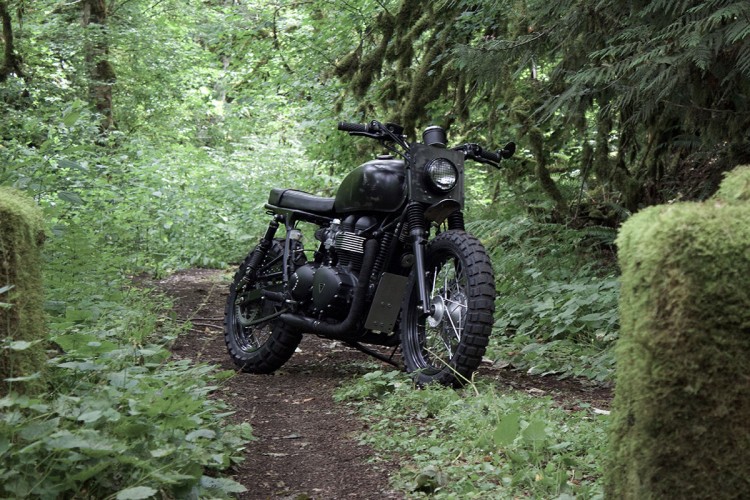 Husband/wife Max and Erica of Droog Moto quickly made fame with their custom motorcycles. They've opened up their shop last year and delivered a handful of machines with post-apocalyptic looks which are best to be labeled as scramblers. It all started with this Honda CM400. But they don't focus on one specific brand or type. They've put their signature on a wide variety of models: a Honda XR500, Yamaha FZ09, KTM 690 Duke (2x), Kawasaki KX750, Kawasaki KLR650, Honda CX500 and this Suzuki LS650 Scrambler. This is their latest build, based on a 2013 Triumph Bonneville T100.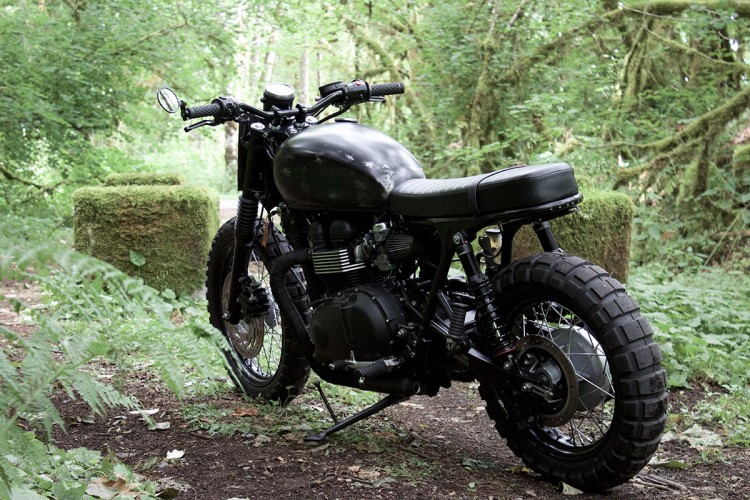 Words by Max:
We had a customer reach out to us from Canada wanting to do something rad with his 2013 Triumph Bonneville T100. He was into our raw minimalistic approach to our builds and we happily took on the challenge! The Bonneville has been done by so many builders so we knew we had to make ours stand out a bit. We stripped the bike down to frame and motor and quickly got to work. First thing to be done was change out the stock subframe, seat and rear shocks. We chose to go with a fully enclosed hoop and integrated an LED taillight into it as seen. We went with a new scrambler style seat and new seat mounts as well. The stock rear shocks were then swapped out with a pair of Progressive 490 series which really accent to the build. All the electronics along with a new super small Shorai battery have been tucked into a custom electronics tray under the seat.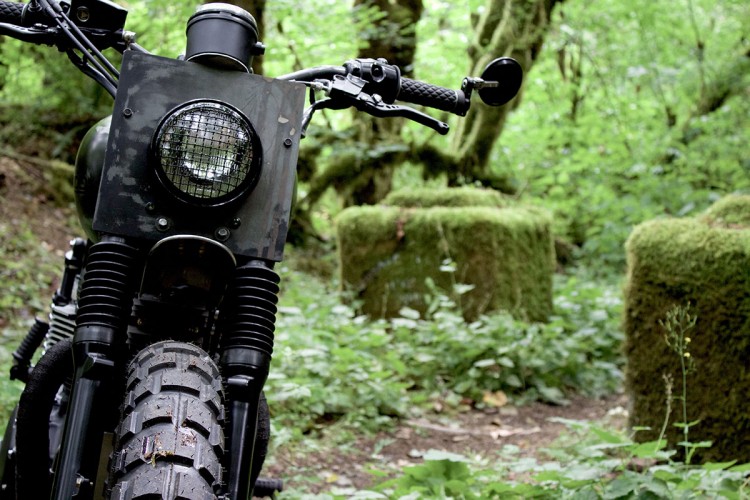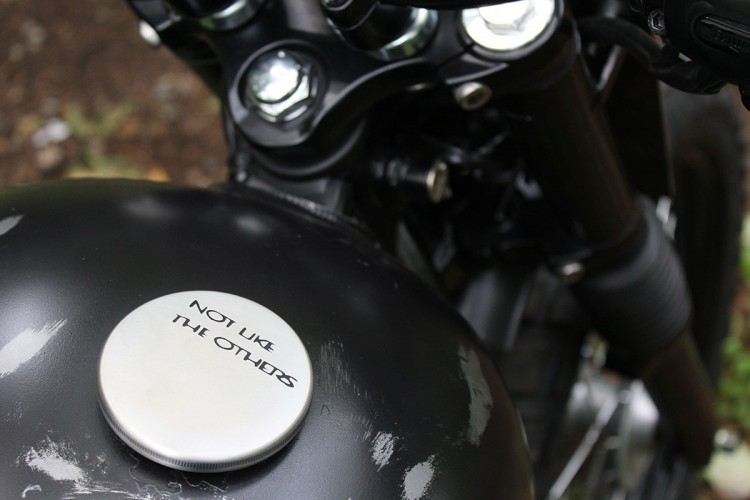 We wanted to open up the middle of the bike to expose the pod filters and keep the bike more visually appealing as most choose on keeping them to hide their electronics and battery. We then moved to the tank and went with a bit of a different approach on this. The customer wanted something dark but with a rough look to it. This tank ended up being a perfect match to the bikes design. It looks worn and weathered but still very appealing. We chose to also go with a custom low mounted dual exhaust which was then heat wrapped. The front was then matched up to the tank. We built a custom tracker plate with a round styled headlight that has been recessed into it and then installed a small front fender. The handlebars have been swapped out with a set of 1″ tracker style bars and chunky Biltwell grips and a CRG bar end mirror. We removed the RPM tach from the bike and just went with the speedometer and a custom low style mount. We chose to go with black wheels on this build which we then wrapped in a set of burly trail tires that perform well on and off road. This bike kicks ass we think, it is the perfect mix of raw and ready meets clean and visually appealing all in one package. It rides excellent as well. It has plenty of power to get you on and off the road along with a fun weekend getaway. The new Progressive rear shocks and Progressive front fork springs really make this bike feel more controlled as well. This bike was a blast to build and we hope to get our hands on another one some day!
Follow Droog Moto: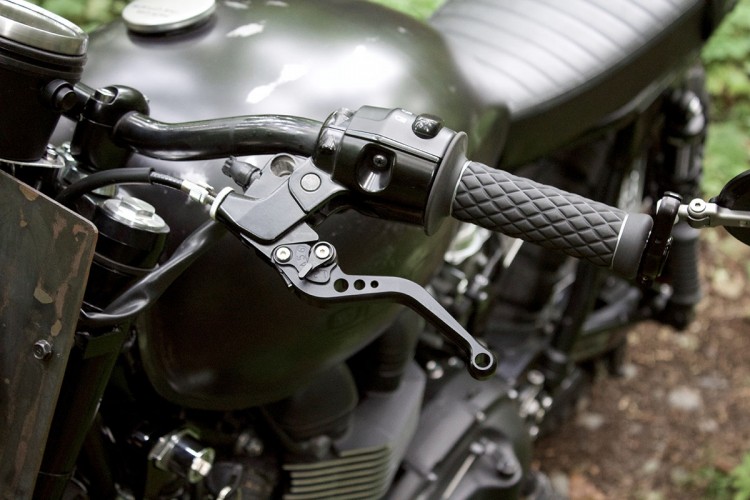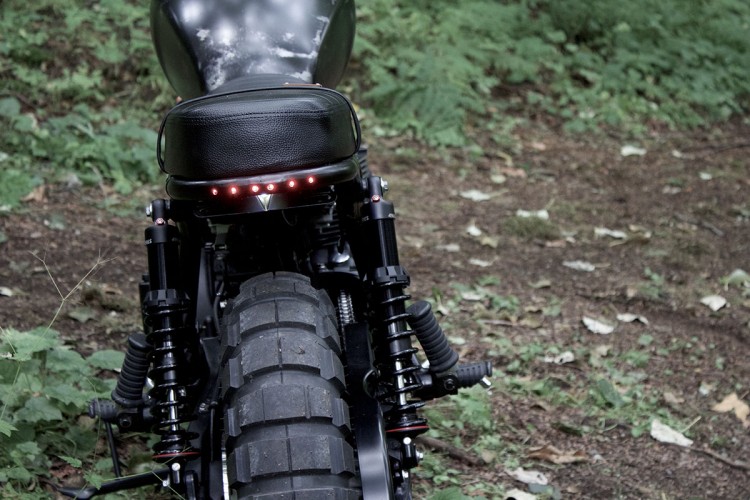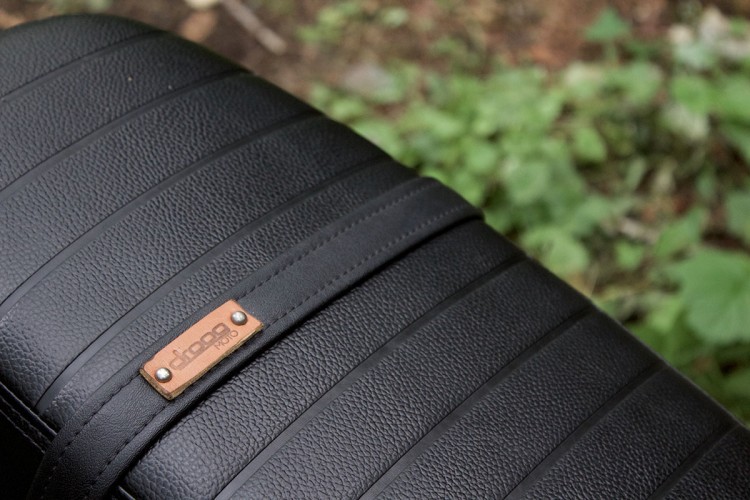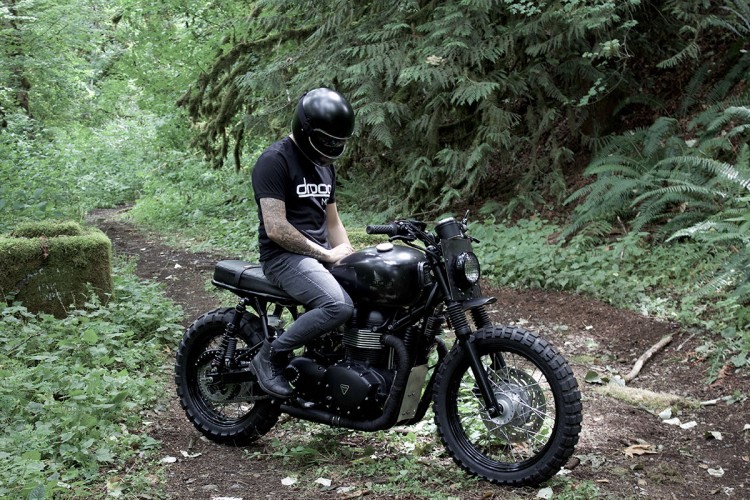 Share This Story, Choose Your Platform!
Tags