Follow us on
Facebook
,
Twitter
,
Instagram
,
Pinterest
,
Google+
,
Youtube
or subscribe to our
newsletter
.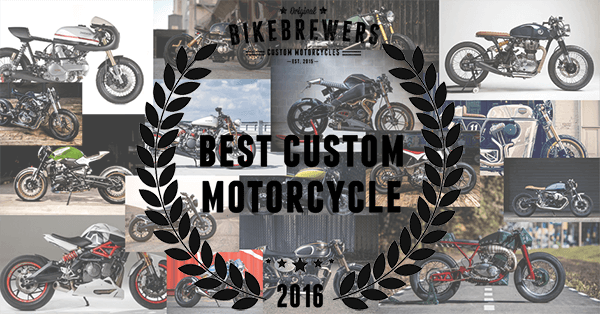 2016 was an awesome ride! The custom motorcycle scene is more alive than ever and BikeBrewers.com is very successful in becoming a well-known place to find inspiration for custom bikes. Just like 2015, I want to look back at last year with a top 10 overview of the best custom motorcycles we saw. I didn't focussed on BikeBrewers.com only, just like in the Bikes of the Month section I've looked around the entire web and base the ranking upon likes, responses, buzz etc. But different than last year, I picked 30 motorcycles that I personally loved and let you guys vote for a top 10. So no hard data or statistics, simply a subjective view where the ones with the most "voting power" wins. The result is the top 10 below:
#10: BMW R100 by NCT Motorcycles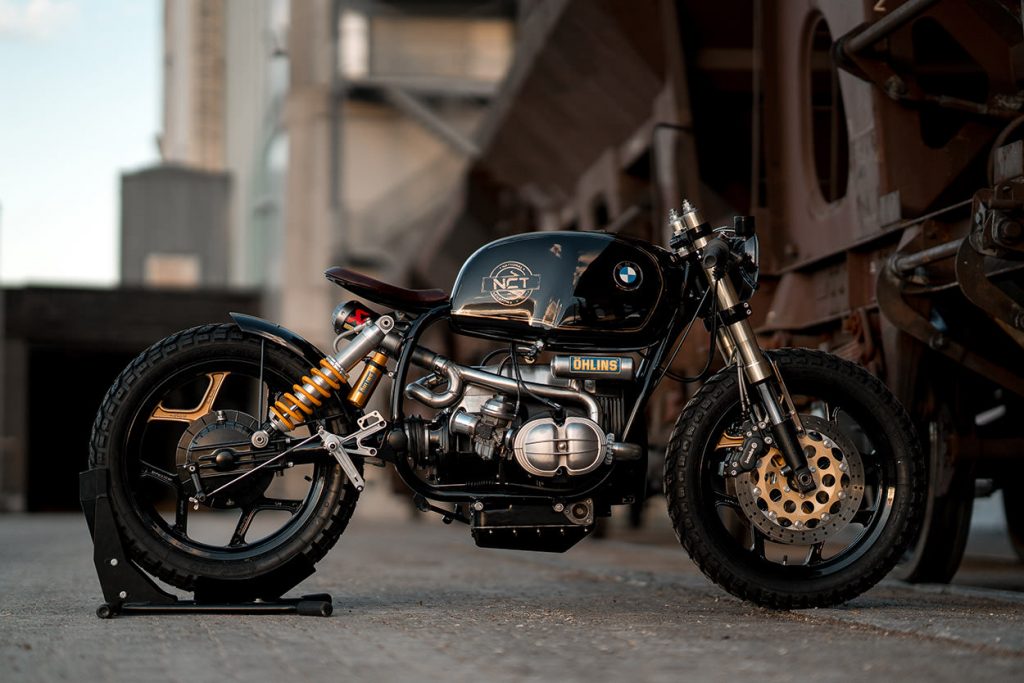 A radical looking BMW R100 built by NCT Motorcycle from Germany called "Black Stallion" stuffed with high-end parts and materials like Öhlins suspension, hand crafted exhaust systemem, Akrapovic muffler, MotoGadget M-unit wiring etc. This won't be the best bike for your daily miles, but it sure will draw attention when riding it. This machine made it to #10 with 723 votes. [read more]
#9: Honda CB550 by NCT Motorcycles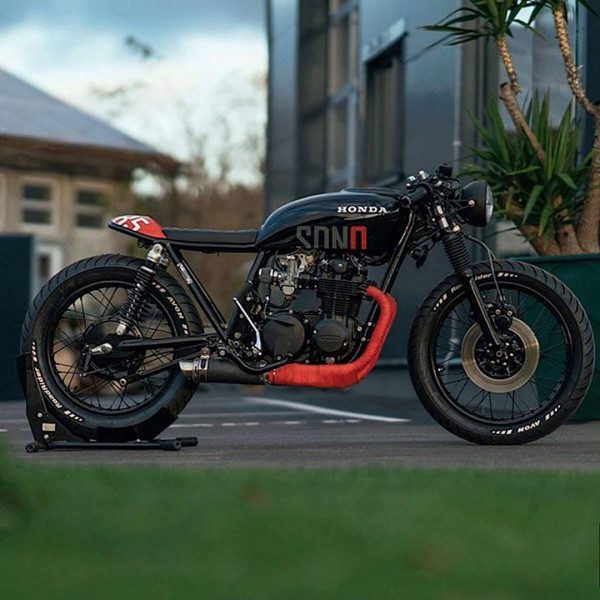 Two machines of one builder in the top 10? Yes, I know that this looks arguably. But I did mention that this list is a bit subjective? This is another cool creation of NCT Motorcycles and based on the beloved Honda CB550. It's one of those machines that has something special, but it's not really one thing that you can point. Maybe it's the simple and classic "cafe racer look", or maybe it's just because of the red details. Anyway, you guys liked it: 807 votes [read more]
#8: Moto Guzzi "MGR 1200" by Radical Guzzi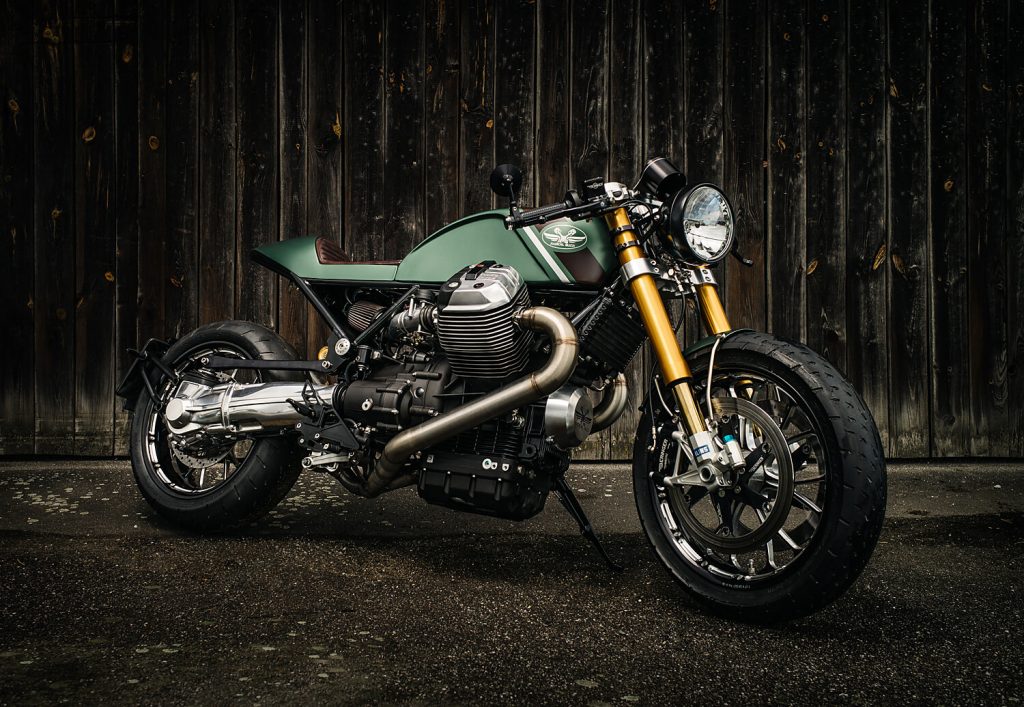 As a Guzzi rider, this one was my personal favorite. Not really retro, but also no supersport. It's a class of its own. The so-called "MGR 1200" by Radical Guzzi shows a perfect mix between the legendary Moto Guzzi heritage and modern technology. 1009 votes for the MGR1200. [read more]
#7: Yamaha RD350 Cafe Racer by Iron Custom Motorcycles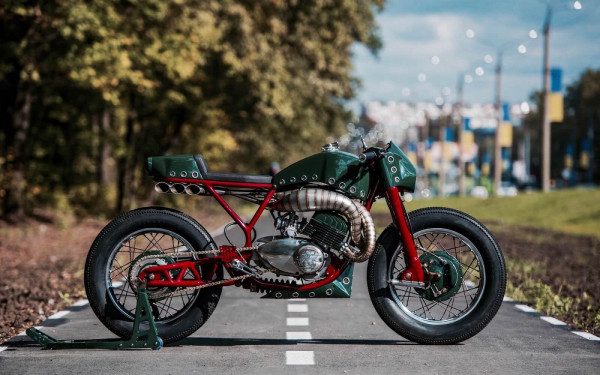 An extraordinary piece of engineering from Ukrain with almost nothing original or stock on it. Based on a Yamaha RD350 but transferred into a 555cc triple cylinder machine. A little machine with some serious power and brutal 2 stroke sound. Finished on #7 with 1476 votes. [read more]
#6: Benelli BN600 Streetfighter by Kenstomoto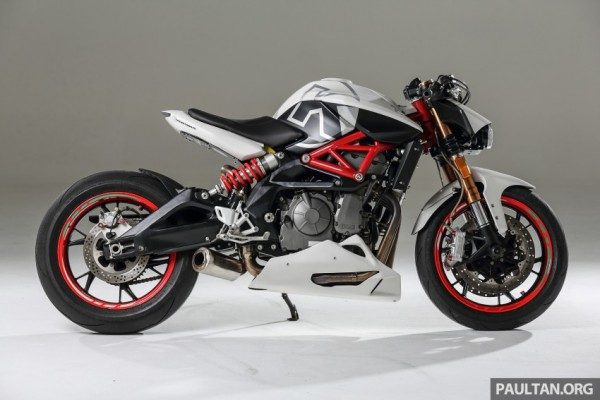 An awesome creation from Malaysia; a brutal looking Benelli BN600 Streetfighter built by Kenny Yeoh from Kenstomoto. A BN600 as a base bike, some funds of a client and a carte blanche started all this. It's called "The Demolisher" and finished #6 with 1604 [read more]
#5: Ducati 350 Pantah by Capêlos Garage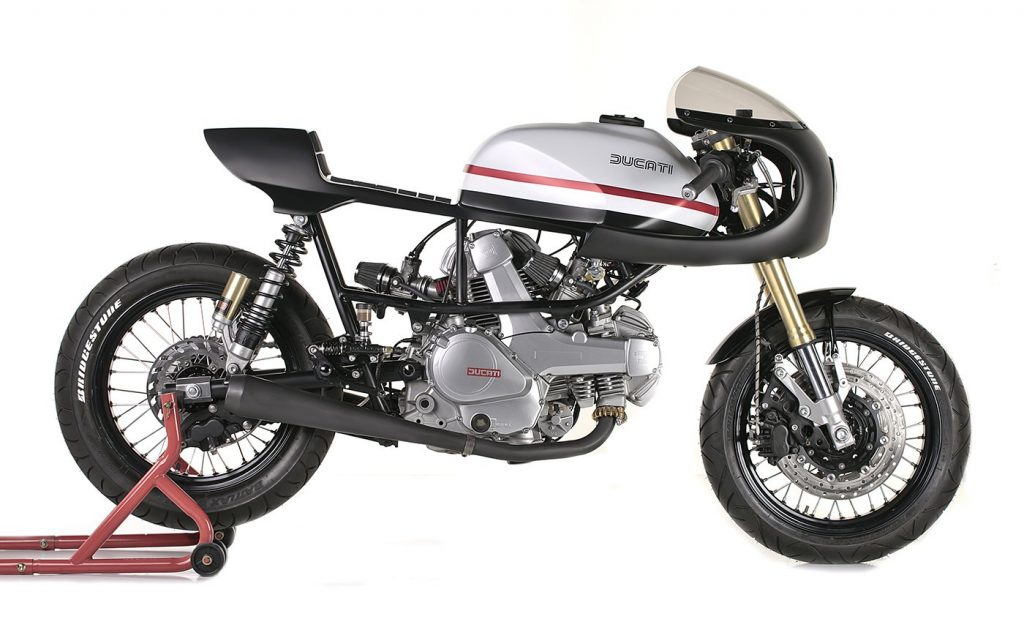 If you ask a child to draw a cafe racer, it probably looks like this bike by Capêlos Garage. Beautiful stance and lines and of course that half fairing is topping of the aesthetics of this bike. It's A Ducati in the mix with a Cagiva resulted in this "350 Pantah". The bike drew a lot of attention during the 2016 Bike Shed London and melted down social media. This small machine got 1921 votes; good enough for #5. [read more]
#4: Buell XB9 Cafe Racer by Iron Pirate Garage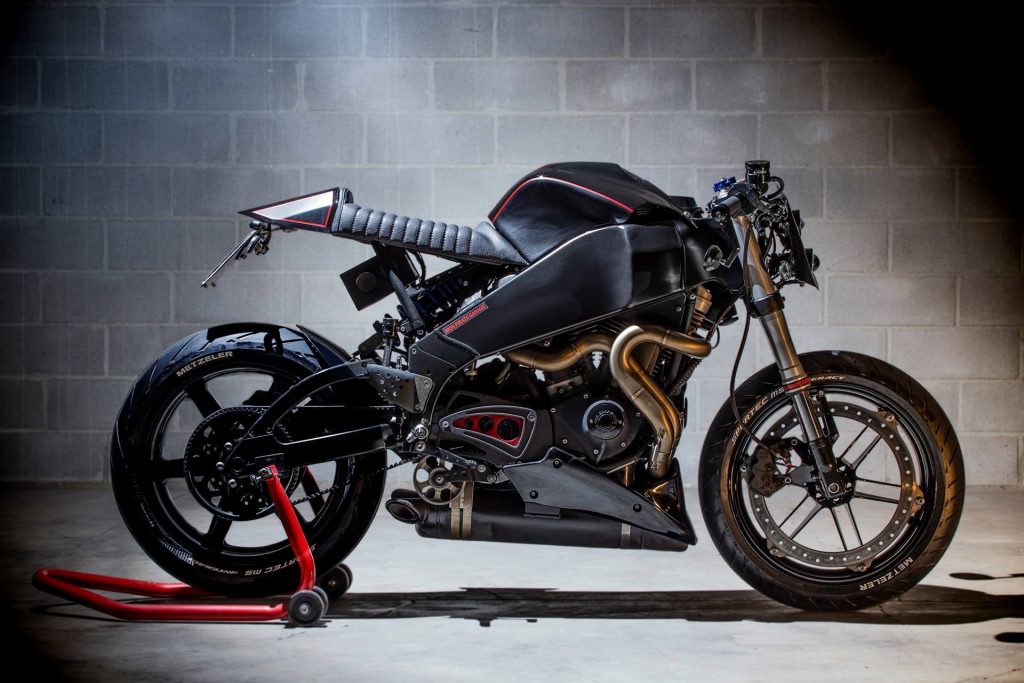 On of the most eye-catching machines I've featured here with a lot of likes on social media. Even our friends of BikeEXIF picked up this machine and gave it a place in their "Bikes of the Week" section. It got 2001 votes, good to be listed #4 in this overview. [read more]
#3: Suzuki GS550 Boardtracker by Wimoto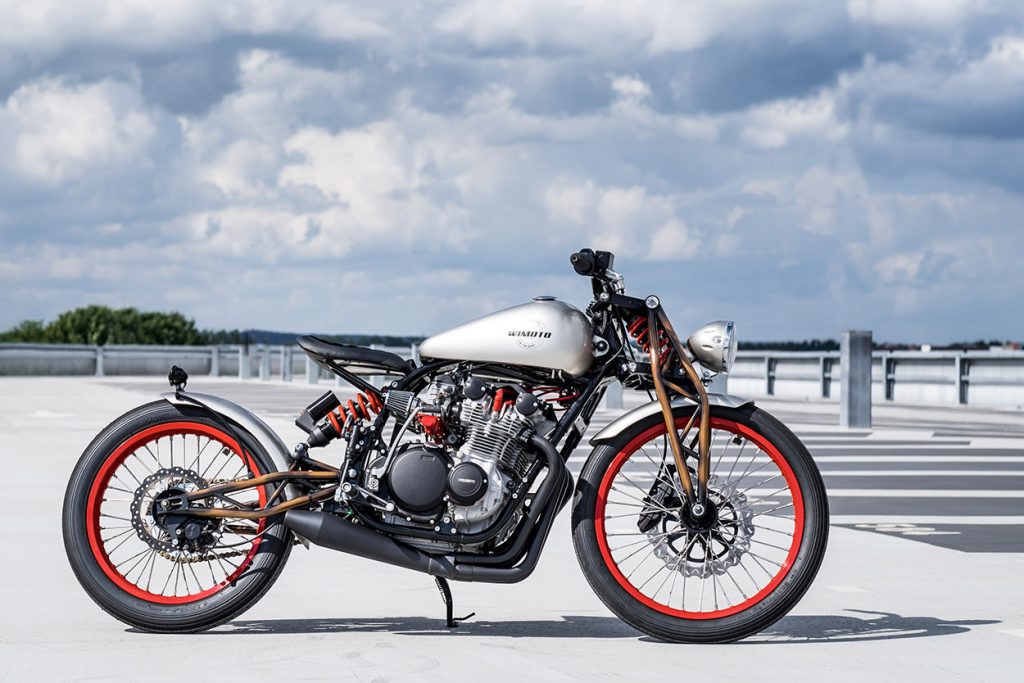 A wicked machine from Holland, built by Wido Veldkamp of Wimoto. I saw Wido work on this bike and I instantly realized that this was something special. And you guys also liked it. Wido's Suzuki GS550 ended #3 with 2568 votes. [read more]
#2: BMW R100 Twin Turbo by Boxer Metal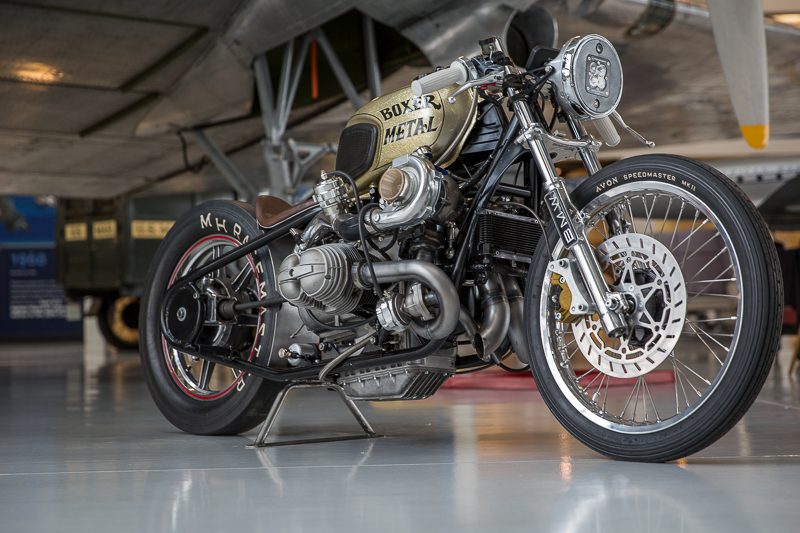 Built in just 7 weeks for the One Motor Show. That is a challenge, but putting on 2 turbo's on the machine made things tricky. An extraordinairy design and "hard tailed". This is a bike that created a lot of buzz both online and offline. A respectable 2nd place for Boxer Metal with 2662 votes. [read more]
#1: BMW K1100 Cafe Racer by De Angelis Elaborazioni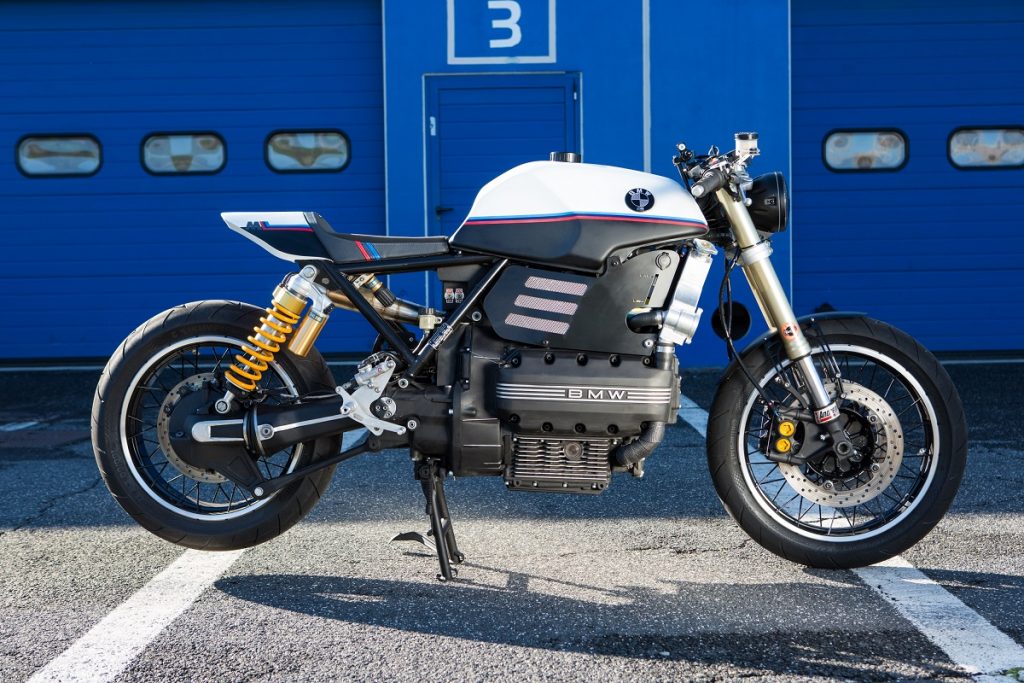 A machine not only built for the looks, but mainly for performance: the awesome BMW K1100 by De Angelis Elaborazioni. They've turned the so-called "Flying Brick" into a serious track weapon. De Angelis has a strong fan base which resulted in 3701 votes to rocketeer this machine to the #1 of this top 10. [read more]
#BONUS#: Harley Davidson Café Racer by Zadig Motorcycles
This awesome Harley Davidson Café Racer is circling around the web, but there isn't much to tell about. The only thing I know is that it's built by Zadig Motorworks and that it's called "Balboa" (yes, from that boxing movie). The aesthetics of this machine are outstanding and I thought it was worth noticing as a bonus in this top 10.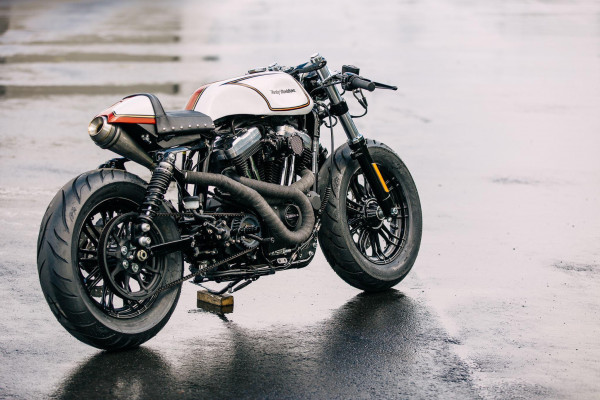 Share This Story, Choose Your Platform!
Tags