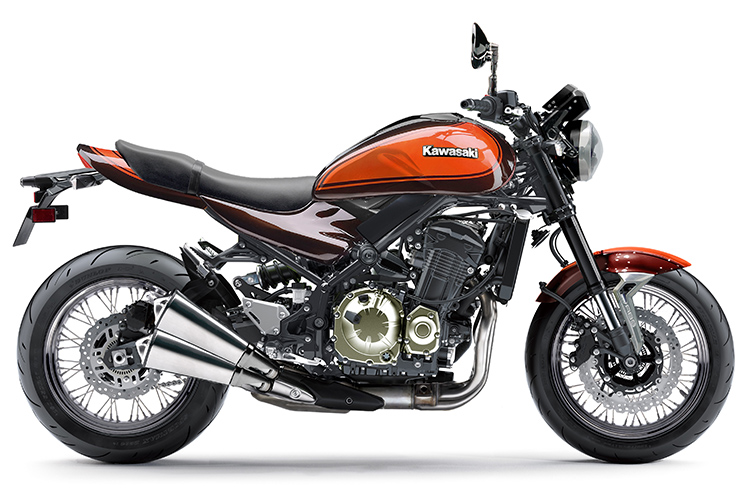 As a motorcycle brand, not having a modern classic or retro machine in the line-up seems to be a must these days. The motorcycle scene is healthier than ever and the demand for puristic, vintage inspired machines is huge. Since 2011, Kawasaki has the beautiful W800 to fill in this space. This machine was inspired by the W-series from the 60s and 70s. But the W800 never became the sales hit they were looking. So Kawasaki went back to the drawing board and teased us with the replacement of the W800: the Kawasaki Z900RS. The official introduction will take place at the Tokyo Motorshow in October 25, but they've "leaked" a teaser video and image.
With a new approach for the Kawasaki Z900RS, where the platform is "borrowed" from an existing bike, the Z900, Kawasaki is following brands like Yamaha, who are successfully bootstrapping an existing platform. Even with only one image and a teaser video, it's pretty obvious that the Kawasaki The Z900RS is inspired by the legendary Z1. Only a view on that color palette makes it unmistakable who's ancestor served the designers.
Unfortunately, we don't have any specs yet, but the technique comes for the Z900, which has a 948cc four-cylinder on board. According to insiders, the engine is tuned down from 123hp to 110hp with a smoother power band. We also see the same USD fork and wave discs. For that real vintage feeling the Z900RS has a beautiful set of laced wheels.
Kawasaki Z900RS Teaser Video
[su_youtube url="https://youtu.be/8c4_juxxPtk" width="740″]
Share This Story, Choose Your Platform!
Tags