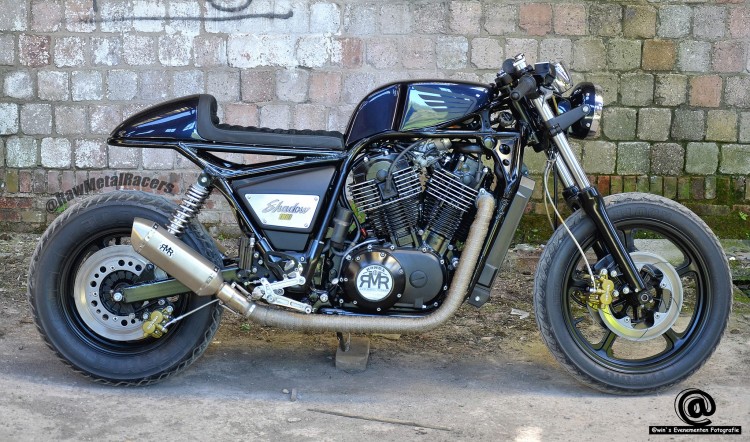 Taking a Honda Shadow as a base bike for a cafe racer or scrambler build is a challenge not many builders take. But those who took this challenge are working in a world with just a few others. Regular readers may remember this awesome cafe racer by Rocket Supreme and this more recent Shadow built by D-I Motorsport.
So I was glad to receive this submission in my mailbox sent in by Stefan van der Riet, a 24 year young fellow Dutchie. Stefan is an airplane mechanic by day and a shed bike builder by night. He started working on two-wheeled machines at the age of 16. He built his first bike together with his dad. But after his dad passed away way too early, he had the thrive to continue building bikes and started Raw Metal Racers. After a few "simple" builds with just some minor modifications, it was time to take his game to another level by building a cafe racer based on a not-so-typical base bike.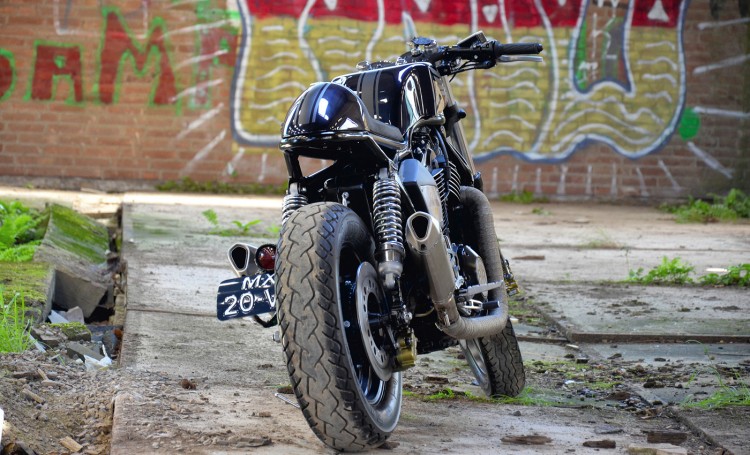 So Stefan took his '86 Honda Shadow VT1100C which certainly wasn't the easiest option to build a cafe racer. The lumpy chopper frame doesn't have the straight and stretched lines a cafe racer needs. After making some cardboard molds, Stefan had a rough idea about how the end result should look like. Next, he started sketching and he soon found out that the original gas tank had to leave. But what kind of tank could be a great replacement? This is the moment Stefan thought that the only option was to create a gas tank from scratch.
Stefan: "First time I ever did sheet metal work, but I managed to make an English wheel. The frame of the English wheel was easily made, I made the top and lower wheels on my lathe, and it worked great! I bought some 1mm sheet metal and started with the back side of the bike, that all went well. Then the gas tank, no idea where I had to start! But after a few tries, the tank looked better than ever expected!"
So many more difficult first tries followed after. He modified the rear frame and rear suspension frame (to make room for the 2 exhaust mufflers), modified the rear drum brake into disc-brake, made an adapter on his own lathe where the disc would be mounted, and after that the mounting bracket for the caliper, installed rear sets, internally lowered the front forks and so on.
"I really liked the original speedometer and the original sidepanels with new grey/gold Shadow logo's. So I kept those original parts, the few things to recognize it's a Honda Shadow".
After completely customizing the bike, he started to take it apart and repainted every part on the bike. All the sandblasting and painting is done by himself, except for the gloss paint on the tank and rear. Those are a really nice dark blue with matt black lines and Honda wings painted on it.
"The bike handling is much better than I originally thought it would be. Because I increased the rear and lowered the front, the center of gravity shifted forward, which I think is better than the original chopper handling". After he finished this VT1100 Cafe Racer, he started on another '98 Honda Shadow. Stefan: "But the guy which asked me to build it wants a bobber to be made from it!" Well, I look forward to it!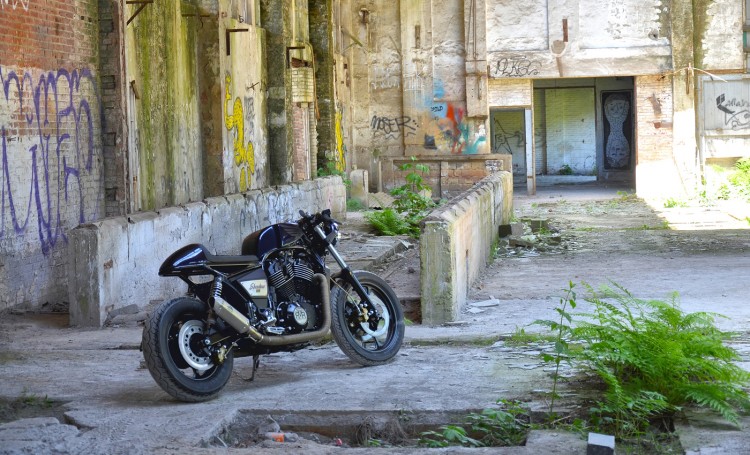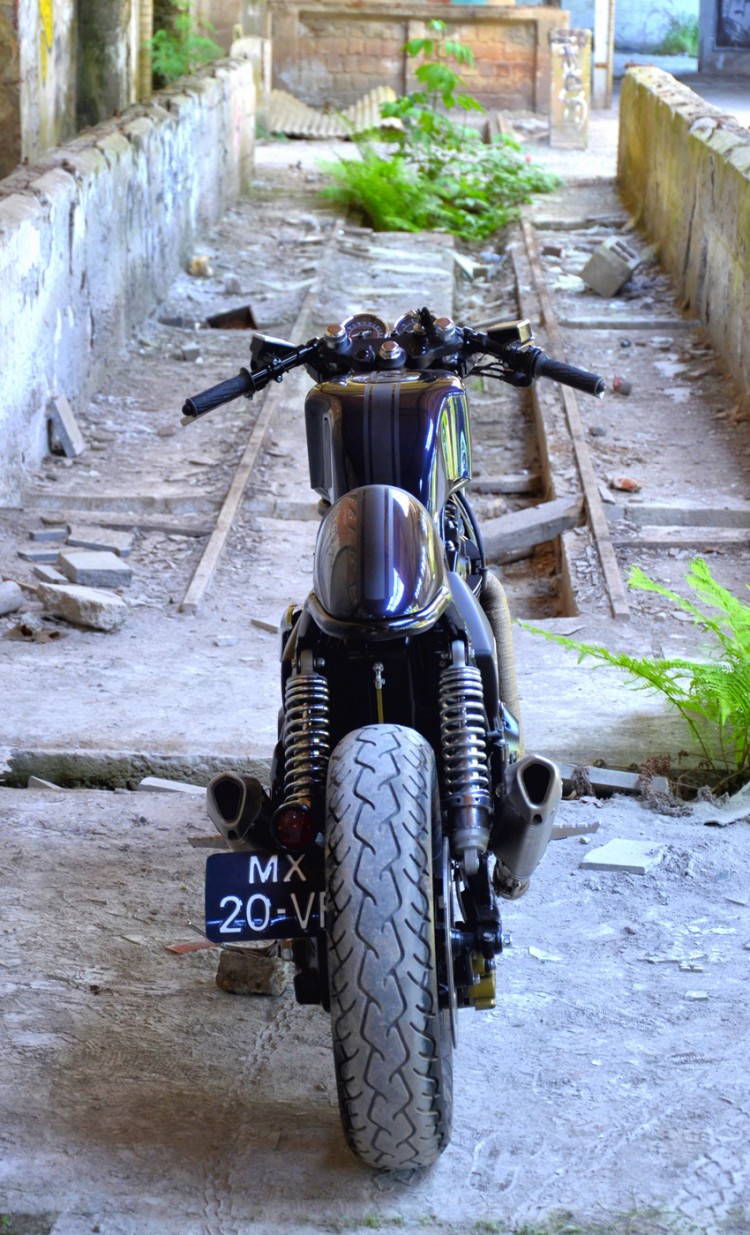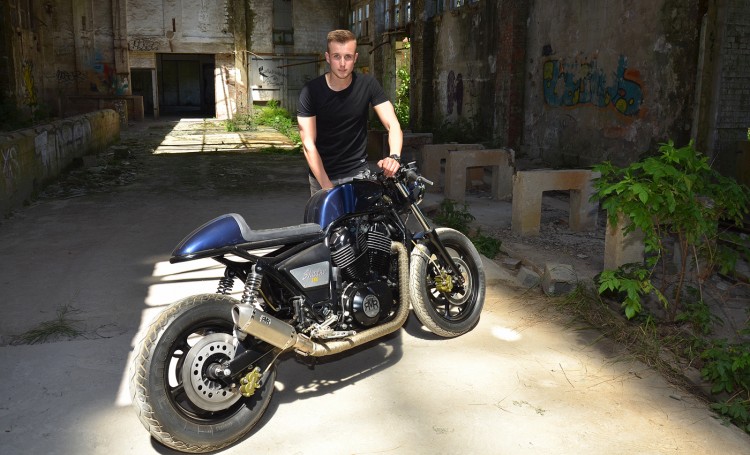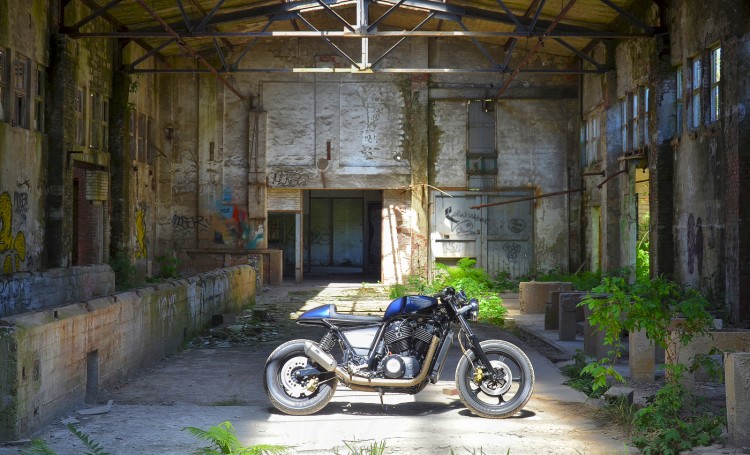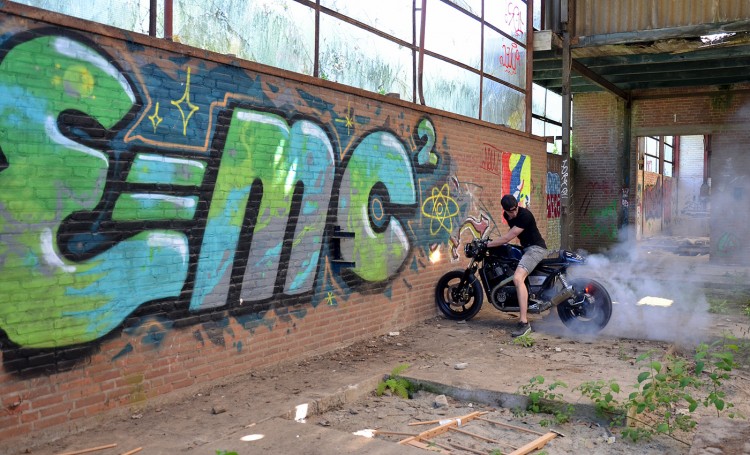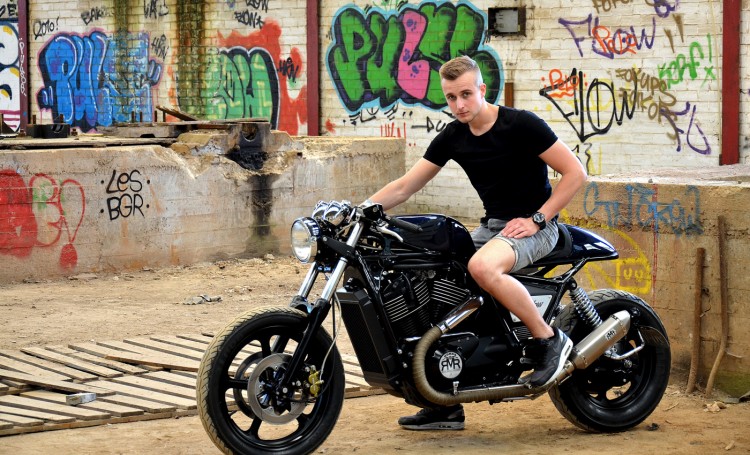 Don't forget to check out this cool video compilation of the build process:
[su_youtube url="https://www.youtube.com/watch?v=RkMSPDP5UTU" width="740″]
Share This Story, Choose Your Platform!
Tags