Follow us on
Facebook
,
Twitter
,
Instagram
,
Pinterest
,
Google+
,
Youtube
or subscribe to our
newsletter
.
I stumbled upon a great bike which is shown on this page. But when I did some research on the project, I saw an even greater story behind the build:
Sofi Tsingos from GT-Moto practically grew up in an aircraft maintenance shop with her father. The shop was full of old cars and motorcycles, so a wrench was the toy of her choice. In the workshop, they've worked for years on high quality, hand built parts and materials. It was just a matter of time that this craftsmanship "flew over" to motorcycles and cars. This is where the project "GT-Moto" started. It began with pure passion. But there is something different: they also are a strong social angle with supporting cancer research. To do this, they allocate a portion of all sales to select organizations who are committed to the eradication of cancer and the support of those who suffer from this terrible disease.
As I said, I stumbled upon a great bike. GT-Moto took a '72 Honda CB450 and created this beautiful CB450 Café Racer:
Powertrain:
Fully rebuilt CB450 engine
Dyna Tech Electronic Ignition
GT-Moto's Custom Exhaust: Stainless Steel and Ceramic Coated Inside and Out.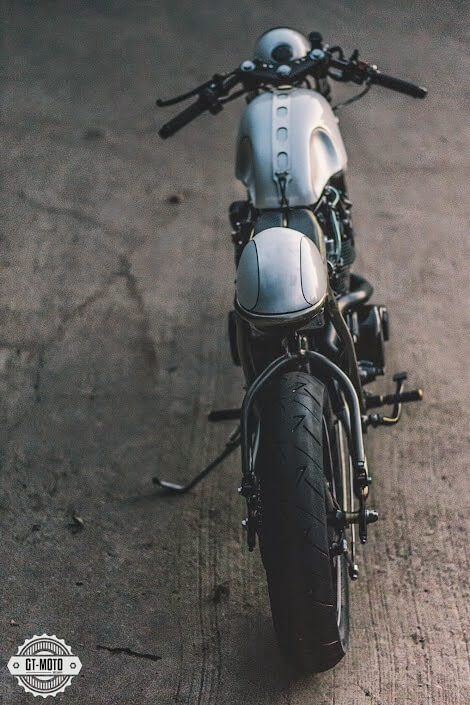 Suspension, tires & brakes:
Continental ContiClassicAttack Tires
18" Excel Wheels Front and Rear
CB550 Rear Swing Arm
GT-Moto's Custom Mono Shock Suspension
Hagon Rear Shock
'69 Fork Legs and outer springs, '77 Triple Tree, Billet Aftermarket Black Anodized Aluminum Top Clamp, '72 hubs, and GT-Moto's Custom Aluminum For Cups
Stock Rear Drum Brake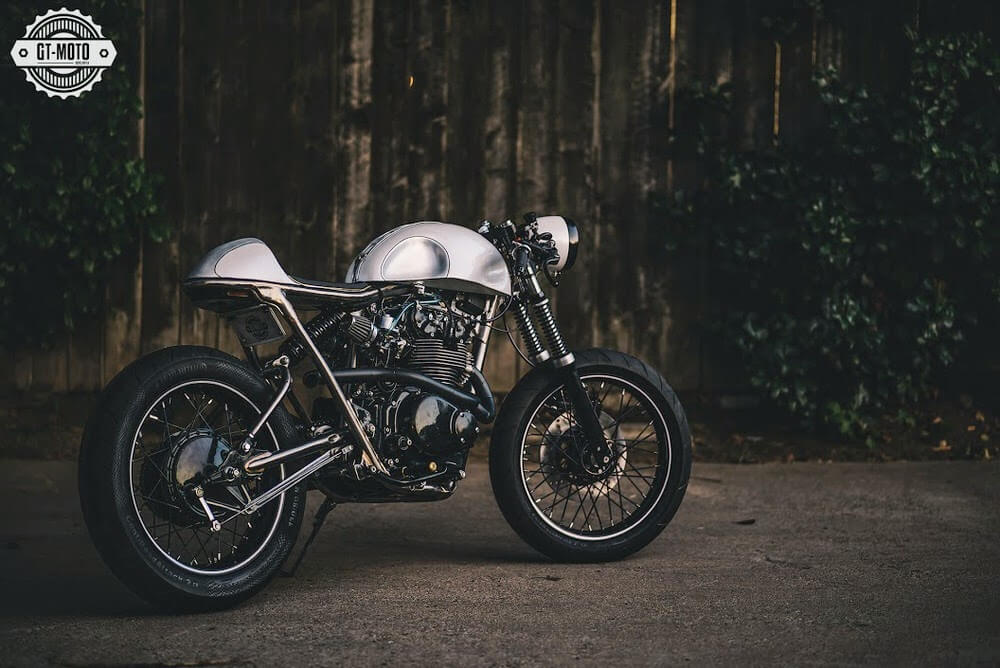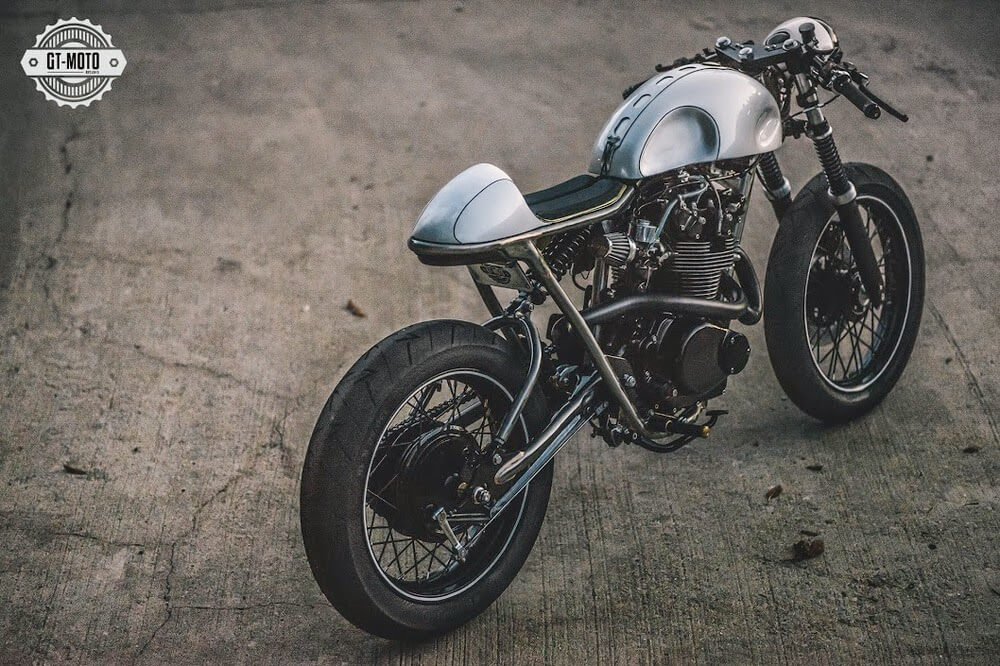 Electronic system:
Harley 5in. Head Light using an LED with Integrated Front Turn Signals
Rear Turn Signals are Integrated in the Tail Section Under The Frame Seat Loop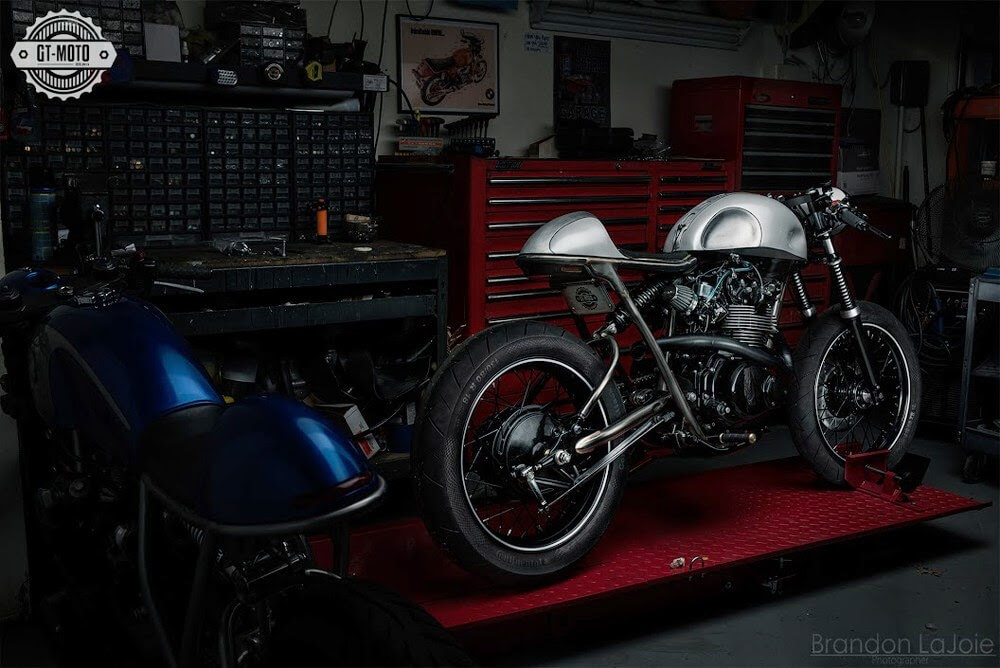 Chassis & paint
GT-Moto's Custom Aluminum and Black Anodized Knurled Ride Hight Adjusted and Foot Pegs
Hand Built Custom Aluminum Tank
Hand Built Custom Aluminum Seat with brass overlay
Brazed Welds
Frame is Raw Metal with Clear Powder Coat and Clear Coat Paint to Prevent Yellowing
Paint is a Pearl, Arctic White with Black Pin Stripe
Reflective Pinstripe Around the Front and Rear Wheels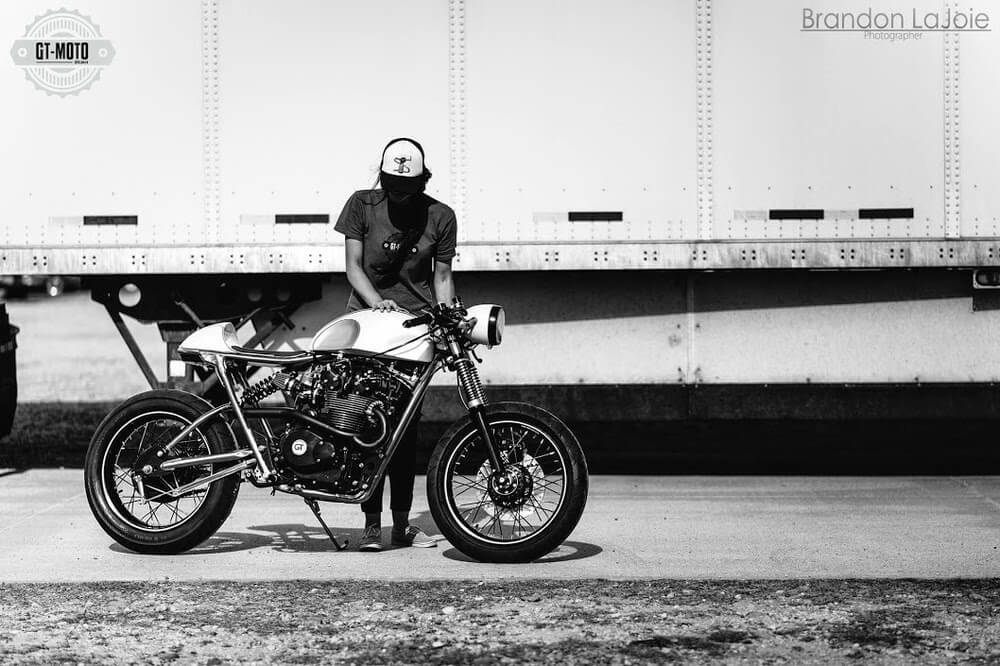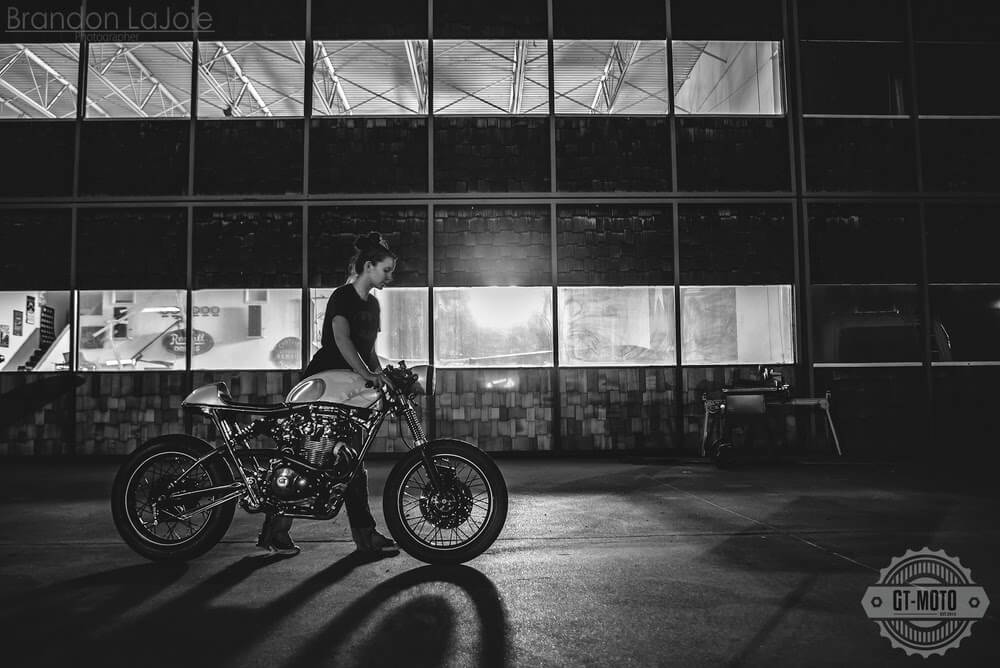 Check out the full story (with pictures) of the build:
Website | Facebook | Instagram | Twitter | YouTube
Pictures taken by Brandon LaJoie.
Share This Story, Choose Your Platform!
Tags