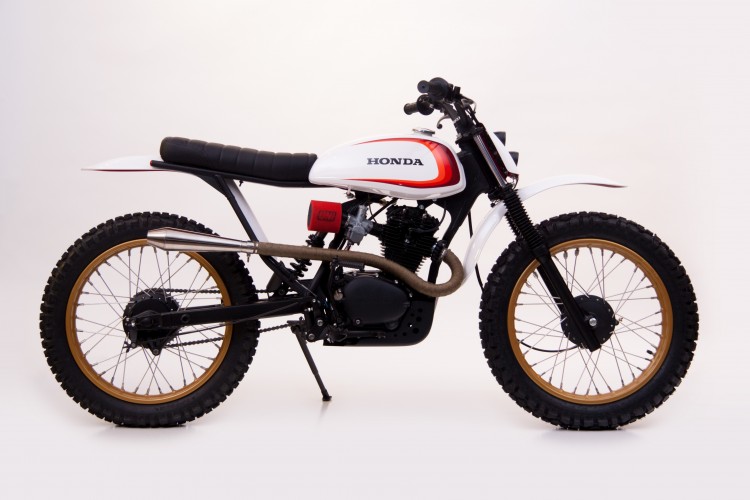 Last week I've interviewed James Fawcett about this cool Honda 125 Scrambler mashup:
Why did you build this bike?
Last year I built a CB200t with my then 17-year-old son. This year, my 13-year-old decided he wanted in on the fun. After tinkering with his old XR80, his ideas started getting a lot bigger.
Why did you pick this base bike and where does it come from? This bike really did come from the scrap pile. We found all of the major components stuffed in boxes in storage.

What was your idea or vision?
The vision for this bike was just to make a simple, versatile bike that's super fun to blast around on.
Where did you find inspiration for the project?
We're keen to vintage bikes and the styling that came out of the early '70s. We wanted to incorporate some of the features of slightly more modern dirt bikes and scramblers but still keep some real vintage styling. One of the keys for us is well-considered lines and angles – it needed to look coherent and thoughtful, not like a bunch of mismatched parts that were bolted together.
What was the total budget?
The budget for this build was pretty low, as we had most of these old parts laying around. Probably the single largest parts purchase was a full set of custom stainless spokes and nipples from Buchannans. The real investment was in time.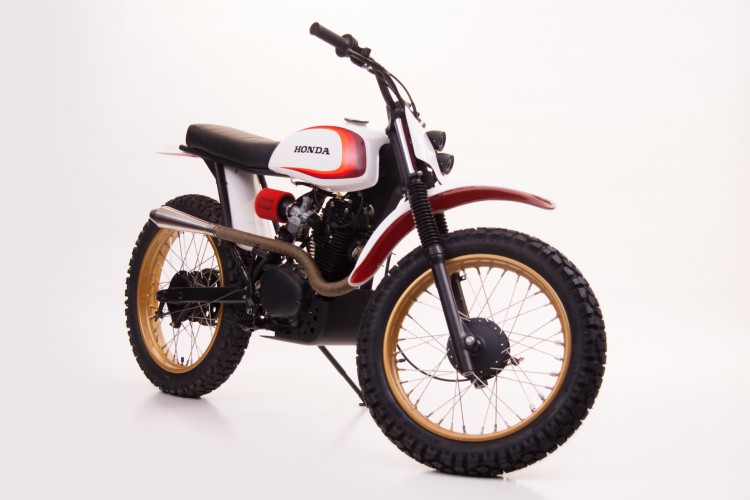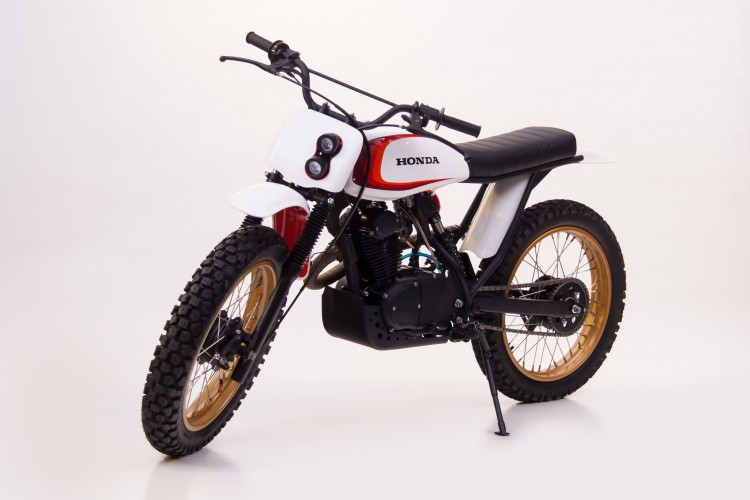 Any interesting challenges?
Ha! Everything about this build was a challenge. There's an absurd amount of custom fabrication that went into this little 125cc bike – the frame, the suspension, the swingarm, the tank, fenders. Virtually nothing on this bike was an off-the-shelf OEM or aftermarket product. Interestingly, if I had to pick the single most challenging aspect, it would be the graphics on the tank. The design was masked freehand, and some of the corners are on a pretty tight radius. Once we got through the agony of taping the first side just right, we had to replicate it on the other side. Then multiply that times three to give it that tri-tone paint scheme.
Did you got help from others or did you outsource any work?
Nothing on this bike build was outsourced. All of the custom fabrication, engine work, wheel building, paint, and graphics were done by me and my son, Eddy. Even the custom seat was shaped and sewn in-house by me.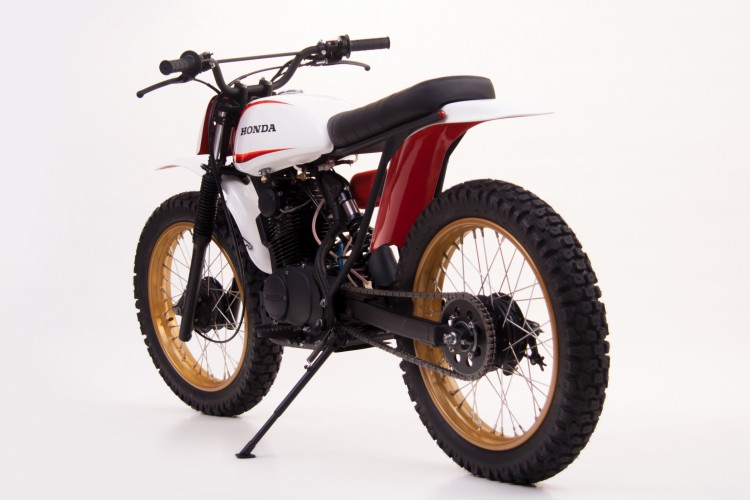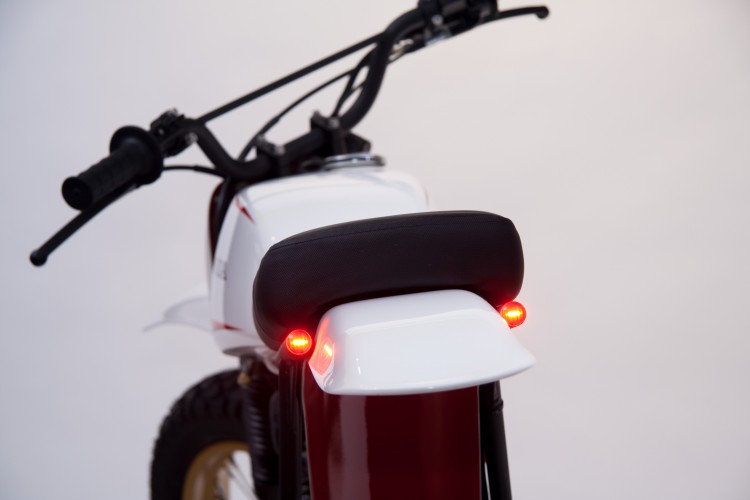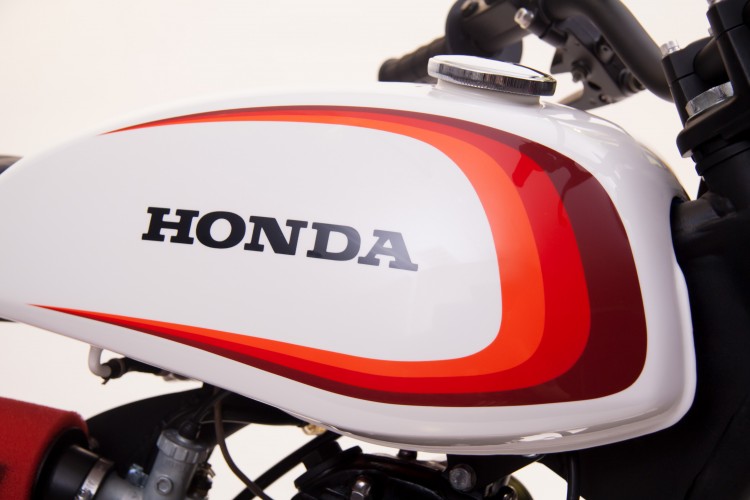 What modifications are made and what parts are used?
It's hard to list what's been modified. This bike is truly a one-of-a-kind custom build that borrows components and features from a whole host of old small displacement Hondas — CB125s, CL125, XR100, SL125.
What do you like the most?
There's not a single feature that I like the most. I'm really happy with the paint and graphics, and I love the custom carbon fiber rear fender. The brake lights integrated into the subframe are a nice touch. Those features are all cool on their own, but it's the overall fit and finish of the final product that I'm most happy with – the way all of the technical and design decisions come together in a cohesive way that gives the bike a well-thought-out, balanced, and tidy feel.
And last but not least: how does it ride?
This thing is a blast! Everybody seems to want more CC's and more power, but there's something awesome about a small displacement bike where you can crank the throttle all the way open and let 'er rip!
List of mods:
Modified tank and front fender from a Honda SL125

Modified monoshock frame, with custom subframe and extended swingarm

Custom fabricated electronics tray mounted under seat

Custom fabricated seat pan and custom seat cover

Hand-made carbon fiber rear fender

Custom skid plate and front light plate

CL125 scrambler exhaust with stainless steel cone muffler

18" wheels with stainless steel spokes and dual sport tires

12v conversion with LED lighting and custom handlebar switch housings

LED brake lights integrated into subframe tubing

New piston and cylinder along with a top-end refresh

Mikuni carburetor

Custom designed and painted tank graphics

All of the little, big details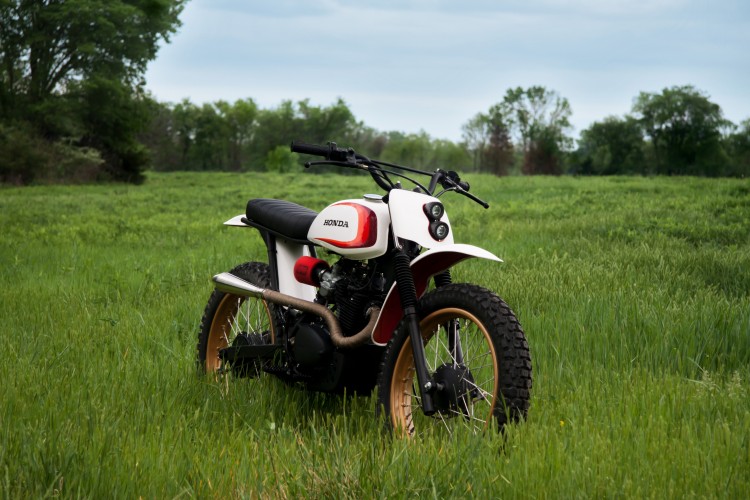 Share This Story, Choose Your Platform!
Tags