Follow us on
Facebook
,
Twitter
,
Instagram
,
Pinterest
,
Google+
,
Youtube
or subscribe to our
newsletter
.
Today I received an e-mail from Mauricio Tavares (friends call him "JT") from Johannesburg, South Africa. Together with a friend he created something very cool, based on a 1999 BMW R1100R. Really worth to share this bike and it's story!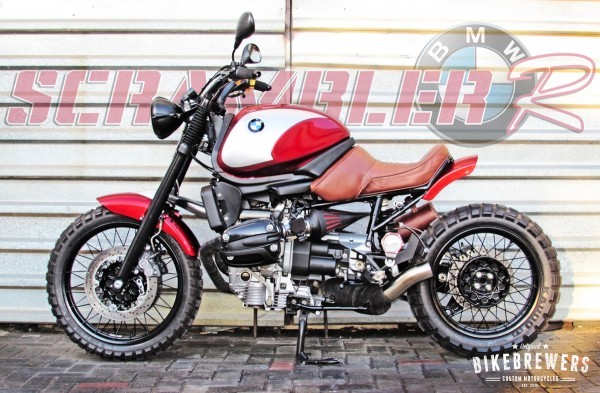 Mauricio worked for many years in the "corporate jungle" and a couple of years ago he decided to turn his life around and do something with his strong passion for motorcycles. Since he was in love with custom bikes like café racer, scramblers, brats, bobbers etc. he started selling custom parts for builders of these kinds of bikes. In his spare time he likes to work on his own projects, pure as a hobby. This BMW R1100R Scrambler is his latest project. Rest of this article are the words of Mauricio:
I do not build bikes for a living. When i do it's just for myself in my garage. I try do most of the build myself except for the paintwork which I outsource.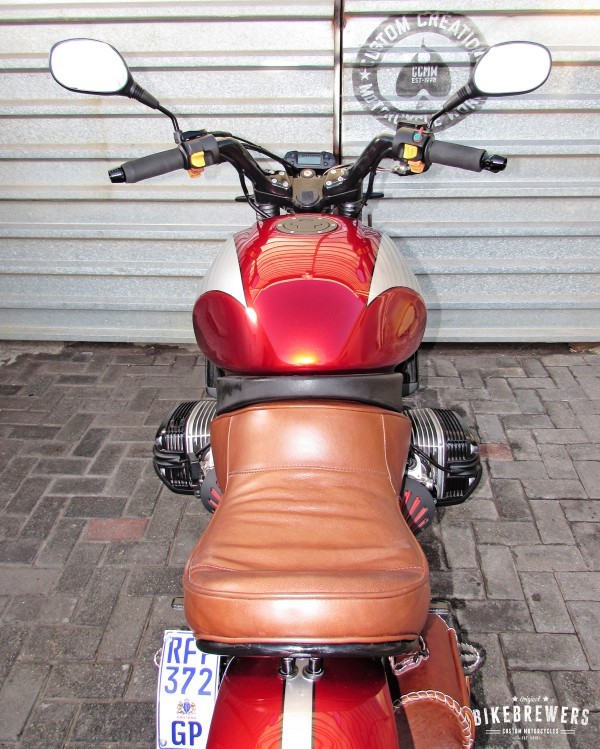 I first owned this bike in it's original form in 2012. Parted with it to raise some cash to start a business. The mate I sold it to was T-Boned by a delivery bike in November of 2015. Mangled tank, hole in the shock, twisted tele lever and all I couldn't resist buying it back. I did so with a vision of building a scrambler with brute torque, the boxer motor was perfect. The frame not so much!
Since I had big plans with the bike I went to Donovan Muller, a gifted bike builder located in the South of Johannesburg. Donovan runs a BMW specialized bike shop called Cytech Motorcycles. There was no better person to help me get this thing done. Since so many parts are inter changeable on these bikes he confirmed we could get this thing done and most of the work is done by him.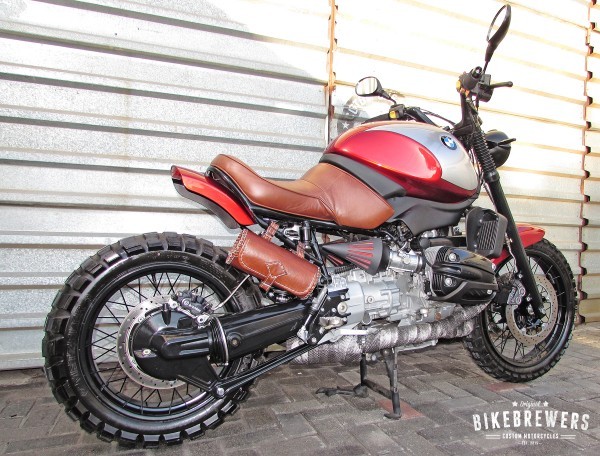 The bike was completely stripped, a new left fork and tele lever was sourced, bearings and seals replaced, major engine service done, now the fun stuff could begin. The instrument cluster was stripped down to make way for a Koso Digital Speedometer which includes all your tell tale lights, rpm and fuel gauge. An all in one set up means a clean front end. The original handle bars were used since they are raised and would come in handy when standing on the bike in typical scrambler style.The original headlight and indicators were replaced with a clear lens headlight and LED rubber mount indicators from Max-Inc (my shop). The headlight was a bottom mount, but mounted upside down with wiring to suit the Hi/Lo Beam switch. This all meant custom brackets for the headlight and front and rear indicators. The indicators are thin and sleek and somewhat out the way, matched the look perfectly.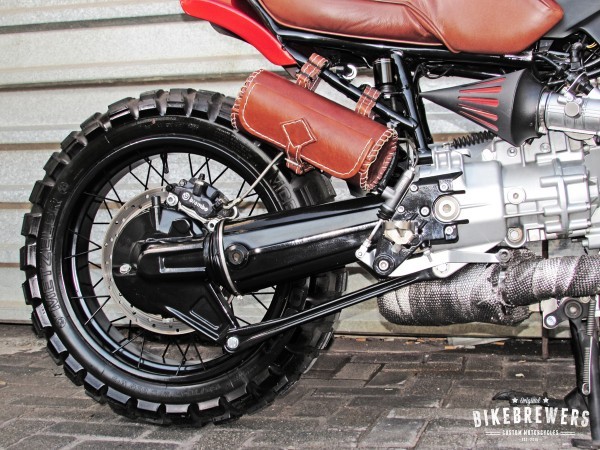 The original wheels were alloys, 17″ at the front and 18″ at the rear. These were ditched for wire wheels off an old 1100GS. Once treated and powder coated they were good as new. Now to fit a 19″ front wheel on a fork designed for a 17″ rim!. Adding spacers between the fork bracket and tele-lever gave the additional extra hight needed. A front mud guard off the same GS was cut and massaged to fit the new 19″ wheel.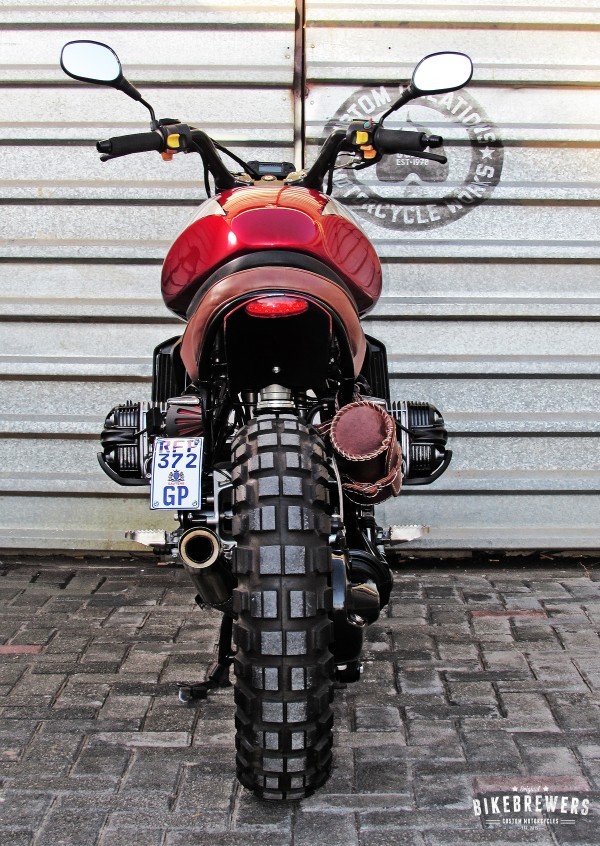 The sub frame was cut where the pillion seat begins. The added weight of seat latches, hinges etc was now gone. A hoop was shaped and welded to the remainder of the sub frame with a little shaping and grinding. The original seat pan was used and cut away and shaped to obtain the desired look, then wrapped in leather.
The original air box was removed to give the bike a lighter look visually. Two cruiser style air filters were sourced from the U.S in matt black and modified to fit the original throttle bodies. With the engine now completely exposed the wiring had to be re-routed to remain hidden. The idea was always to keep it as clean and neat as possible.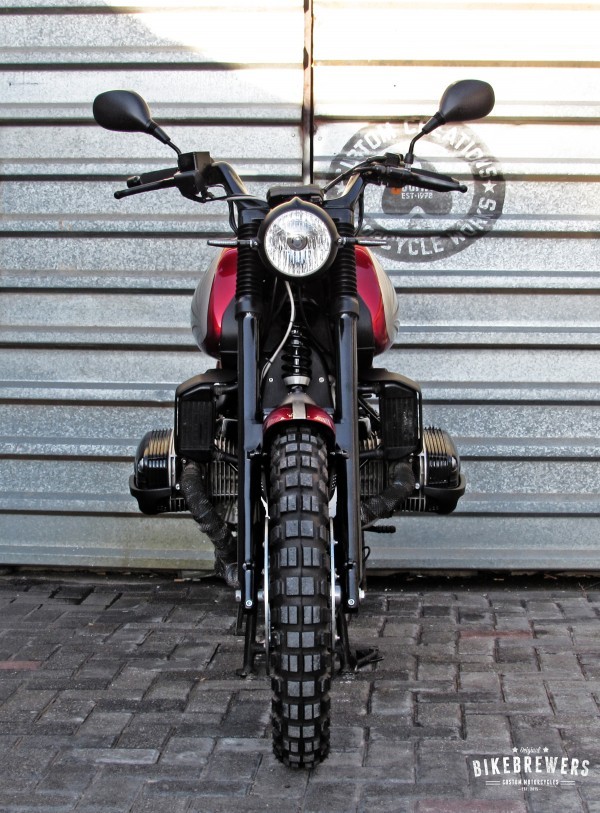 The bike already had performance headers so a custom performance Remus tail piece was added which left the rear wheel exposed for that "floating" rear wheel look. The headers and collector box were wrapped in heat wrap so it would just disappear below the bike and at the same time add some texture to the build.
Handling was improved by adding adjustable Wilber shocks front and rear. The foot pegs were replaced with the aggressive off road type made of stainless steel. Even the rear brake fluid reservoir was replaced with a cool anodised one in black, also from Max-Inc.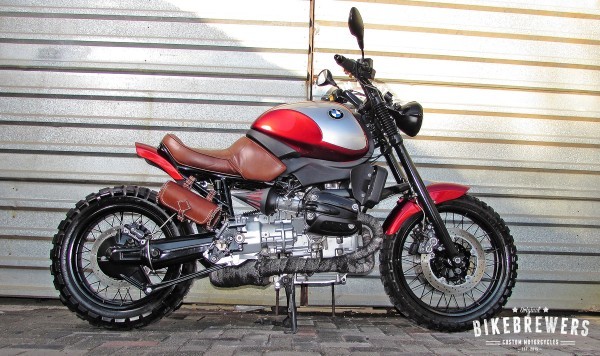 The tele-lever, shaft, sub frame, handle bars, forks, wheels and valve covers were all powder coated for a more robust finish. The rear mudguard is literally a piece of plastic off another bike moulded and shaped into place to fit a neat LED tail light.
The overall look was completed with a set of Metzeler MCE Karoo tyres and a candy red and silver spray job to really make the bike pop!
The end result is a really unique head turner which has become my daily. It's super nimble and with all that weight gone it has tons of get up and go and just a pleasure to ride!
———————————
Great to see a guy following his passion! I'm curious about his next project, because he really put something unique together.
PS. Check out Mauricio's shop here.
Share This Story, Choose Your Platform!
Tags