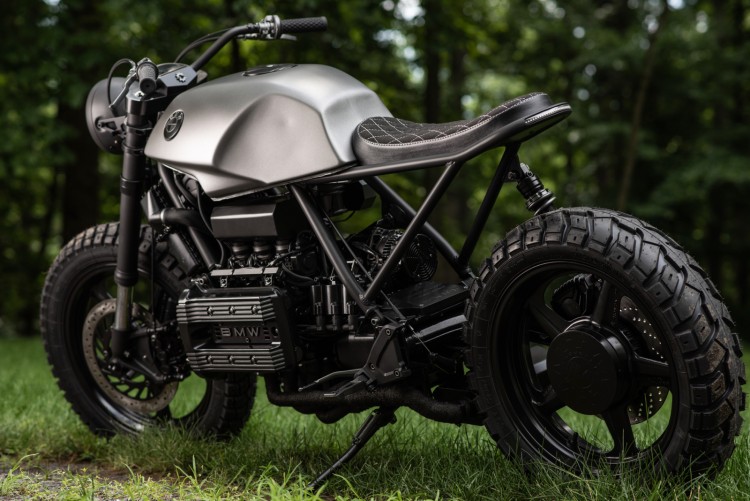 Industrial Moto's first build was a 250 Suzuki cafe racer. It was purchased locally in Virginia by a guy who had never ridden a motorcycle before. Since that time he has completed a motorcycle trip across Vietnam and put many miles on his Suzuki closer to home. When he decided it was time to move up, he contacted industrial Moto again. This time he wanted to purchase a bike and have iM turn it into something unique. A BMW fan, he decided on a K75 for this project. He knew the color scheme he wanted and his vision for the overall look resulted in the name "Project Geist" (ghost in German).
The customer wanted 5 spoke wheels, clean, pull-back handlebars, knobby tires, and a "minimalist" look. Tyler at industrial Moto went to work turning that vision into reality. 5-spoke Honda wheels were machined to fit the front and rear. A Yamaha R-1 front end was mounted with a custom top triple tree, machined from a solid block of aluminum. The Moto Gadgets speedometer display was recessed into the top tree and all wires hidden from view. The front brake reservoir was relocated under the gas tank to help provide the clean handlebars. The electrical systems are all controlled by 4 small buttons embedded directly into the bars.
One major challenge was designing a custom air box that would retain the original sensors and fuel injection components. The air filter box was machined from a block of aluminum and powder coated to match the color scheme. The original BMW logo on the crankcase cover was machined off and replaced with a powder coated industrial Moto logo. A handmade, side exit exhaust was fitted to the stock headers. A seat pan was designed, built, and then sent to Tuffside in Las Vegas for padding, covering and stitching with leather and black tweed. The seat is the only part of this build that was not done completely in-house.
Other iM finishing touches include the embedded tail light/turn signal unit and custom footpegs that include bolt-on passenger pegs for two-up riding, Tyler wanted to keep a touch of BMW blue somewhere, so the winding inside the alternator and a small LED inside the valve cover will provide the only splash of color.
How does it ride? The R-1 front and rebuilt rear suspension, and the extreme weight loss overall, give this bike a ride like you might expect from a sport bike on knobby tires. Smooth handling, easy to turn, but don't lean too far on those tires. :)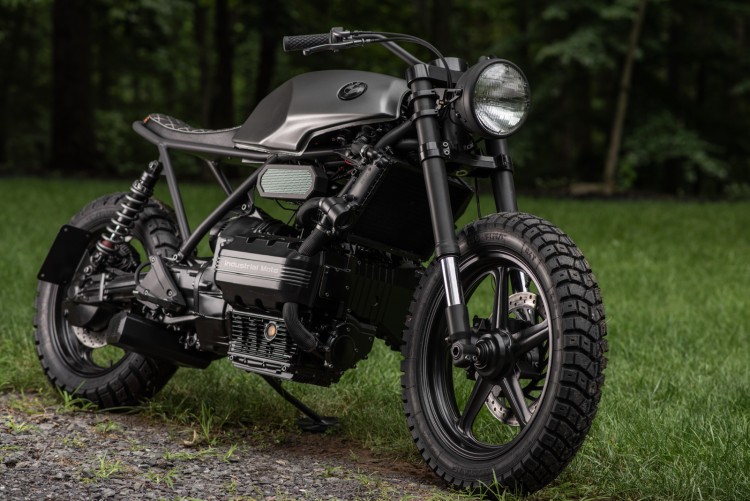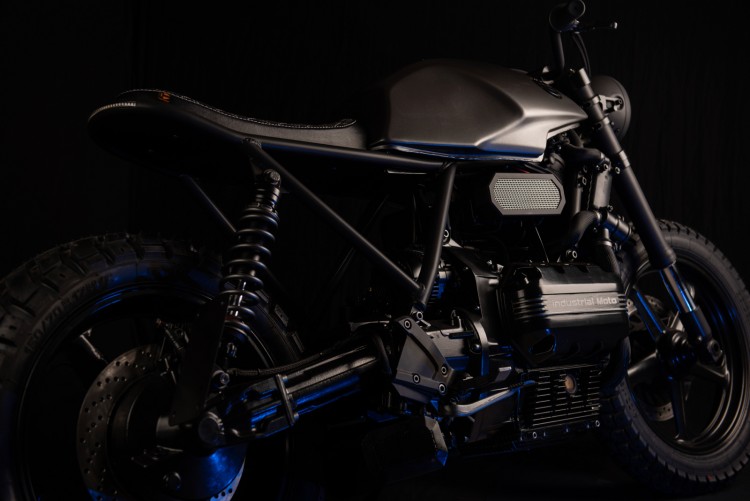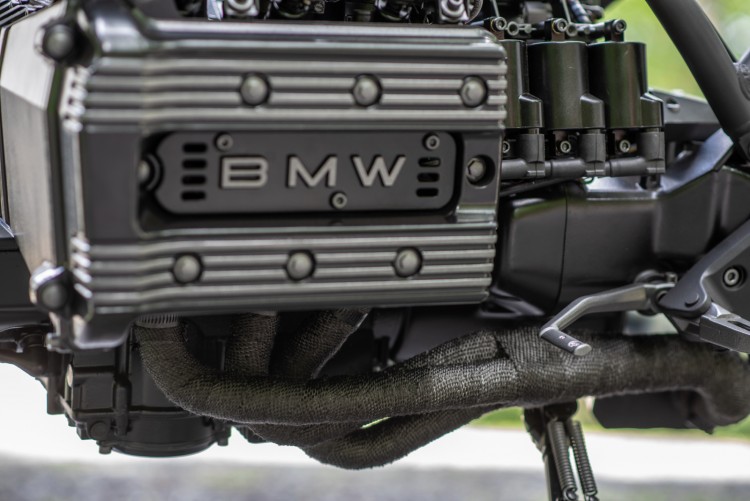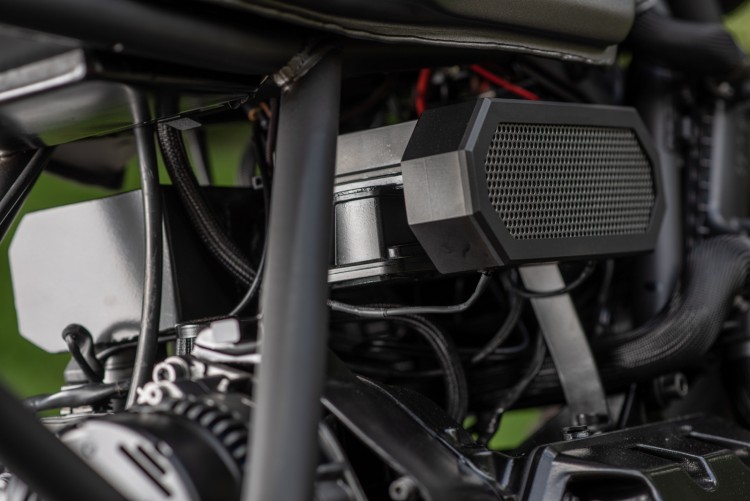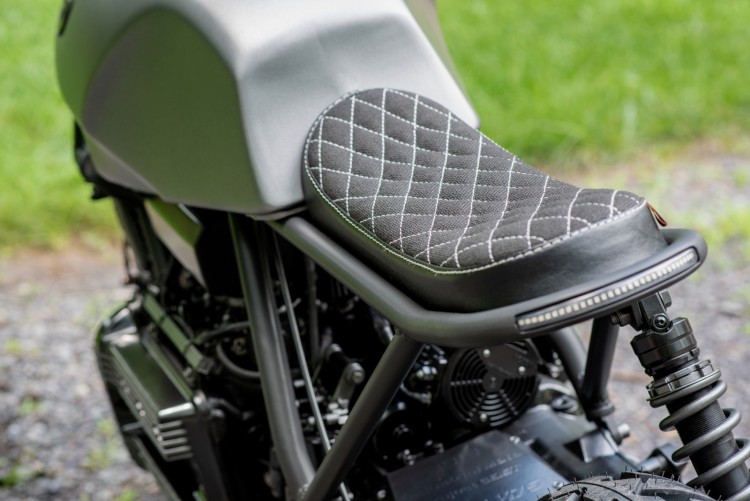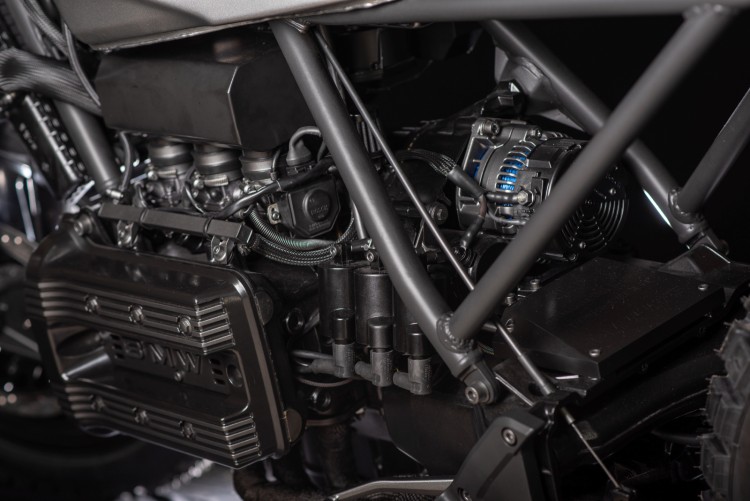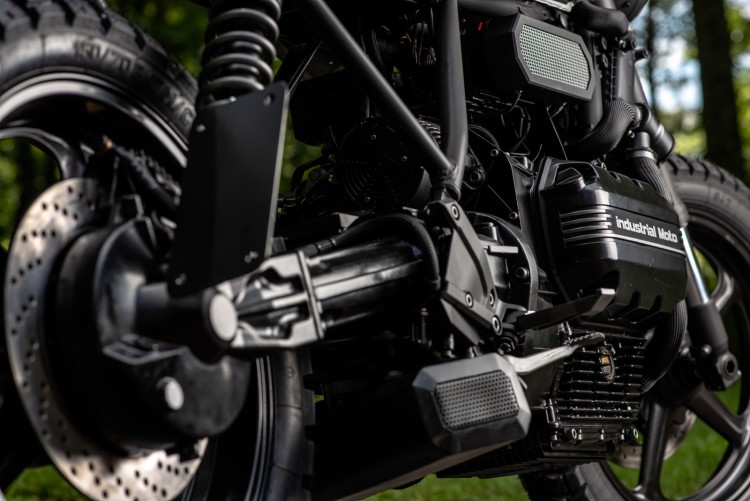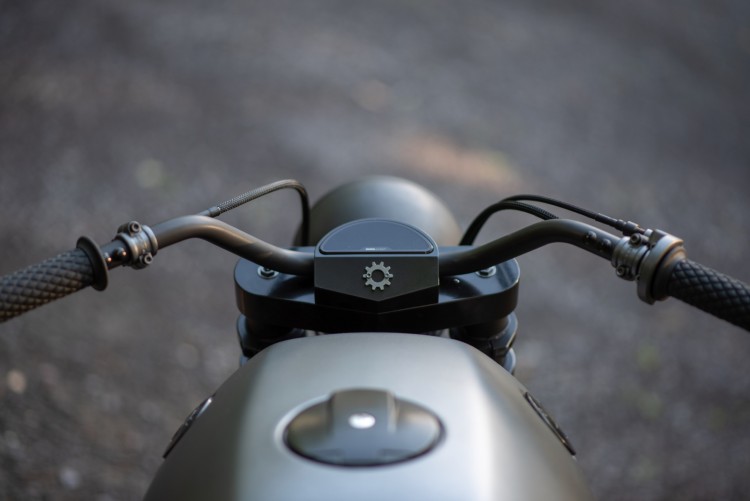 Share This Story, Choose Your Platform!
Tags