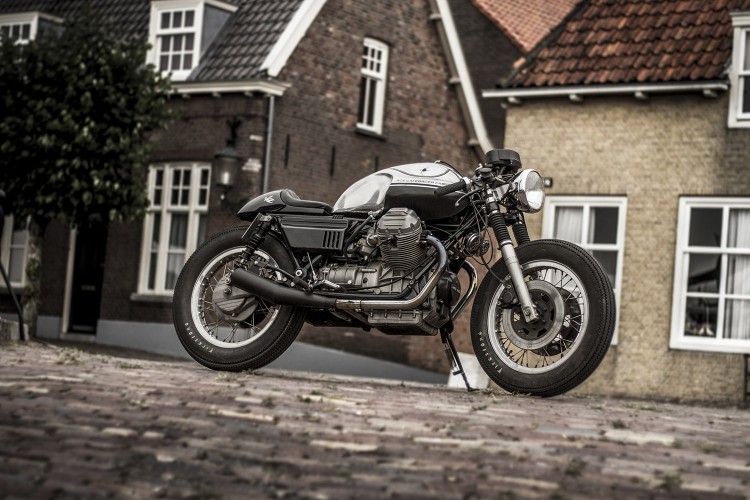 Running a store from the shed
We have been following Ferry Westerlaken for quite some time now. Not so much for his wrenching skills, but more from a business perspective. He runs ace-caferacerparts, an online shop from his hometown Dussen in the Netherlands, where you can buy lots of interesting goodies for your bike projects. His store became even more interesting when he became the agent for those lovely handcrafted  Vonzeti seats.
Racing and riding
But as a rider and a builder Ferry has made his mark too. As a fourth generation gearhead, he was initiated to two-stroke fumes at the early age of eight. His parents took him to the famous Dutch TT in Assen, something he looked forward to every year from then on.
With all this 'indoctrination' it is hardly surprising he started to race himself too. He first joined the racing team as their PR and sponsorship guy. His involvement with the team really whetted his appetite. Our guy took over the team and soon could be seen howling his Suzuki GSX-R100K7 around the track and speeds around 300 km/h himself.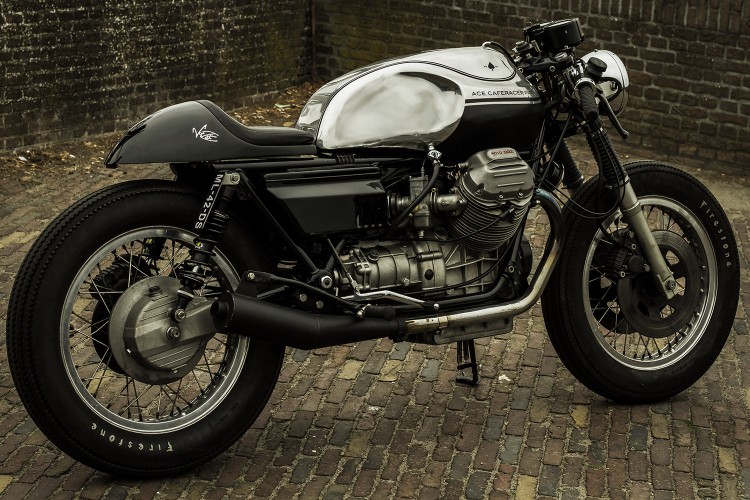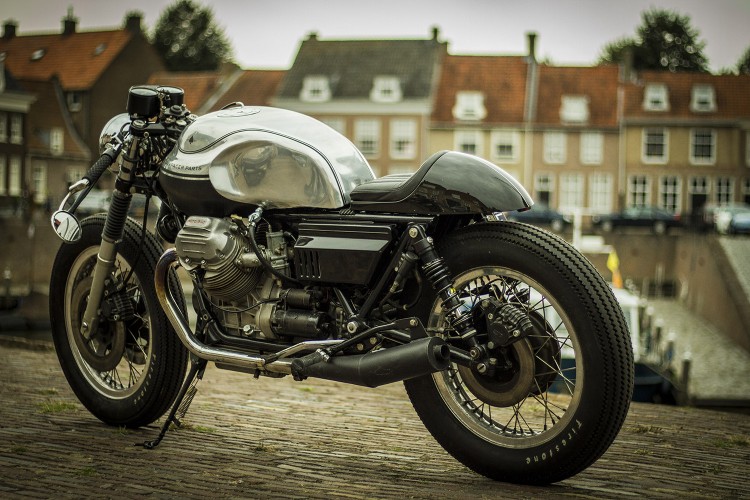 Into the shed
Riding this bike on the track brings back fondest memories to Ferry. But there is a secret siren that lures him to the shed with her thunderous songs and entices him to take her out on public tarmac.
Years before he set out to work on this Italian lady, Ferry had could be found in his shed advancing his skills as a spanner on his grandfather's '79 Honda CB250N. It must have been hard work to turn that bike into a decent caféracer, but it was done with lots of love as it was the last bike his granddad rode. The chore was not made easier by the fact that it had been in hiding in the old man's pigeon loft for more than five years.
After that came his father's Honda VT 600 cruiser. It must have been an interesting sight, seeing Arjan riding around town this bike considering his length of 6'5 (approximately 195 cm).
Secret Mistress
Leaving his Honda history behind,  our friend turned his sights on southern Europe. A Moto Guzzi 1000SP made him fall in love with Italian design and heritage. A lot of time was spent with this mistress before she was brought out for us to admire her sparkling persona. When our wrencher purchased the bike from its previous owner, work had already been done on the engine and the chassis. Unfortunately, the results were not entirely positive.
Ferry just took the bike completely apart again and decided to rebuild it according to his personal taste. The engine received a full overhaul and whilst in the process of rebuilding, was fitted with a decent 'Lava' camshaft.
As part of the building process, Ferry had to make some adjustments to the riding position. With his length and the constraints in the flexibility of his left leg due to racing accidents, he decided to increase the seat height by three centimeters, making it just right for him.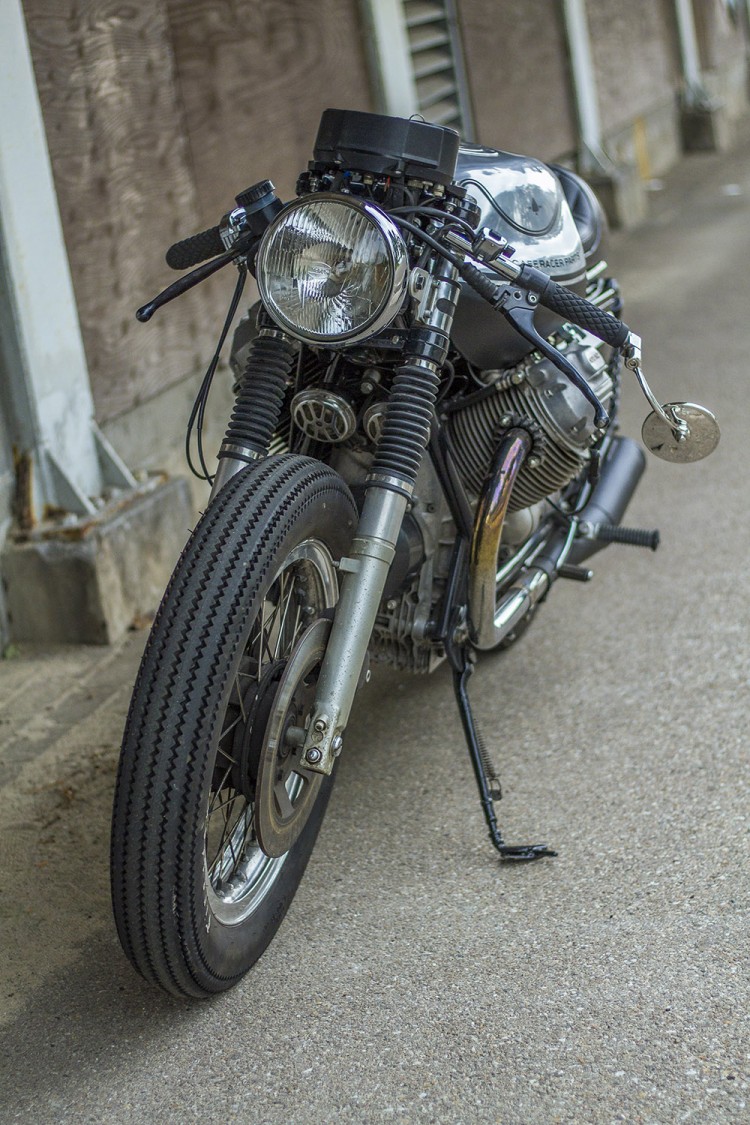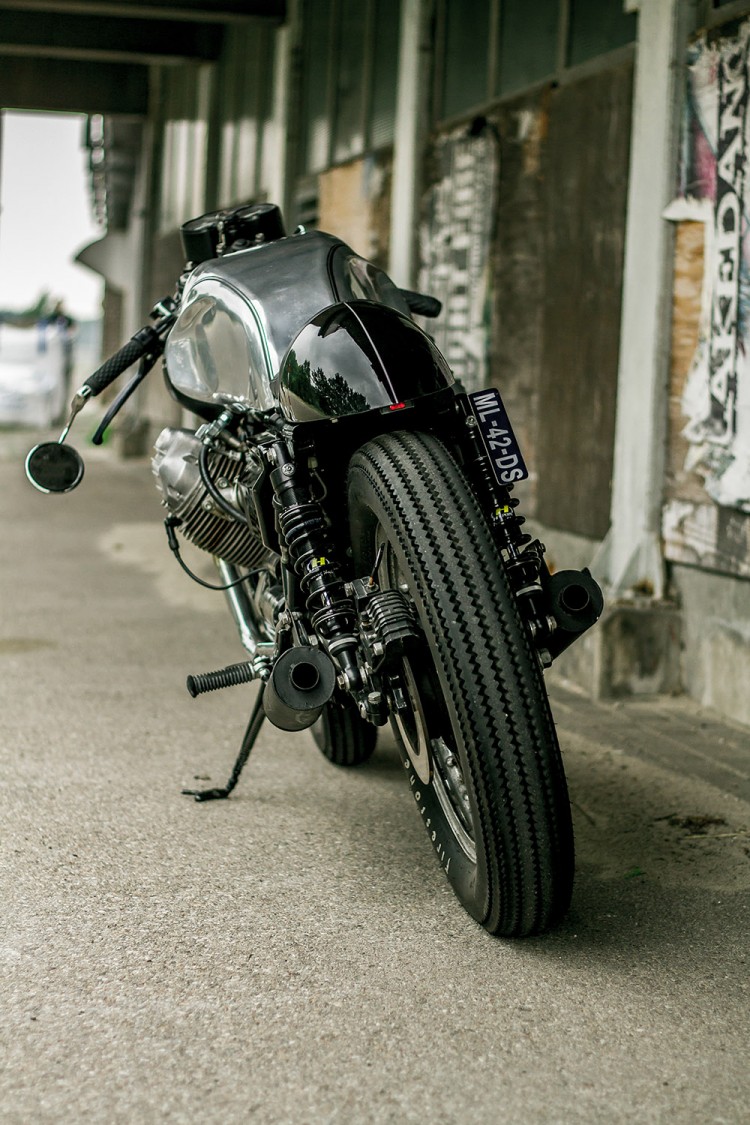 Final result
Amongst all the nice stuff that was added, real eye-catchers are the handmade alloy fuel tank and the very chic Vonzetti seat.
Ferry decided to go for a build that would stand out from the crowd. Admitted, most of us at the Bikebrewers' headquarters are suckers for Moto Guzzis, but even the neutral observant will voluntarily admit this shed builder has succeeded in bringing his lovely vision to life.
The final and most important question: "How does it ride"? Simple answer: "like a dream come true. Not only does it run like a charm, but the sound is magnificent too." Ferry adds. Job well done. Keep an eye out for Ferry, his bike and his store too.
Modifications
The list of modifications is long, but here are the highlights:
Lava camshaft
Handmade alloy fuel tank
Vanzetti seat unit
Brembo brake units
Borrani rims fitted with Firestone Champion deluxe tires
Hyperpro suspension
Share This Story, Choose Your Platform!
Tags