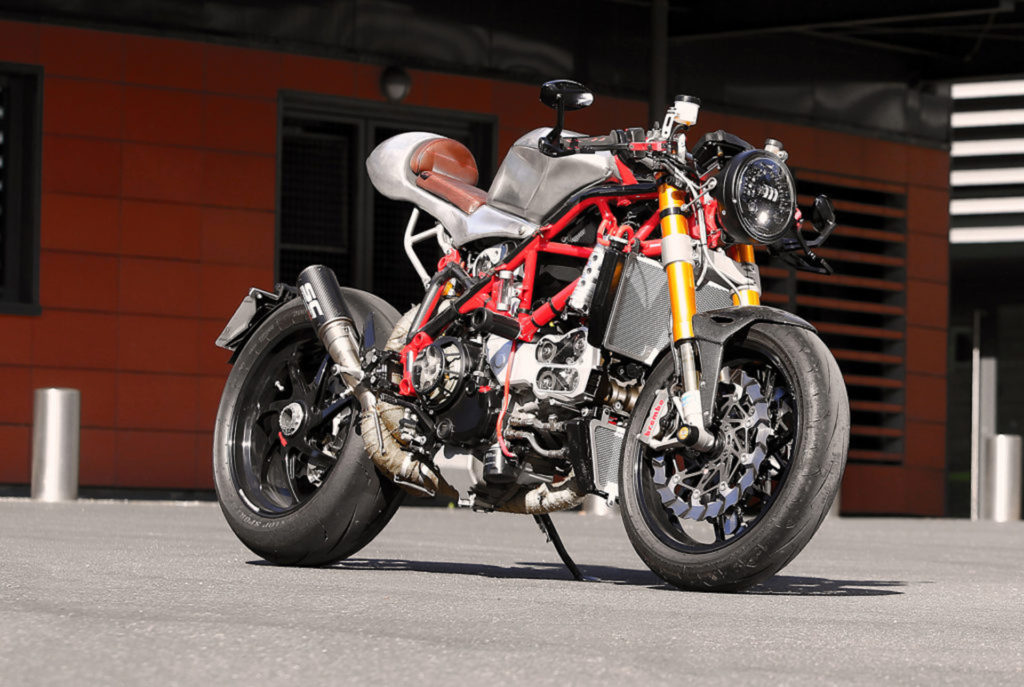 Exotic Machines
Ducati's are known for building some of the world's most aesthetically pleasing and high-performance motorcycles. The comparison with Italian car manufacturers such as Ferrari is easily made. Due to their racing heritage, the engineers at Ducati know exactly what it takes to make a race winning machine. All that tech and know-how is then transferred on to some of their road bikes. One of such an example is the 1198 S Corse. Looking at the factory machine, one would almost consider it sacrilege to remove the beautiful bodywork and expose all the arteries and organs that are underneath. One might find that a bit radical. And that's exactly what the folks at Radical Ducati in France have done. A risky business, and yet, if pulled off correctly, it can be a marvellous thing.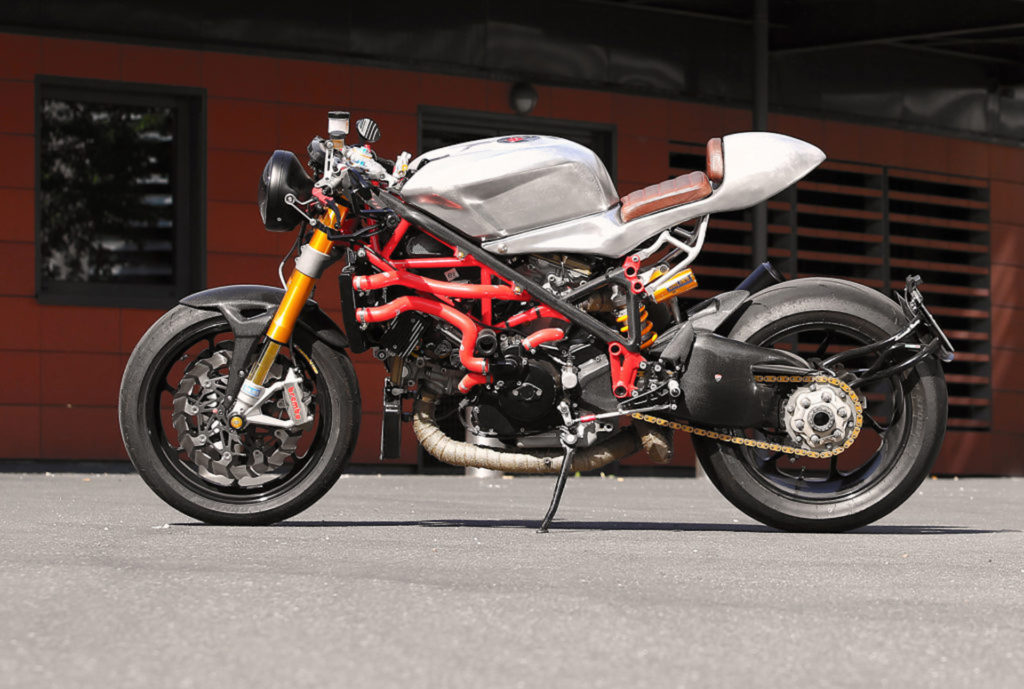 Ducati Cafe Racer
We have seen some very interesting and perfectly executed café racers here on BikeBrewers, built around Ducati's. Sure, it is not everybody's cup of tea, but it definitely is ours! Café racers can be defined as lightweight, powerful motorcycles, that are optimised for speed and handling rather than comfort, and for quick rides over short distances. We've come a long way from the original café racers that were built in the 1960s, and yet, if we look closely at the definition of a café racer, this build ticks all the boxes.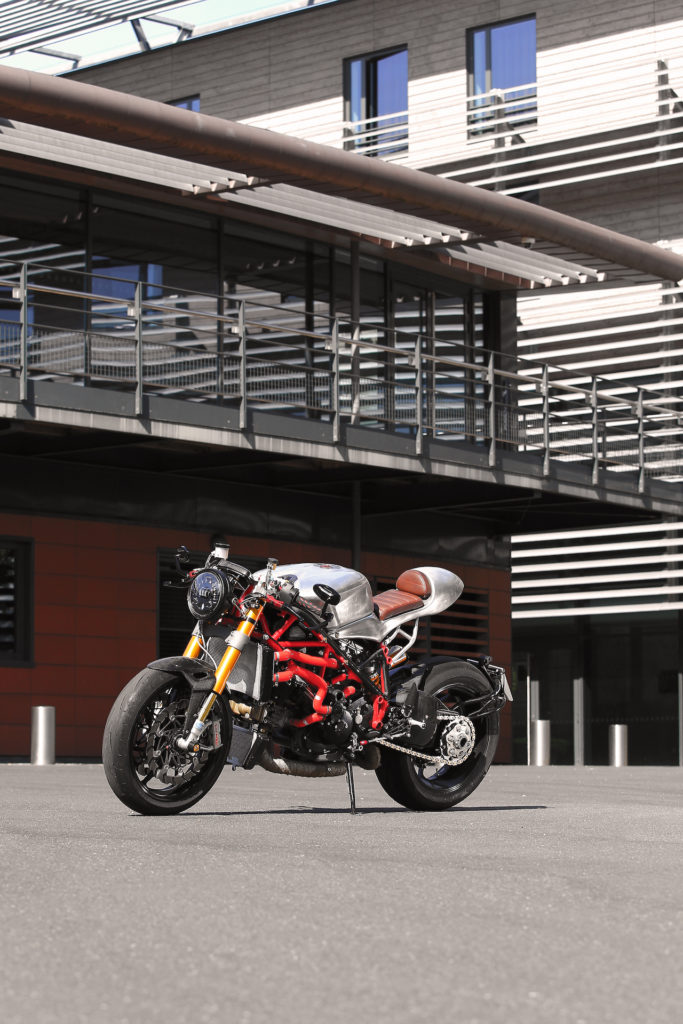 Racing Pedigree
Radical Ducati has shown us how a café racer in the 21st century looks like. Motorcycles have become more high-tech in recent years, with a plethora of software and hardware that keep the bike and rider in check. Heck, even the MotoGP and Superbikes racers can't control their machines without the help of traction control and wheelie control. And rightfully so, with well over 200hp at 15,000 rpm, those machines are no joke. It makes sense that the motorcycles that aren't meant for racing still incorporate some of the tech from the MotoGP and Superbikes. ABS wouldn't have made its entrance to mainstream motorcycles if it wasn't for the racing industry. So does this Ducati 1198s Corse; it is a race machine made suitable for street riding.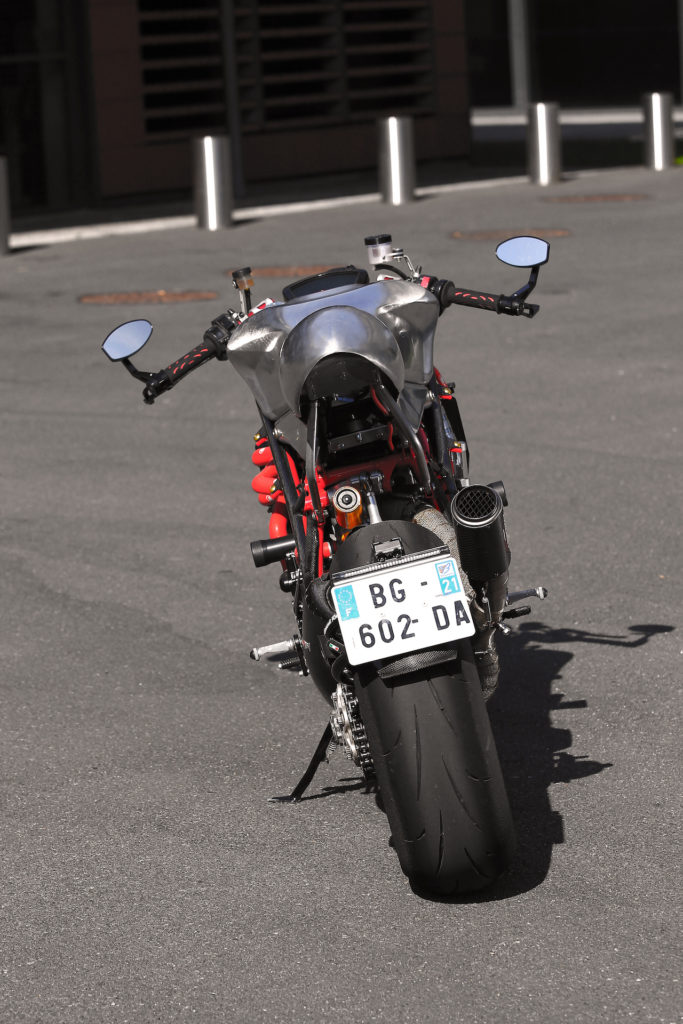 Solid Foundation
First things first, the entire body work of the 1198 had to go, except for the fuel tank. Somehow the 1198's original aluminium fuel tank looks too good to be neglected, plus it is a race replica. All that the tank needed was a bit of sanding, some clear coat, and a racing filler cap. The front suspension is a special bit of racing spec kit too. that came from the factory on the 1198 S Corse; it's a fully adjustable Öhlins 43mm with low friction titanium-nitride treated fork sliders. At the rear we find the venerable Öhlins TTX race shock. On top of that, the original super powerful Brembo Monoblocs were also retained. These are some of the highest spec brake callipers in the world. The same goes for the lightweight Marchesini 7-spoke forged aluminium wheels.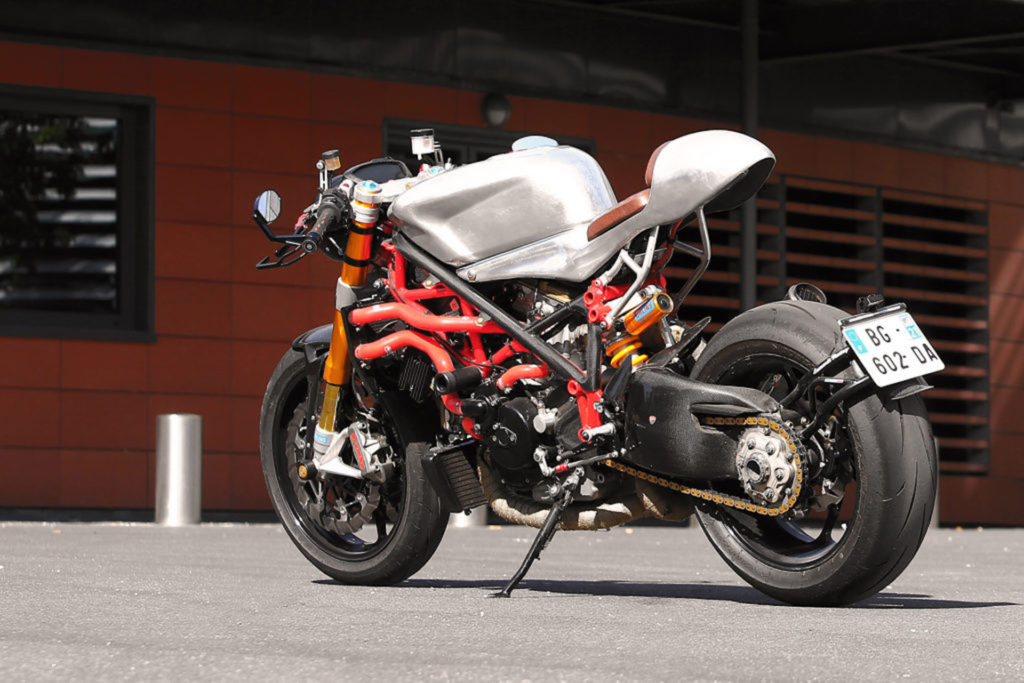 Lightweight
If so much got retained, what did the folks at Radical Ducati change? Let's start at the front. The CNC'd headlight bracket is custom made out of lightweight magnesium, and it holds the classically shaped round headlight, but with a modern LED touch. The rear subframe is a custom-made aluminium unit, built to spec by Radical. Welding aluminium can be tricky, but at Radical they know their stuff and finished the rear subframe off with a beautiful rear cowl that matches perfectly with the fuel tank, creating an aggressive flow to the whole.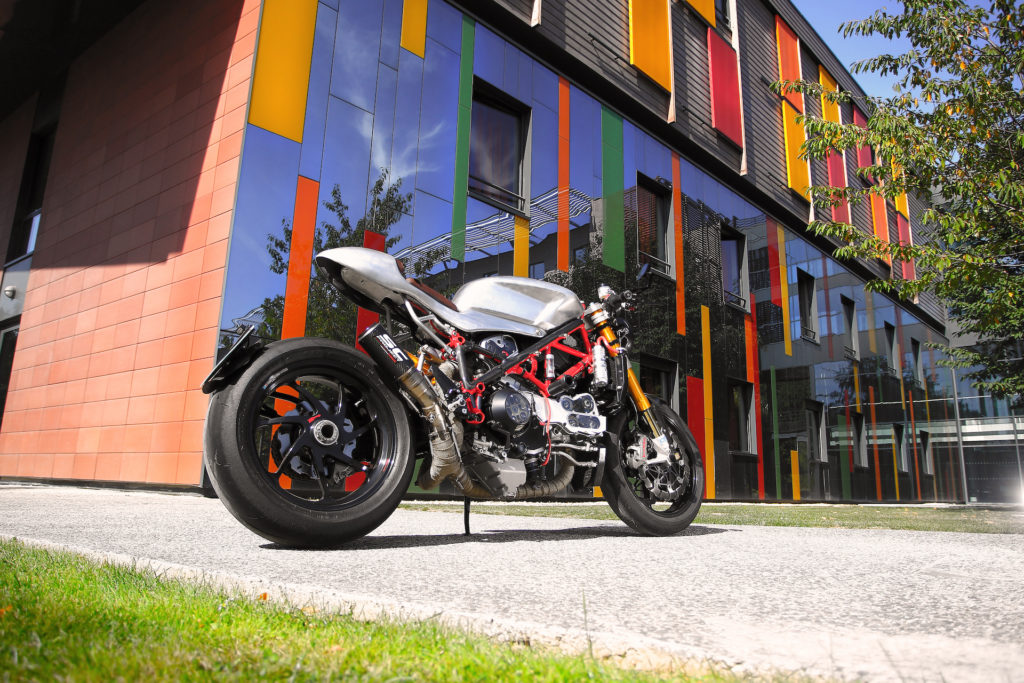 Desmodromic Dreams
The 1198cc Testastretta L-twin pumps out a healthy 170hp at 9750 rpm and 131 Nm (97 lb-ft) of torque at 8000 rpm. These are unique figures for a desmodromic engine, where valve closure is activated mechanically. The engine itself came with the necessary weight saving, by incorporating magnesium allow parts such as the vale covers. The already performance oriented 52-57mm exhaust system got upgraded for a set of SC Project full line exhaust system, allowing the 1198 S to better breathe. The thermal wrapping around the exhaust is supposed to lower some of the heat dispersion these bikes are notorious for. Radical added some of its trade mark touches such as transparent belt-covers, red Samco hoses for all the fluids, which blends perfectly with the red frame. The clutch cover also received a transparent treatment.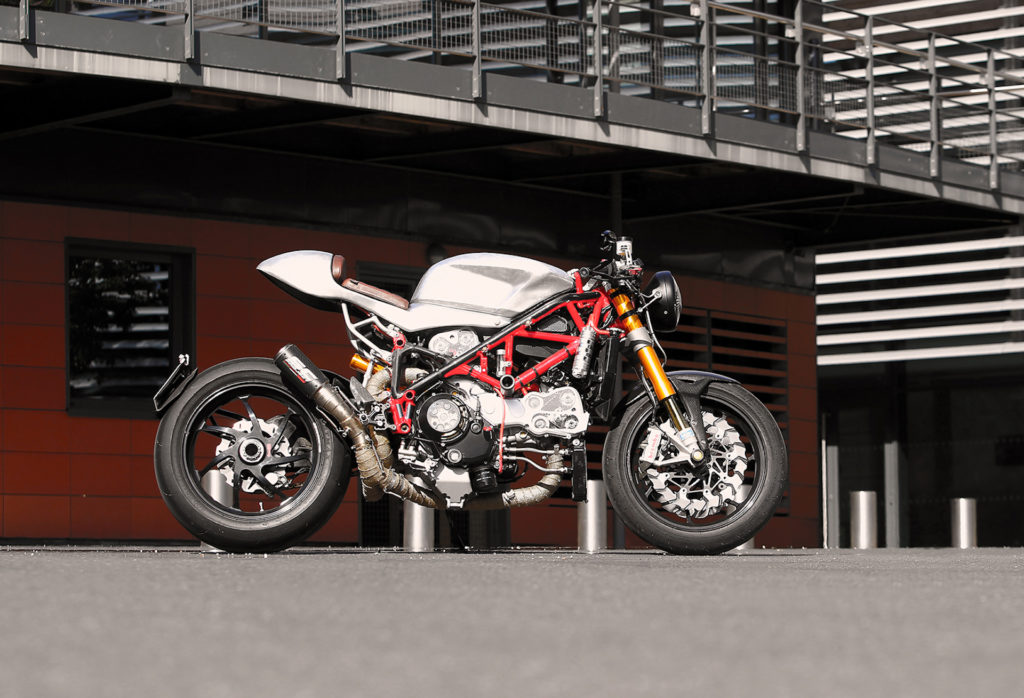 For legislation compliance purposes, a side-mounted plate holder form Lussardi Racing does the job neatly. A handmade leather seat makes the build complete. We would love to know how this Radical Ducati café racer riders, but we do have an idea of what it sounds like. With over 170hp and less than 170kg of weight, the perfect power-to-weight ratio can only mean one thing, and that is that this Ducati will go anywhere fast and in style.
Builder details:
Radical Ducati France
Website
Facebook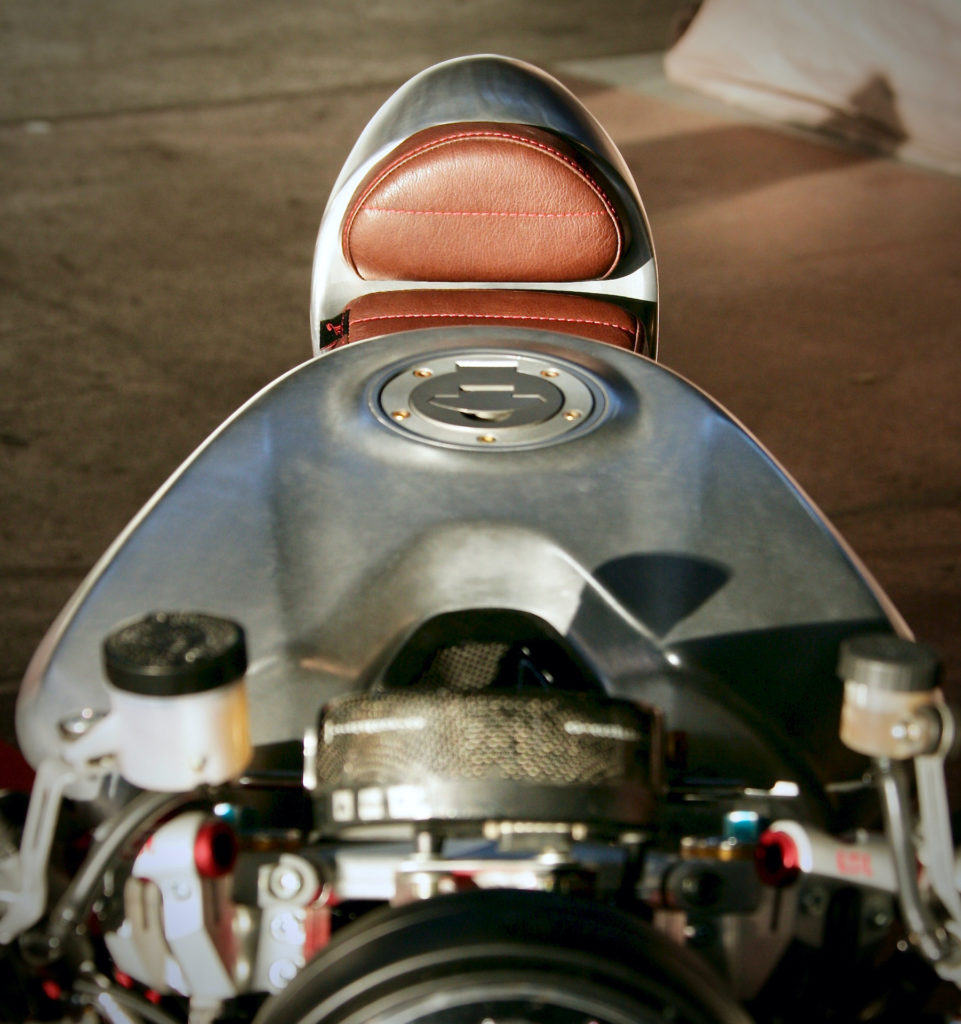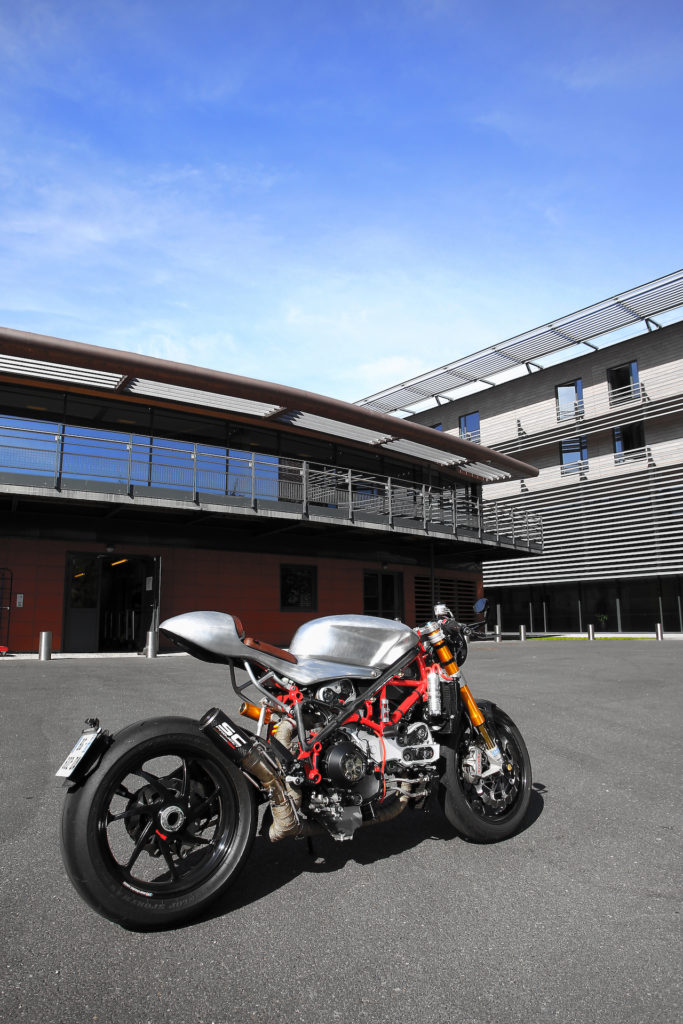 Share This Story, Choose Your Platform!
Tags