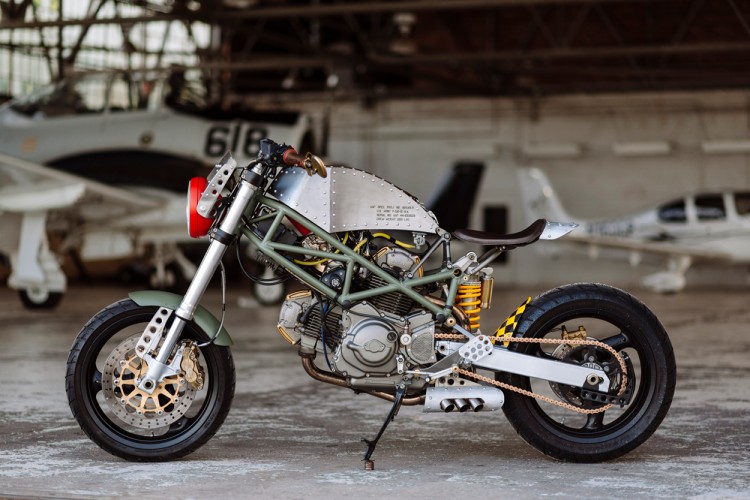 As a custom motorcycle builder, in can be very tricky if you say that a certain build is inspired by something legendary. Chances are that you completely miss the boat and get a lot of critics. Especially when you say that the inspiration came from the P51 Mustang; the long-range interceptor of the Allies that outclassed the German Lüftwaffe in WWII. This machine has an impressive track record and still is beloved by a huge fan base. If you've ever have seen a Mustang doing a low fly-by, you instantly get goosebumps. This Ducati Monster 600 served as a base bike for the project of Eric Buchholz, owner of Spurius Rotis, who got is inspiration from the P51D Mustang "Checkertails", with the remarkable black/blue checked tail.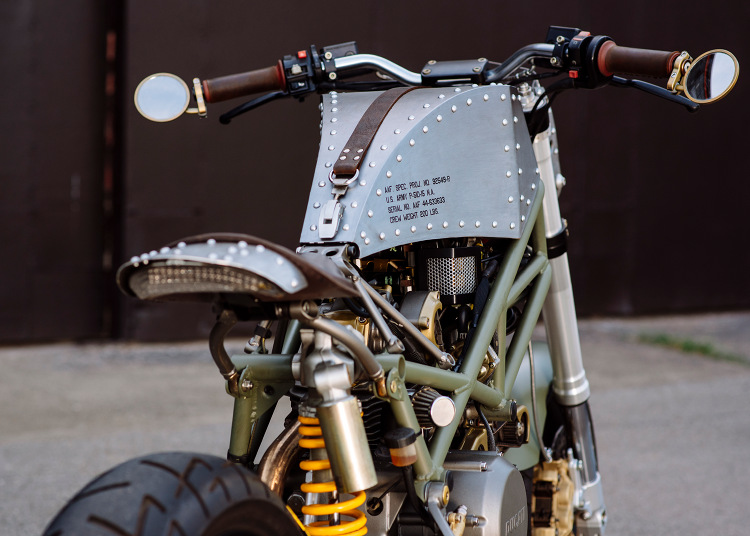 His passion for bikes started as a kid. He had a 1973 Honda CB175 which he turned into something we today should call a scrambler. From that point, he never kept a bike he owned in the original state. When customizing a bike, Eric never used bolt-on parts and fabricated most of the parts himself., wheter it was a complete exhaust system or rearsets. Recently he decided to step up his game to a more professional approach with the start of his workshop Spurius Rotis.
Eric about his approach: "I don't really build to one particular style because on most projects, I use elements from several. I use more textures and metallic tones than glossy paint because I like to ride and don't want to worry about every little paint chip. Currently, my shop is pretty modest and consists of me in my garage, but the limited space helps me focus all of my attention on the current project".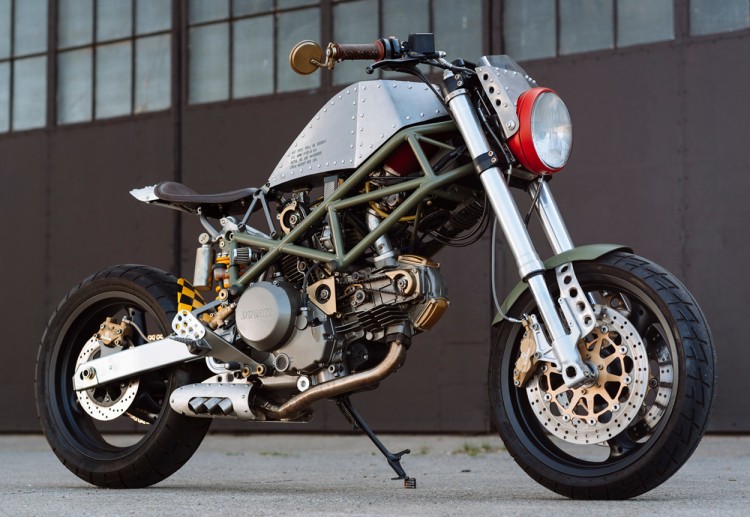 In order to give the Ducati that P51 touch, he spent a lot of time in fabricating details and parts. All the sheet steel you see is custom fabbed, brushed, adorned with AN430 rivets and finished with a clear satin coating. The beautiful exhaust seems to be directly stolen from a P51 and all small details like the foot protectors and bracket for the front fender show that Eric was pretty serious with this project. The gas tank, which seems to be the center of this bike also holds most of the main parts of the completely new electrical system. The relays, fuse box and Antigravity battery are inside a custom battery box with a built in vent chamber for the carburetors. A Motogadget Motoscope Mini and an array of SMD LEDs are mounted recessed under the dash to eliminate glare and provide a good viewing angle.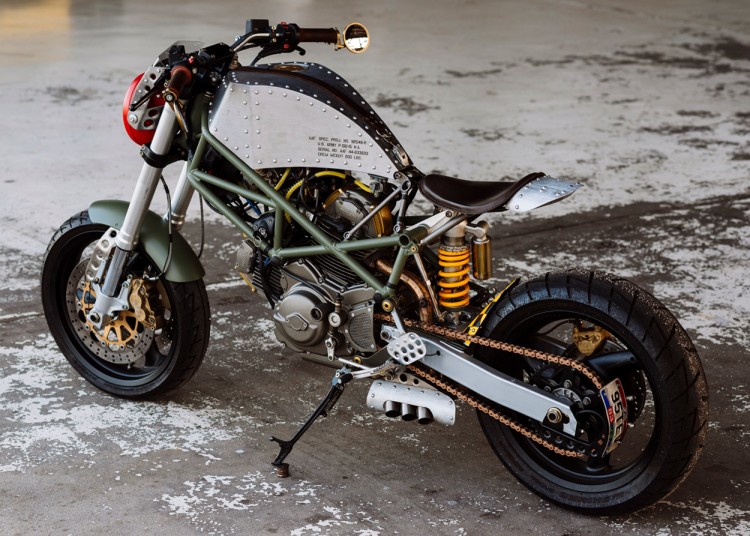 To upgrade the handling of the bike, Eric used the suspension of a Monster S4 with some components of a 1000DS. His goal was to give the bike a riding position and handling that leans towards Hypermotard standards.
Factory Pro jetted carbs breathing through Uni 2-stage filters and 14/46 JT sprockets help to liven it up, especially considering it weighs just 366 lbs when fueled. For daily rider convenience, he added some practical features like a slightly larger kickstand footprint for parking on hot asphalt, and the steering lock function of the relocated key switch now operates as the helmet lock.
Follow Spurius Rotis:
Photos by Tyler Breedwell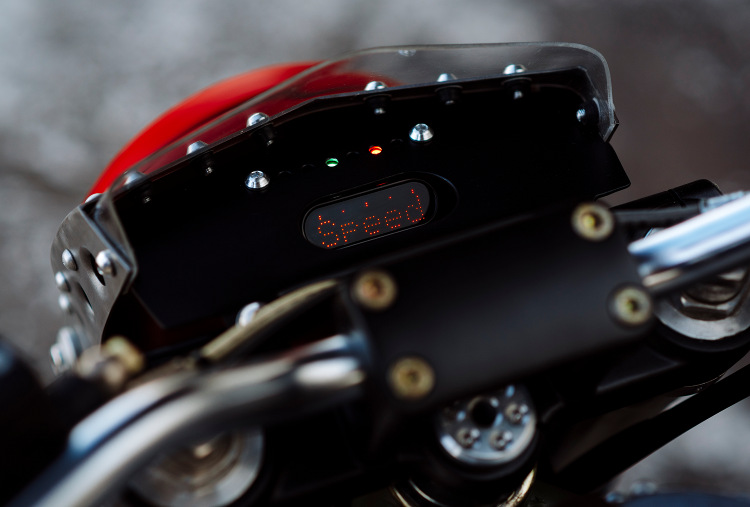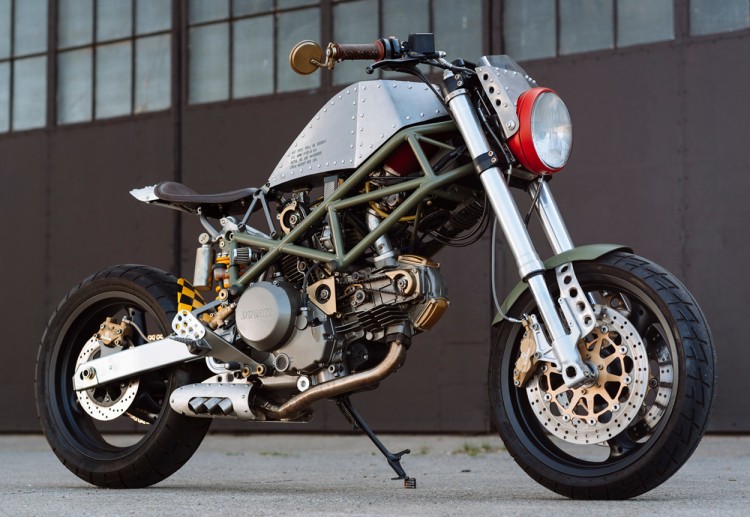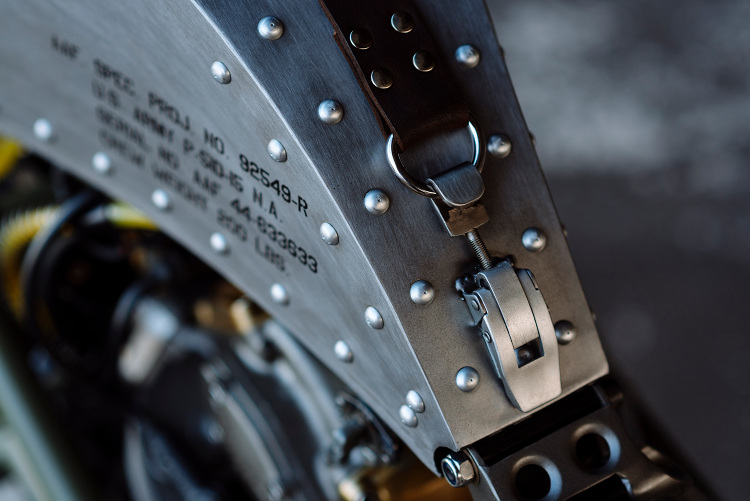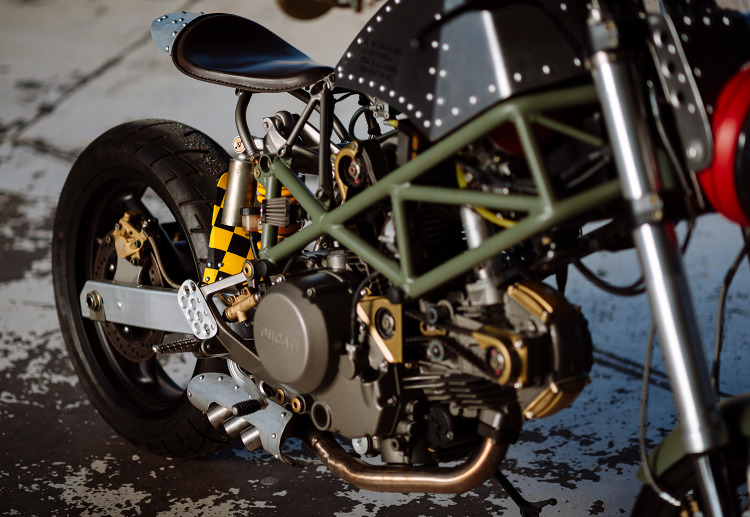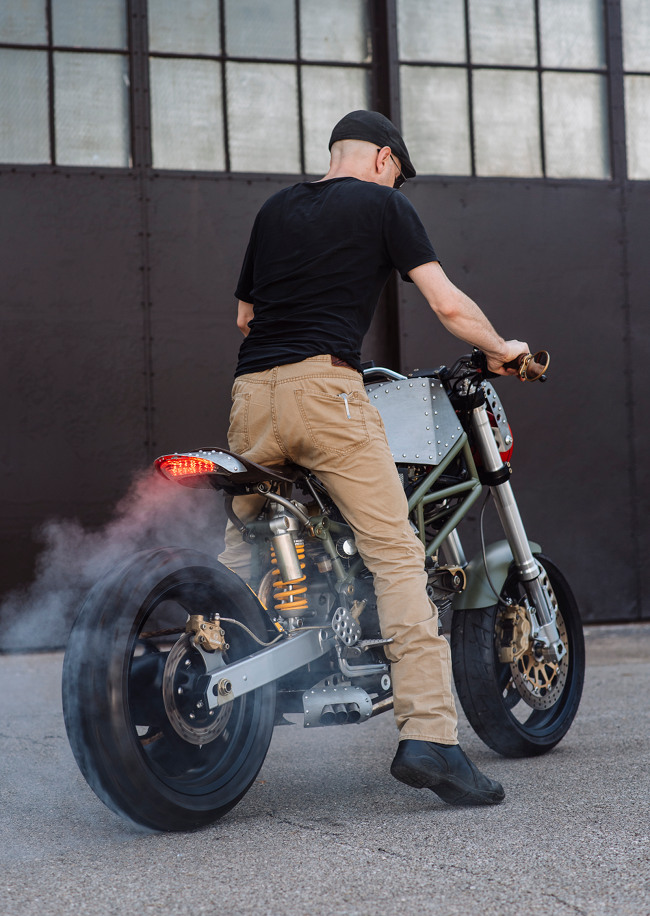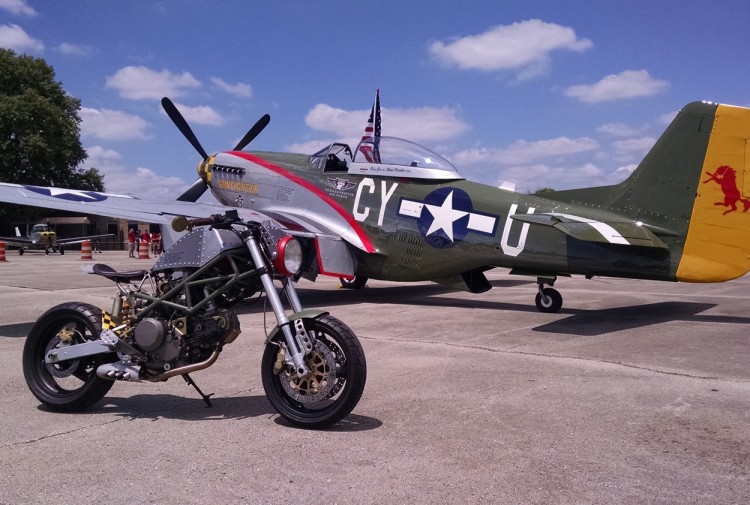 Share This Story, Choose Your Platform!
Tags