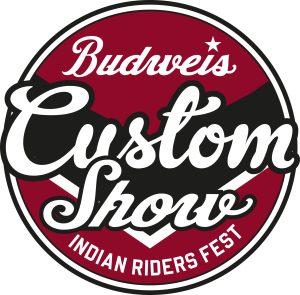 The only custom show fully dedicated to Indian Motorcycles is gearing up for its third edition, with registrations open as of today!
The Budweis Custom Indian Motorcycle Show will take place again in České Budějovice – aka Budweis – in the Czech Republic, from June 13 to 16, 2024.
Ola Stenegärd, Director of Product Design for Indian Motorcycle, is a strong supporter of the show: "There isn't much in life that gets me more excited than a custom motorcycle show. As a designer and custom builder, I really feed on that creative energy. As a long time Indian Motorcycle fan from way back as a kid, the growth of this show in such a short time is food for my soul."
Registrations for the Budweis Custom Indian Motorcycle Show are open as of today, the organizers are inviting builders of all levels, from aspiring rookies to seasoned veterans…
You can enter your custom Indian Motorcycle for one of the seven classes:
Indian Scout

Indian Chief / Non-Fairing

Indian Motorcycle Bagger

Indian Motorcycle Vintage

Indian FTR / Sportbike

Indian Motorcycle ClubStyle / Performance Bagger

Indian Motorcycle Freestyle
The ClubStyle/Performance Baggers class is new for this year, welcoming this exciting new trend to the show.
And the Freestyle class is also new, this is also the only category where entrants do not need to be road legal. However, entries in all classes must be able to start and ride their builds onto the podium to accept their awards.
Finally, one build will be awarded the Best In Show trophy…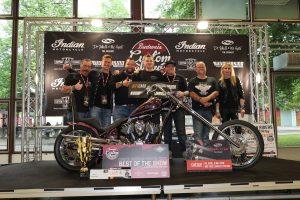 The Budweis Custom Indian Motorcycle Show has gathered a really impressive judging panel to evaluate the entries for all these classes. Brian Klock, President of Klock Werks, is joining as President of the Jury. Brian – aka the "Godfather of Baggers" – confirmed taking this role for the 2024 Show, saying: "Indian Motorcycle is near and dear to my heart. Having been part of the aftermarket advisory team since 2014 and designing many of the limited editions coming out of the factory, just like Ola, a custom show dedicated to Indian Motorcycle is something I'm really excited about. I cannot wait to meet everyone at Budweis next year and see their craftsmanship and incredible skills."
Brian will be joined in the judging panel by other dignitaries, including his wife Vanessa, Ola Stenegärd and Onno Wieringa (Official AMD World Championship photographer), to evaluate the entrants.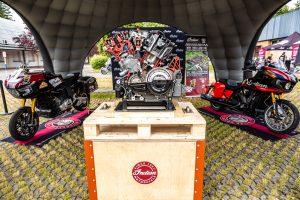 So if you want to show off your custom Indian Motorcycle with the chance to win a prestigious award in one of the seven classes, pre-register your bike between now and Friday, May 31, 2024, at: www.budweiscustom.show/#BCS24form.
And if you are not ready by that time, ride-in entries will still be accepted until Saturday, June 15.
For more information about the 2024 Budweis Indian Motorcycle Show visit www.budweiscustom.show
And in case you missed the 2023 edition of the Budweis Indian Motorcycle Custom Show, check out the Indian Riders Fest 2023 Official Video!
Share This Story, Choose Your Platform!
Tags