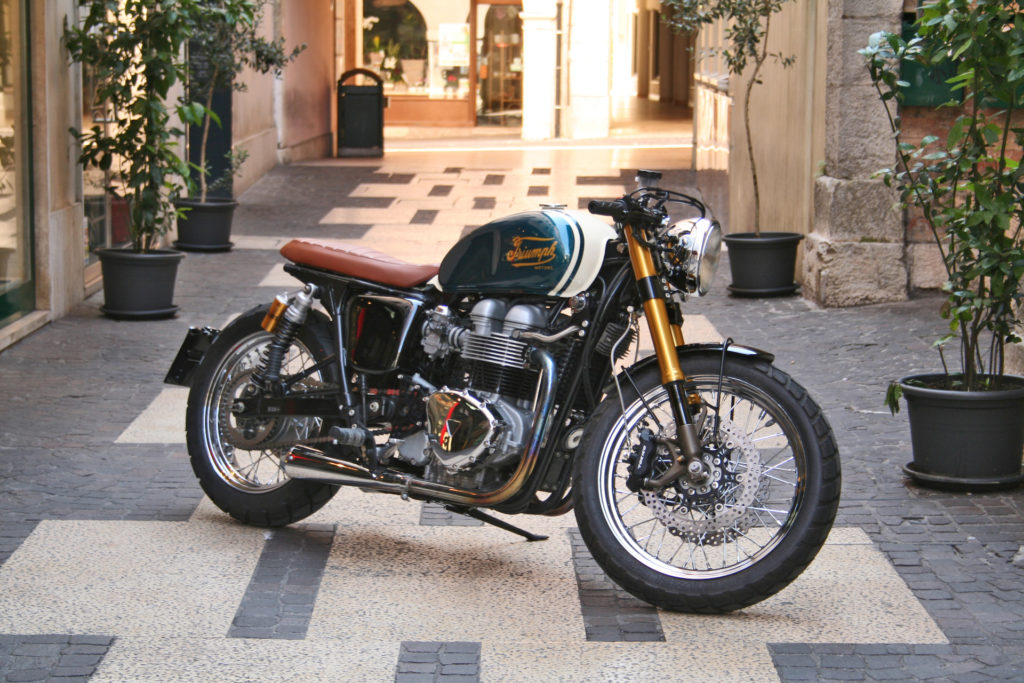 Passionata
When we think of Italy we automatically think of tasty food and wine, exotic cars, expensive motorcycles, cappuccino, designer clothes, and temperament. It is safe to say that in Italy, they live their lives in a different flow. It is for that same reason most people fall in love with the country. Meet Massimo Zancai. Based in Pordenone Italy, Massimo is a designer by trade and by heart. He is the man behind the company called La MotoCicletta. I hope this doesn't need any translation, but for those of you who fear missing out: it means The Motorcycle.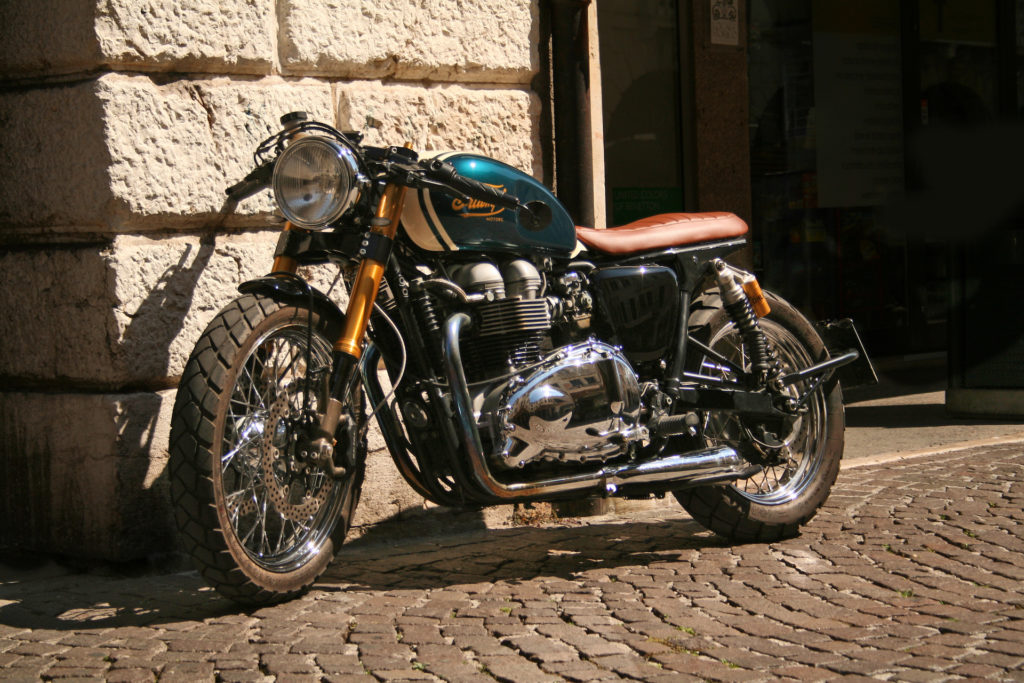 Learned from the best
Massimo has been customising motorcycles for some time. After working as an independent designer for Aprilia and Moto Guzzi for several years, it is safe to say that he has learned a thing or two about motorcycles. He is specialised in handling carbon fibre parts for concept bikes. Some of the bikes he has worked on are the Aprilia RS660 and the Moto Guzzi MGX-21 Flying Fortress. This has given him the inspiration he needed to set up his own shop.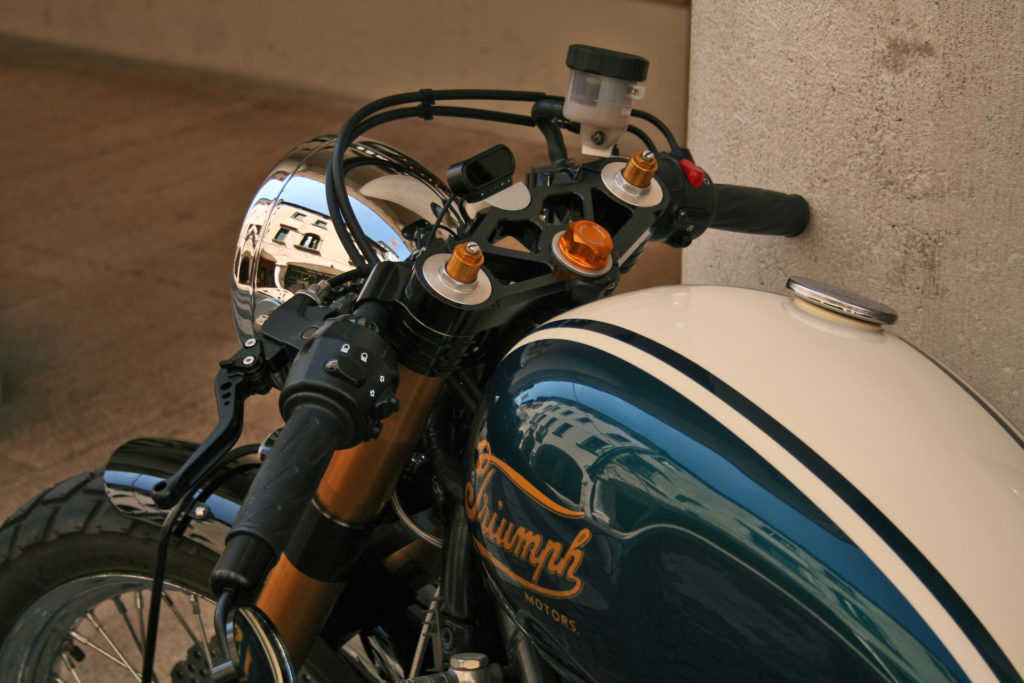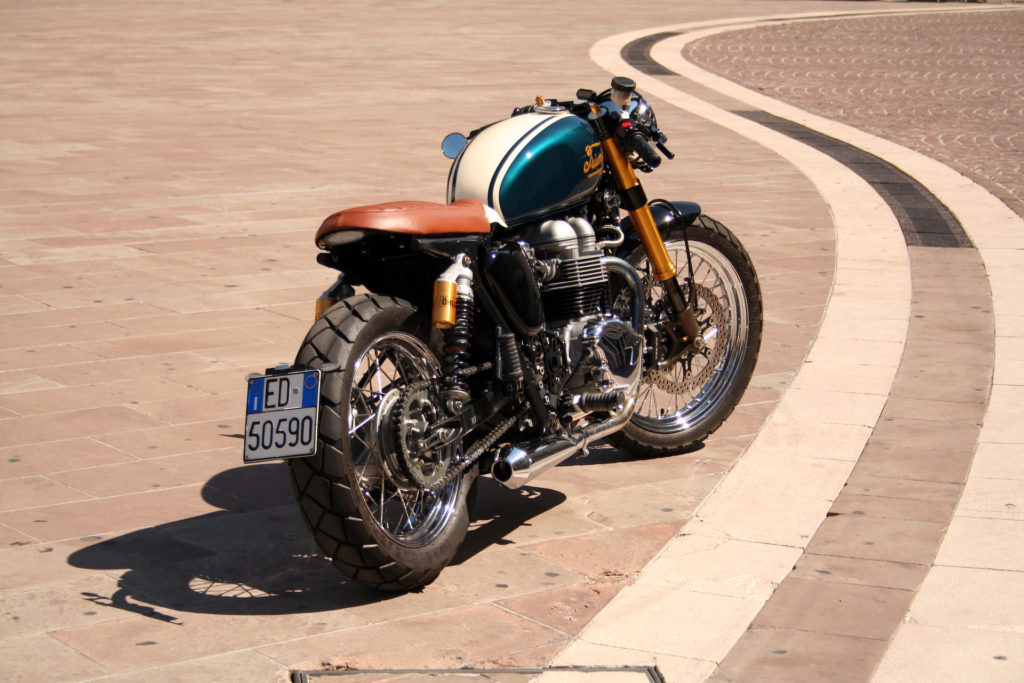 Monaco!
Showing off his work is a major part of his job, and people's genuine responses is what drives him. Massimo started this project with a clean Triumph Bonneville T100. He managed to find a mint condition specimen in Monaco; talk about posh! It was a low mileage unit and it came with a full-service history. The right kind of foundation for the design he had in mind.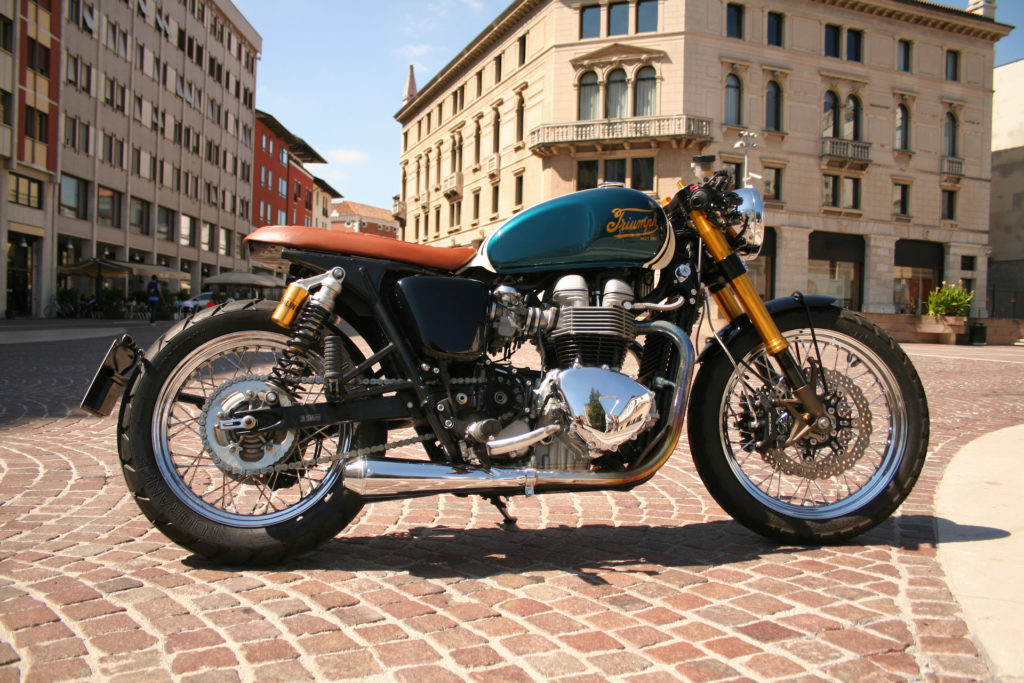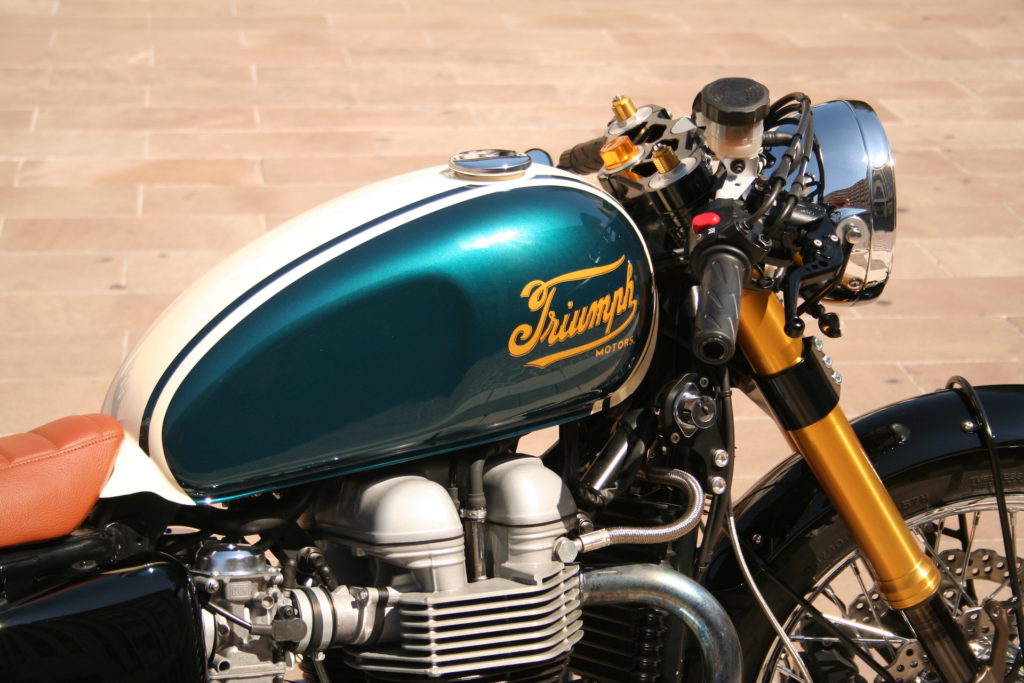 Stance is everything
A lot has been done to the good ol' Bonnie. To complete stance has been changed. This is the result of lowering the entire motorcycle by 40mm overall. This also helped improving stability by lowering the already low centre of gravity. The handlebar was also lowered to help with the look. A lot of CNC part were used in this build. The triple clamp is a custom design and is extremely light weight. The hold on to a pair of upside-down forks at the front, courtesy of Showa. Attached to the triple clamp you will find a mini speedo. This helps with keeping the lines low and clean.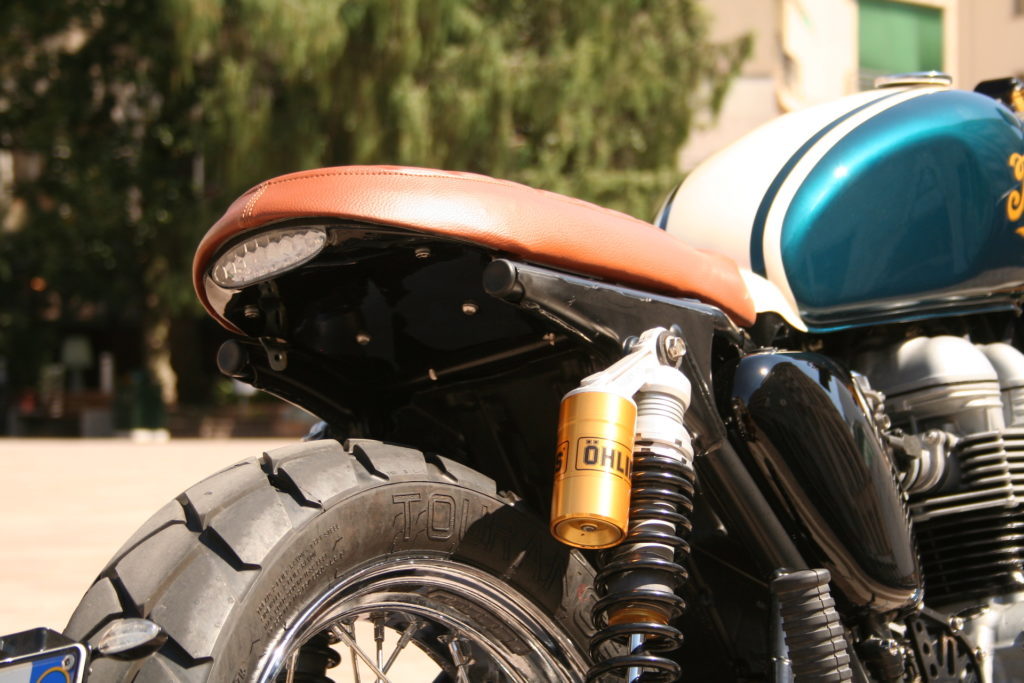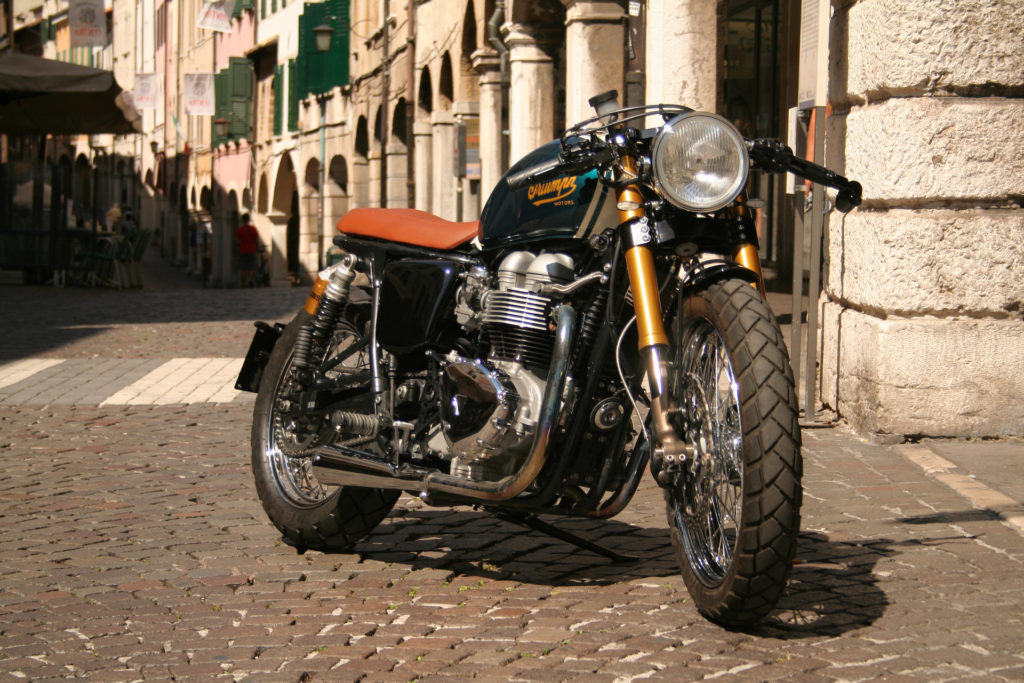 Modern Classic
There is a flair of modern retro to be found on this Triumph. Although it comes with wire-spoked wheels that make it look classic, the massive double front rotor brake discs tell a different story. This Bonneville has some serious stopping power. The rear end of the motorcycle looks just as clean as the front. The LED taillight is tucked away underneath the custom-made brow leather seat. Talking about the seat, the rear subframe has been shortened to add to the sportiness. At the rear we also find a pair of Öhlins stereo shock absorbers. One of the most common complaints Triumph owners have about their Bonneville's is the poor performance of the factory suspension. It seems that that problem has now been sorted!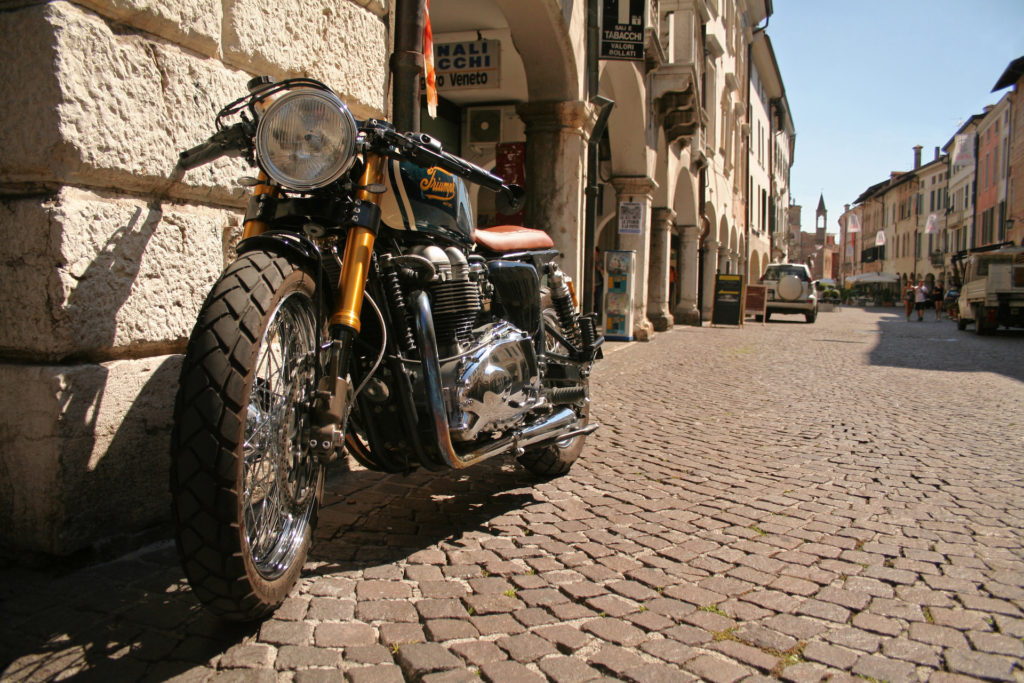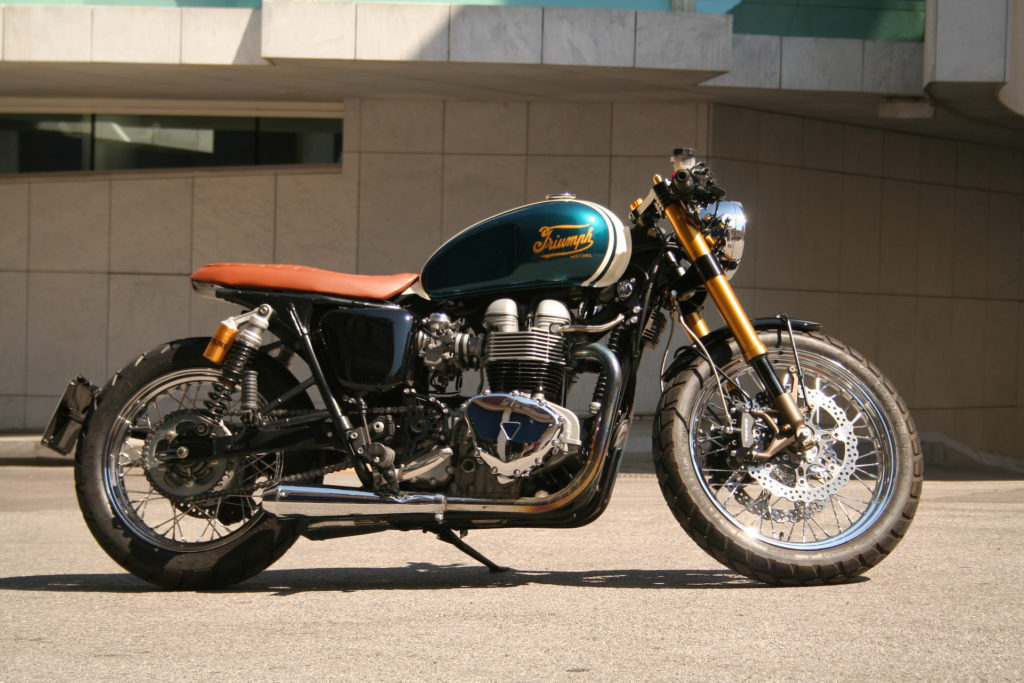 Stylish
One of the features that really pops on this build has got the be the fuel tank. The colour looks very deep and clear. That has got to do with the fact that the tank itself received a whopping 14 layers of clear-coat. A pair of simple but elegant megaphone mufflers help the timid sounding T100 roar when it hits the cobblestones of the local piazza. According to Massimo, this improved Triumph Bonneville rides and handles like a true café racer should. We have no doubt about that!
Share This Story, Choose Your Platform!
Tags