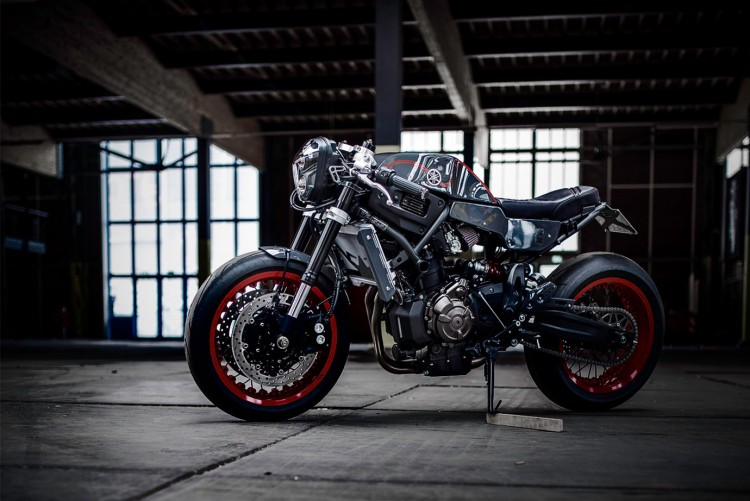 Under the label "if it ain't Dutch, it ain't much", Yamaha Motor The Netherlands and watch brand TW Steel, work together to create a line of unique custom motorcycles that are linked to each other. One year ago this unique collaboration started with this cool custom XV950R, built by the guys of Numbnut Motorcycles. Yesterday the successor was presented at Republic Moto in Rotterdam. This time it was the honor of our friend Arjan van den Boom of Ironwood Custom Motorcycles to get loose on the Yamaha XSR700. Regular readers already know Arjan's work and the rest of the world follows in a quick pace since Ironwood's star is rising, FAST!
The XSR700 is not only a cool machine of its own, Yamaha targeted the XSR-series for buyers who'd like to add their own style to the machine. For this, Yamaha offers a (very) wide range of custom parts and customization kits. Thu punchy parallel twin makes this bike not only cool but adds a big fun factor to the machine. So when Arjan got the call from TW Steel and Yamaha, he was thrilled. He only got one simple direction: "get your inspiration from our limited edition timepiece, the Chronos' Joyride". A unique watch in the "Son of Time" line with a strong tie to (custom) motorcycles, incorporating key elements such as the clean lines, the pistons, and the fuel cap, the watch breathes boldness, while maintaining a stylish, clean look.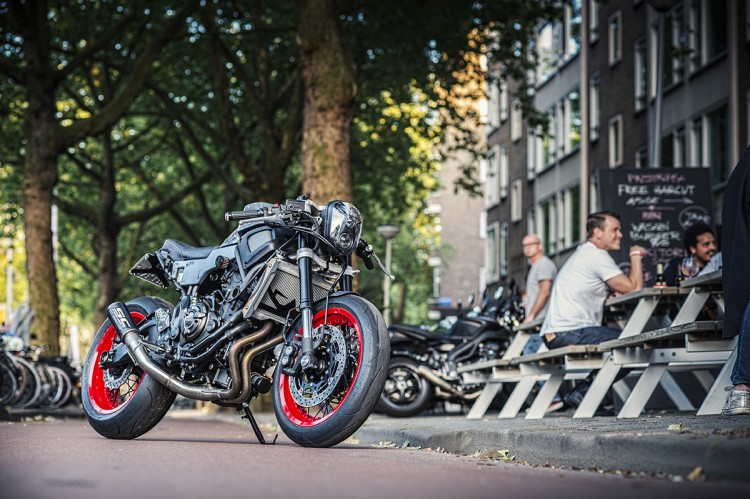 The result worked out very well: it's not only a unique motorcycle, it's also a healthy mix between simple and aggressive. The most striking element of the bike are the red Kineo wheels combined with the "Grigio Telesto 0098" paint job, which was originally designed for the Lamborghini Aventador. But next to that, the bike also got some serious upgrades: in front, Arjan used a MT-10 USD fork with complete brake setup. Together with a new Öhlins rear shock (with a red spring!), the handling and braking are now one superbike level.
A craftsman as Arjan is, he created some unique parts of this bike in his workshop like the side panels, front fender, radiator brackets and headlight brackets. The gas tank is one of those custom elements that stands out by not standing out and is perfectly aligned with the seat. The upholstery comes from Marcel Miller of Miller Kustom Upholstery, THE MAN in Holland when it comes to leathers.
The finishing touch is the custom exhaust with an SC Project carbon muffler, which makes this machine scream like a…. hmmm, how can we describe this… Well: it's aggressive!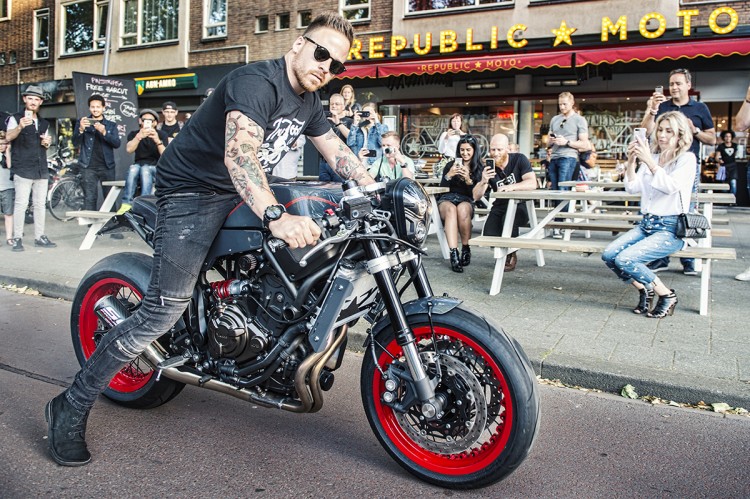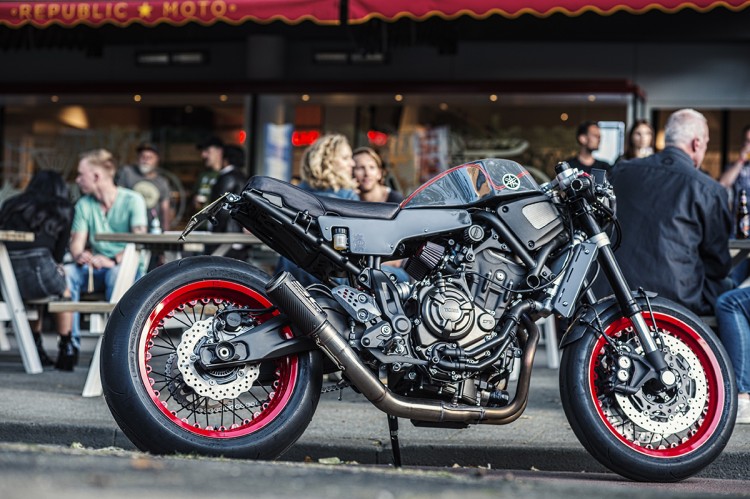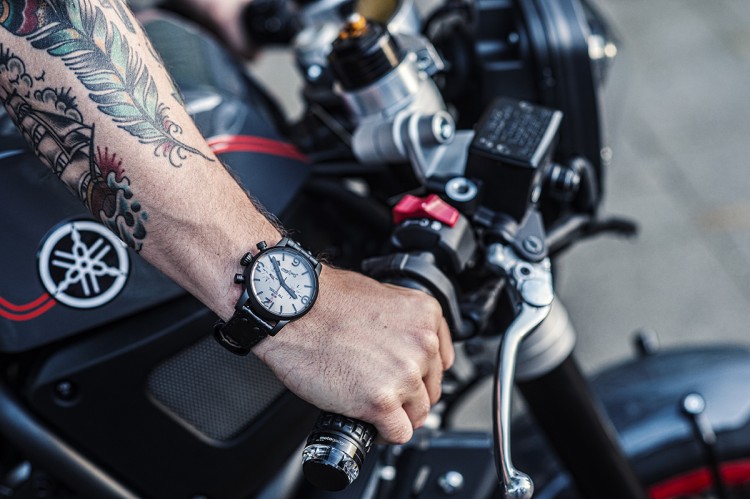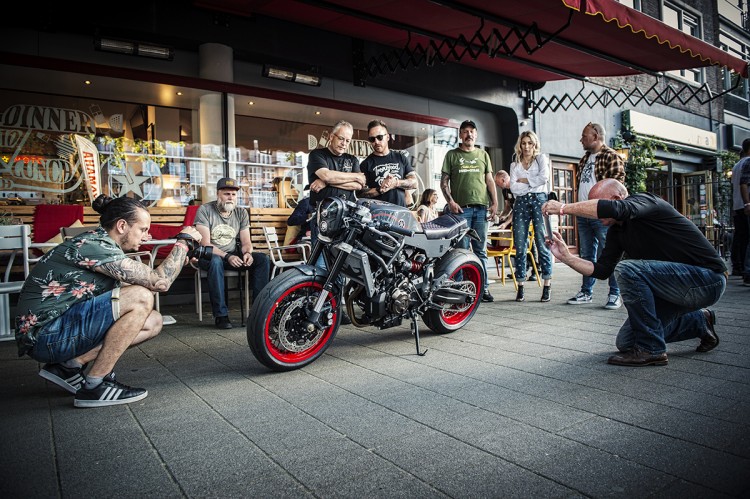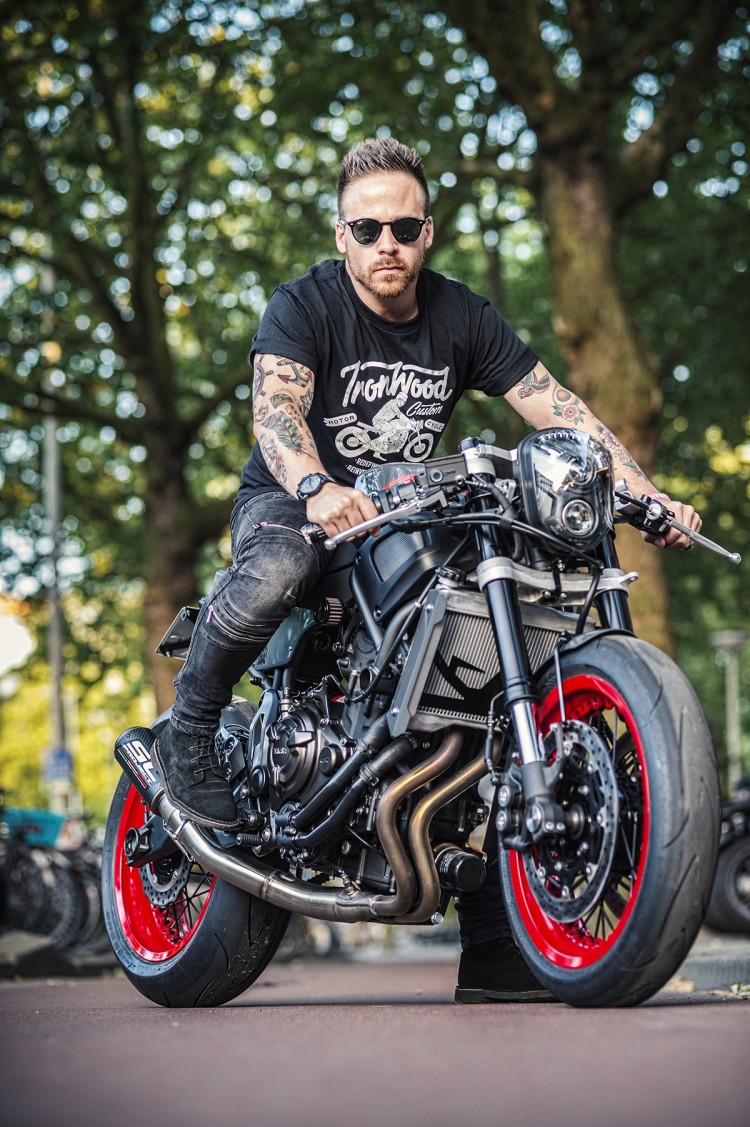 Share This Story, Choose Your Platform!
Tags