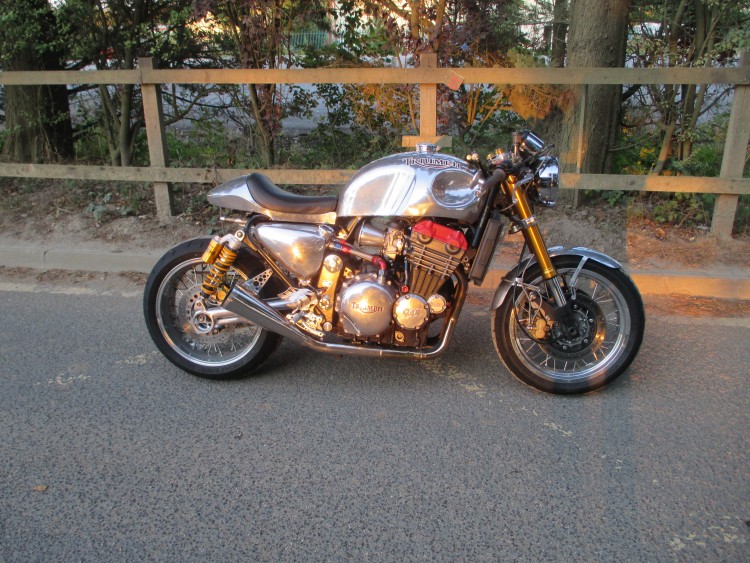 Sometimes you come across bikes that just put the hook in you. Christian Forward's 1994 Triumph Trident is definitely one of those builds that brings out the greed in me. Everything inside me screams "I want it!'. I can hardly imagine anyone disagreeing with me after perusing the pictures. This bike is just phenomenal. Truly one of a kind. It is a love child conceived in a shed somewhere in the UK.
Christian is a petrolhead by birth. He grew up in a family with a dad and two older brothers all riding bikes and spent 18 years working as a motorcycle mechanic. It took him eleven years to get the Triumph to the point where it is at right now. Riding it every summer, taking it apart every winter and making it lighter, better, faster and smoother. Why did he decide to build the bike? Simple answer: "..because it's what I want to ride!".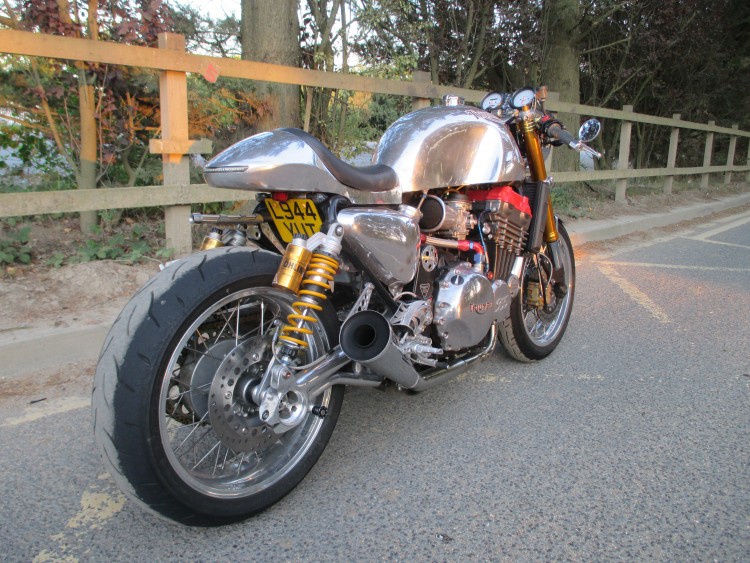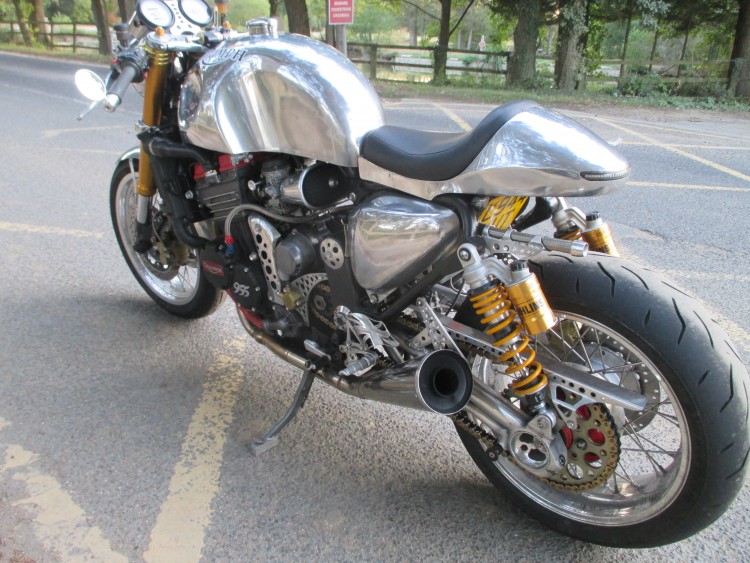 This builder took a 1994 Triple as a base for his project because he just loves the triple and he wanted to create an image of a 60's Triton that looks really vintage but is capable of giving modern sports bikes a run for their money. In the process of creating his masterpiece Christian taught himself how to use a lathe, an English wheel and how to weld aluminum and stainless steel. His biggest insight? "If you don't get it right the first time, just keep on trying until you master the process."
Not everything could be done by himself. At times he had to call in the specialists. Galtec Precision Engineering bored the crankcase and skimmed the cylinder head. His friend John Elliot welded the frame, as Kevin Sanders threaded the aluminum spigots.
Auxiliary services were delivered by la Carousel (powder coating), Hagon (lacing the front wheel) while Bramley located Dynotech set up the fuelling on their Dyno. Suspension was set up by mark Hammond of MH racing.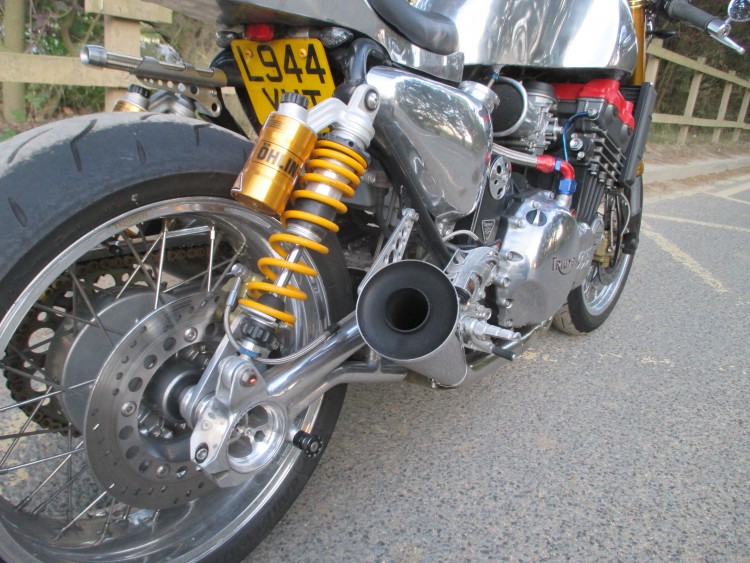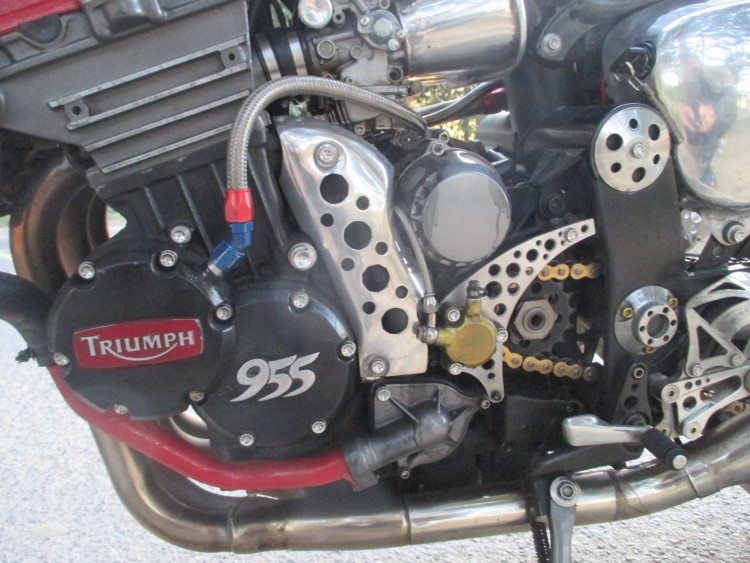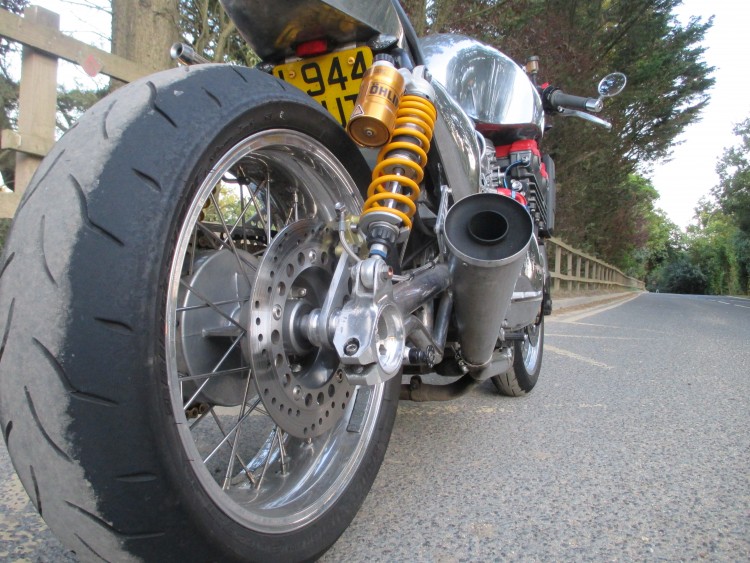 When I spoke to Christian and asked him about the reason he spent so much time on this project and how it handles in real life,  he responded: "How does it ride? Have a look at the rear tyre hahaha!". "But seriously, the whole reason I built the bike was to ride it, it was never meant to be a show bike or ornament. With every ounce of weight I've shaved off it and every bhp I've squeezed out of it, with no fuel injection, ABS, traction control, side stand or clutch switch it is a proper motorcycle. Exactly the way they were done in the 60's but with a little extra."
To prove his point BikeBrewers challenged Christian to put his rubber where his mouth was. And he did!
From now on we will refer to him as: Christian 'Fast' Forward![su_youtube url="https://youtu.be/UN_aHGxhbjY" width="800″ title="'94 Triumph Trident Done Right by Christian Forward"]
Perhaps when Triumph Motorcycles see what has been made out of this more than 24-year old bike, they may well consider putting the Trident back into production. My guess is this project may well end up high in this years' Top Ten builds.
Chassis:
Trident 900 with Adventurer rear subframe welded on and twin shock conversion.
Öhlins fully adjustable rear shocks on homemade aluminium swing arm 2 inches shorter than the original.
Tiger 900 hubs laced to 17 inch rims 3.5 front and 5.5 rear.
FZ1 forks with R1 internals.
R1 top & bottom yokes with Trident steering stem.
R6 top mounted steering damper,
Brembo master cylinders & brake calipers.
Daytona 955i seat narrowed by 3 inches.
Seat unit, side panels, front mudguard, chain guard, bell mouth air box and fuel tank hand made in aluminium.
Bandit 1200 head light. Daytona 900 clocks in Thunderbird cases.
Engine details:
885 Trident engine fitted with 955 Daytona cams, liners & pistons,
port flowed & skimmed cylinder head,
homemade head gasket,
adjustable ignition advancer and spin-on oil filter conversion.
Yamaha FZ1000 carbs with one removed and re-spaced to fit, and homemade stainless steel silencers.
Performance:
117bhp 69ft-lbs torque
(95bhp 58ft-lbs torque) = old 885 engine @ rear wheel
Want to check out Christian?
Facebook: Christian Forward
Instagram: Forwardstein
Pinterest: Christian Forward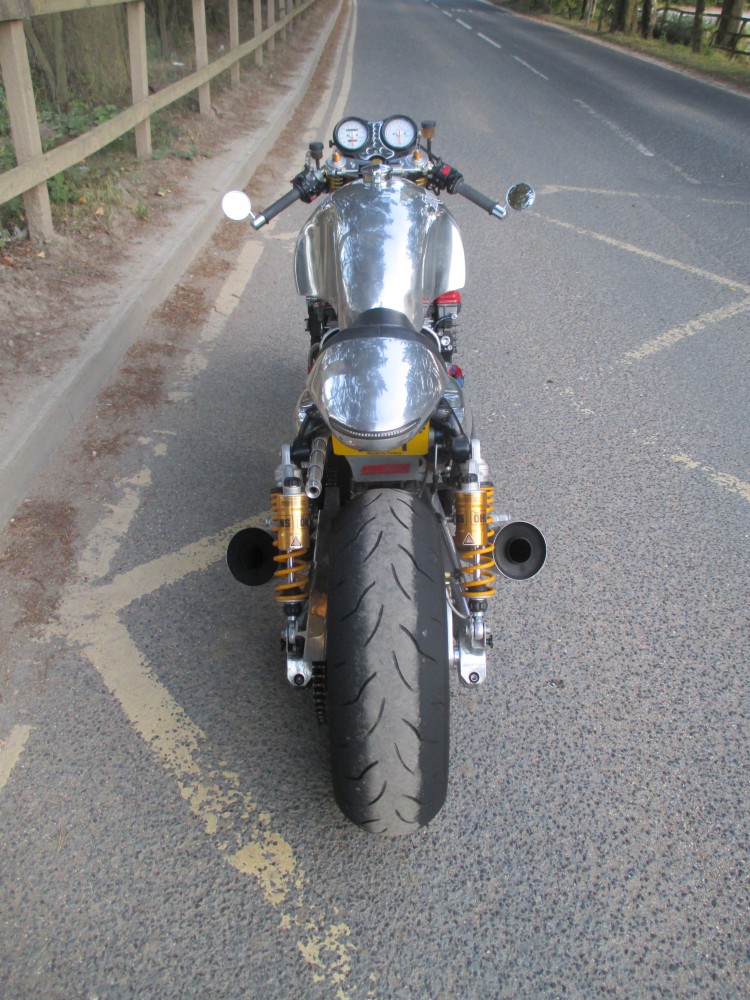 Share This Story, Choose Your Platform!
Tags