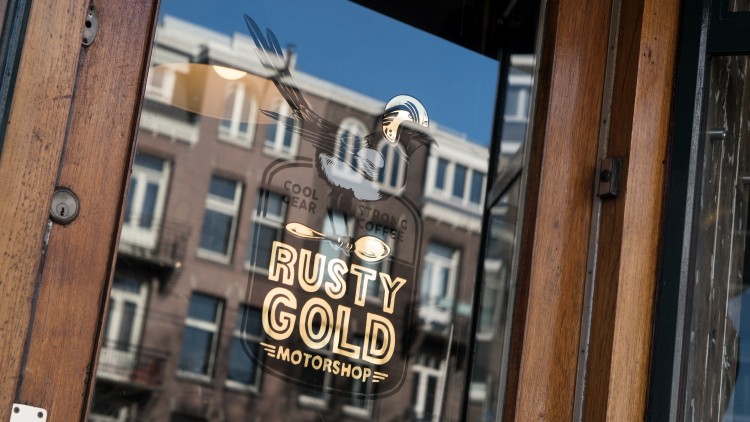 With our small series of Custom Crafts, we've broadened our view of the custom motorcycle scene by interviewing the artists behind the bikes. In the past we've done some shop visits, but this never really led to serious articles. With our ever growing audience and some extra hands (called Ron), we thought it was time to pick up the "Shop visit" section on BikeBrewers. This first article is about the Amsterdam-based Rusty Gold Motorshop. Enjoy reading!
The Amsterdam Goldrush
Exactly 120 years after gold was first discovered in Canadian Klondike a new gold vein was hit on the outer limits of Central Amsterdam. The leading man in this success story is known by the name Zoran Holtkamp. Born and bred in Amsterdam he was restless in his advertising job and decided it was time for something different.
Rumour has it he was fed Castrol as a kid. No surprise there was no way our protagonist could end up on anything else than loud two-wheeled machines. Still, unlike many of us, he managed to be patient and started riding motorbikes when he was 18 and had a license.
Currently riding a Yamaha XS 650 'dirt chop', both on the road as well as on the dirt track, Zoran was the proprietor of an XJ650 as his first bike, followed by a Honda 'NTV 650' ("yawn…").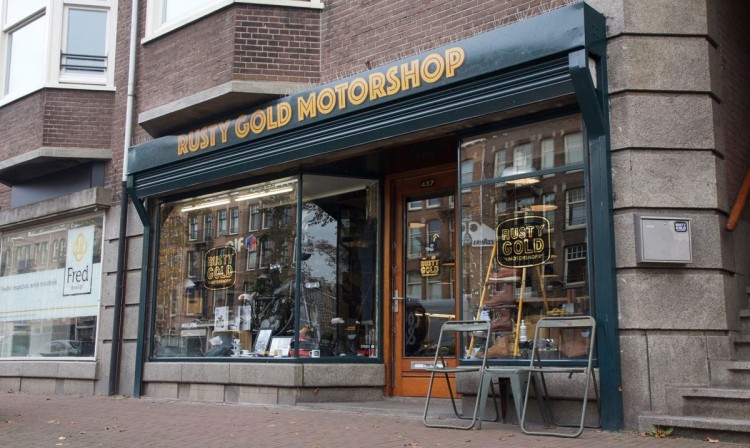 "Gentlemen, restart your engines"
Bored with all the humdrum in his job as art director in an advertising agency our hero decided he needed a real challenge. Dissatisfied with the stuff available in mainstream motorcycle shops, Zoran had something completely different in mind. With a healthy addiction to old motorcycle parts he had already successfully organized several 'Rusty Gold swap meets'. Morphing from Art Director to retailer was a logical step in Zoran's mind. How cool would it be to combine his creative brain with his passion for quality design and vintage motorcycle stuff?
Right move
Getting ready to celebrate his third anniversary, Zoran is happy he made the move. His little shop is frequented by a constantly growing mix of motorcycle riding friends who dig his excellent assortment of tasteful motorcycle apparel and tourists looking for a genuinely cool souvenir from Amsterdam.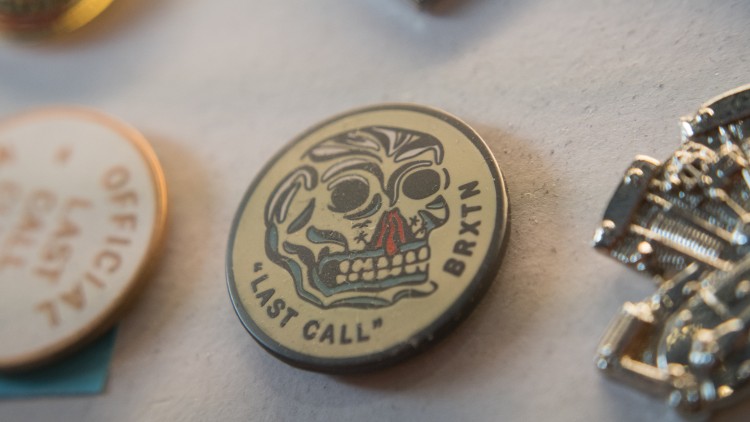 Clearly his background in the advertising industry has helped him to quickly gain a foothold in the local motorcycling community. Interestingly enough his own brand seems to be hauling in more clients than the bigger names his shop is carrying. Cool cats wheeling around in 'Rusty Gold Motorshop Amsterdam' clothing are spreading the word like wildfire. Even for a store of modest proportions Rusty Gold offers quite a range of goodies and beautiful brands. From socks to caps and anything in between.
Apparel with the Rusty logo is omnipresent, but so are Bell, Biltwell, DePalma, Brixton, Dickies, DMD, Eat Dust, Lowbrow Customs, Red Wing, Rev'it, Stance, Wrenchmonkees and 100% Barstow. Recently added to the collection are 'Rusty Butcher' T-shirts by Mark Akins an American motocross legend, known for throwing 500-pound Harley's around as if they were lightweight two strokes.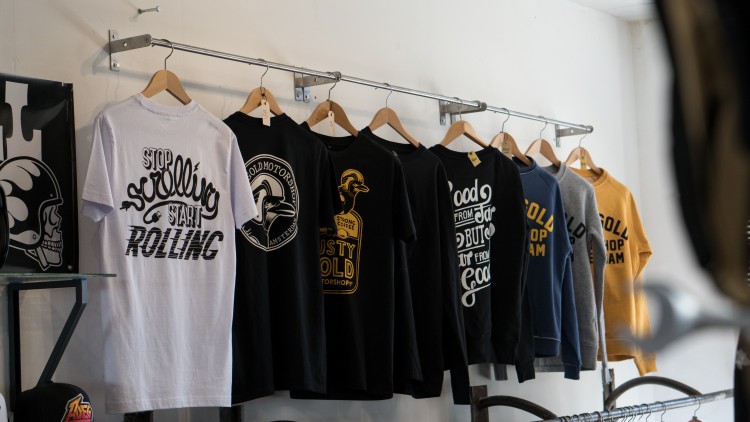 Barista & builder
Walk into his shop any time and Rusty's owner will treat you to a cup of excellent espresso, latte macchiato, cappuccino or whatever you may like. It's his knack for making people feel at home instantly which makes a difference.
The layout of this little vault is as comfortable as your own living room. On its website Rusty Gold MotorShop is described as "Amsterdam's first vintage/custom/urban motorcycle lifestyle hotspot". And that is just what it is.
Our co-brewer does more than create a mean cup of coffee. Asked about his preferences he indicates loves riding as much as he does wrenching. Even though his bike his bike requires more than average attention to keep it rolling, it gives Zoran peace of mind to be working on it. This peaceful mind makes him who he is; a laid back and authentic guy, working hard to grow his business.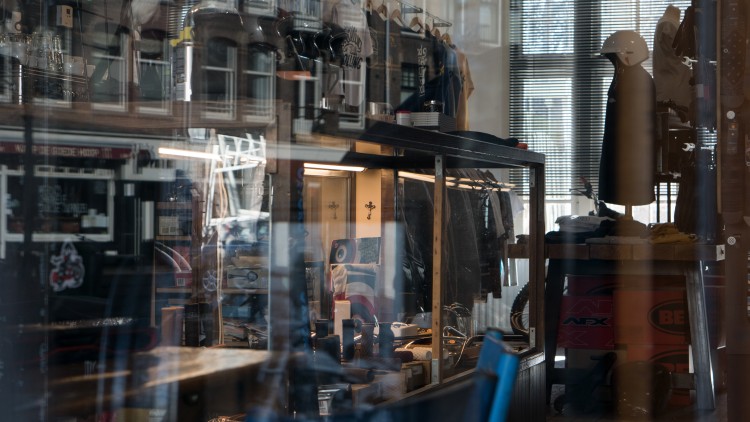 The basement…
…is where magic happens. The shop's latest addition—an underground workshop was recently discovered by a South African fellow writer. In his article he describes his discovery: "It is accessed via a secluded staircase, or the freight elevator platform that's hiding under the carpet. "My friend Martijn is a very skilled mechanic, electrician and welder," says Zoran, "but doesn't have any space at home to work on his bikes. I have space and love to design and tinker too, especially with an occasional helping hand from Martijn"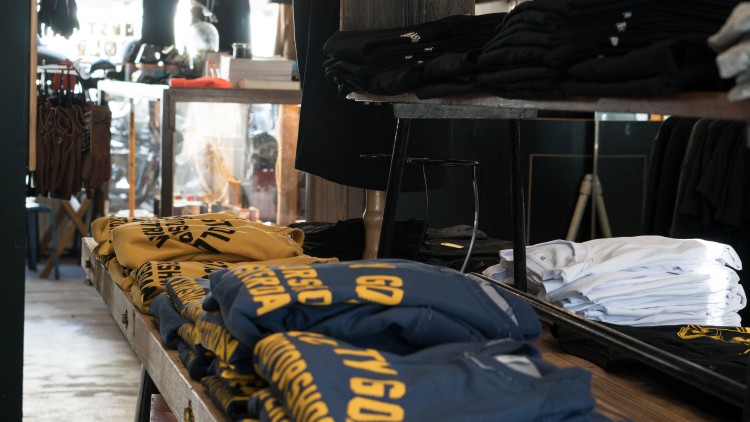 Dreaming big
We started off on the subject asking Zoran about his dreams, but turns out he is far more serious about this than we suspected. His plans for 'world domination' are ready. Investors are more than welcome to challenge him on making it work.
If money was not a problem the shop owner has no doubts about what he would do with his brand. "Building it into something as big as 'Deus ex machina', but at the same time making sure it would not lose its street credibility", was his clear answer.
Even though the location on the 'Overtoom' in Amsterdam is a pretty good one, Zoran would love to have another 'pop up' location in the very heart of the city. Internationally stores in hubs such as Berlin, London and Lisbon wouldn't be a bad idea either according to the entrepreneur. So if you happen to be in The Netherlands, head over to Zoran!
Location: Overtoom 487, 1054 LG Amsterdam the Netherlands (map): Tel: +31 (0)20-737 27 51
Images shot by Donker Licht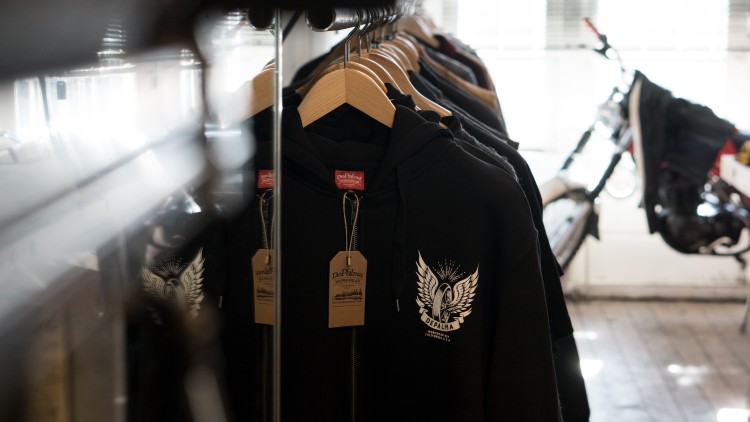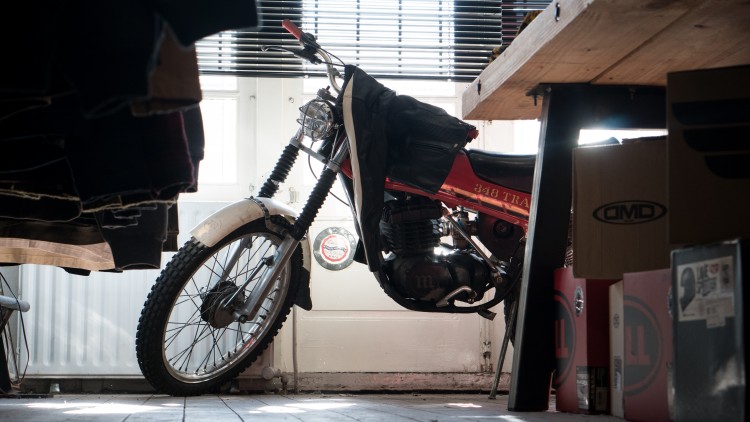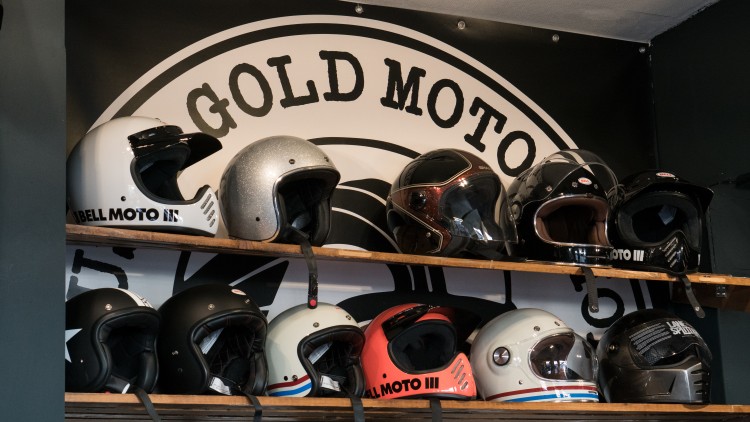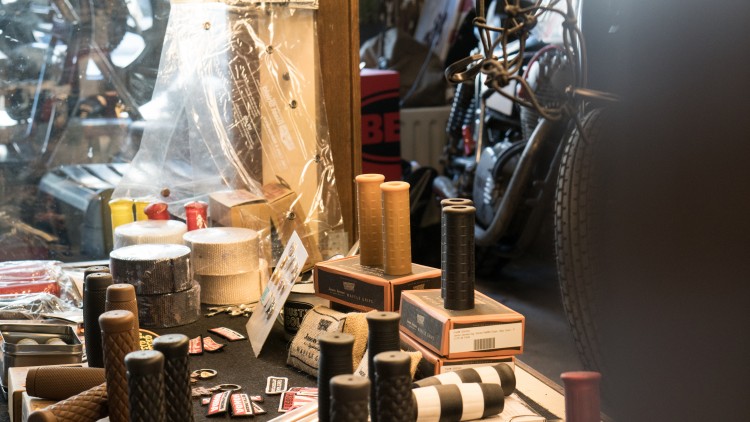 Share This Story, Choose Your Platform!
Tags