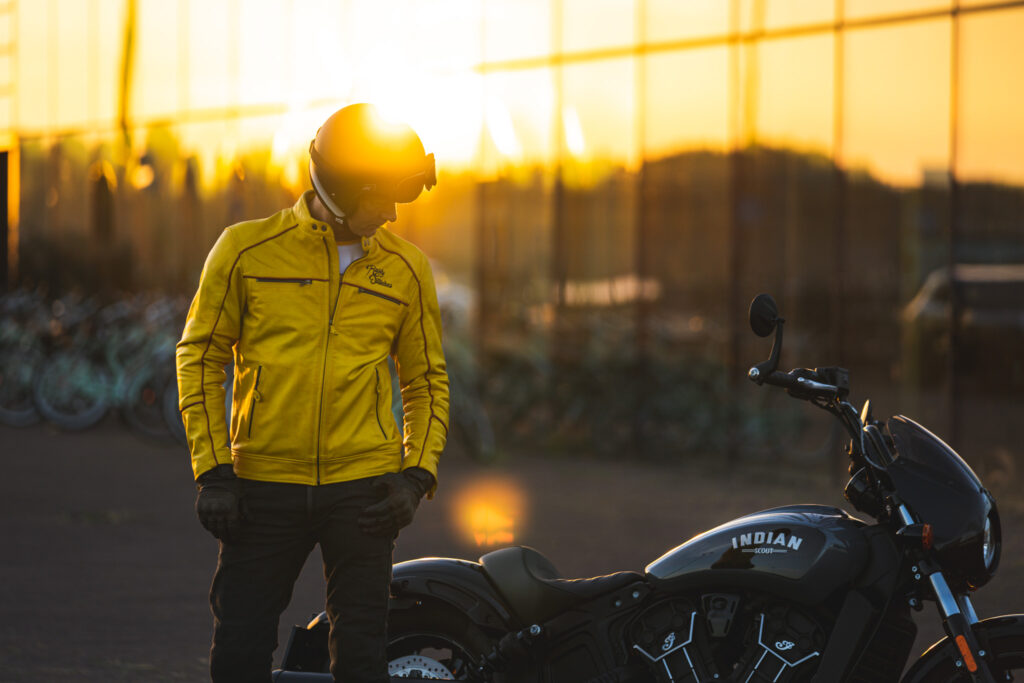 Some time ago we received a care package from Rusty Stitches. For those of you who are unfamiliar with the name, we suggest you start reading this first. The now Dutch band of misfits is working hard to make a name for themselves in the custom and urban motorcycle riding gear scene, and boy are they making some noise!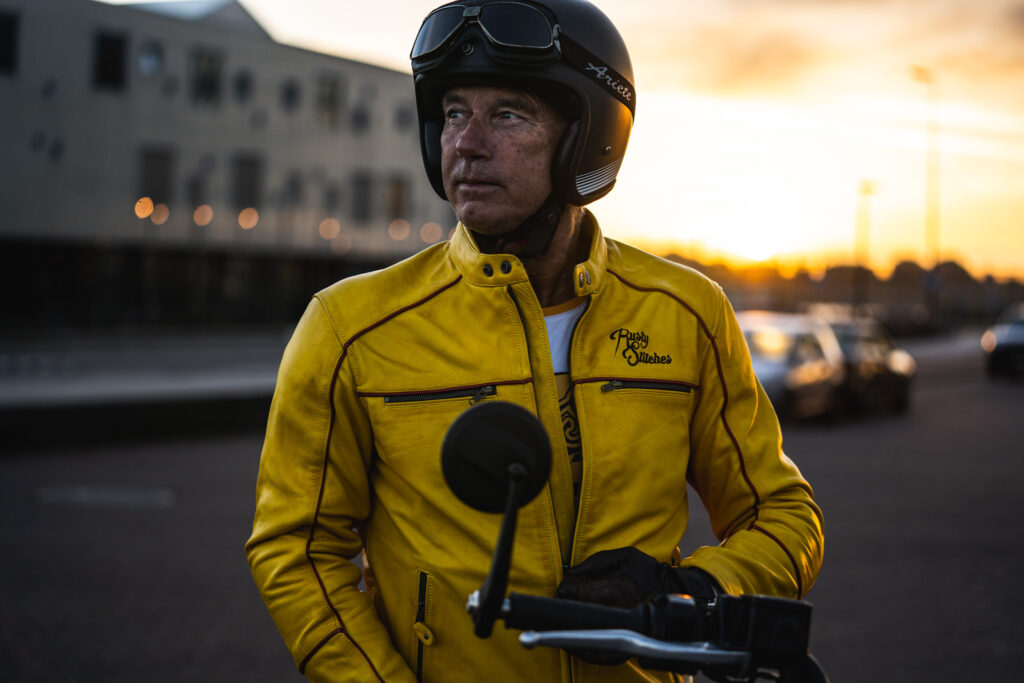 The BikeBrewers editorial team are motorcycle enthusiasts pur sang. We ride our bikes every day of the week, come rain come shine. These aren't just a hollow statement; these are facts. We pride ourselves with the fact that we are die-hard riders. That also means that we really do use the gear we receive for testing on a long-term basis. The same applies to the gear we received from Rusty Stitches, trusting us to give an honest and unbiased opinion not only as editors, but also as users. We've been using the Rusty Stitches gear extensively the past couple of months, and now it is time to share our experiences with you.
The package we received consisted out of:
Jari Leather Jacket
Chase Leather Jacket
Fonzie Helmets
Johnny Gloves
Gordon Leg Bags
Rusty Stitches T-shirts
We had some fun unboxing the package! Make sure to check out the video below:
Leather Jackets
We received a pair of leather jackets in the sized M and XXL. The black Jari Jacket and yellow Chase Jacket are very similar in many ways. They both are made from the same thick but supple leather. What makes the Chase stand out is, without a doubt, the bright colour. It is available in black, red and yellow, with yellow being their number 1 seller since the very beginning. The black Jari jacket looks more subtle and less in-your-face than the Chase. Both have the same specifications and come with 2 faux chest pockets that actually contain vents. They come with removable shoulder and elbow protectors, but a back protector is missing. This can easily be added since a protector pocket is provided.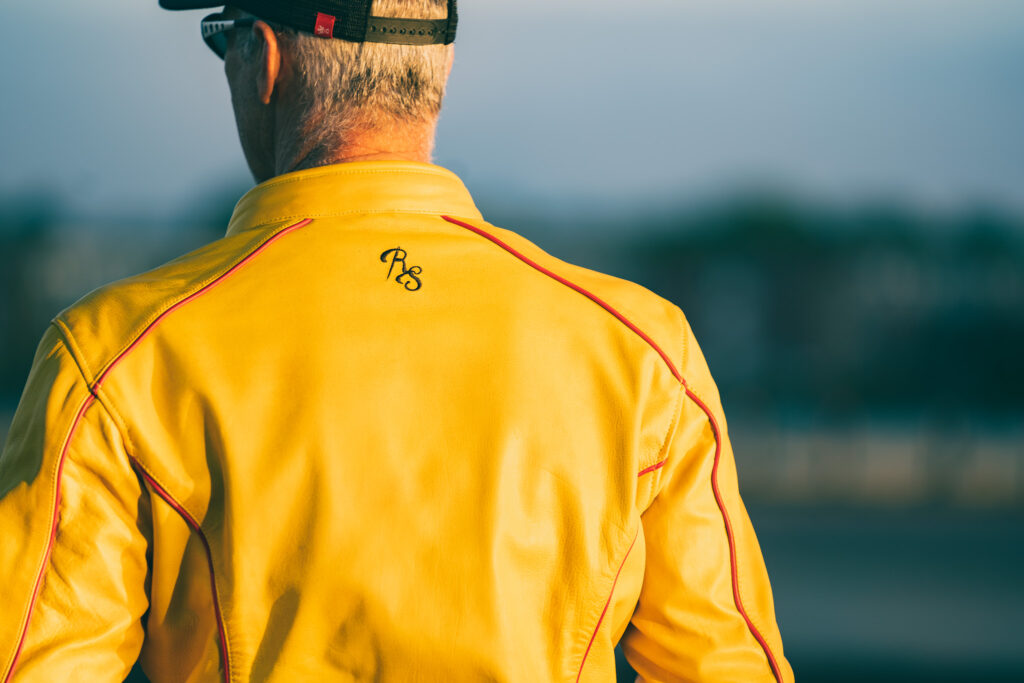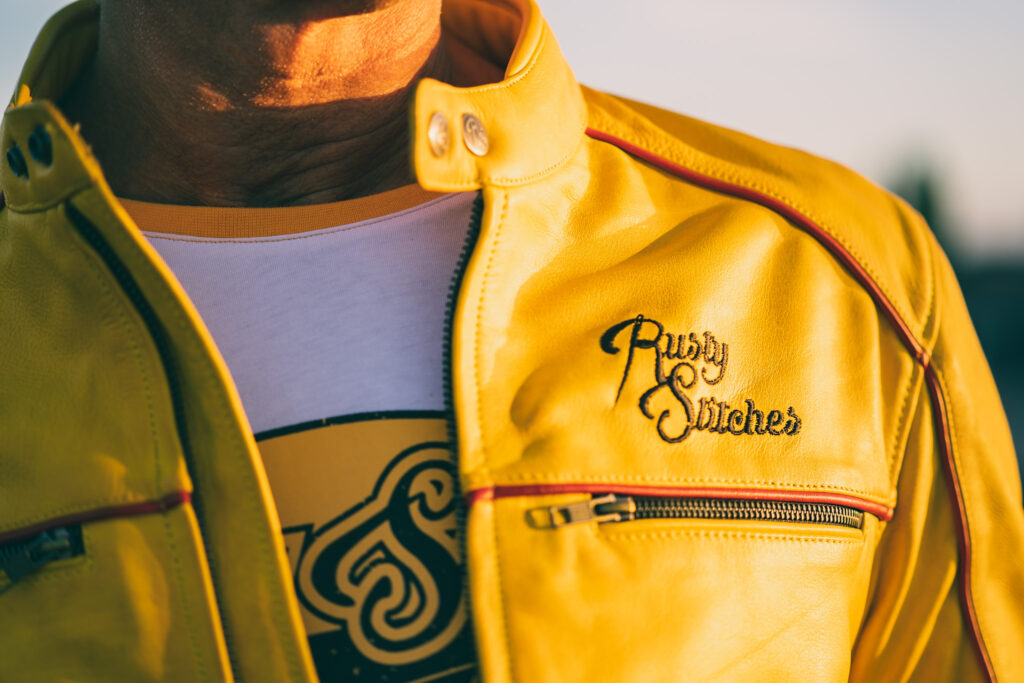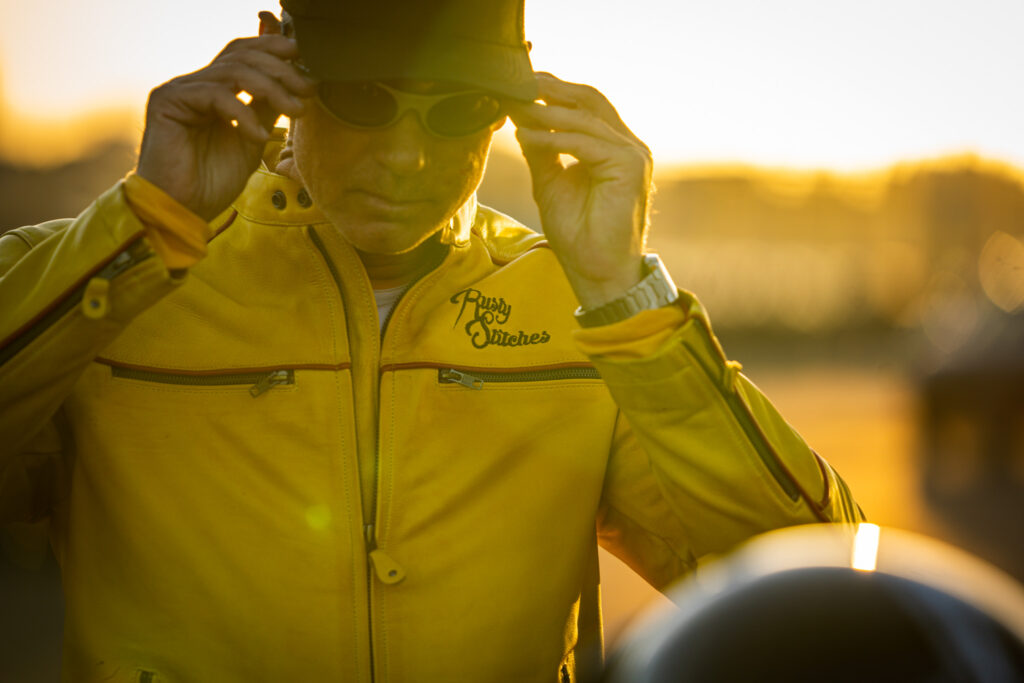 These two jackets fit perfectly and have adjustable waist and wrist bands. They've proven to be incredibly comfortable, and the comments people gave us was always positive. They look like they come from a different era, which fits the retro and classic bikes we ride perfectly. Adnane wore the Jari jacket one a 4-day, 2000 km trip to the Vosges in France. The Jari jacket held itself incredibly well. However, what really got the mouths talking was the yellow Chase jacket. Everybody mentions Kill Bill or Bruce Lee when they see the jacket! We think it's one of the best looking jackets out there. Made from the same quality leather as the Jari, the Chase is really for those that don't mind the extra attention. Did we mention that it looks so damn good?!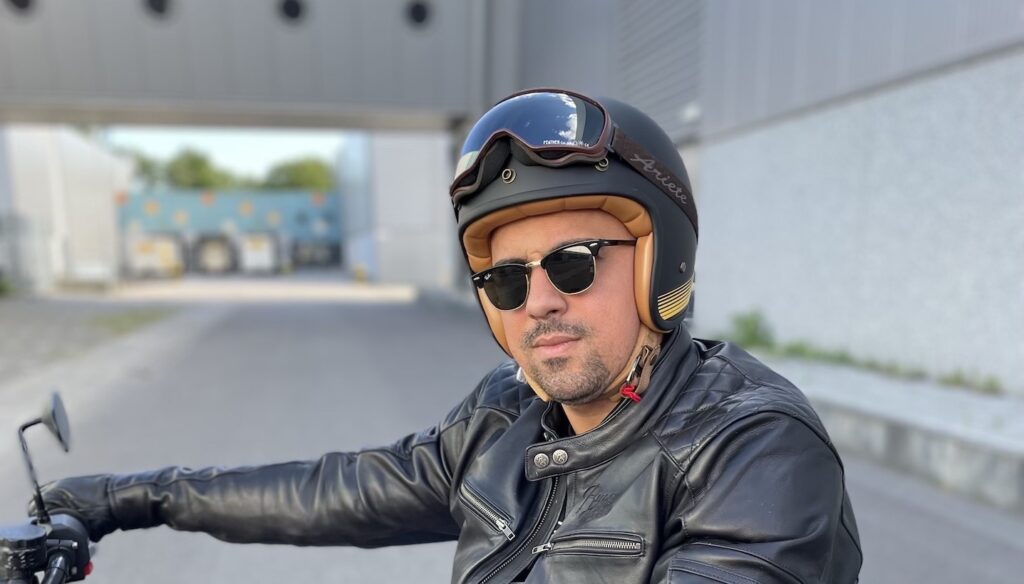 Fonzie helmets
There are cool helmets, and then there are cool helmets if you know what I mean. We got our hands on 2 different colour Fonzie helmets: black & white, and black & yellow. Both are technically identical and consist out of a matt coloured outer shell, with a leather and suede interior. Lush! The first thing that we noticed was how lightweight the helmet felt in our hands. The second thing that we noticed was just how snug of a fit the helmet had. No surprise there since Rusty Stitches offers the helmet in 5 different shell sizes. Despite the good fit, on a hot day the Fonzie helmet never felt uncomfortable. This is mostly thanks to the Silvercool liner. Aside from all the technicalities, it is one seriously good looking helmet, that fits really well around most people's heads due to the wide range of sizes available (XS-4XL). For those that want to, there is a detachable peak available, as well as a 5-steps adjustable visor. We just wore ours with goggles or sunglasses, making it the perfect modern retro helmet at an incredibly affordable price point.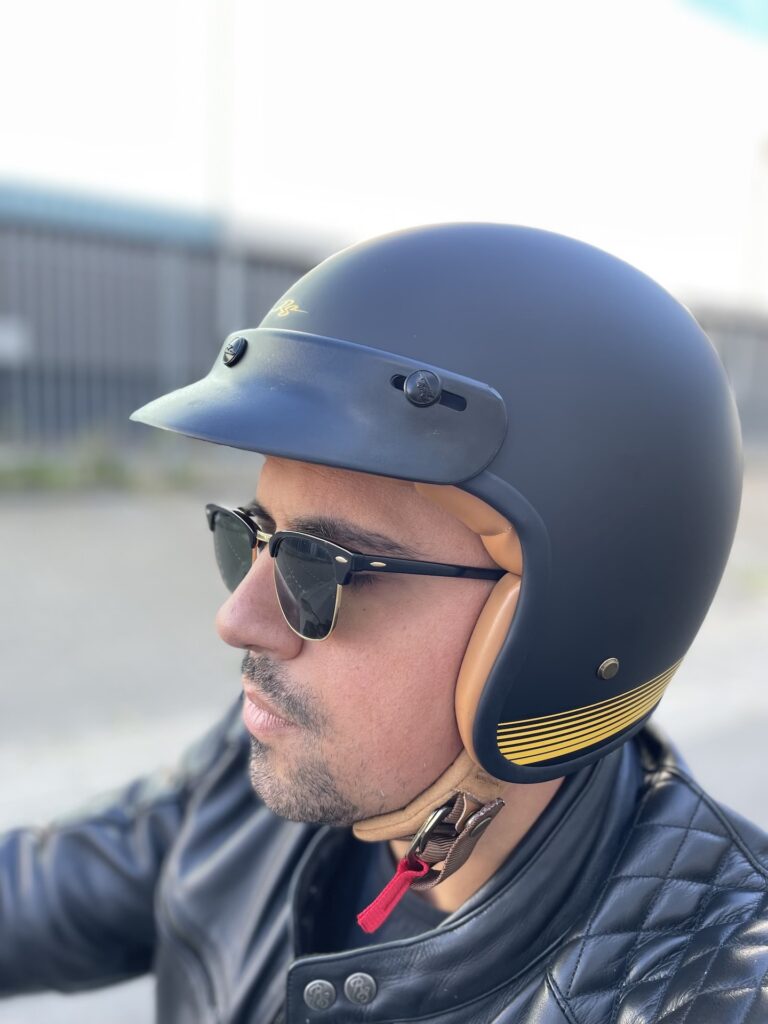 Johnny Gloves
We don't understand how Rusty Stitches pulled this one off. The Johnny gloves look so incredibly good, surely everybody with a retro or classic styled motorcycle should have one by now. If you're reading this and you don't know what we are talking about; the Johnny gloves are some of the most comfortable leather riding gloves we have ever had wrapped around our hands. It looks like a workers glove, designed to do a tough job all day long without getting uncomfortable. It has that worn-look that makes it incredibly desirable. These gloves were also worn during Adnane's 2000 km trip. Like most leather gloves, it takes a moment for the leather to stretch around your knuckles, but once it's set, you never want to take them off again. An interesting fact is that although these are designed as summer gloves, the can handle cold temperatures pretty decently. We love that these gloves are available in different colours such as yellow and red, just like the Chase jacket.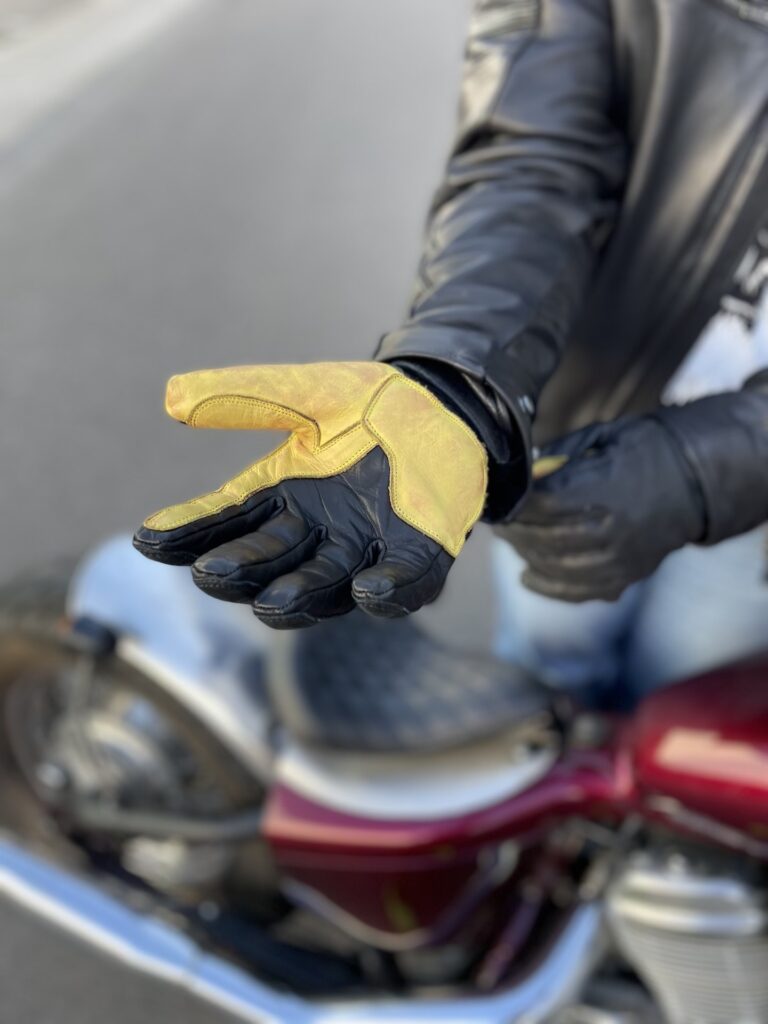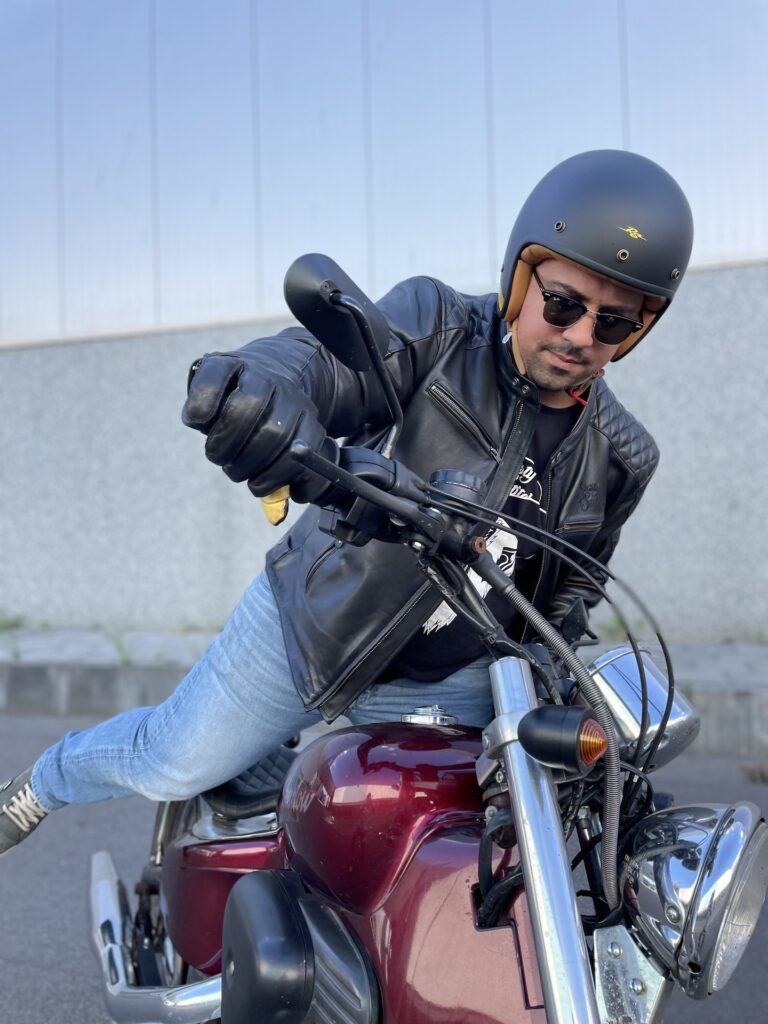 Gordon bag
This item has a somewhat debatable reputation. Some people love it for its practicality, others think it looks bulky. However, after using the Gordon bag for some time now, we have come to the conclusion that its looks aren't as disruptive as one would think. Also, having a bag on your hip/thigh is a lot more comfortable than on your back, or putting all your stuff in your jacket pockets. It definitely has proven its value on a long trip. The Gordon bag is just big enough to fit your wallet, phone, and other small items such as keys. Attaching the bag to your leg is super simple with to adjustable straps that use a clicking system.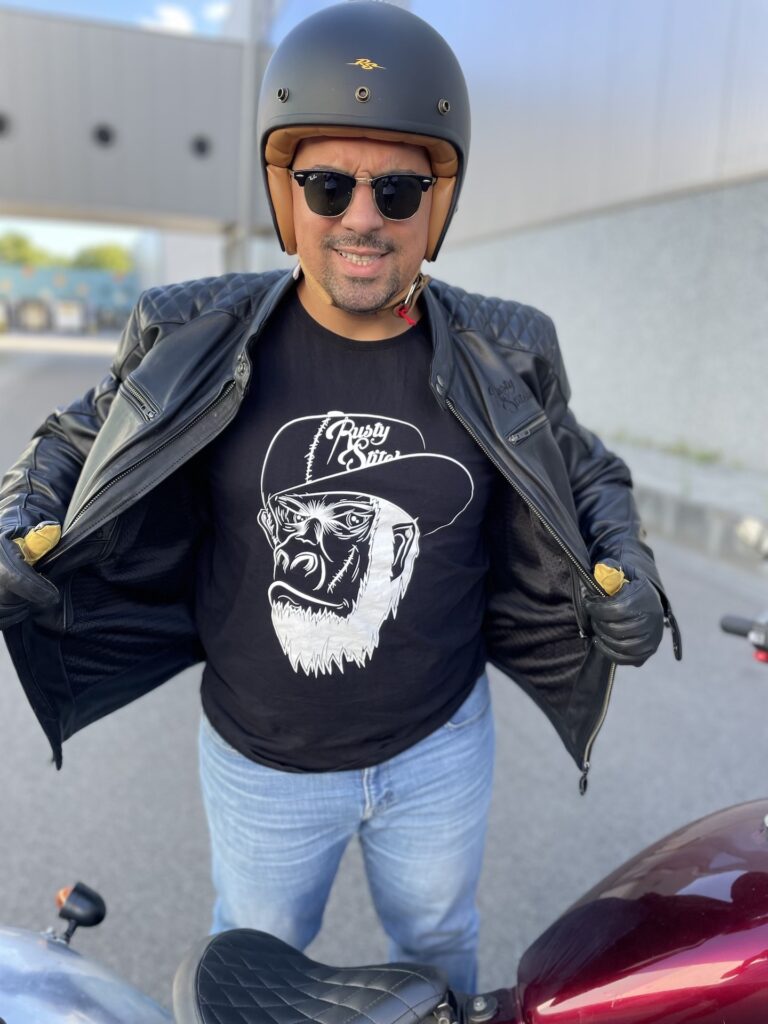 Rusty Stitches T-Shirt
The Rusty Stitches T-shirts must be our most favourite and most worn items we had received. Not just because of the beautiful original prints, but also because you don't have to be a biker to wear one. They look cool as hell, and are incredibly comfortable. After more than 5 washes the colour and printing still looks like new, which is a testament to the high quality material that is being used by Rusty Stitches. They have a normal fit, and are made out of 100% cotton. Rusty Stitches offers over 14 designs, some of them are long sleeved, and other are short sleeved. It's hard not to like one of their designs!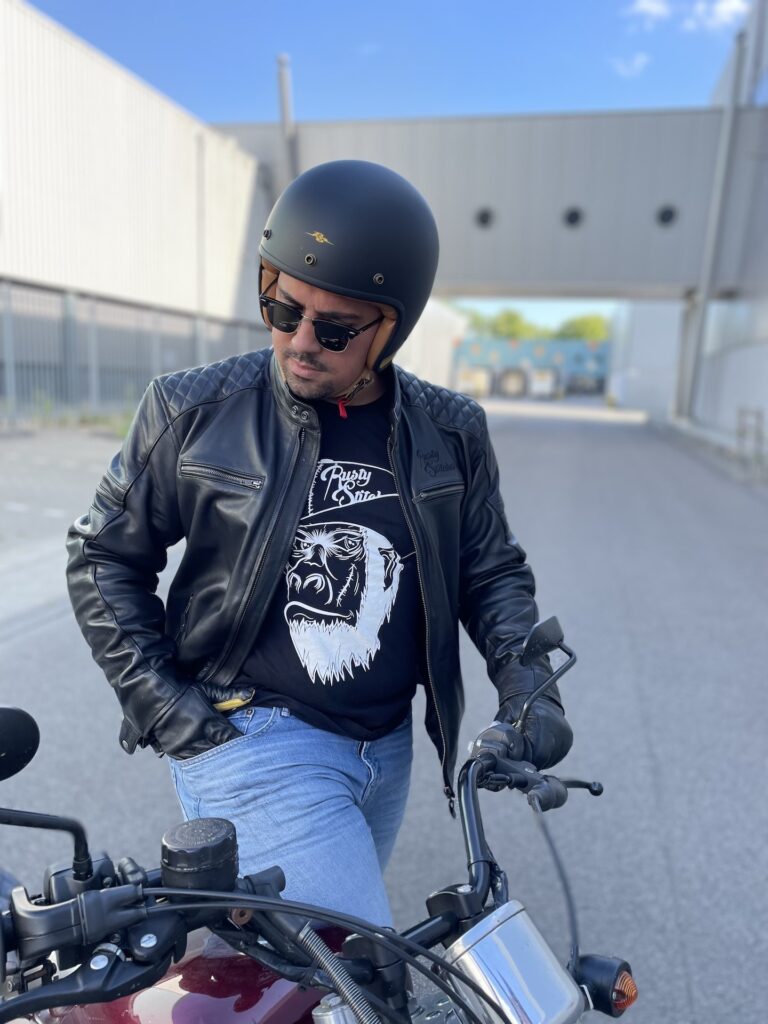 Verdict
Overall we think that Rusty Stitches is doing a great job at offering high quality urban and retro motorcycle gear, at an astonishing price point. I remember when I first got my motorcycle license and I wanted a cool jacket, helmet and gloves, and I couldn't afford any because it was so incredibly expensive. Thanks to new players like Rusty Stitches, everyone can look cool while being safe on their classy motorcycle. By the way, all their motorcycle gear is CE-approved, meaning that it meets European requirements for road-safety. We wouldn't want it any other way. And remember: Don't feed the monkey!
Photo Credits: Dan Sugrue & Ron Betist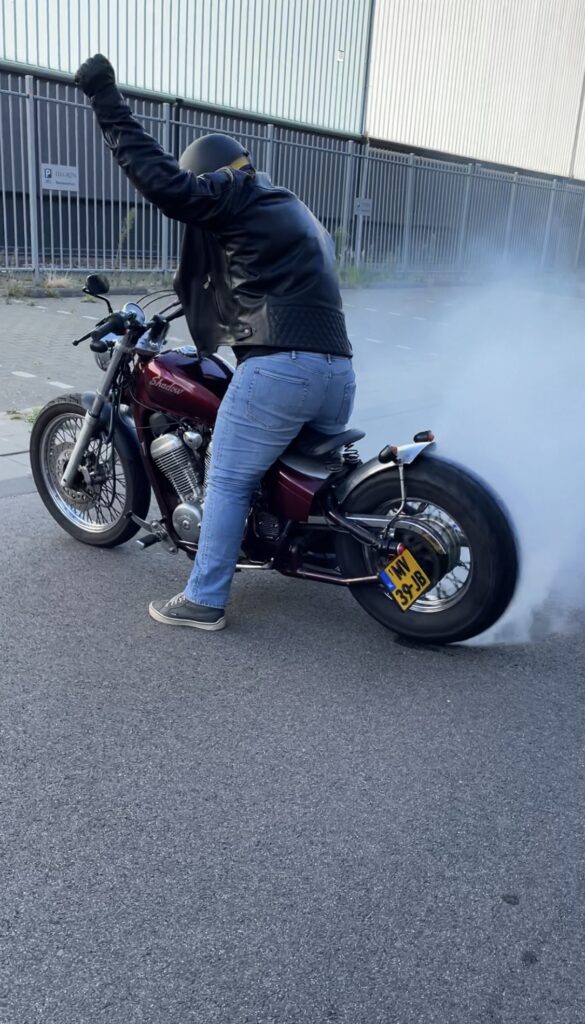 Share This Story, Choose Your Platform!
Tags