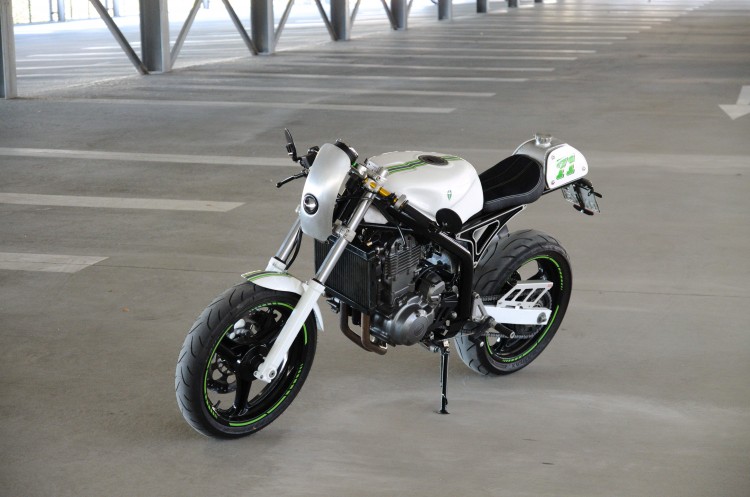 Cool submission from Mario Deusen from Germany of a rare custom built MZ Skorpion. Words by Mario:
I screw on motorcycles as long as I can remember. First the moped Simson S51 then the MZ ES250 / 2 with sidecar from my father. It continued with an AWO 425 (Bikers News April edition 1992), followed by an Yamaha XS650, followed by a 1972 Triumph Tiger (2nd place Custombike Reader's Choice 2006) and a 1984 BMW K100.
I was born and grown up in East Germany and MZ was always part of people's life.
When I saw the MZ Scorpion of Jeff Lamb from Australia, it had happened to me and I thought, there was something. I remembered the MZ as an outstanding motorbike. Without further ado and with a heavy heart I sold the triumph to fill up the conversion fund. I did not ride with it for ages and having a renovation project was more important to me in the end.
What was done:
Frame, rims, fork tubes, rear frame and swingarm are powder coated,
The tank came from a Suzuki RGV125 Gamma (I burned some bigger holes when I tried to fix the new brackets, then had the tank welded by a pro. I decided to do a coating inside for safety, which was not planned).
Fuel tap is from a Yamaha FZR.
Oil tank is completely new made of aluminium sheet metal, bended and welded
Side covers on the oil tank carry my "start number" from the last century.
The rear fenders at the rear frame are designed with CAD-Onshape and CNC milled. I can recommend Onshape as an intuitive free CAD software that´s easy to use. In the beginning they were planned as stand-alone rear fenders but the TÜV refused and requested a separate steel rear frame. So the fenders act as covers now. Rear frame is newly built from the parts of the original rear frame.
Seat is completely new with a cover of Alcantara. The gold and green stitching should pick up the stripes from the tank and continue.
Electric is completely new with m-unit by Motogadget and a super small LiPo battery in a welded aluminum box under the tank.
Footpeg mounts and switch armatures on the handlebar were designed in CAD with Onshape. I´m doing CAD every day at work so it´s not an issue. A local manufacturing company then CNC-milled them. The surface finisher around the corner did the anodizing.
Footpegs are from Tarozzi.
Tank and the front fender are painted in traffic white RAL9016.
Front fender is made of two front origin MZ front fenders using only the front side of them. The strip was printed by an advertising company and glued onto. Then everything was covered with clear coat. The stripes are in the MZ colors gold, gray and green to continue the great history of MZ a little bit.
The tank carries on the sides the later MZ logo without the small "u". (artistic freedom)
In the new airbox is covering a K & N filter due to the loudness restrictions in Germany.
I made the cladding for the ellipsoid headlamp out of a universal aluminium fender and crimped the hole in the middle with hammer and wood.
Speedometer is from Acewell with I supose one million functions. Cool!
Muffler comes from GRP Italy. I hve had a lot of trouble getting the muffler quiet to fulfill the legal demands here in germany but getting an approval for the bike is more important at the moment.
Throttle grip is from Domino from Italy.
Turn signals at the front are "Kellermann" and rear ones are "Highsider" acting as a taillight / brake light / turn signal combination.
Handlebar stems are from LSL
…..a lot more!
I cannot get all the small stuff on the screen, but I think it's enough. The bike weigh is roadworthy (full tank!) 165kg. This is very noticeable in comparison to the dry weight of 173kg in original condition. The thing is a real curve finder. With other wheels are again 6kg in it, but now it is enough first. I have to take more time for my wife and children again. They endured it long enough that I spent almost a year in the garage for hours.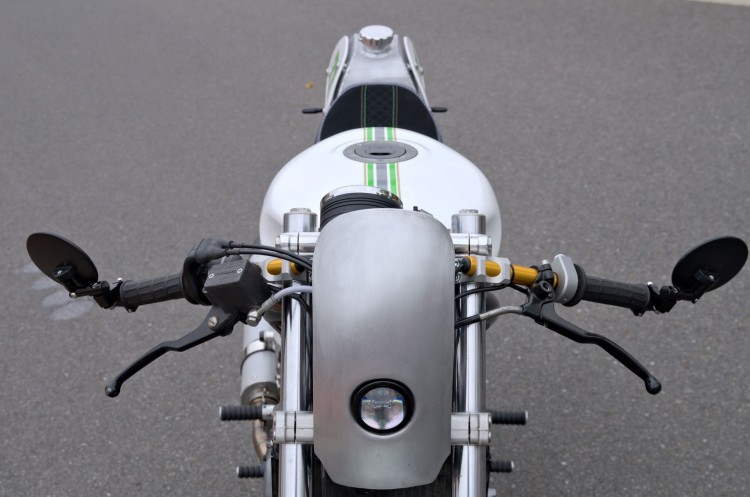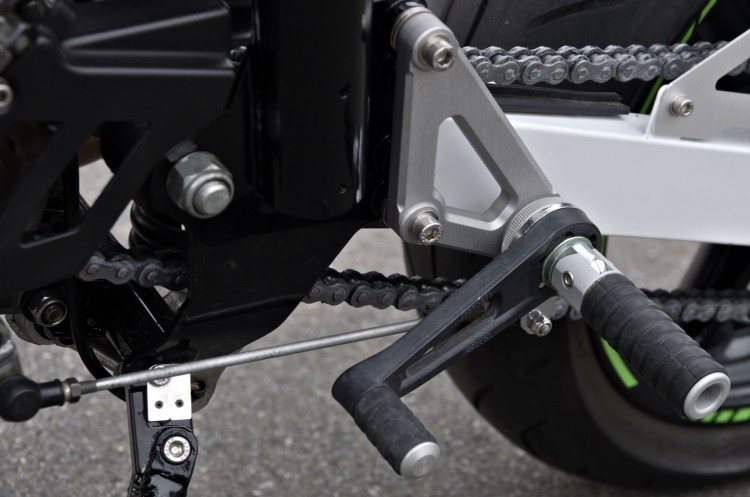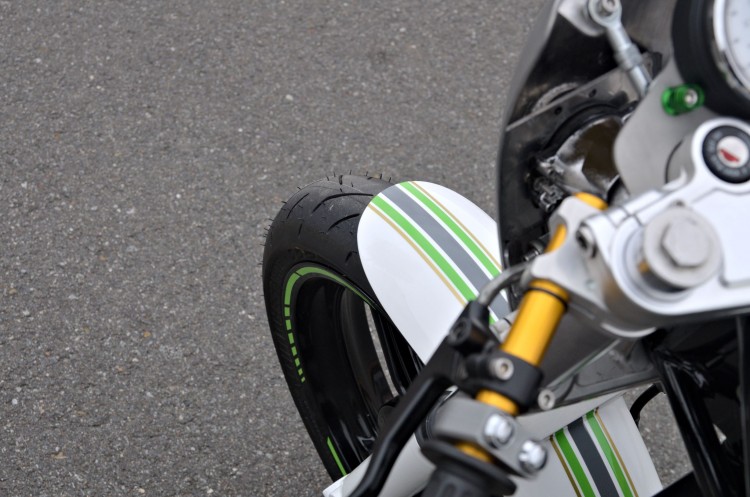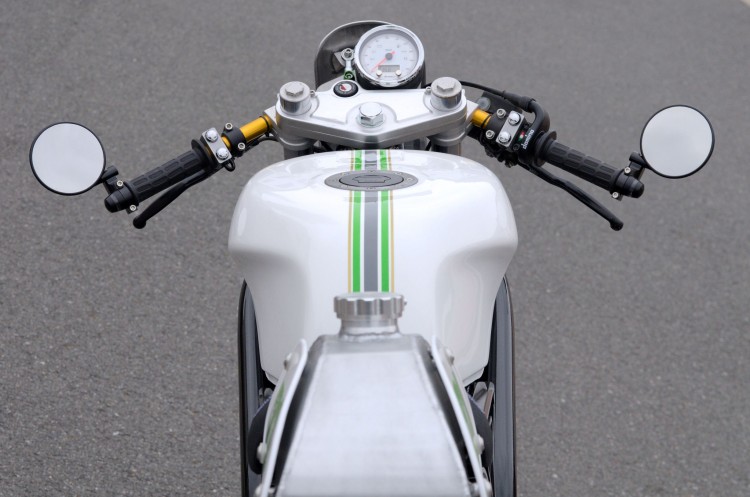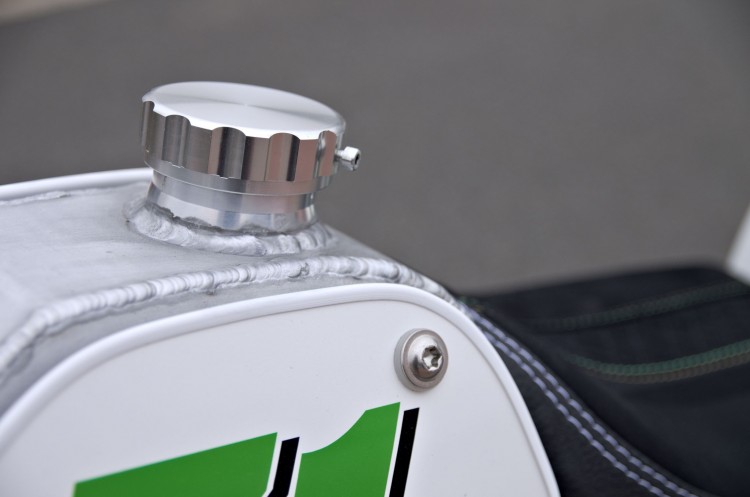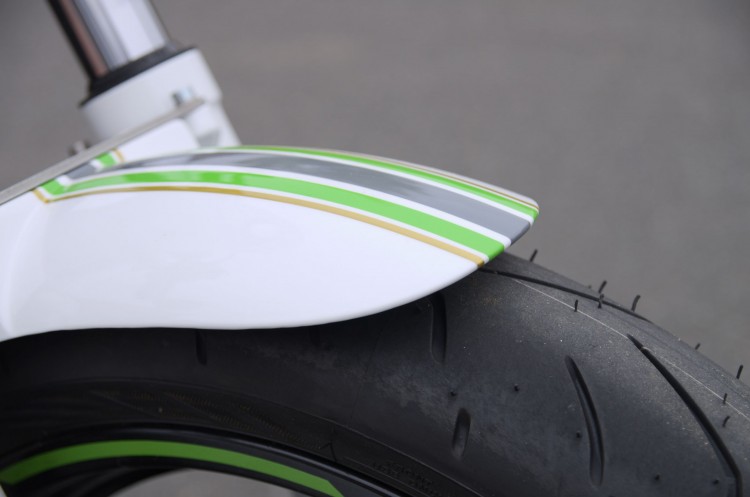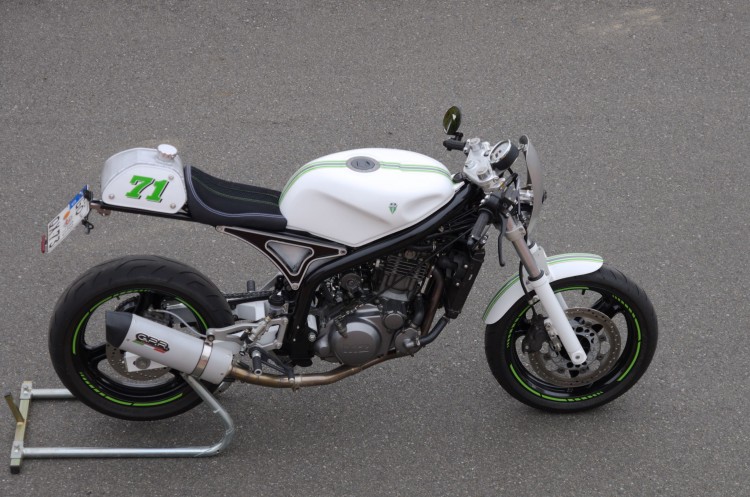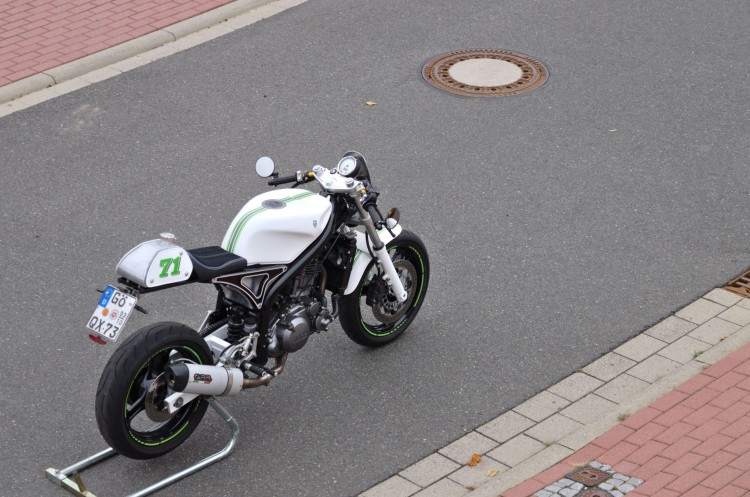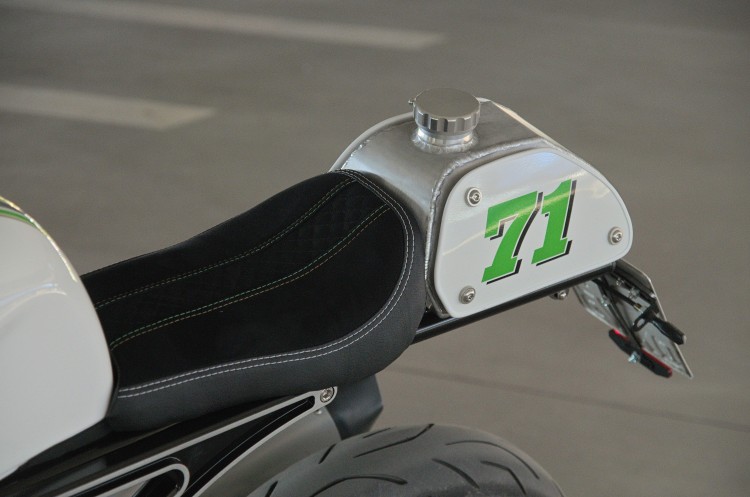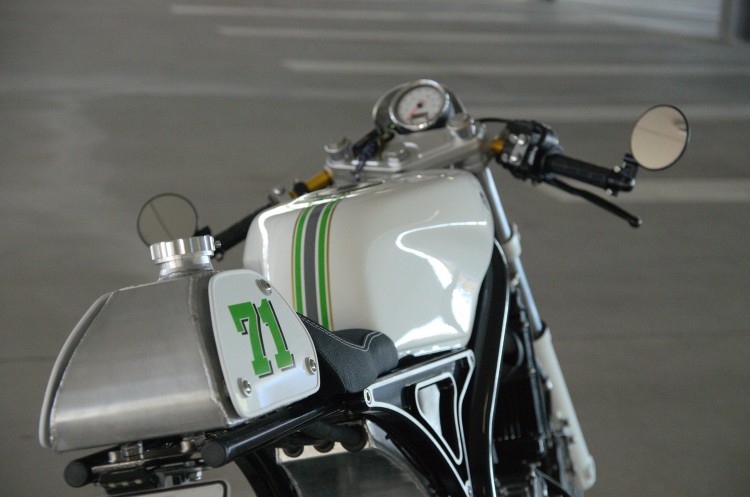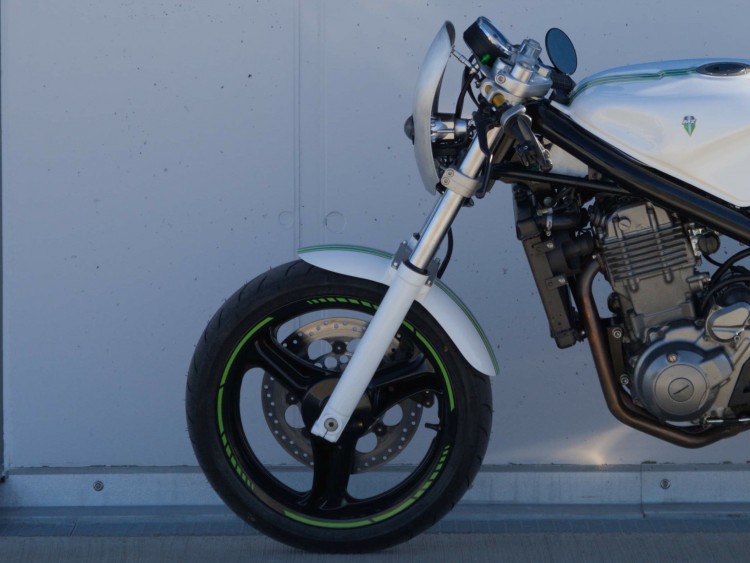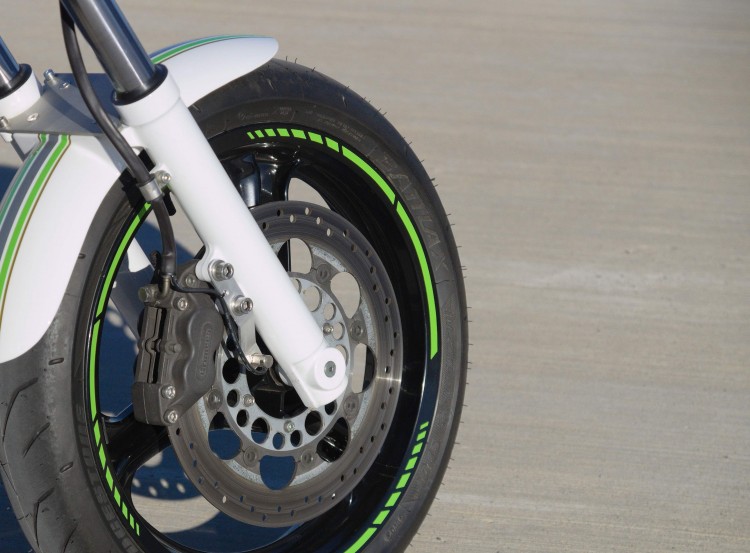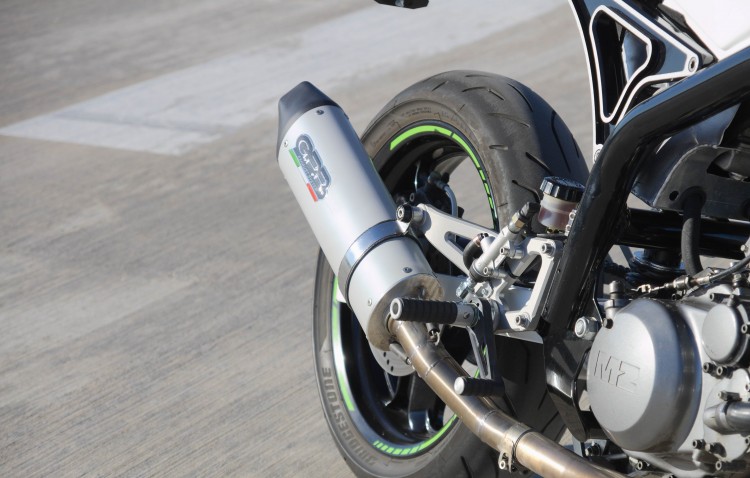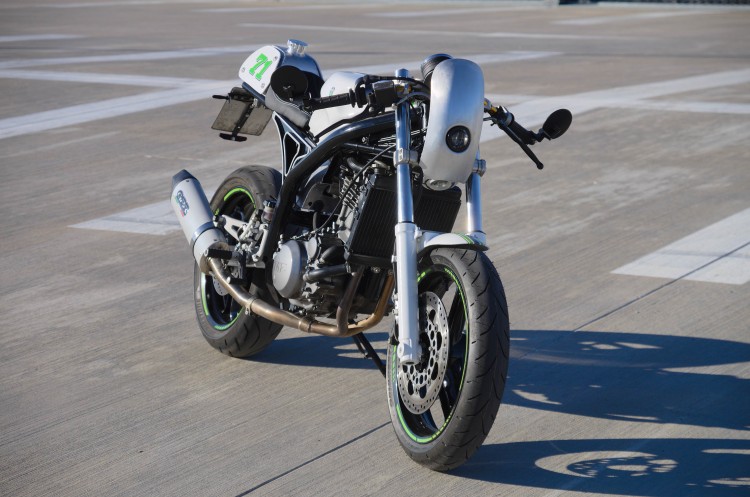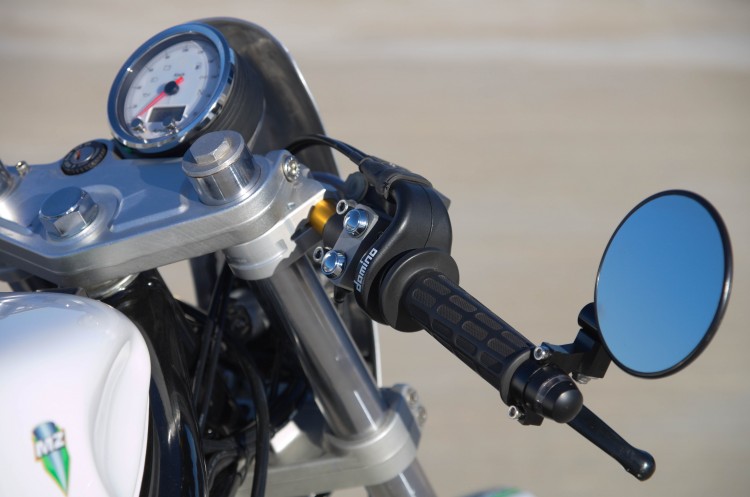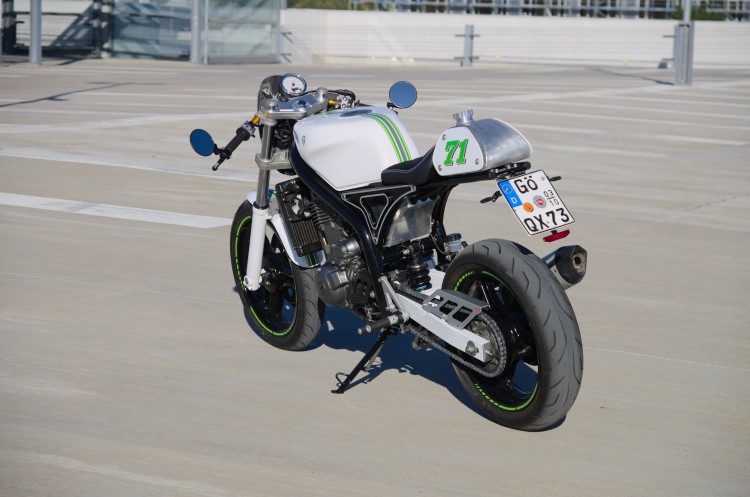 Share This Story, Choose Your Platform!
Tags