Follow us on
Facebook
,
Twitter
,
Instagram
,
Pinterest
,
Google+
,
Youtube
or subscribe to our
newsletter
.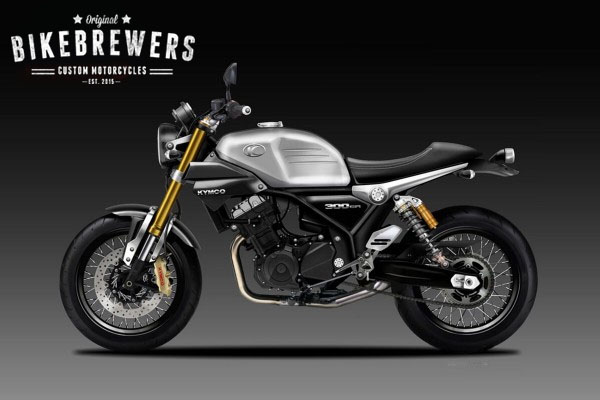 Kymco is a brand most of us know from their scooters and mopeds. I can remember a time here in Holland that every rave-party-die-hard rode one, wearing bomber jacks and Nike Air Max…The successful Taiwanese manufacturer of motor powered two wheelers now wants to shake things more up, aiming at a new audience with a complete different bike: the Kymco 300 CR Concept.
The Kymco 300 CR is from the table of Italian designer Oberdan Bezzi. He's asked to help the brand reaching a broader audience with a European focus. As you may know, the cafe racer scene is still booming, so it was an easy choice to take a look at the designs of todays modern cafe racers. It's obvious that the BMW R nineT had some influence on Bezzi…
Looking at this segment, we all see only bikes with bigger displacements en also a wide variety of prices. The sketch of the Kymco 300 CR shows a big USD front fork, Brembo monoblocks and (probably) some high end rear shocks. But if this little guy reaches production, they sure will aim for an attractive, low price.
So will this be the first big step in Europe for the moped brand? Well, the big brands don't offer a small cafe racer yet, so there seems to be no (real) competition is this segment. But if the audience is waiting for this? Who knows!
Share This Story, Choose Your Platform!
Tags