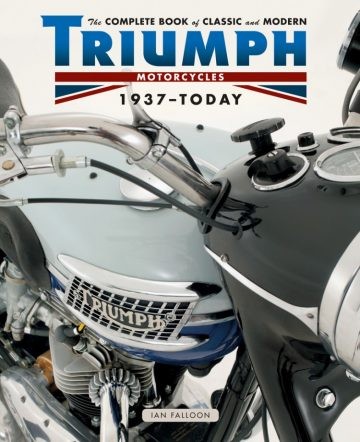 Today we open up a new section on BikeBrewers: book reviews. We've already listed some of the best motorcycle books and cafe racer books, but here we review books individually. This first review is written by our brand new contributor Ron Betist!
—–
This must be one of the longest book titles ever.
The title is a good indication of the way the writer Ian Falloon goes about his business. He is known for his meticulousness, always strives to be as complete as possible and is an authoritative historian of motorcycles.
A trained classical oboist, Ian had to give up playing music professionally some odd 30 years ago when he had an, oh irony, motorcycle accident. His right hand was 'destroyed' as he describes it in a 2010  interview with Veloce house (clip on YouTube). Fortunately for motorcycle fans all over the world, the musician turned writer, has contributed to a plethora of motorcycle magazines and is the author of over 40 books on iconic brands and bikes.
He has a passion for Italian design and brands and his oeuvre encompasses 'bibles' on Ducati, Moto Guzzi and MV Augusta. With his book on BMW he crossed the Alps and now he has set sail for Great Britain.
The objective of this book reminds me slightly of Bill Bryson's 2003 book 'a short history of nearly everything'. Just like the American, Australia born Falloon is painting a complete picture, in this case not of the world but of one of its most iconic brands.
This is a hefty piece of work which should be a standard component in every Triumph fan's library. With a weight of 1.8kg the book is a heavyweight in all aspects. Falloon has managed to produce an encyclopedic piece of art which is hard to put down once the Triumph story starts unfolding on page 7.
Well written and with a true historian's eye for detail, the author manages to take the reader through the complete history between 1937 and 2015. The pleasure in reading is enhanced by a mini-biography on Edward Turner, the man who was responsible for laying the foundations of the success of Triumph Motorcycles by developing the 'Street Twin' and with it the world's first mass-produced superbike.
Not only is the brand a worldwide icon, a lot of its riders inhabit the same upper echelon. Interesting descriptions of famous Triumph fans such as Marlon Brando, James Dean, Bob Dylan and of course the 'King of Cool' Steve McQueen.  Supplementary to the fine editorial, the book is larded with beautifully detailed pictures of hundreds of Triumph models, both in tasteful black and white and in full color.
As earlier stated, every Triumph fan should buy and read this book for a deeper understanding of the passion which lies behind the wonderful products this company has developed for decades. If there are comments to be made, it is a shame that very little information is given on John Bloor, the man responsible for resurrecting Triumph Motorcycles and the fact the book ends in 2015.
Also, a year later, Triumph launched a whole new range of retro bikes with the 'Bobber' being a bold move into an unfathomed segment of the motorcycle market. It would have been a truly complete work if this was incorporated in this 'large history of nearly everything about Triumph'.
Although published in 2015 the book deserves renewed attention as it is still the perfect Christmas gift in 2017 and beyond.
Published by: Motorbooks, an imprint of The Quarto Group in London.
Buy this book:
Hardback, 312 x 255 mm; 256 pages both in black & white and full color.
ISBN: 978-0-7603-4545-0
Limited offer now available for only $34,06 at Amazon.
[su_button url="https://www.amazon.com/gp/product/0760345457/ref=as_li_tl?ie=UTF8&tag=bikebrewers-20&camp=1789&creative=9325&linkCode=as2&creativeASIN=0760345457&linkId=6ded425f98436059d0fc58fffc05e338″ style="flat" background="#e8554e" size="10″ wide="yes" center="yes" radius="0″]>>> Buy Now <<<[/su_button]
Share This Story, Choose Your Platform!
Tags