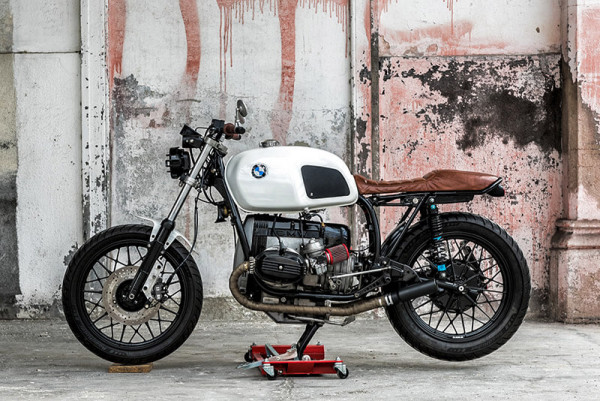 One of the targets with BikeBrewers.com is to inspire others to start building their own custom bike. Of course we display a lot of great builds, but a lot of them are from the hands of (semi) professionals. The shed/yard builders are a bit snowed under, but they deserve an audience too. From now on I'll try posting these kind of builds more regularly (started this month already with this one, this one and this one).
This bike was sent in by Fabio Montobbio, a graphic designer and journalist from Italy. Fabio, who's really mad about motorcycles, wanted to write an in-depth article for his online magazine "L'Innovatore" about the custom motorcycle scene in Italy. Next to that, the article should be some sort of how-to-build-a-bike-in-your-own-garage-guide. In order to give the story some body, Fabio bought an abandoned 1985 BMW R45 together with one of his closest friends. The idea was to build a stylish street tracker choosing the right pieces to have a performing and driving bike for everyday use and, the same time, create a cool and stylish design.
The whole rebuild process was based on trail and error and for the parts they've involved some of the top brands, specialized in custom parts. Fabio:
"We were not professional, so me and one of my best friend worked for one and a half year to change almost everything…. so we called us "Dirty Garage!"
The result was "Stinger"… name taken from the design of the rear side of the bike. In Fabio's words: "
Comfortable and stable… Riding this bike is great!" 
A full list of modifications can be found below the images.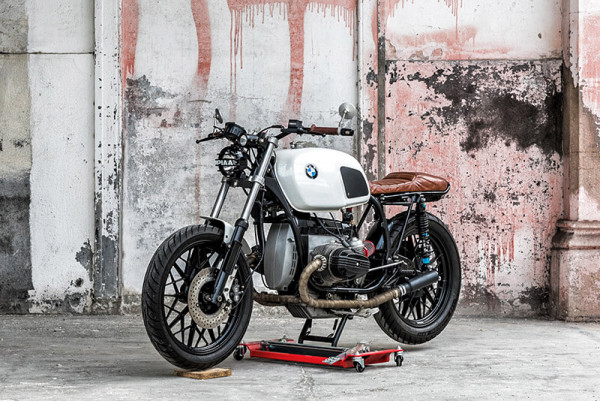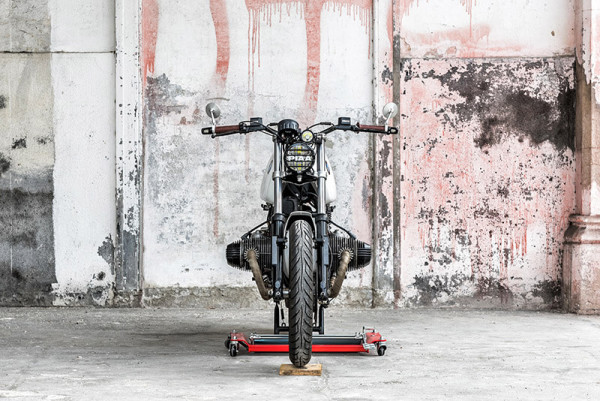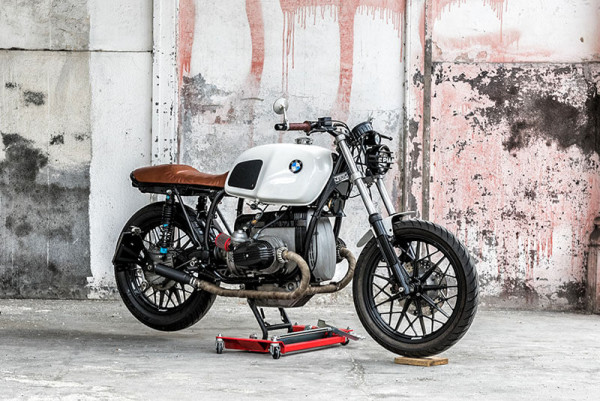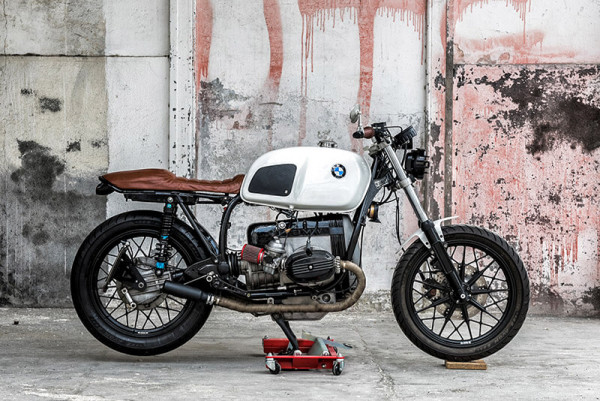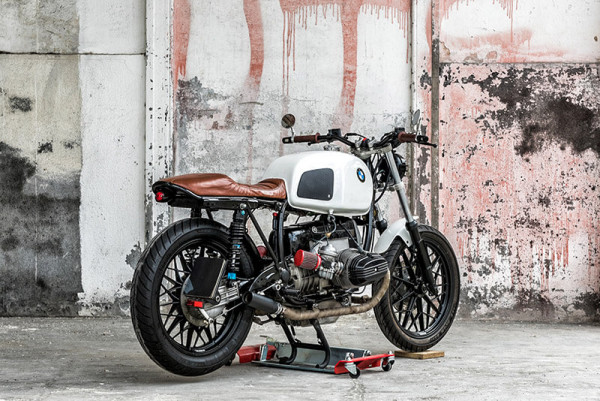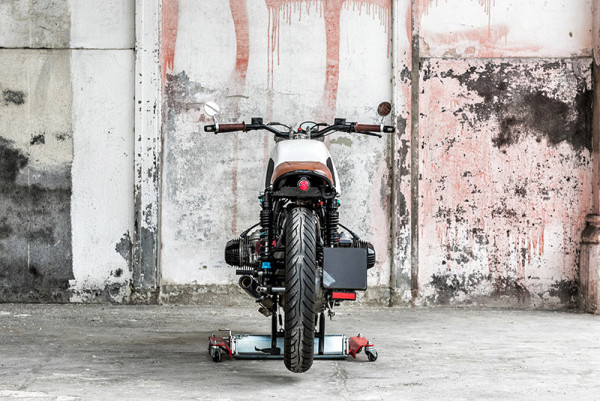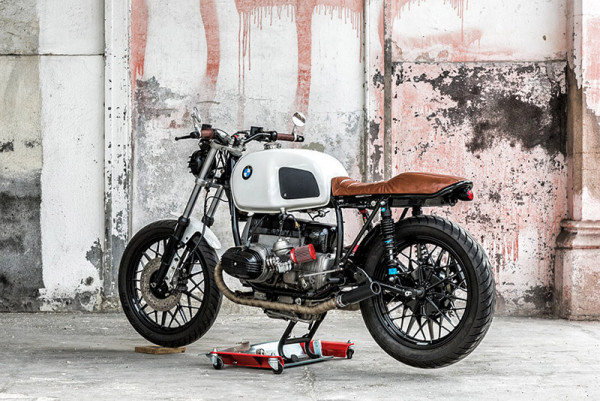 BMW R45 Street Tracker Mods:
full engine restoration
all gaskets and filters changed
new powder painted frame, wheels and fork tube
new sintered cluth disc – Surflex
new Hydraulic Clutch master cylinder with integrated reservoir – Braktec
new Monobloc caliper 2 pistons – Braktec
new Rear axial master cylinder with integrated reservoir – Braktec
new Cast aluminum single throttle – Biltwell
new brake and clutch hoses – Allegri "Global System"
new Tracker handlebar – Biltwell
new grips – Ariete
new Digital Switch System controls – Gripace (hidden in the left hand grip)
new Eletronic Tachometer – Acewell
new handmade Leather seat (connected with the original key closure system) – Officine 08
new 3 Lithium batteries – Ultrabatt
smart chargers and tools – Optimate
new 2 Single air filters – BMC
new Titanium exhaust wraps – DEI
vintage R100 tank "water printed" with a white carbon look
new Tank Pads – Techspec
2 new Mini mufflers – Biltwell
2 new Round mirror with led indicators – Oberon Performance
new Oil temp gauge – Wunderlich
new Monza fuel cap – Wunderlich
new Universal rearsets – Joker Machine
new High intensity LED 120mm driving front light – PIAA
new Equinox LED 60mm Spot – Trail Tech
new "Mako" Tail light – Biltwell (mounted upside down)
new Roadrider tyres – Avon
new Twin Shocks – TFX Suspension (custom-built for us)
new Custom Plate – Republique Racing
Follow Fabio Montobbio:
Website | Facebook | Google+ | Twitter
Photo courtesy of Carlo Alberto Alessi.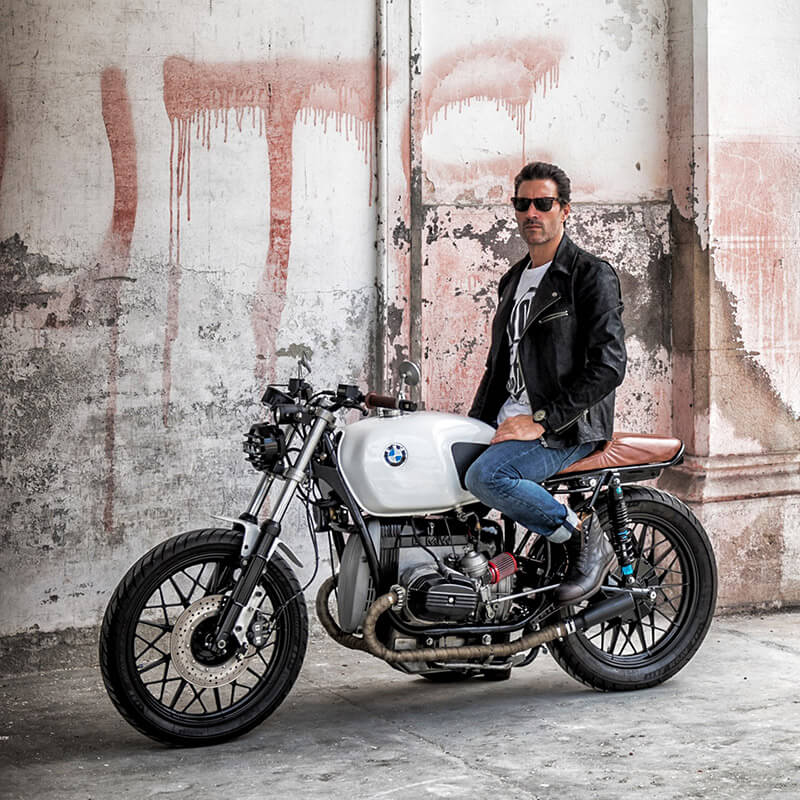 Share This Story, Choose Your Platform!
Tags