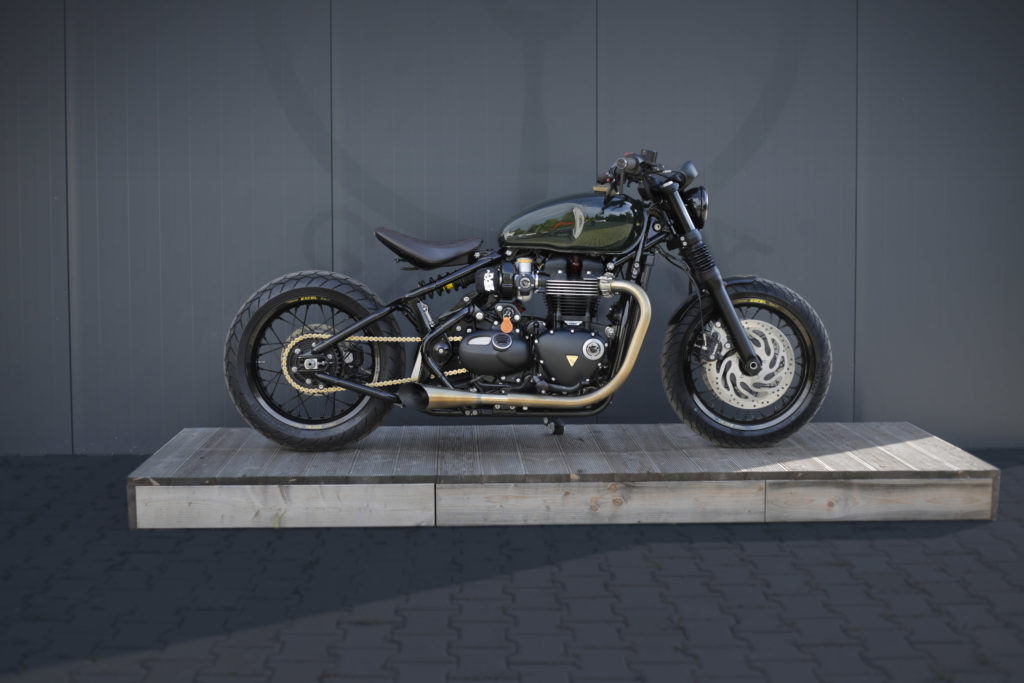 We've seen builds from the Poland-based crew of Unikat. They have their own style, making them instantly recognizable from afar. In the past couple of years Unikat has built quite a reputation for themselves, especially with their unique 1-of-1 project that usual revolve around Triumph motorcycles.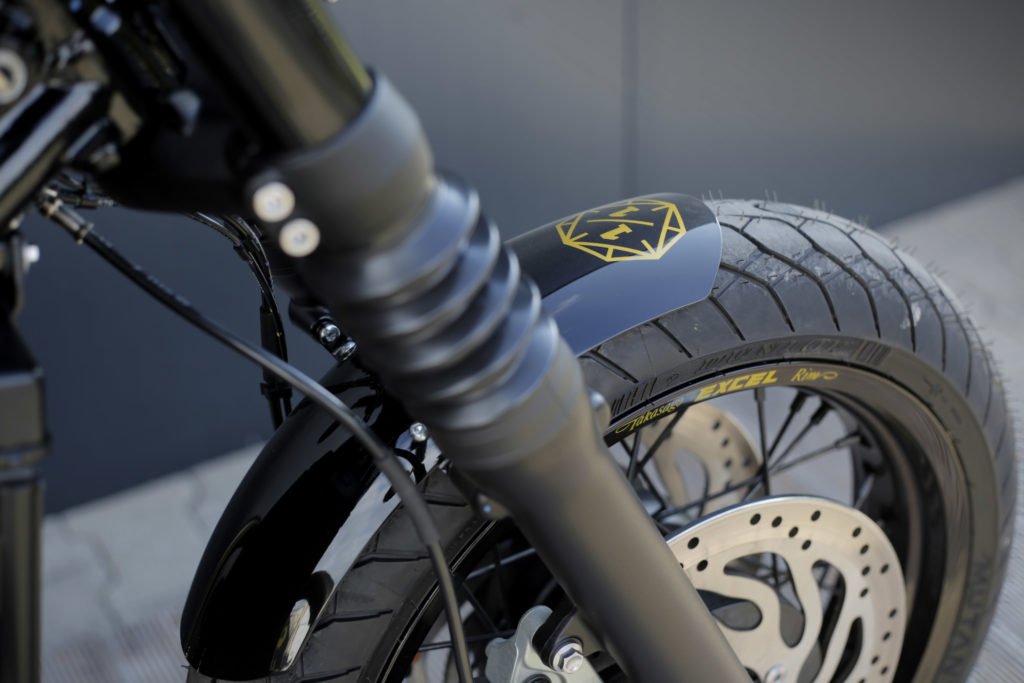 This time Grzegorz Korczak, the man behind Unikat, got his hands on a 2021 Triumph Bonneville Bobber. I know, I know, this looks like a different kind of bobber. Truth be told, there are different definitions of what makes a bobber, a bobber. There are European and American style bobber, there are also Japanese style bobbers. Regardless of the different styling exercises, one thing that they all have in common is the fact that they appear to be minimalistic. In a way, you could look at this like this: what a café racer is to a road bike, a bobber is to a cruiser. Same rules apply: get rid of all unnecessary parts to reduce the weight, and make the bike look as simple as possible.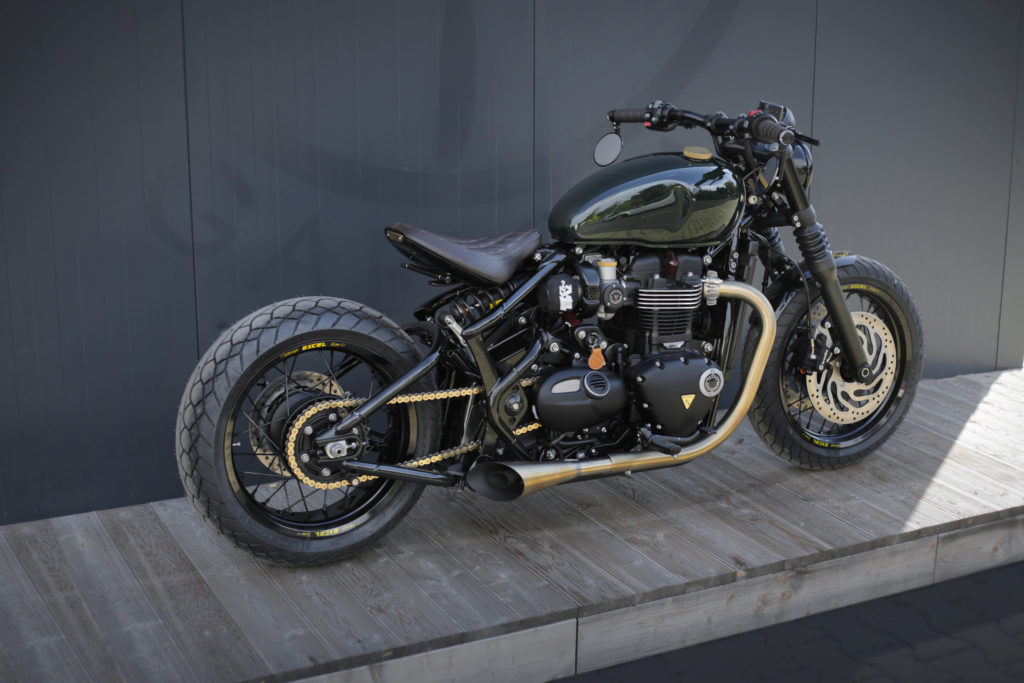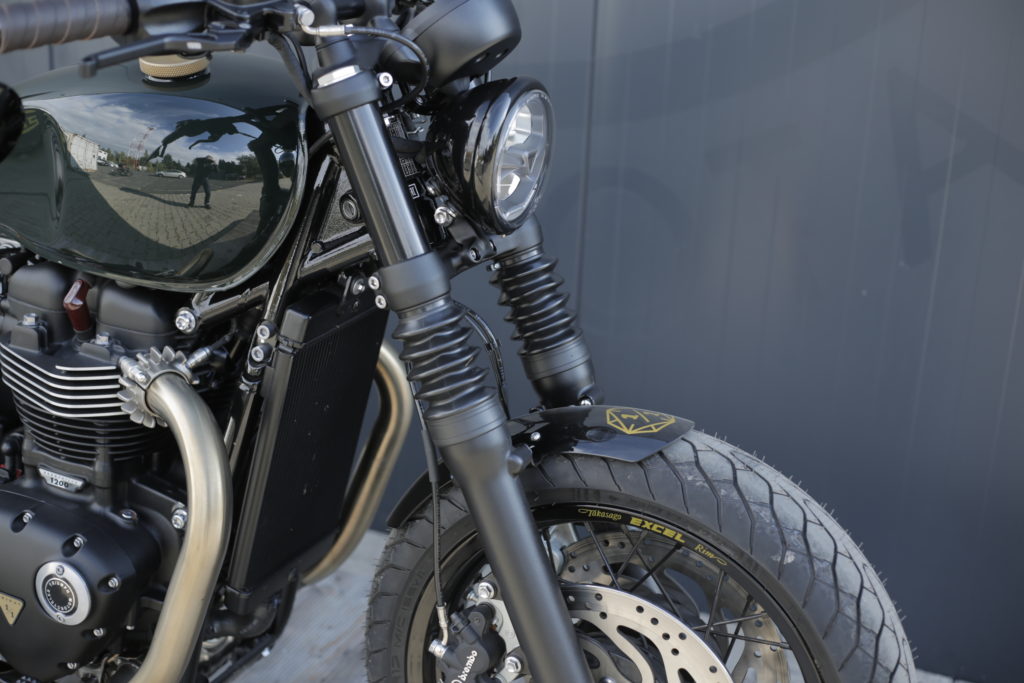 Coming back to Unikat's Triumph Bonneville Bobber, which has been name "K18", we see that a number of stylish mods have been made to the original. No doubt did the original Bobber look great, but what Unikat did here takes the stock bike to a whole other level.
The original bobber wheels have been replaced with a pair of lightweight, black Takasago Excel 17" rims with stainless steel spokes. What's interesting about the wheels is that they have adopted the BARTubeless system; transforming them into tubeless wheels. The rims have been wrapped by a pair of sticky Pirelli Dunlop Mutant tires.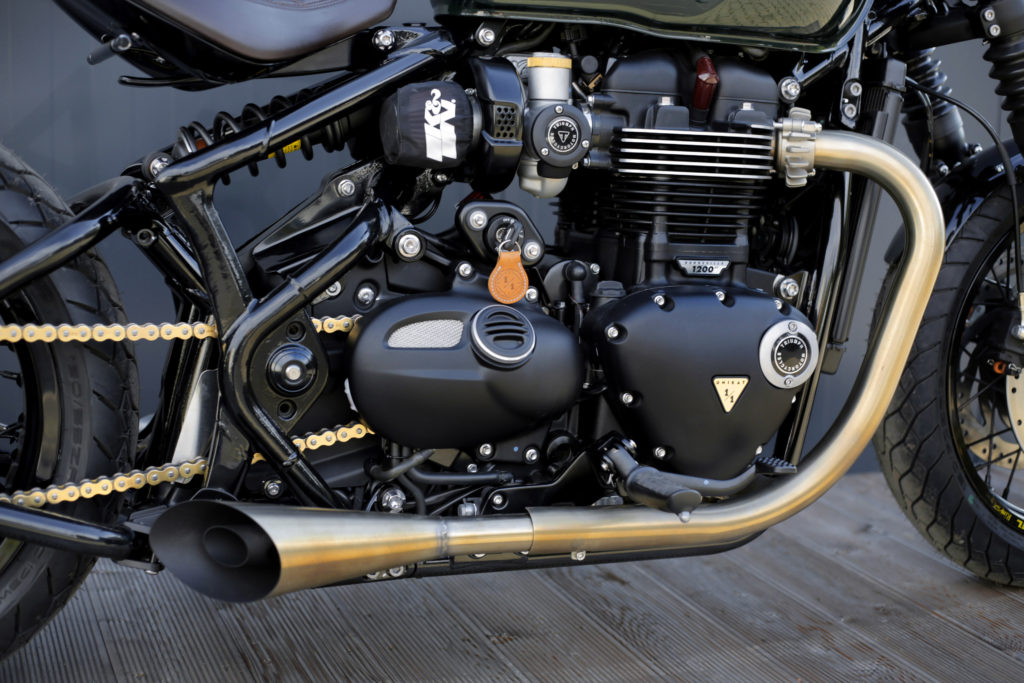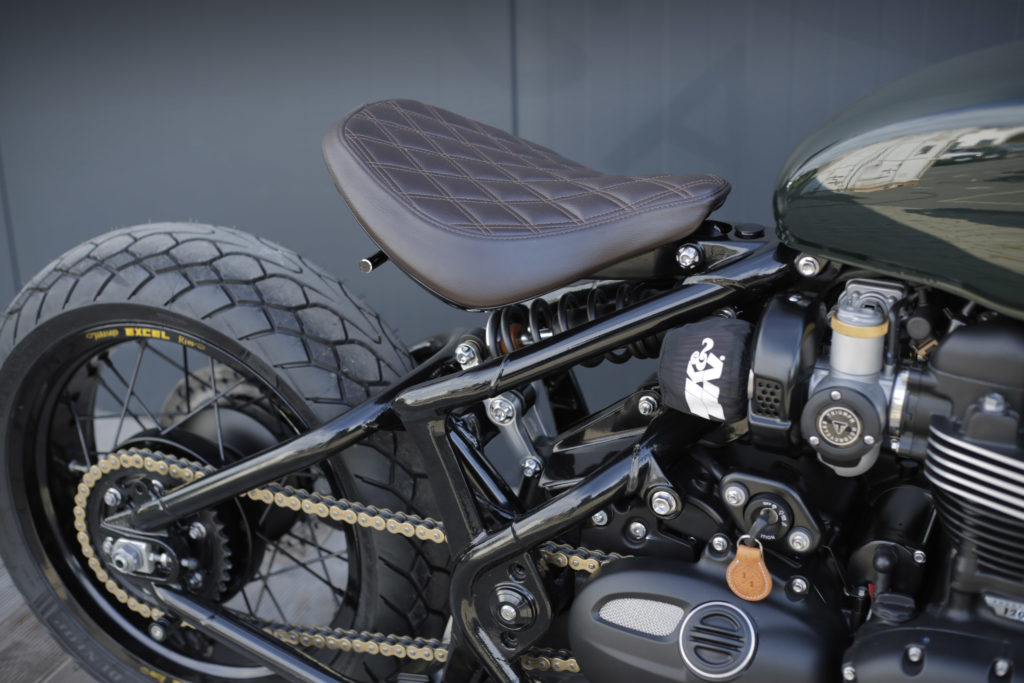 The rear fender had been completely removed, while the front fender got a nice trim job and received a distinguished Unikat 1-of1 logo, kind of like an easter-egg, waiting to be discovered. Staying at the front, we can also see that the speedo and the headlamp have both been lowered for a sportier stance. There's a set of Motogadget bar-end indicators, which have been combined with a set of bar-end mirrors. The handlebar grips have received a nice leather wrap treatment. Womet Tech supplied the sporty clutch and brake levers. A pair of fork gaiters keep the front fork clean and mean.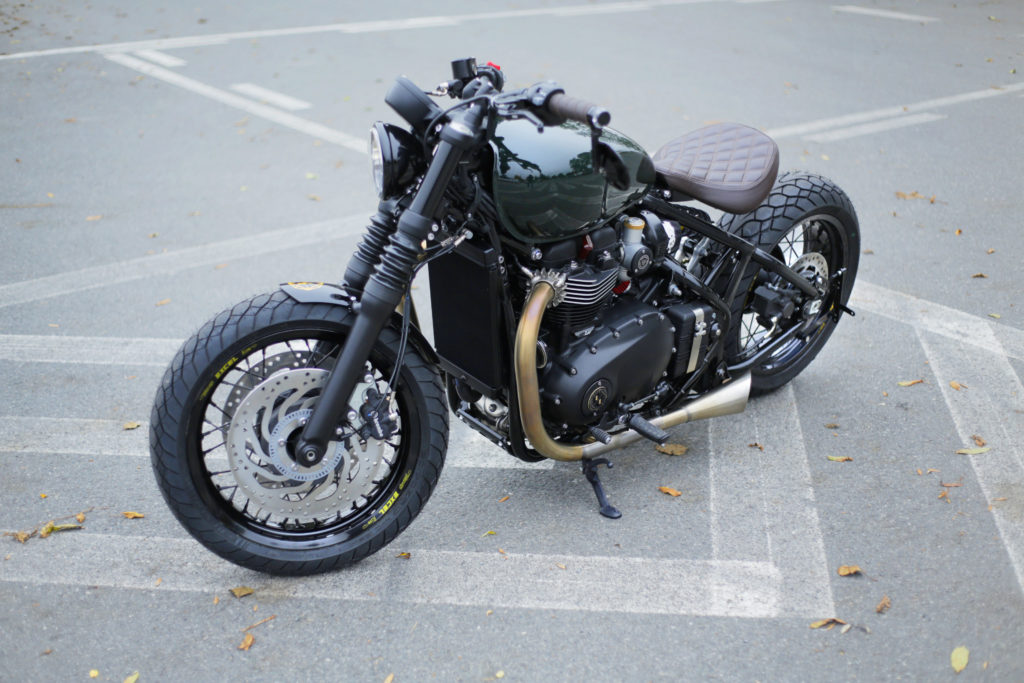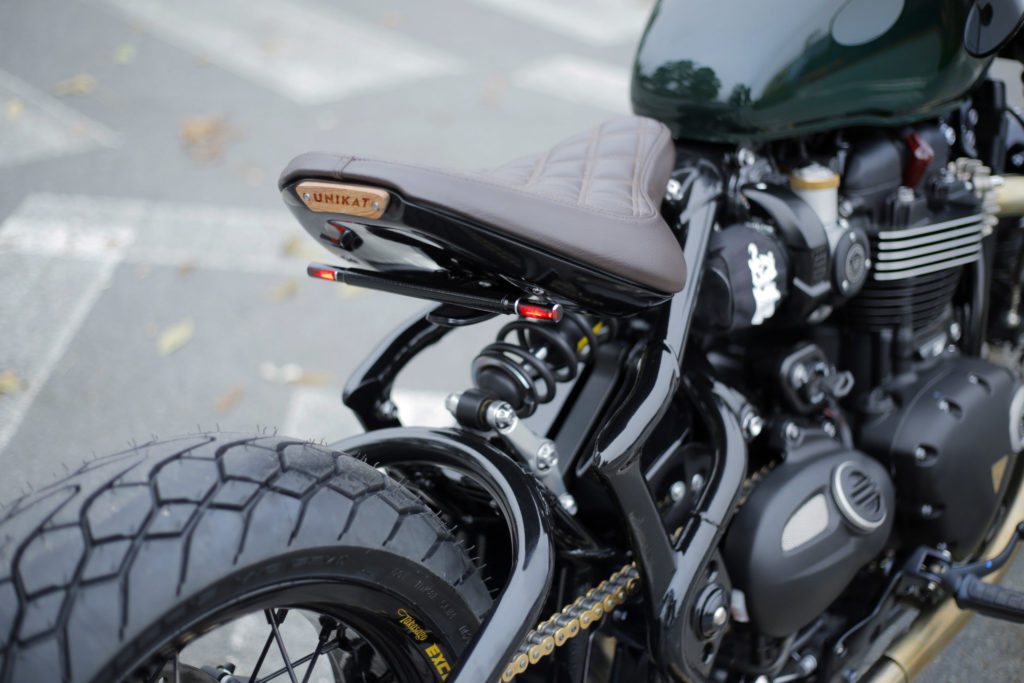 Moving a bit more backwards to the fuel tank, we spot a beautifully milled, gold anodized fuel filler cap. Underneath the fuel tank, the original factory airbox has been removed and a pair of free flow air filet, curtousy of K&N have been placed to take care of the breathing. The 'faux-carburetor' injection covers have been treated to the 1-of-1 logo treatment too. Underneath the engine, a stainless-steel exhaust system, in combination with Unikat's very own in-house built exhaust pipes, ensure that the combustion gases leave the engine in an effective and dramatic manner.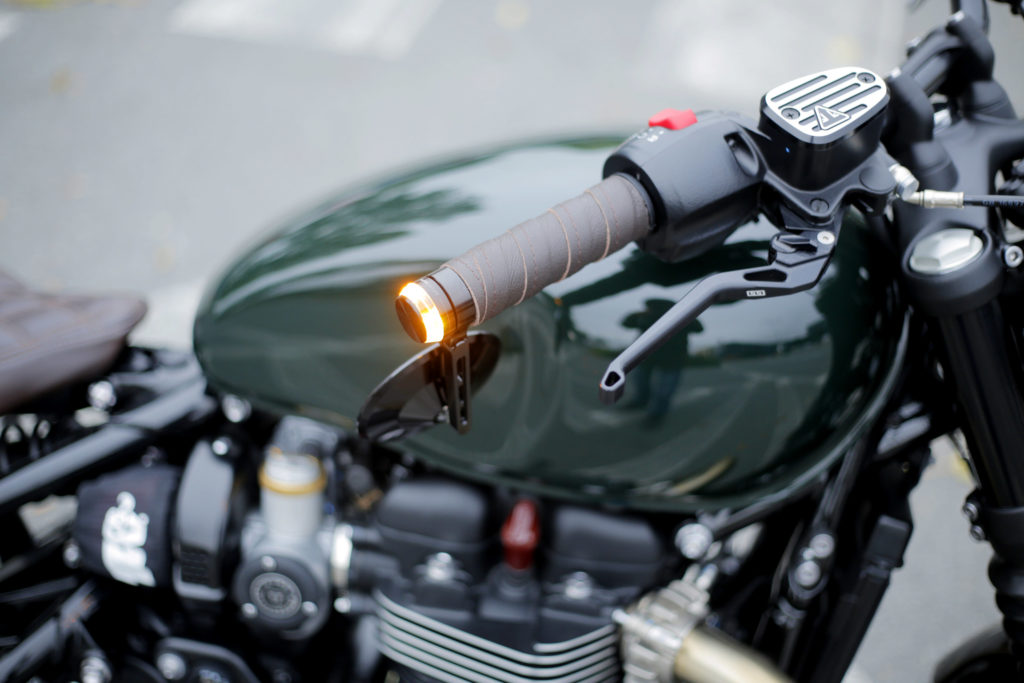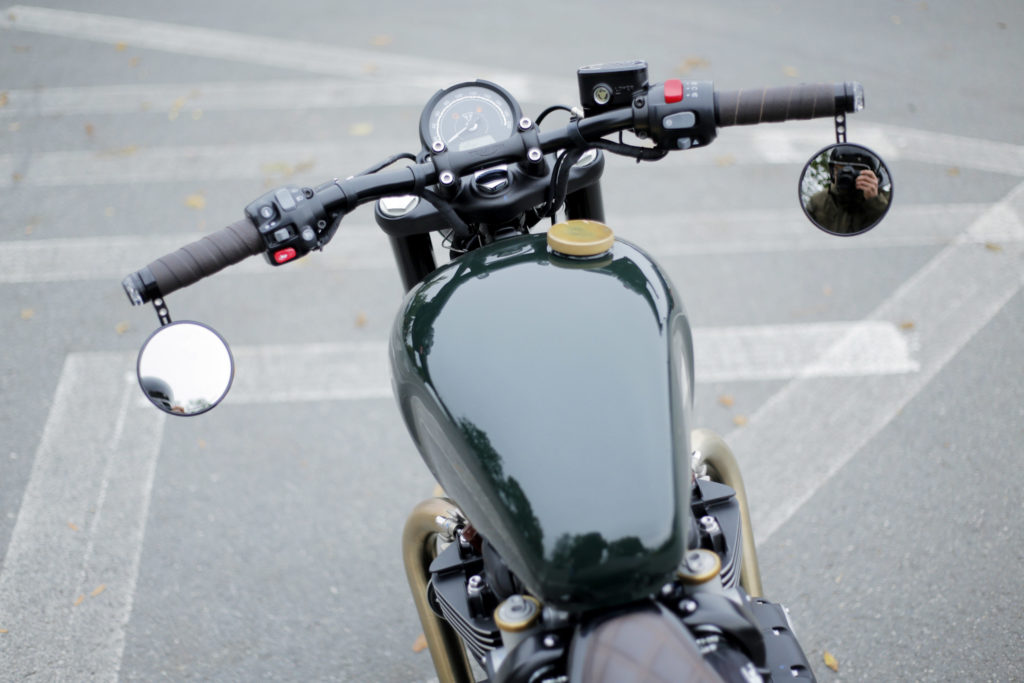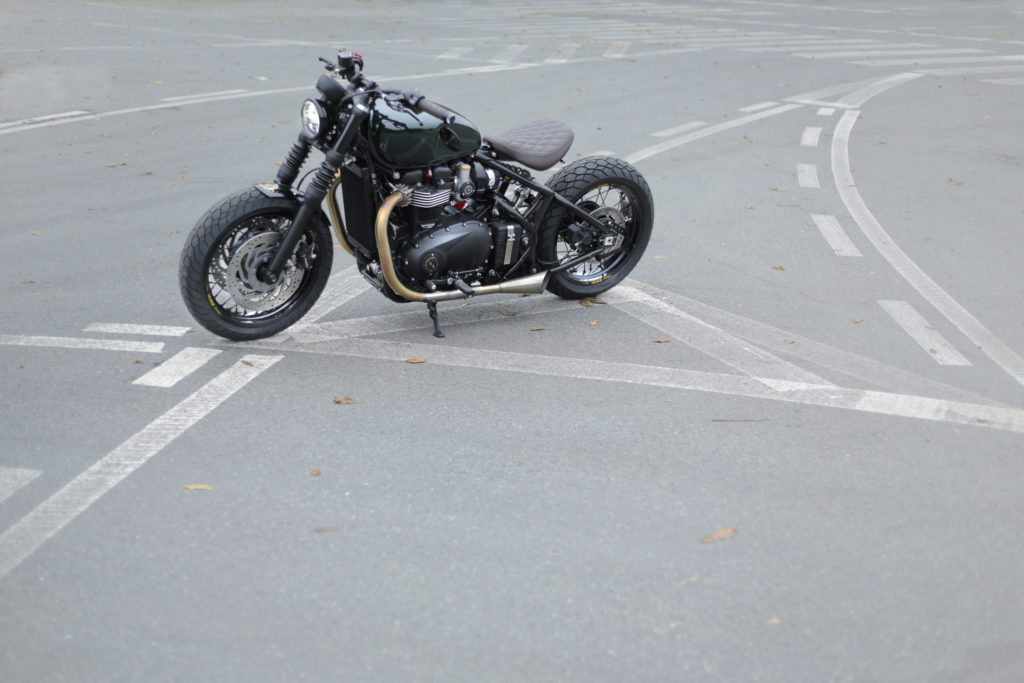 A lot of work has been put in cleaning up this bike by hiding as much of the wiring as possible. Part of that is the Hi-sider 3-in-1 taillight, that have built in indicators and license plate holder, and is in fact completely road-legal. The special thing about is, is that it is integrated into the single-seat. The finish of this Triumph in a gorgeous dark green color in combination with glossy black, with all the little gold-colored details really distinguishes this build from any other Bobber we have seen so far.
Builder details:
UNIKAT Motorworks
Website
Instagram
Facebook
YouTube
Share This Story, Choose Your Platform!
Tags