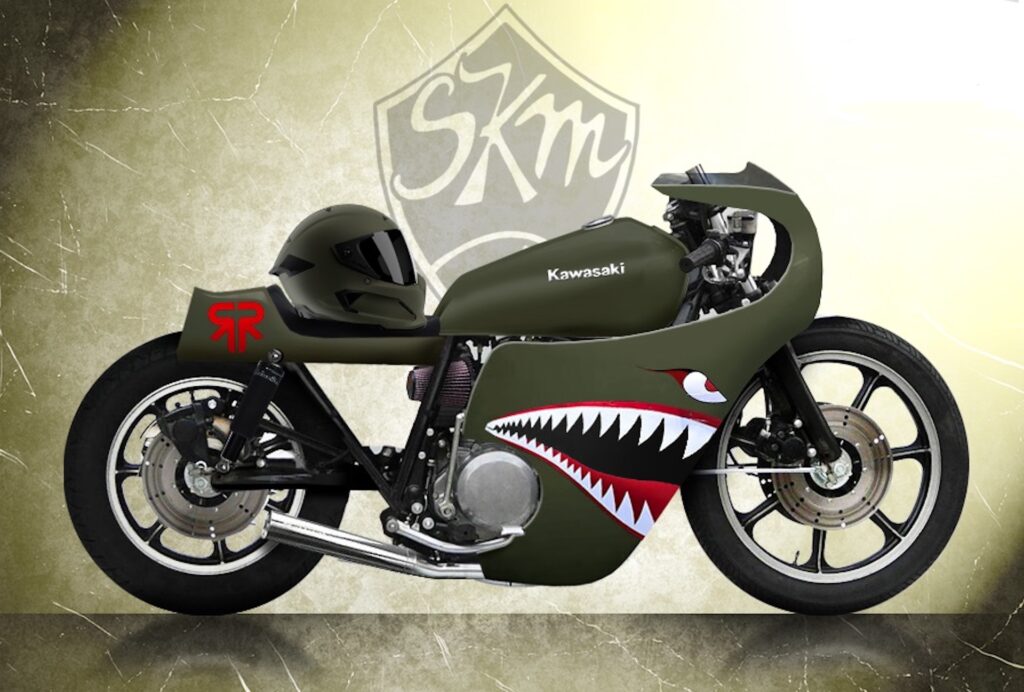 There is a lot going on with the Kawasaki KZ from France. Owned by Sebastien Vernaison, a 39-year-old bike builder who works as a plumber during the day. In his spare time however, Sebastien creates real work of art. What he did to this KZ650SR from 1980 is nothing short of top-tier craftsmanship. We don't get to see many modified Kawasaki KZ's, which makes this one already unique.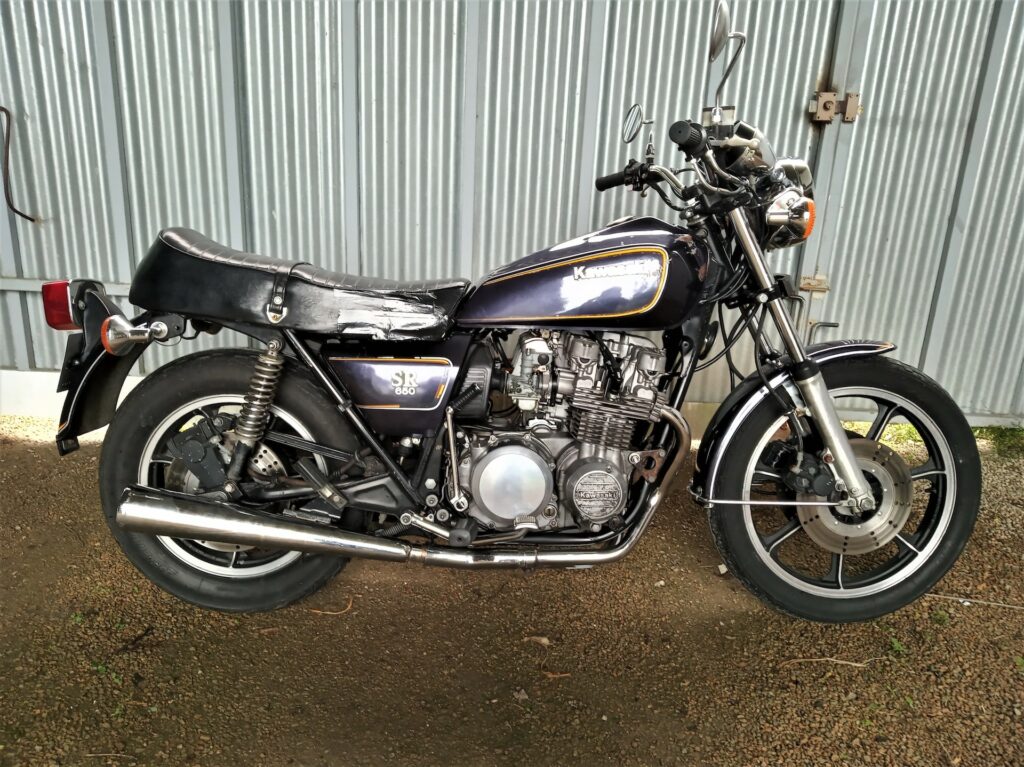 This isn't Sebastien's first rodeo. He has built a stunning Yamaha XS650 before, completely in Jap-style. It was featured in many magazines back in 2020, and for good reason too. There is definitely no lack of imagination when it comes to his old build, but also this more recent creation.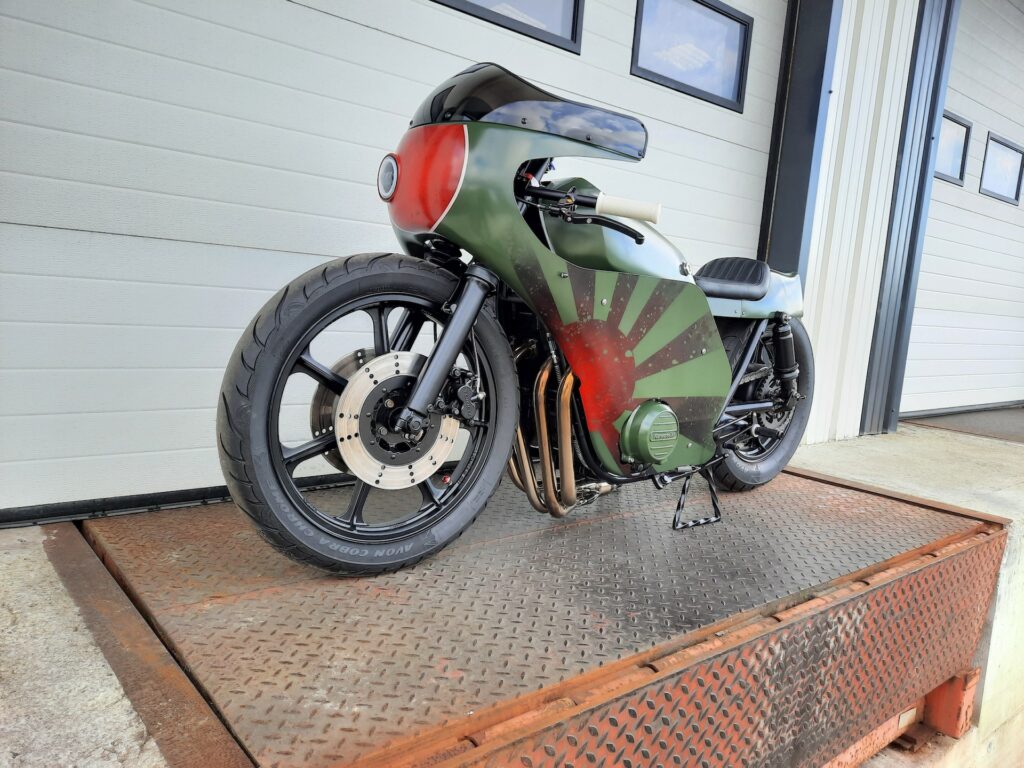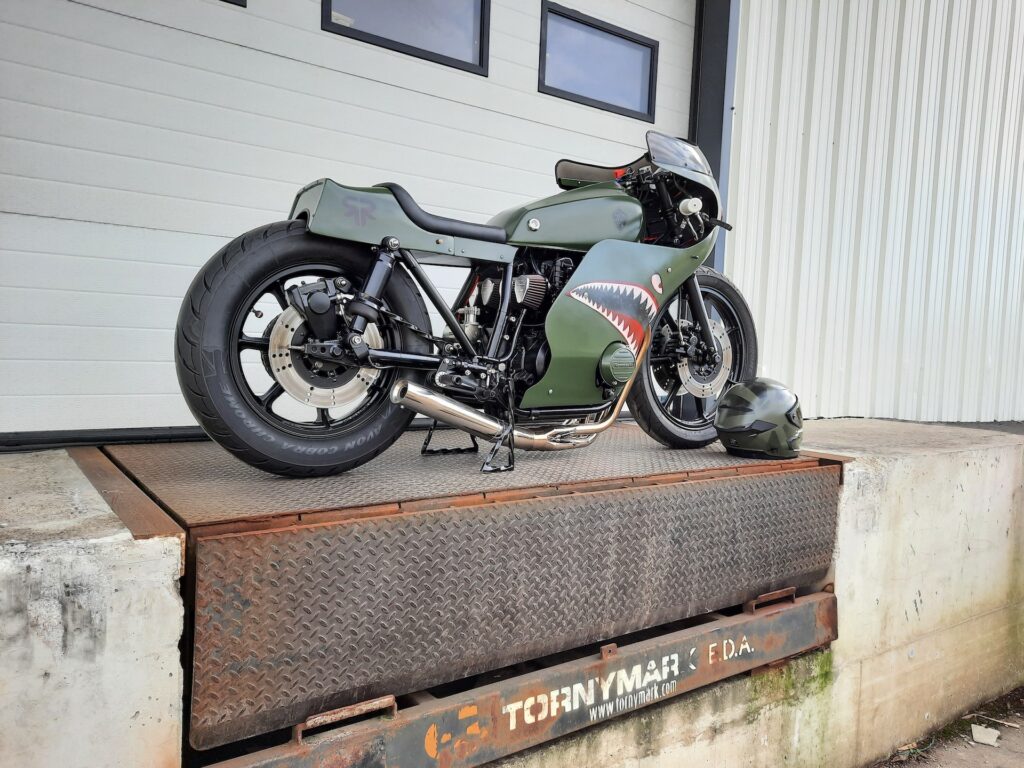 We are a sucker for nose art. Especially those from around World War 2. The first nose art started at the beginning of the 20st century, during World War 1. When fighter planes where being used in close combat. Pilots would paint their planes with menacing texts or imagine instilling fear into their opponents. Nowadays we don't see nose art anymore in the military, but it is still regarded as art among enthusiasts around the world.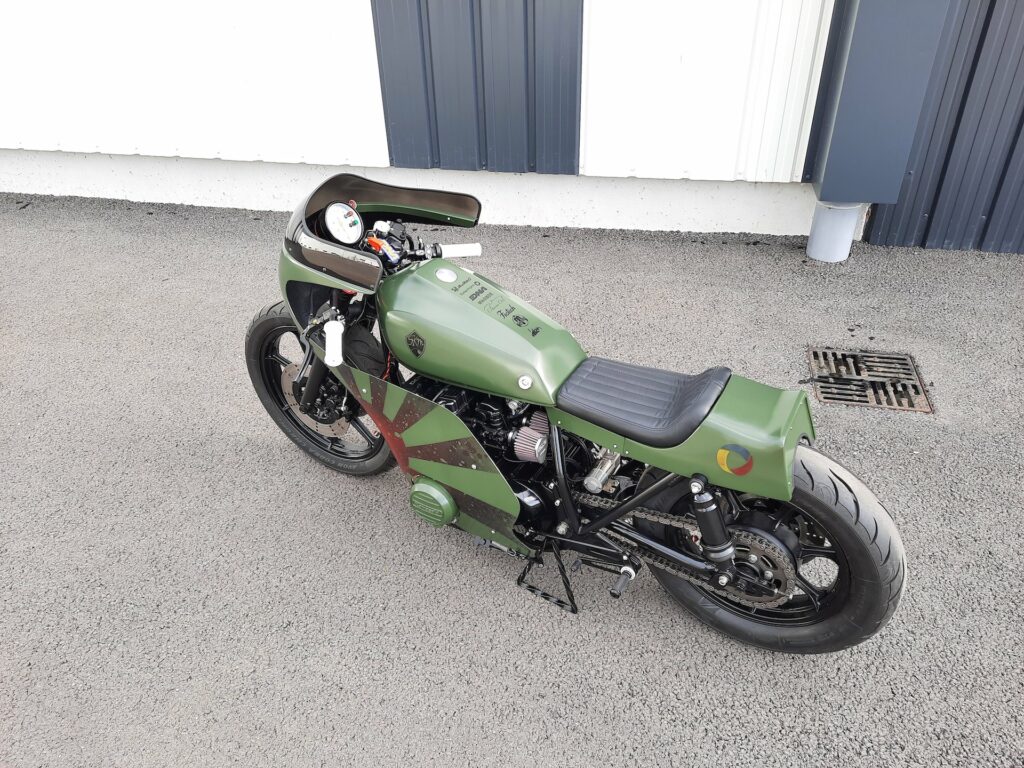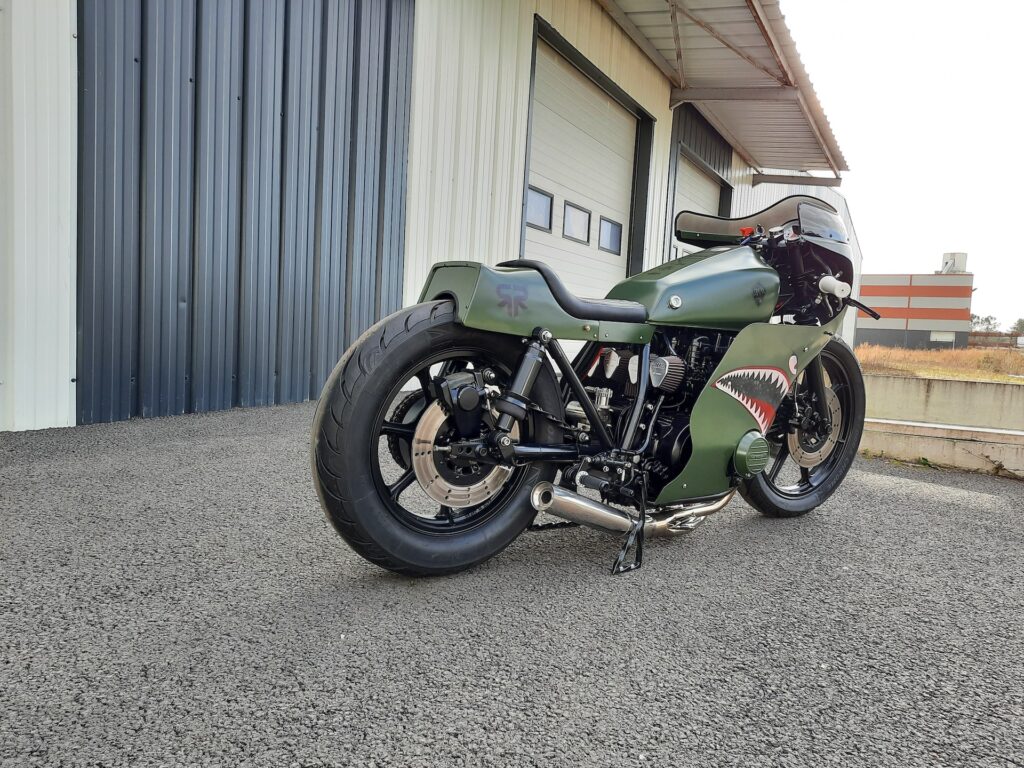 To see nose art being used on a custom motorcycle makes our hearts beat a little bit faster. But there is more to this machine than just the nose art, which has a symbol of the rising sun on the left, and shark mouth on the right, a nod to both east and west. Sebastien has managed to source a racing fairing of Norton Commando and has modified it to fit the Kawasaki seamlessly. The combination of nose art and matt green paint has been done incredible well by Cedric B Ink.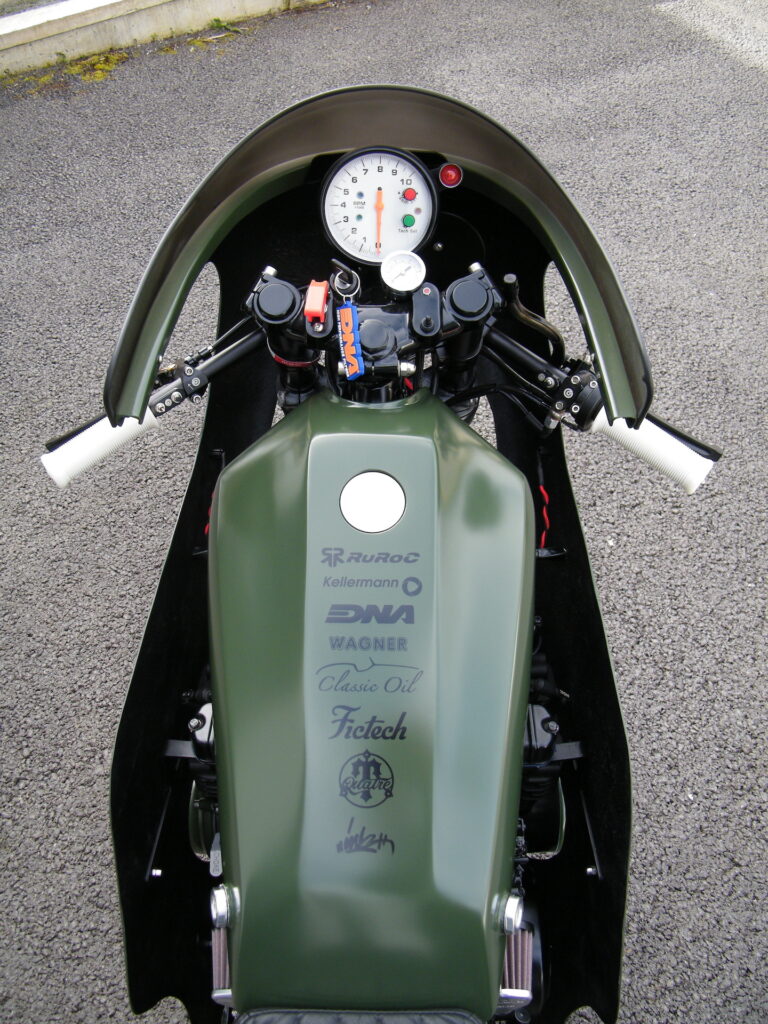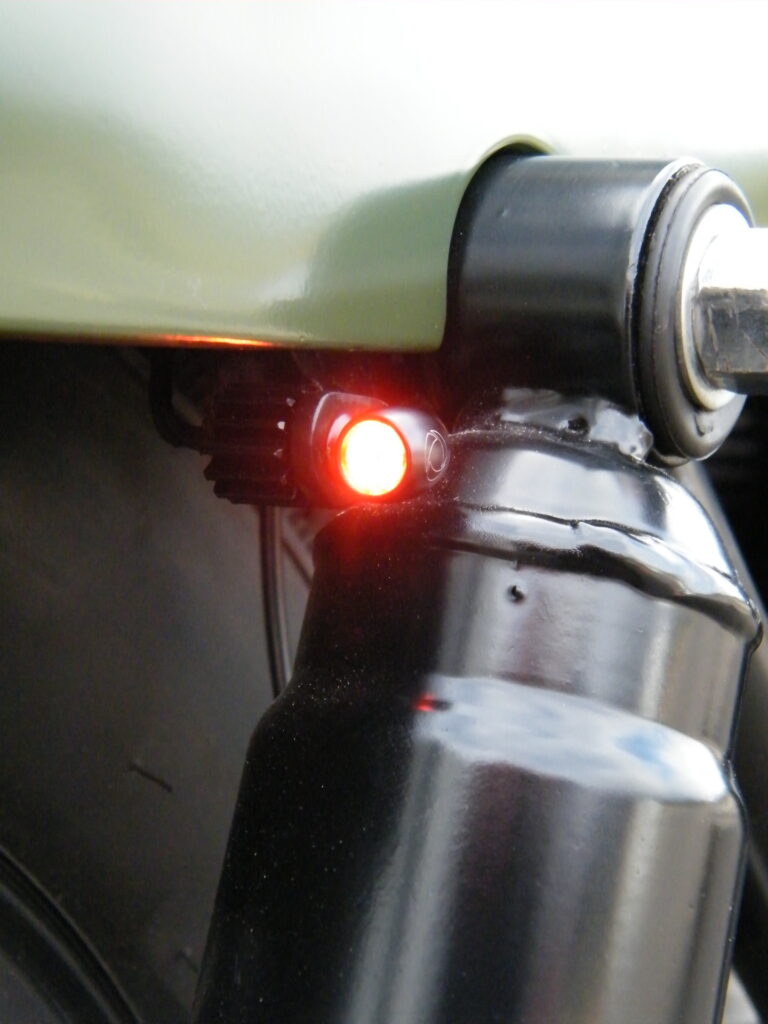 The rear of the KZ650 has been chopped and lowered, using custom shock absorbers. There is something special to these shock absorbers. They are modified for air-ride, which allows the rear of the bike to be raised or lowered at the flick of a switch. At its highest point, the clearance between the exhaust and the ground is a mere 10 centimeters! A neat feature we see in the custom car scene, but not often on a motorcycle.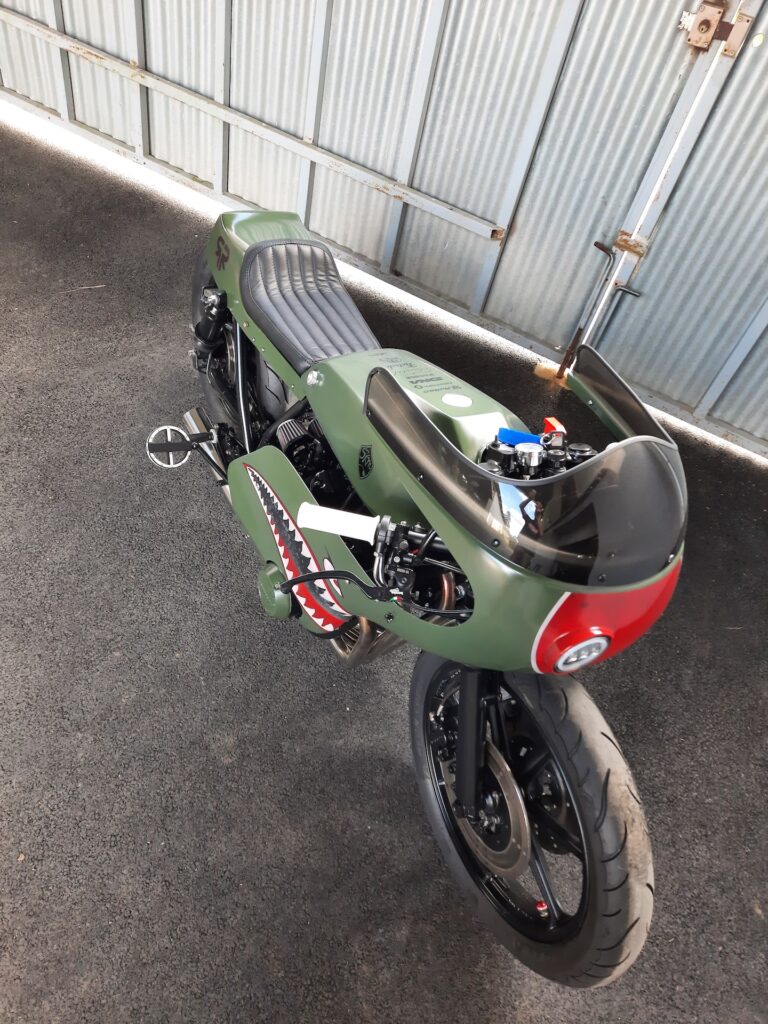 The rear cowl comes from a Kawasaki Z1000ST and has been modified to fit the KZ650. The custom seat has been made by Dérouillée Sellerie and looks astonishing on this bike. The Delkevic exhaust has been modified to fit this KZ perfectly. Combined with the DNA air filters, this Kawasaki definitely breaths better now.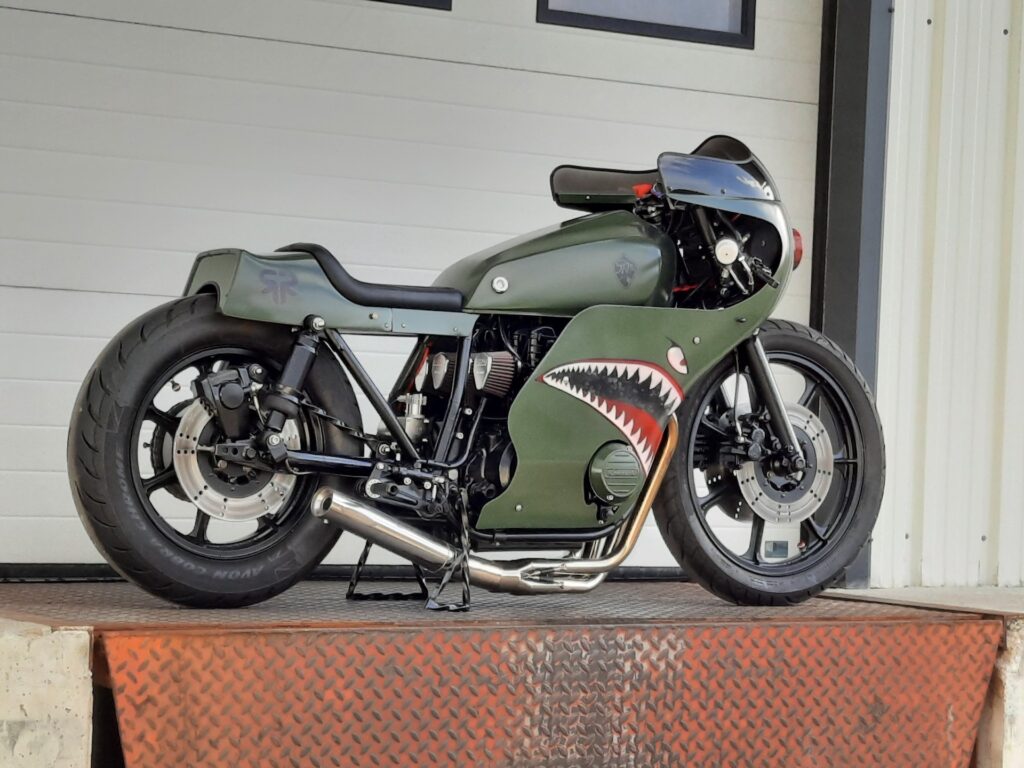 The front of the Kawasaki has also been lowered to accommodate for the lower stance Sebastien was going for. The fuel tank has been heavily modified, and now incorporates a fuel level indicator on the side, and a pop-up gas-cap. The electrics of the Kawasaki have been replaced with a simplified wiring harness that accommodates for the micro switches. We love the minimalistic look, especially with the large tacho front center. The Kellerman LED lights and indicators further contribute to this look. The levers are now Brembo's, which are adjustable.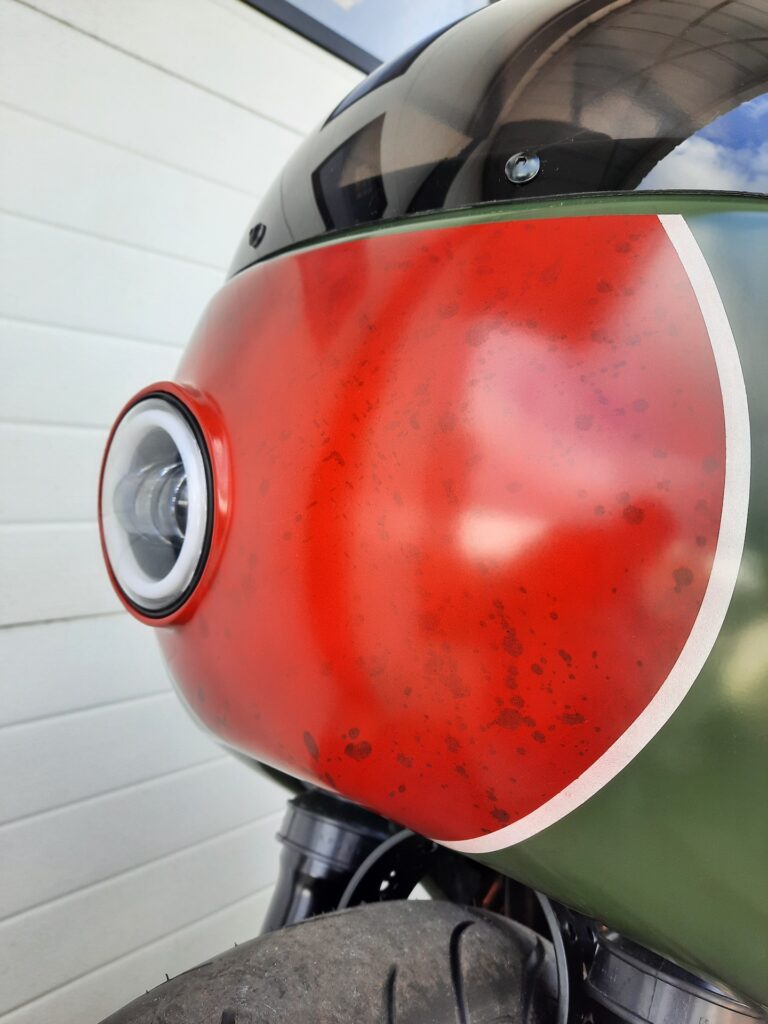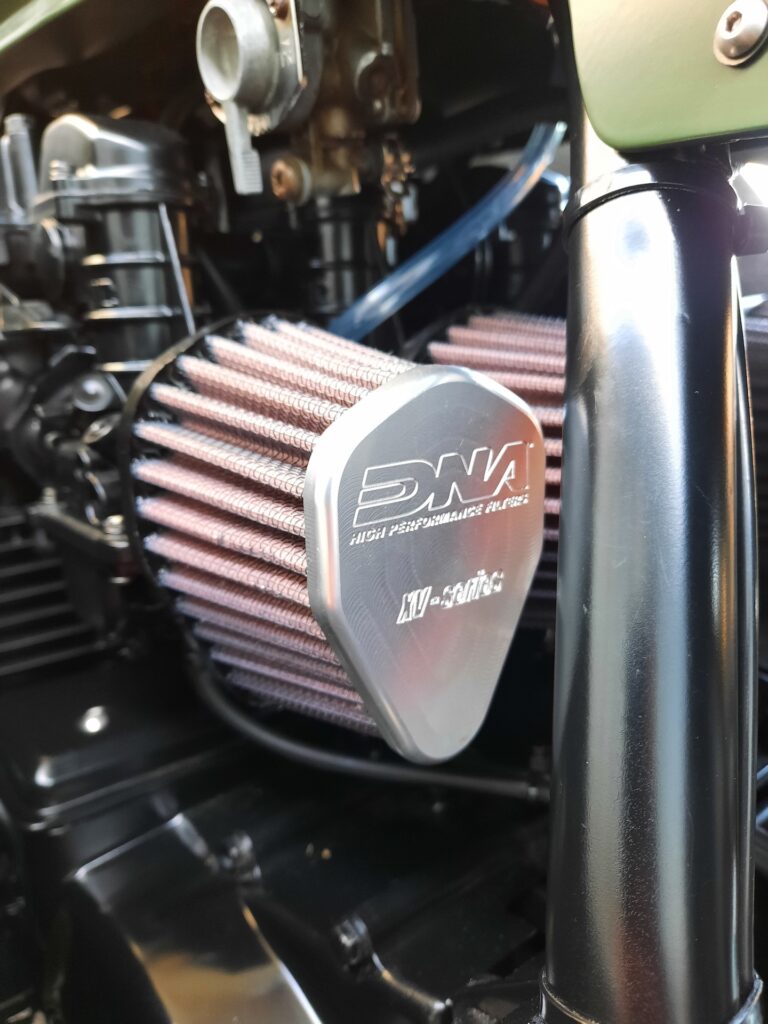 When you look at the pictures closely, you will see that the kick-starter pedal looks custom. That's because it is, courtesy of T4 Motorcycles. What's also custom, is the Ruroc 2.0 helmet which Sebastien has made to match the look of the bike. Small detail, but with great results!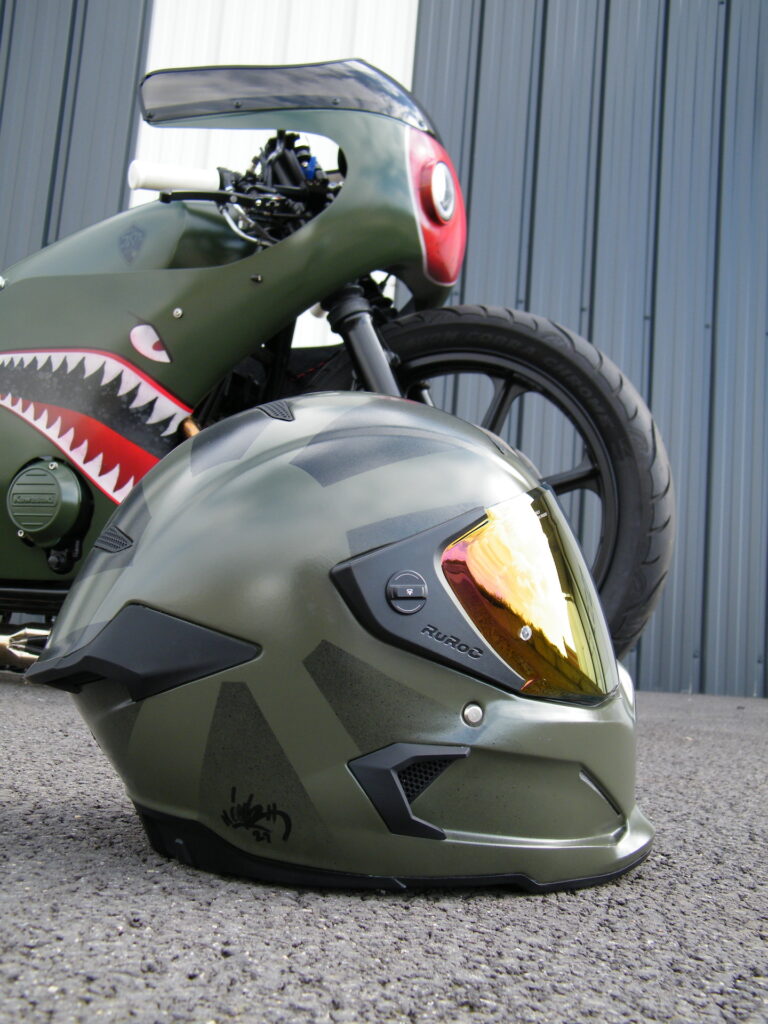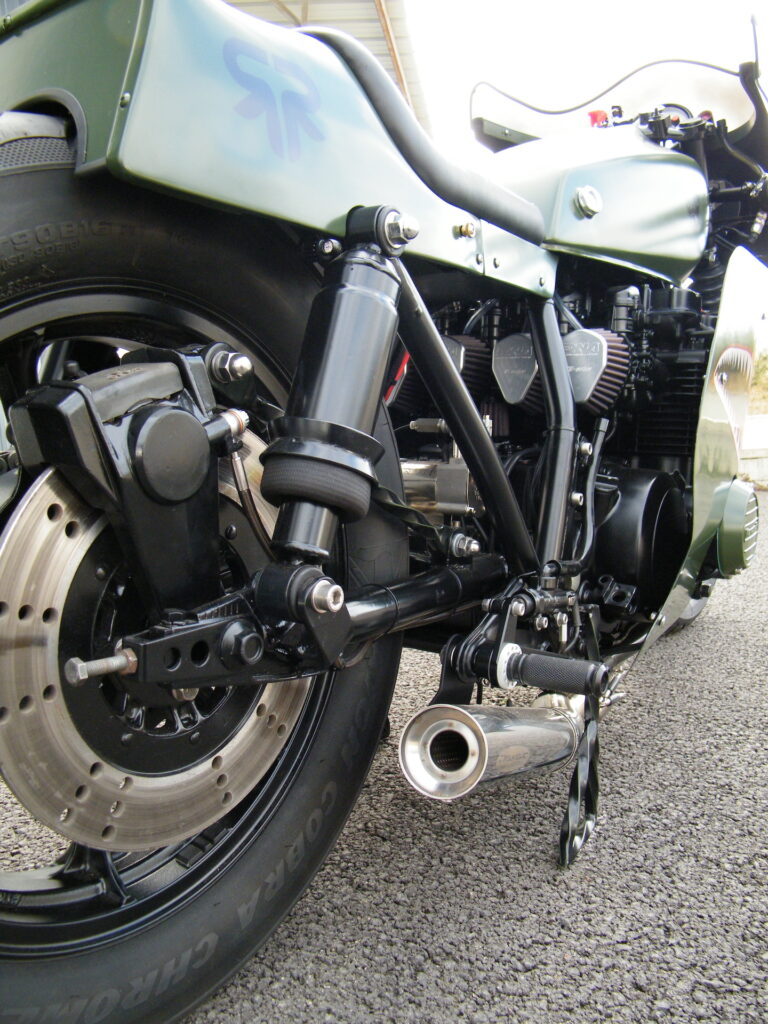 Sebastien admits that with the ground clearance, the Kawasaki is more suitable for slow strolls than racing. Still, with the way this KZ650SR has turned out, we wouldn't be surprised if it commanded anyone to move to right as it appears in your rear-view mirror. And all of this with a budget of no more than €6000,-.
Photo Credits: SKM
Builder details:
Seb Kustom Motorcycles
Instagram
Facebook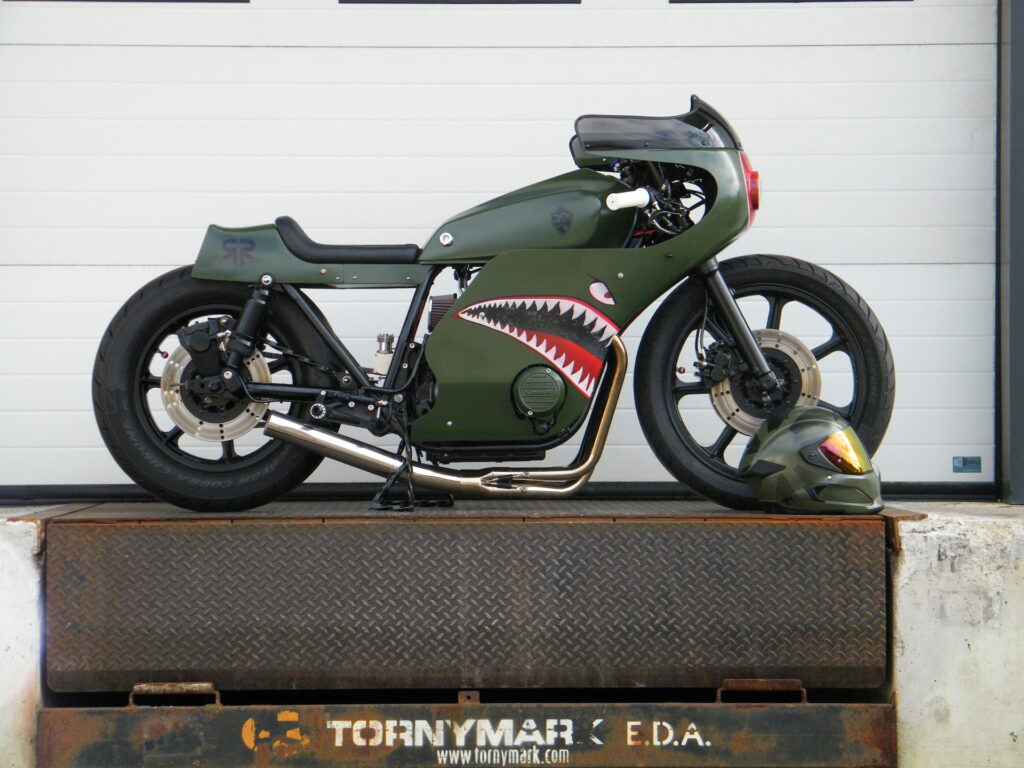 Share This Story, Choose Your Platform!
Tags