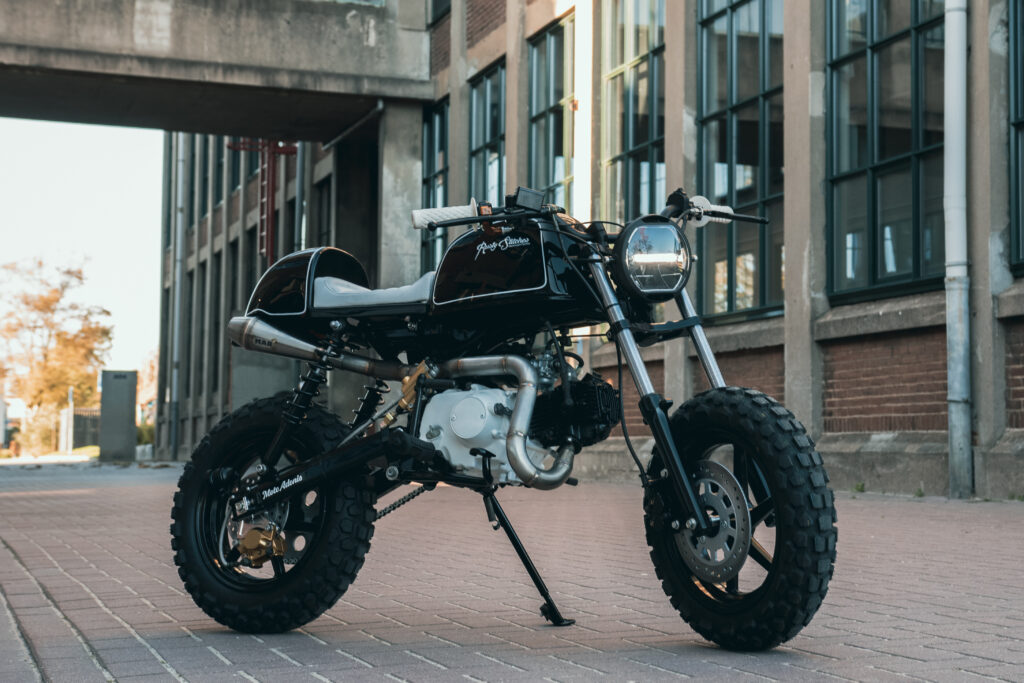 The Monkey and the Ape
By now you should have a pretty good idea about who Rusty Stitches are and what they are all about. They are the David to the motorcycle riding gear industry's Goliath. And they've been growing recently…fast! Although their mascot is a big hairy ape, the Rusty Stitches management team thought it would be a good idea if the giant ape had its own ride. And what better bike to start with than a Honda Monkey!
If you want to get technical about the difference between a monkey and an ape; a monkey has a tail and is relatively small by size, and an ape has no tail and can grow much larger than a monkey. This is the story of the ape and the monkey!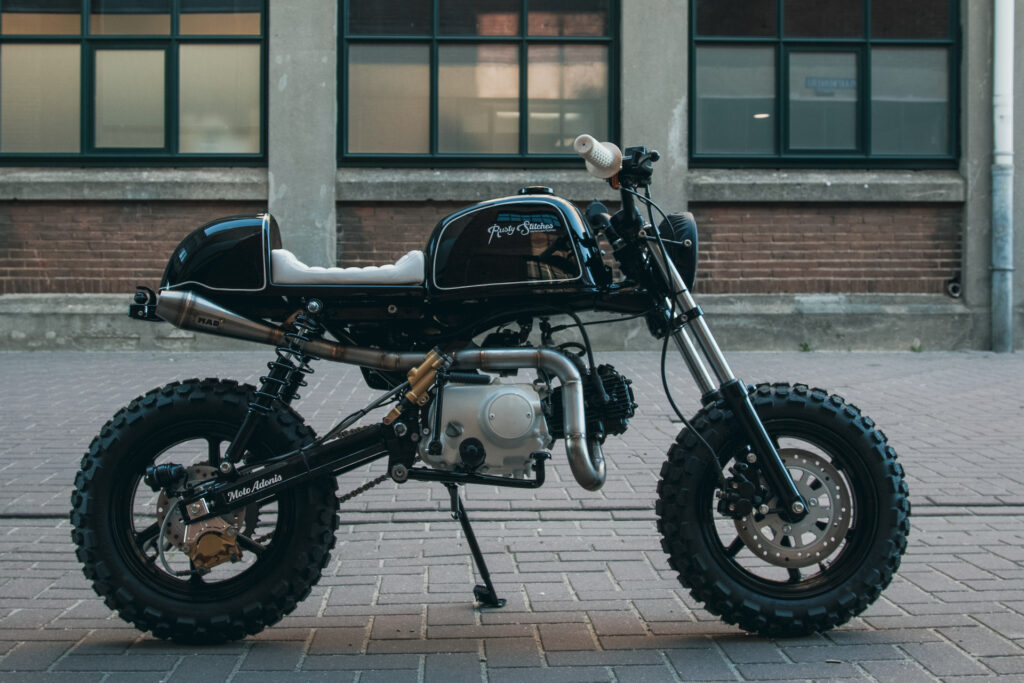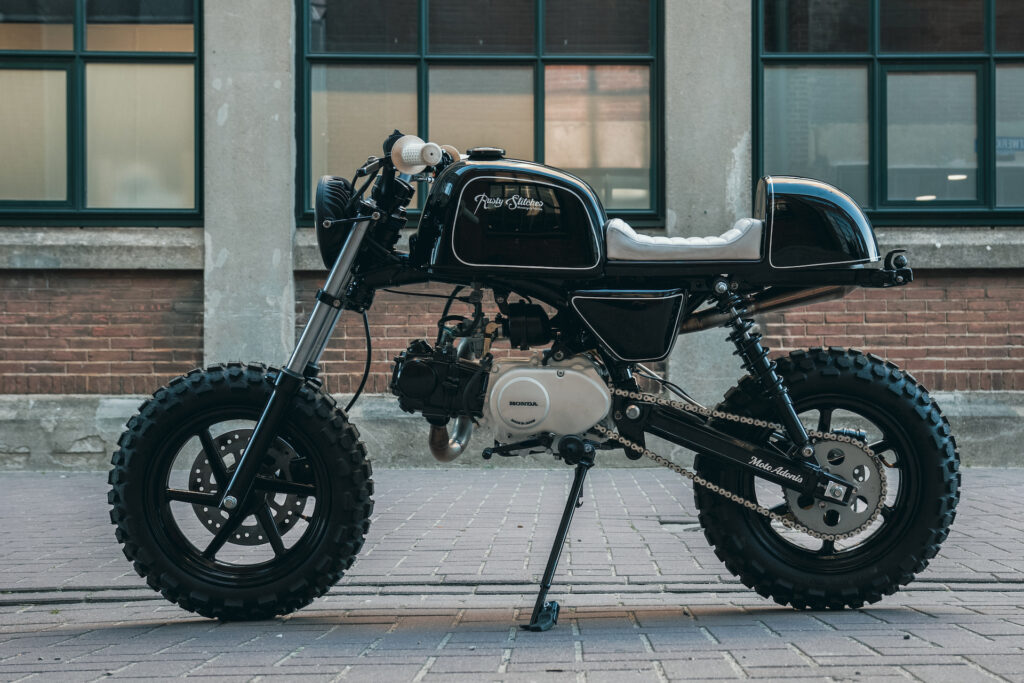 The Honda Monkey was first introduced to the public in 1961, after increasing popularity as a children's ride at a Japanese amusements park. Originally it was a 100cc minibike called the Z100 but quickly gained popularity amongst people in its 50cc trim as the Z50 a.k.a. "the Monkey". Not a bad name considering it is one of Honda's longest produced models in the company's history. We're not going to bore you with performance specs. What we can say is that people who owned them, loved them! It was an ideal vehicle to take on a trailer or on a camper. It's lightweight, small, frugal with fuel, and easy to work on.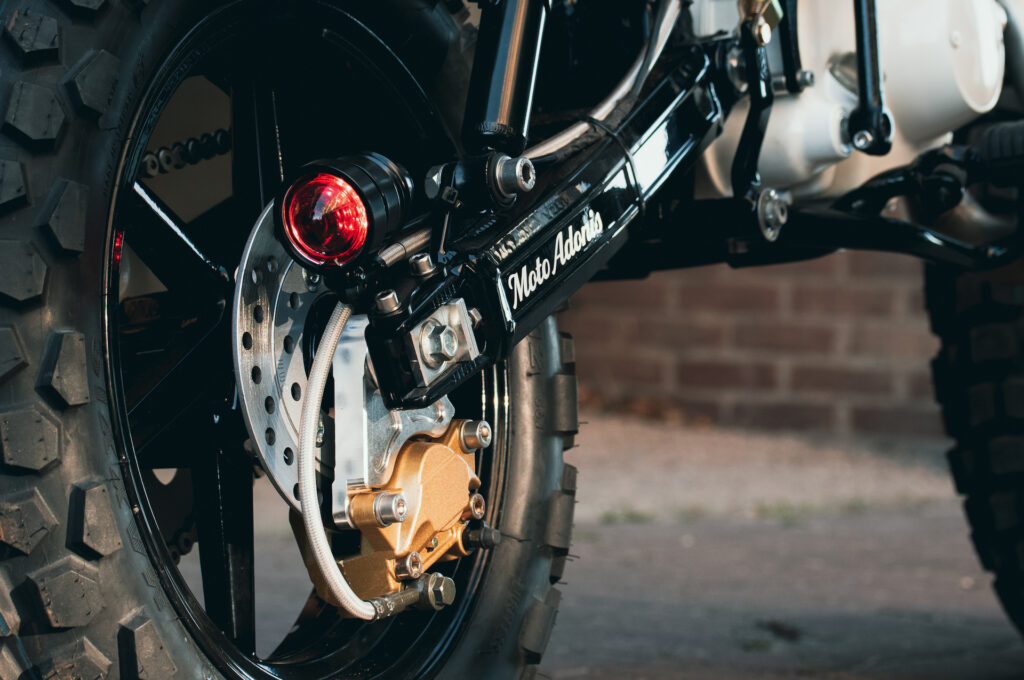 Cult status
The Honda Monkey has gained something of a cult status. In 2018 the late Beatles singer John Lennon's old Honda Monkey Z50 was auction for a whopping $80,000! Not bad for a bike that initially cost about $250. What also increased the popularity of the Monkey is the availability of aftermarket parts. You can turn a standard 50cc Monkey into a fire-breathing, tire smoking, little ripper, capable of serious speeds.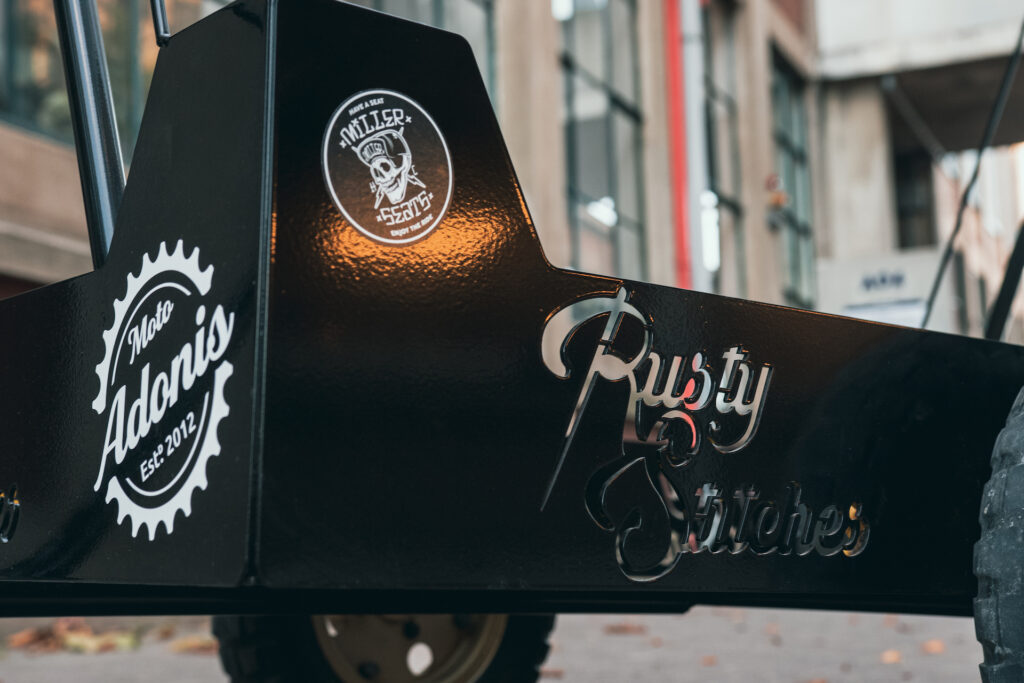 Moto Adonis
This is where part 2 of the story begins. Enter: Moto Adonis. The Dutch based team consisting of Arthur Renkema and Job Leussink have been dabbling in the world of customization for some time now. As far as Rusty Stitches were concerned, Moto Adonis the go-to guys to get their custom Honda Monkey built. It was clear from the beginning which direction they wanted to go with this little bike. It had to look a lot meaner than the original Monkey, and they knew exactly how they were going to do that.
The little Honda got stripped of all its parts and received a complete rebuild from the ground up. One thing that wasn't changed was the engine displacement. The reason for this was that the Honda will serve a promotional purpose only, travelling around to various Rusty Stitches dealerships and motorcycle shows. Besides, increasing the displacement would also mean going through a series of mandatory tests and complete re-registration; quite pointless for what is intended. What the engine did receive was a dry-ice vapor blast treatment, and a complete respray in black and white. Other than that, very little was kept of the original Monkey.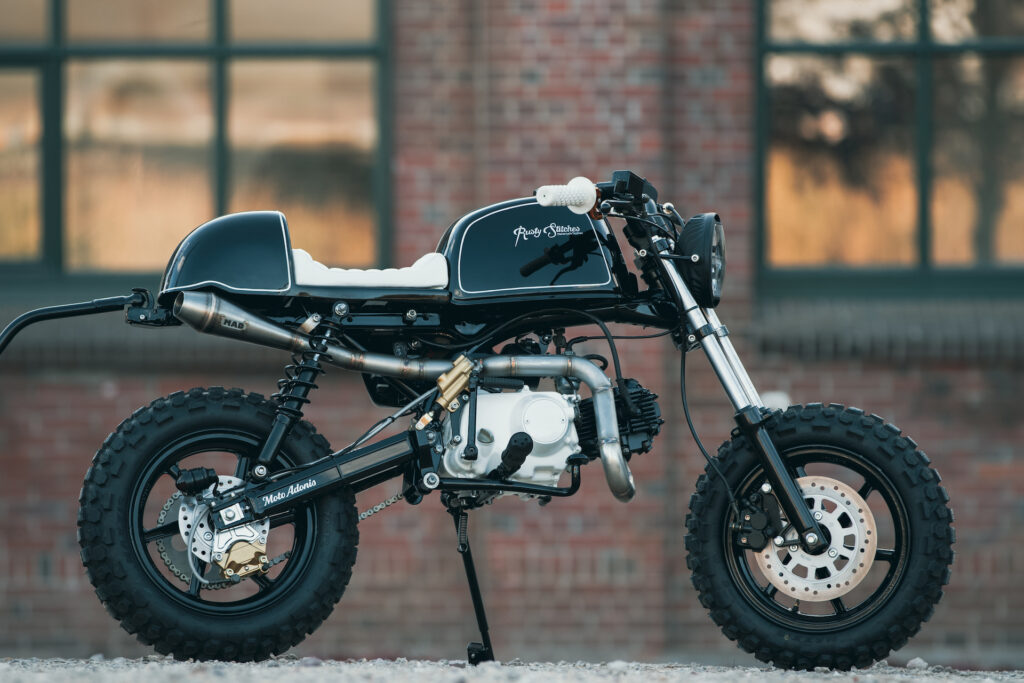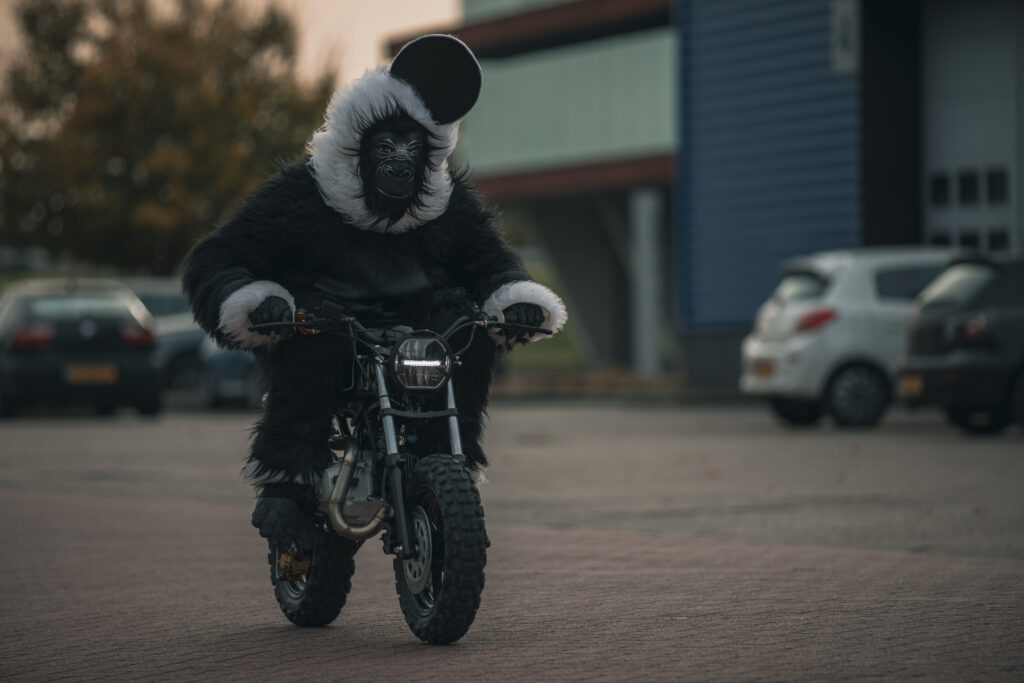 The original wheels were removed and saved for later. Instead, a pair of 12" oversized wheels were added with Maxxis NSR knobbly tires. To accommodate for the wheels, the front shocks were replaced as well as the triple clamps for wider units. Both front and rear shocks now have an increased travel. A round LED headlight was mounted using a unique set of custom brackets. Using an LED light was made possible by upgrading the original 6 Volts system to a more modern 12V power supply. A black aluminium handlebar is now in place, coupled with a beautiful set of white Biltwell grips to stay with the black & white theme. The front brake has been beefed up with a 2-piston caliper and bigger disk brake.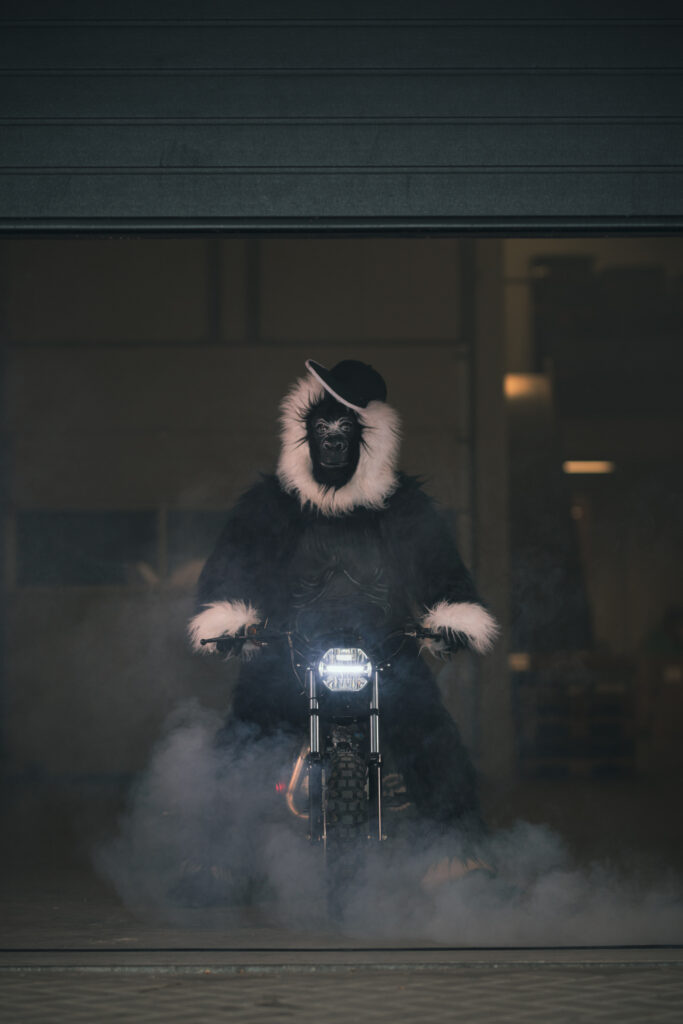 More than just a few parts…
Moving to the rear we can see an extended and widened aluminium swing arm. The little drum brake from the rear has also been replaced with a 2-piston disk brake conversion kit. The final drive was changed to a bigger rear sprocket. The subframe has been custom built and houses a café racer style hump seat. The seat has been custom made by Miller Kustom Upholstery. Look closely and you will notice the white stitching and lettering. We love such craftsmanship! It is worth mentioning that the entire rear seat was built from scratch.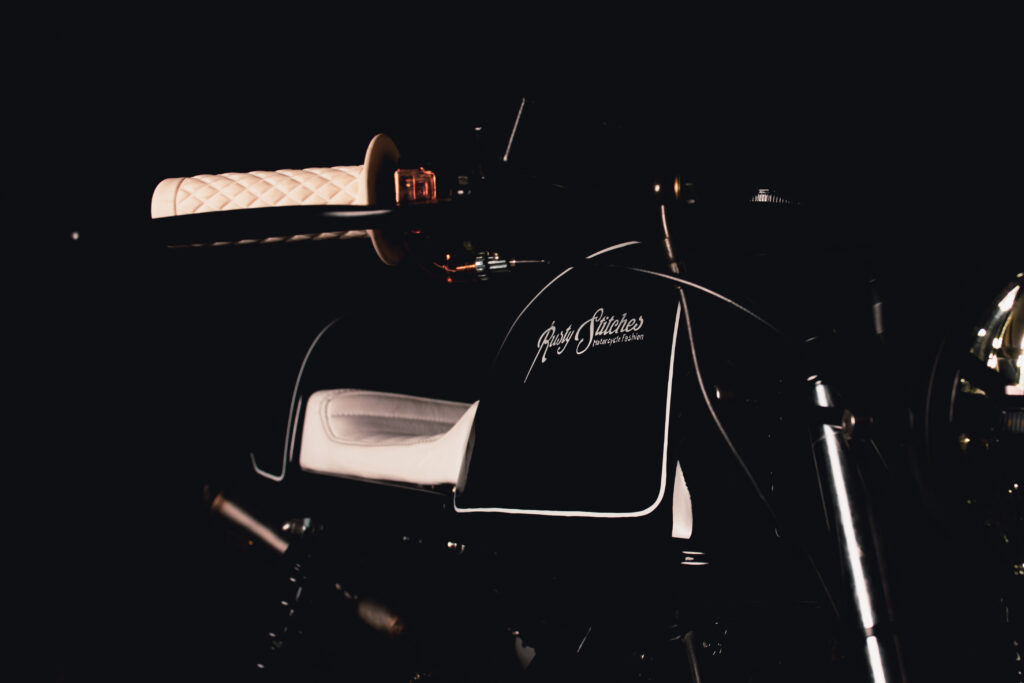 There are 2 other real eye-catchers on this little Monkey: the tank and the exhaust. Let's start with the tank. It is the original Honda tank but it received a fresh coat of black paint. What makes it special though, is the pin-striping that was applied by hand; an art form we don't see much anymore. It was done by Huid & Staal's very own Frank Bouwmeester. The other eye-catcher is the exhaust system, which was built from the ground up by MAD Exhausts. We have heard this Monkey in real life, and it sounds more like a Gorilla than a Monkey!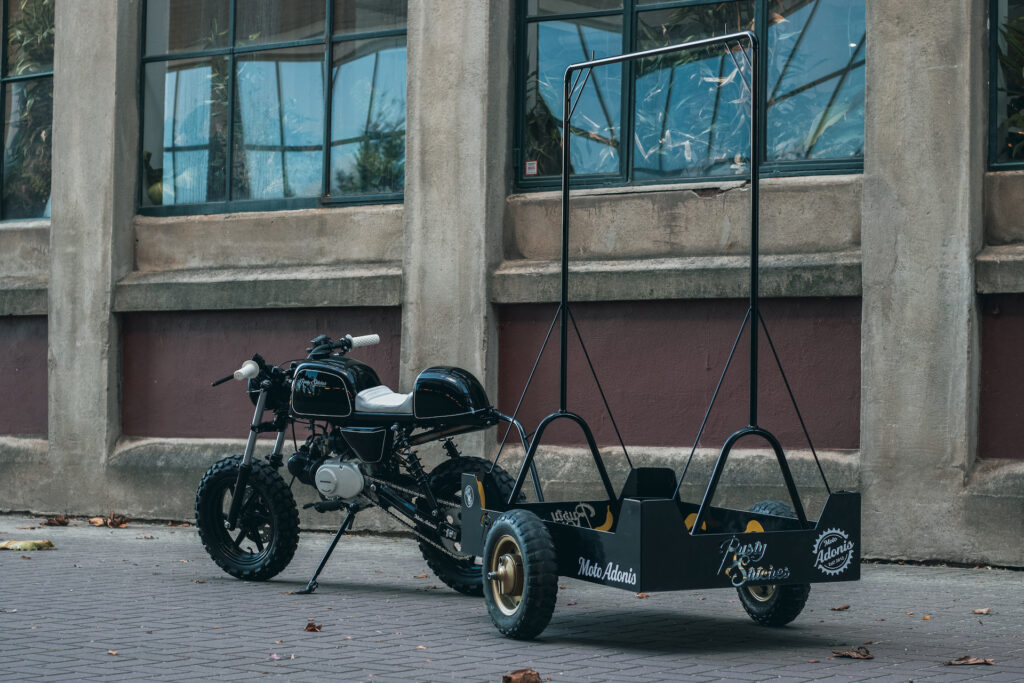 Trailer
That's it then, right? Wrong. Remember the original wheels that were saved for later? They were repurposed to be used on a custom-made trailer. Built to resemble a giant banana box, the trailer was completely built from nothing to serve as a prop. That also means that the Monkey has a trailer hitch, and we think that it's the cutest thing we have ever seen. The little engine that could…
Photo credits: Rob Willemsen
Builder details:
Moto Adonis
Website
Instagram
Facebook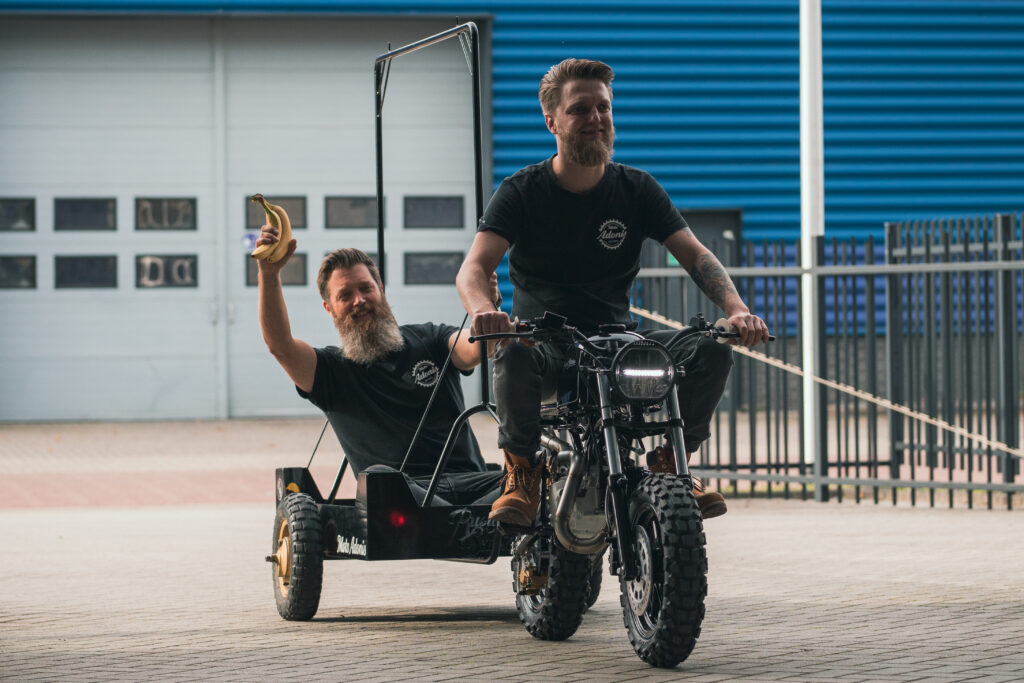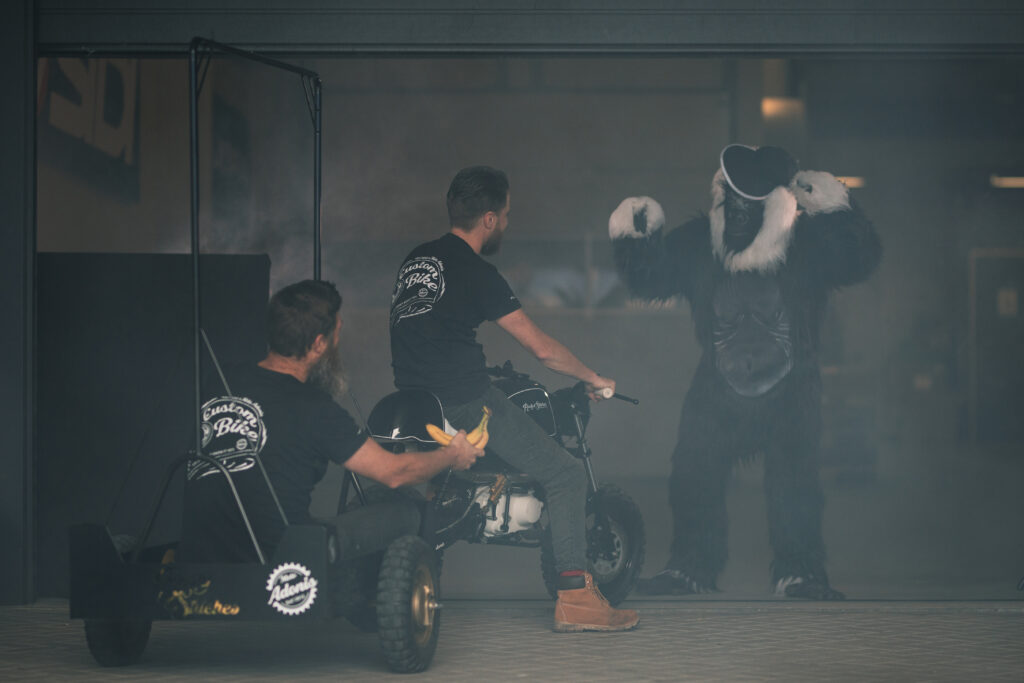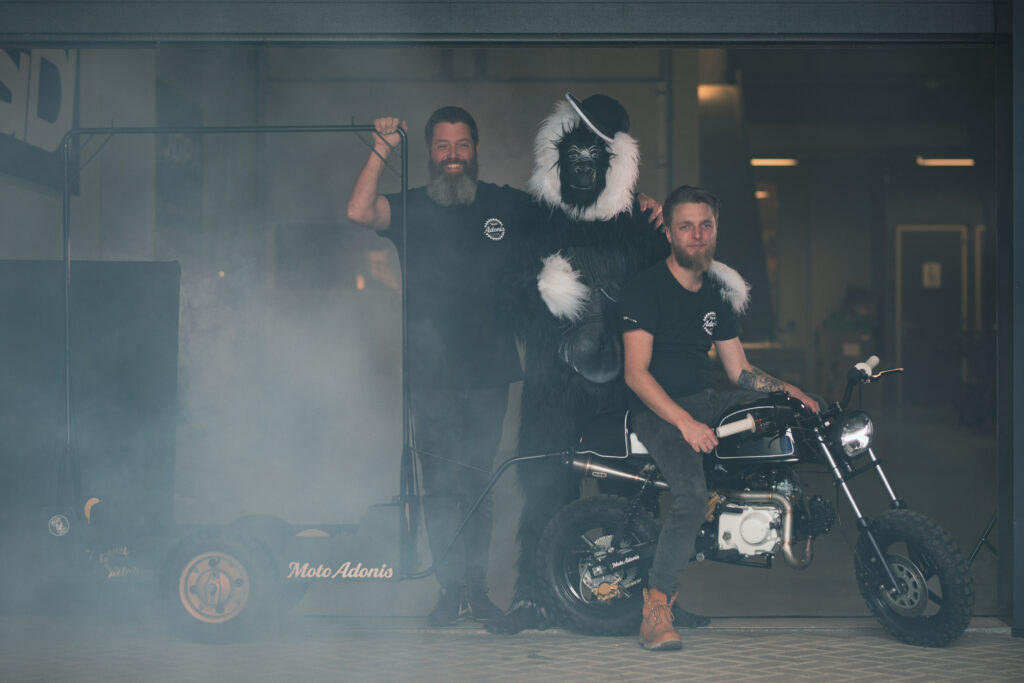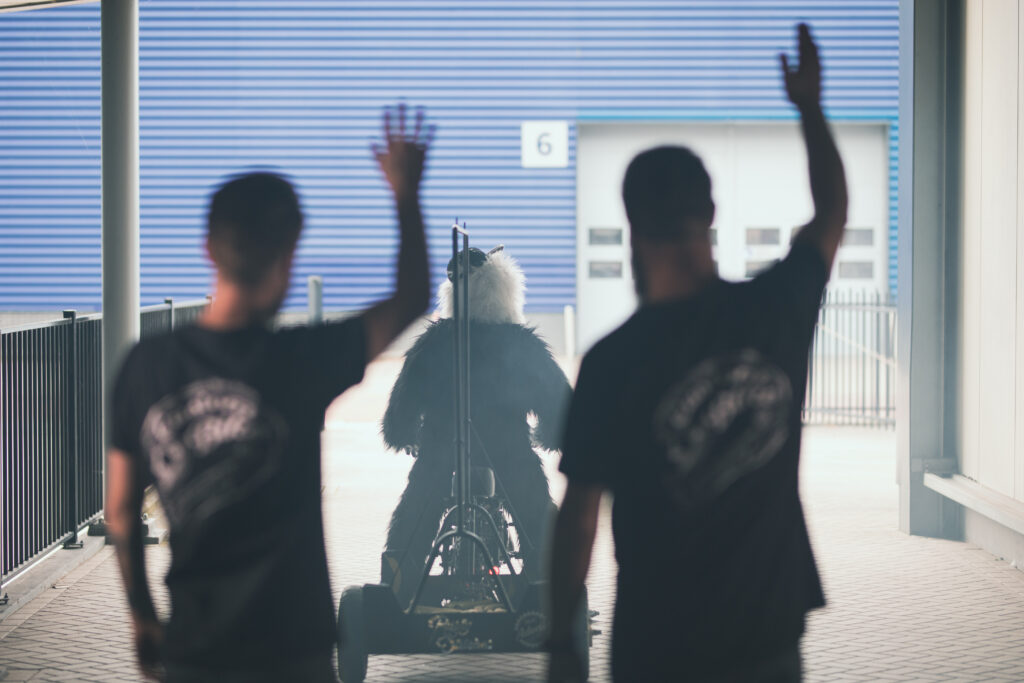 Share This Story, Choose Your Platform!
Tags