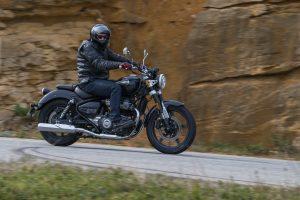 Back home in Amsterdam, we just had the first ride of the year cut short due to rain, really cold rain that is…
So, when I got invited to test the new Royal Enfield (RE) Super Meteor in the South of France, 'yes please' was the only possible answer!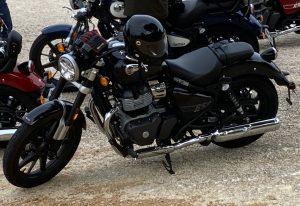 Our hosts Motomondo and Sima had prepared a bunch of brand-new bikes for us to ride in Marseille, most of them with 10km or less on the clocks. So careful with the tyres on the first kilometers! Especially as we had some rain in the early morning, fortunately the only rain we've seen that day….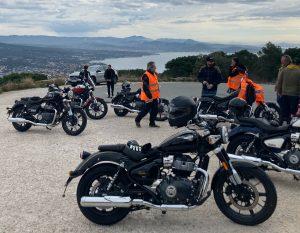 The RE Super Meteor is a retro cruiser – with all the cruiser characteristics you might expect – low seat, hourglass shape seen from above, large tank, forward controls, high and wide handlebars. You sit upright with your arms and legs stretched forward. Not really familiar for a sportsbike rider like myself, but I have to admit, it's comfortable and allows you to keep riding all day long!
The 648cc engine – the same basically as the engine on the Interceptor INT 650 or the Continental GT 650 bikes – is a 4 stroke, Air-Oil Cooled Parallel twin. A so-called 'mid-segment' bike, not as big – or intimidating if you prefer :-) –  as your typical Harley or Indian cruiser. But plenty of 'oomph': 47 horsepower, accelerates quite quickly, lots of torque with 80% of the power delivered below 3.000rpm, and a very steady and comfortable ride at highway speeds.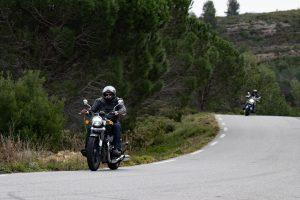 As mentioned above, I'm a sportsbike rider, so especially cornering had a bit of a learning curve for me. Having the peg feelers scrape the asphalt in nearly every turn – most of them are 180 degrees on the fabulous 'Route des Crêtes' – was a bit scary at first. But you learn to lean less and not to worry too much about the scraping.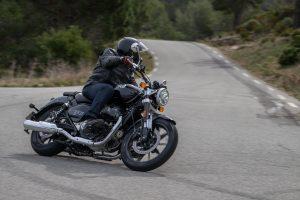 And then you're set – this is a bike that is very easy to ride. Smooth throttle, effortless shifting, good acceleration, more than adequate braking by the single disc brakes front and back. There even is ABS on board. Plus USD forks with a 120mm stroke, an RE first. The bike has a low center of gravity, feels quite stable on the straights and is easy to steer into the corners. This can be attributed to the 16" rear wheel and the 19" front wheel in true cruiser style, but, according to RE, is certainly also courtesy of the new frame and swingarm which have been developed in conjunction with Harris Performance in the UK.
When you first sit on the Super Meteor, it feels higher than you'd expect standing next to it. But that height works – for me, I'm of average height at 1m75, but also for the more 'vertically challenged' colleagues on the ride, and even for those exceptionally tall Dutch guys that were riding with us.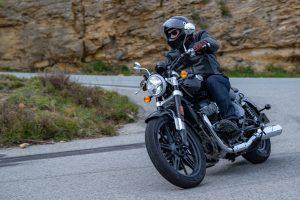 Moving to the looks then: the Super Meteor is unmistakably a cruiser with its narrow waist and big teardrop-shaped tank. It also reflects the RE heritage quite well, for example by its chrome tank badges with historic RE logo.
The Super Meteor 650 is available in five colors: black, blue, dark green, grey and dark red. There is a minor price difference between the single color painted 'Astral' models and the two-tone 'Interstellar' models.
However, what really struck me is that for €300 more, you get the Super Meteor 650 Tourer, which comes with a nice luxury one-piece touring seat with embroidered logo, windscreen, and a pillion backrest. That seat does not only look great, but is a bit softer and more comfortable as well. So even if you're not into backrests or windscreens, I would still go for the Tourer model and just store the windscreen and backrest.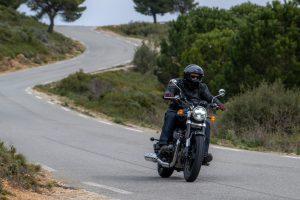 All in all, the RE Super Meteor was a blast to ride on the curvy roads of the Route des Crêtes. The only minor setback were the tyres, which were no match for the brakes and lacked some grip at an angle. So I would shell out for a pair of more grippy touring tyres pretty quickly I guess.
The RE Super Meteor is a very reasonably priced mid-segment bike with an engine that has proven its worth, and featuring high-end components such as ABS, upside-down front suspension, and LED lighting. Plus TBT (Turn By Turn) navigation, linking to your smartphone. We did not get to test this however, as we were just trying to keep up with Joel, RE's Marseille dealer, who clearly knows these roads very well…
So who's this bike for? Well, obviously you have to dig the cruiser style, but RE had some specific target groups in mind when they built this bike:
female riders, looking for a classic style and easy-to-ride bike
returning riders, looking for a classic-looking, dependable weekend toy
Royal Enfield afficionados who want an upgrade or more modern bike
first time buyers looking for a lot of value for money, a brand with history and an un-intimidating riding experience…
Prices vary in Europe due to different taxes for new motorbikes (still…), but range from €7.200 for the single-color Astral model, €7.400 for the two-tone Interstellar and €7.700 for the Tourer in Italy, to €9.499 for the Astral, €9.799 for the Interstellar and €9.999 for the Tourer in the Netherlands.
So go and try one out at your local RE dealer if you're interested…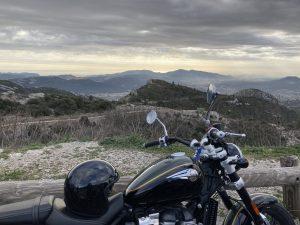 Share This Story, Choose Your Platform!
Tags