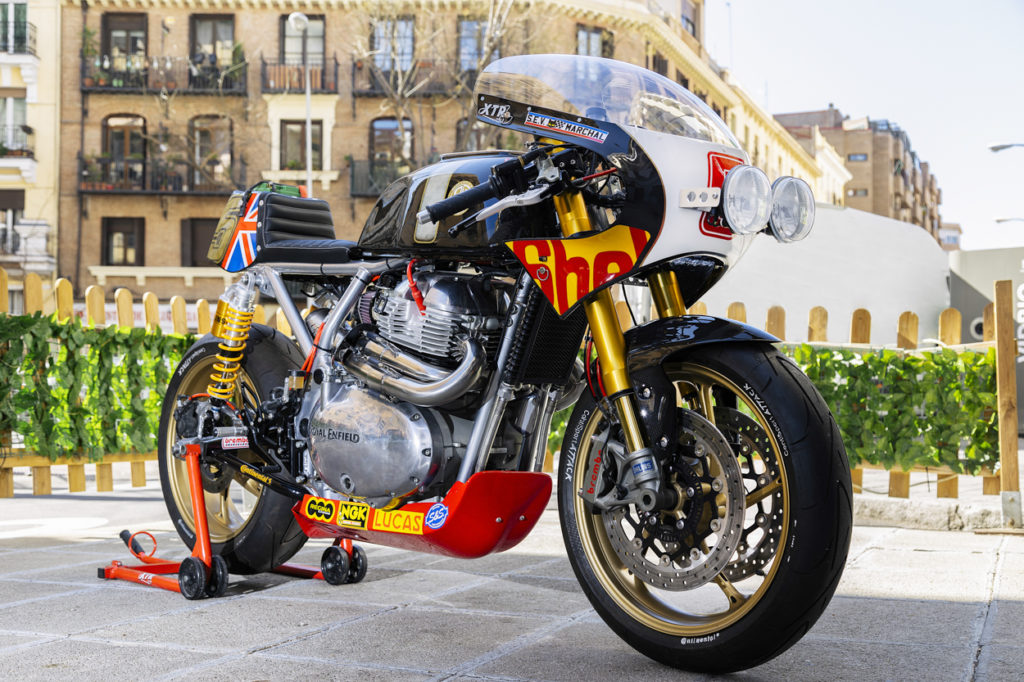 Royal Enfield
We've been reporting a lot on Royal Enfield lately and that's not a coincidence. The Indian manufacturer has kept the talks around the coffee corner fuelled for quite some time now. After their bombastic new models presentations during EICMA in 2021, we have been very eager to get our hands on a number of models. Just recently our senior editor Ron took a flight to the Provence region in Southern France for the European introduction of the all-new Royal Enfield Classic 350. While the rest of us had to suffer the full force of a winter storm, he was cruising along gently in sunny weather and not a cloud in the sky. Heck, I'll just go on record and admit my love for the brand, given the fact that I own an Interceptor 650 as well as a big-bored Classic 500 (now 545). I recently took my Interceptor for a dyno run and it showed a very healthy and very real 42hp and 57Nm at the rear wheel. Worth noting that the power curve was quite linear. I'll do a full long-term review on my own Interceptor in due time, in the meanwhile we have something else to show you, with the heavily modified Royal Enfield Continental GT 650 aptly names "Black Fury" by XTR.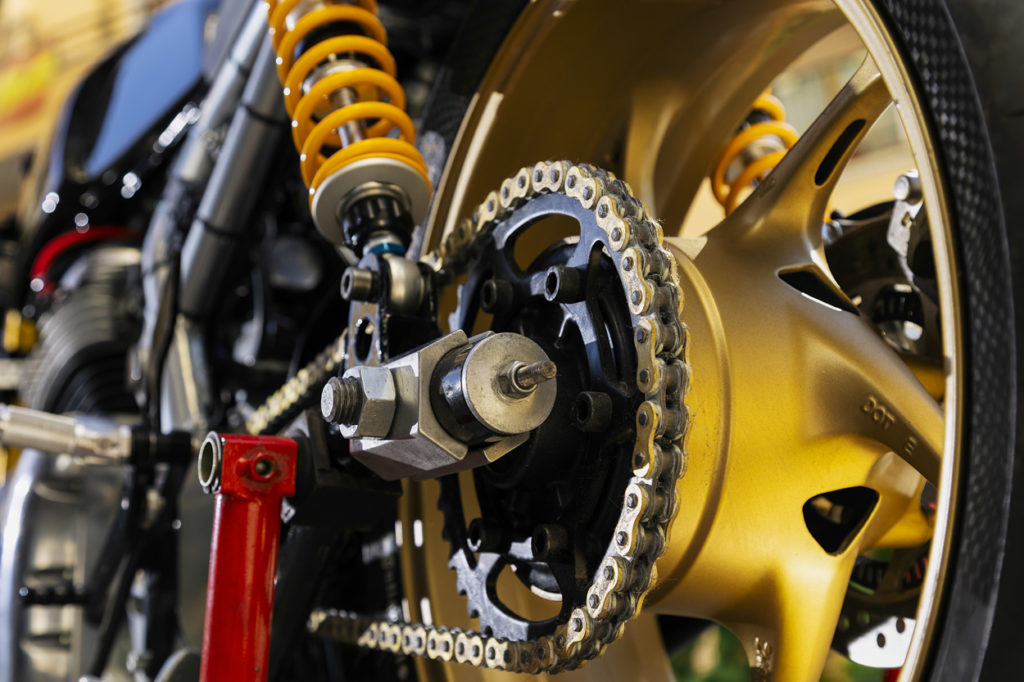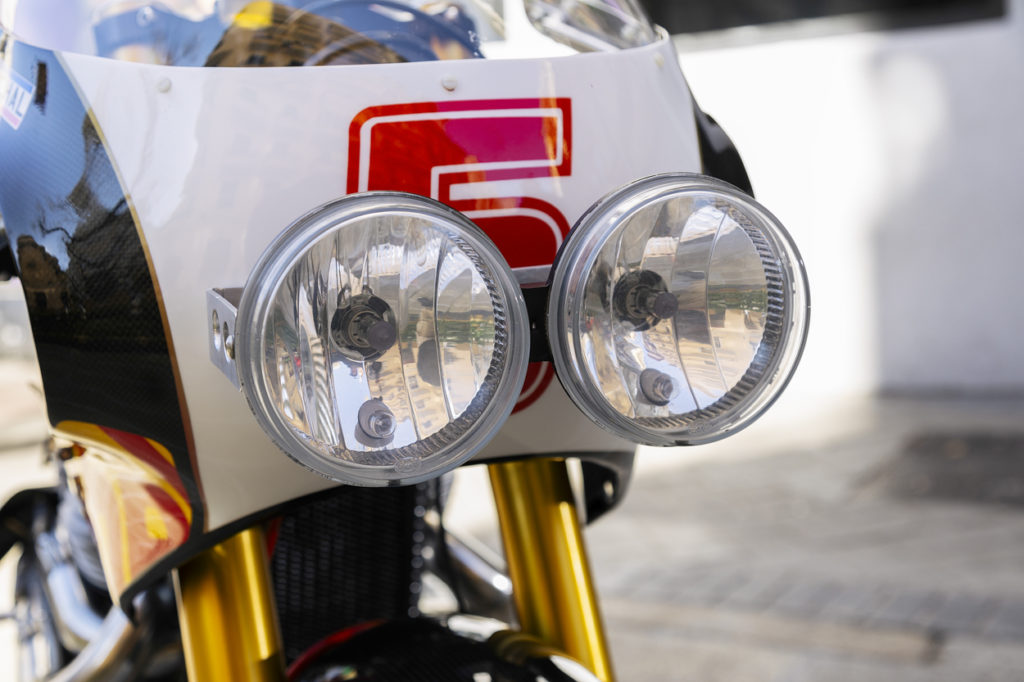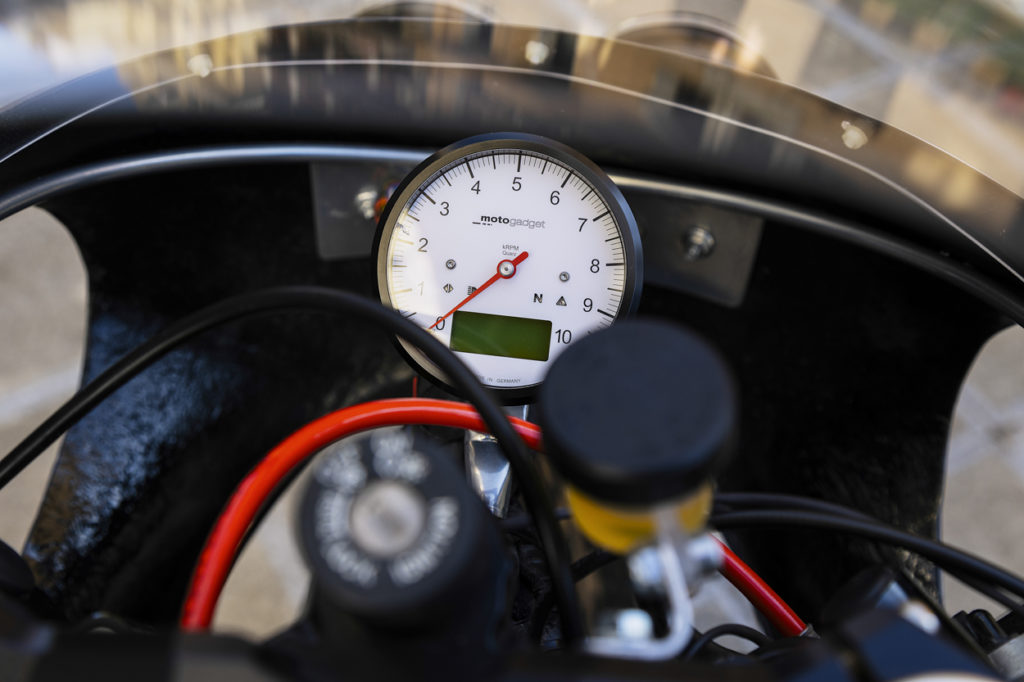 XTR Pepo
Then there is Pepo Rosell. If you don't know who that is, make sure to check out some of the articles we have written before. The Frenchman who has been living in Spain for a long time now, is known for his radical designs; a craftsman of the first-degree. Pepo maintains an almost scientific approach to building motorcycles. And when we say build, we mean BUILD, as in, from the ground up. Pepo has a passion for racing too, so it comes as no surprise that most of his builds are race inspired, often replicas of real racing machines.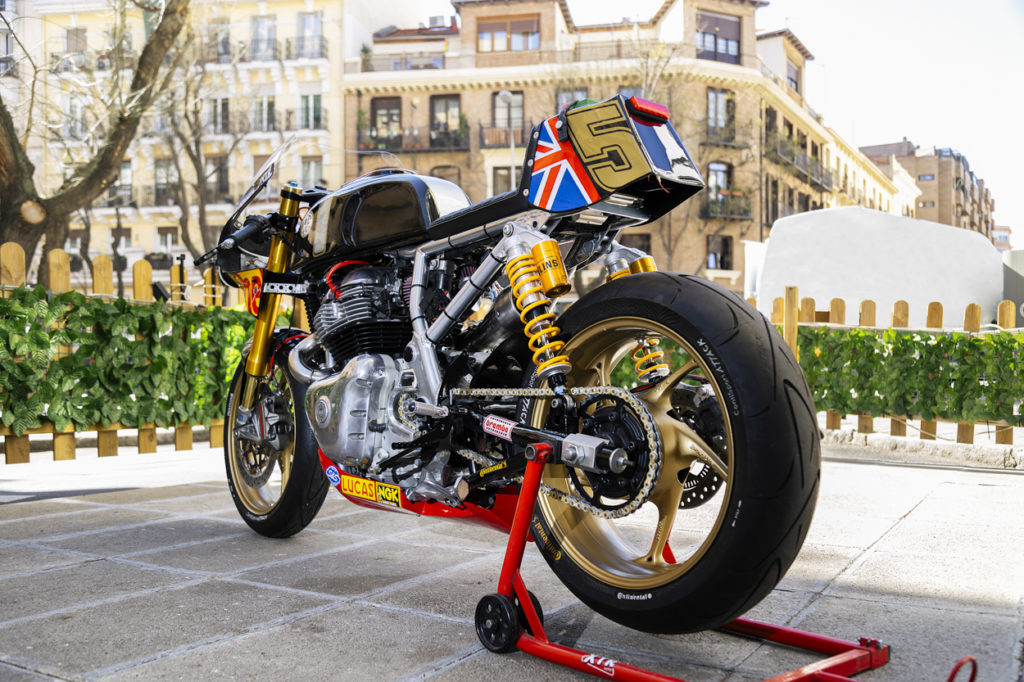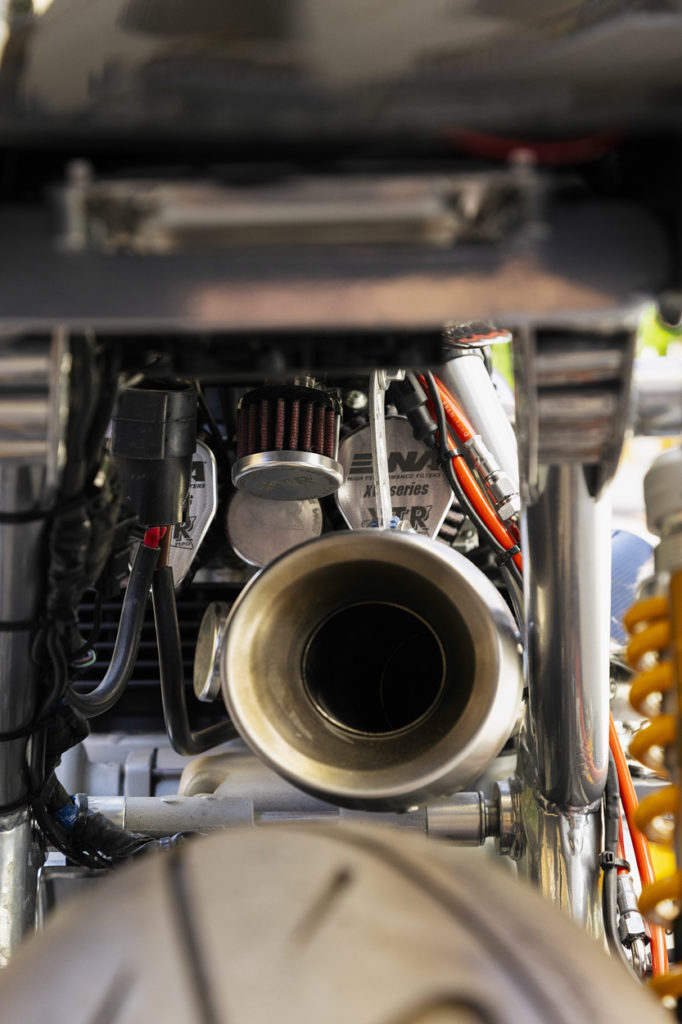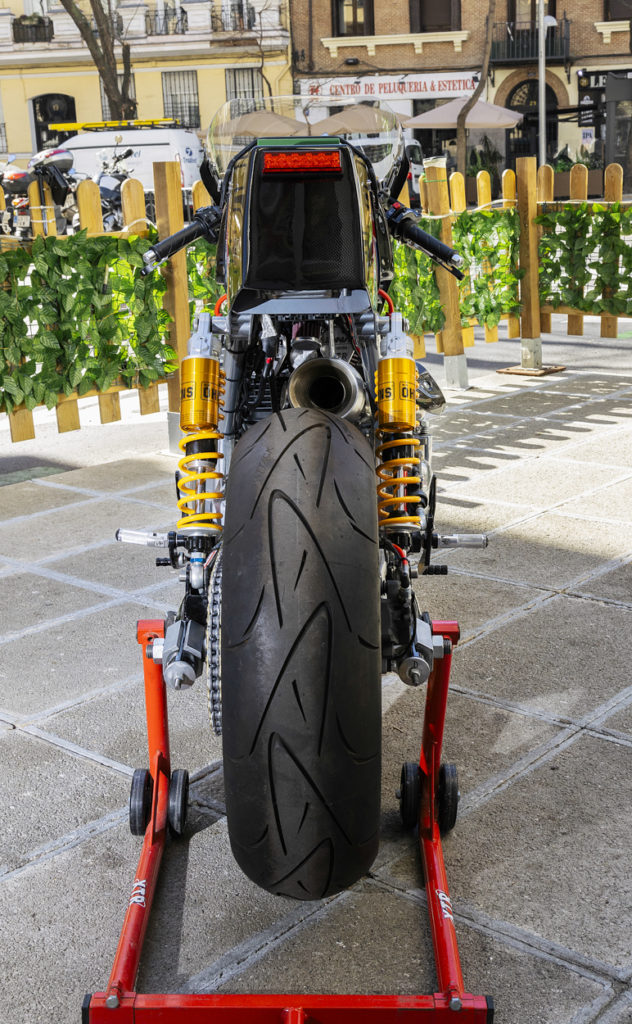 Performance mods – Body
Let's get down to business. Everything about this Continental GT breathes RACING. To begin with the most rigorous mod that Pepo performed on this build, it has to be the modified frame. Harris Performance did an outstanding job designing the original frame. Pepo must have thought differently and reduced weight and added stiffness to the already pretty-good frame. The rear swing arm is a modified unit from a Ducati Pantah(!). The front and rear wheels come off a Triumph Daytona 675R and is a lot lighter than the original wire-spoke wheels that come stock on the GT 650. The brakes are BREMBO – Kevlar brake lines anyone?
The front and rear suspension are OHLINS fully adjustable units. It goes without saying that all brackets have been custom CNC'd from billet aluminium by Pepo, including the triple clamp. A set of clip-ons and DOMINO controls & grips ensure the right kind of control. There are various carbon fiber bits and pieces used such as the custom fuel tank with endurance style filler cap, carbon fiber front fairing, rear mudguard, and the one-off seat. Carbon fiber is great for weight saving. The FULBAT Lithium battery helps with that too, weighing less than 700 grams it's literally a lightweight.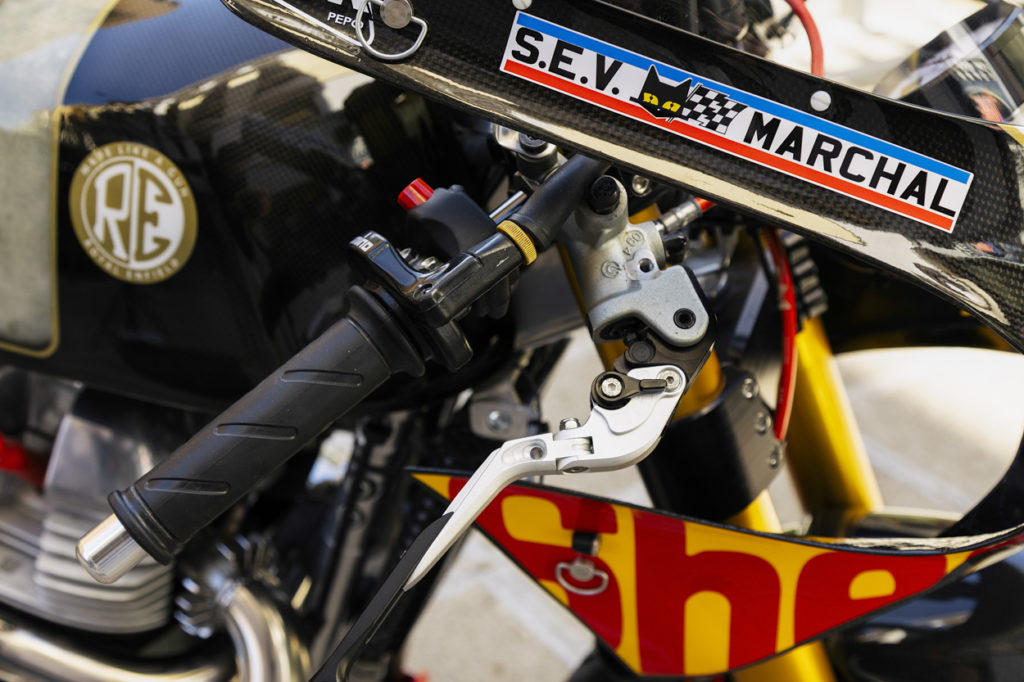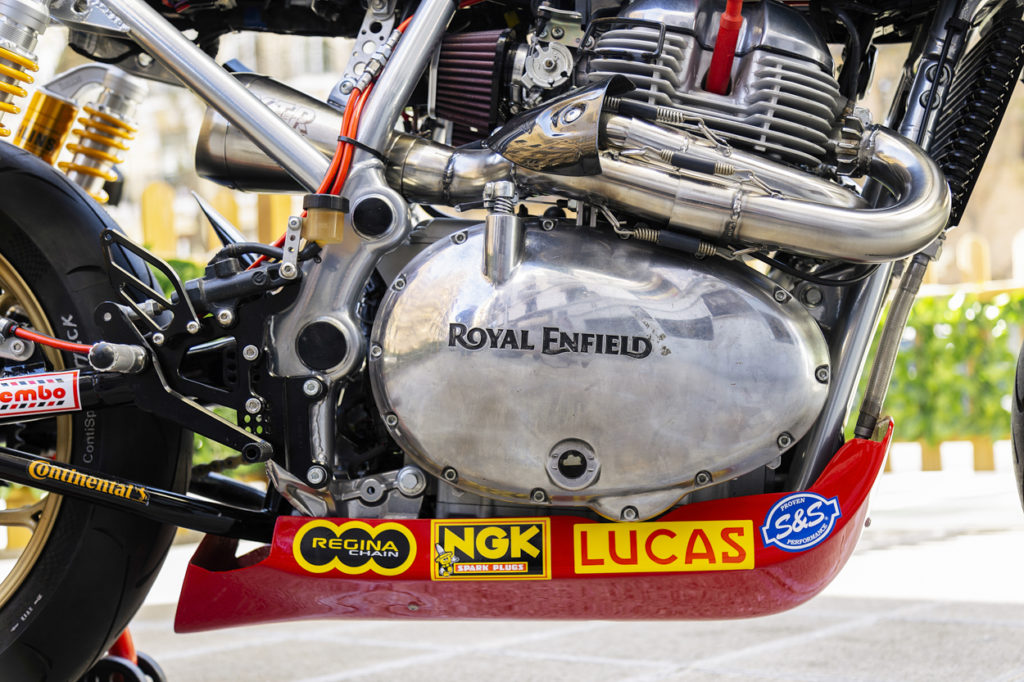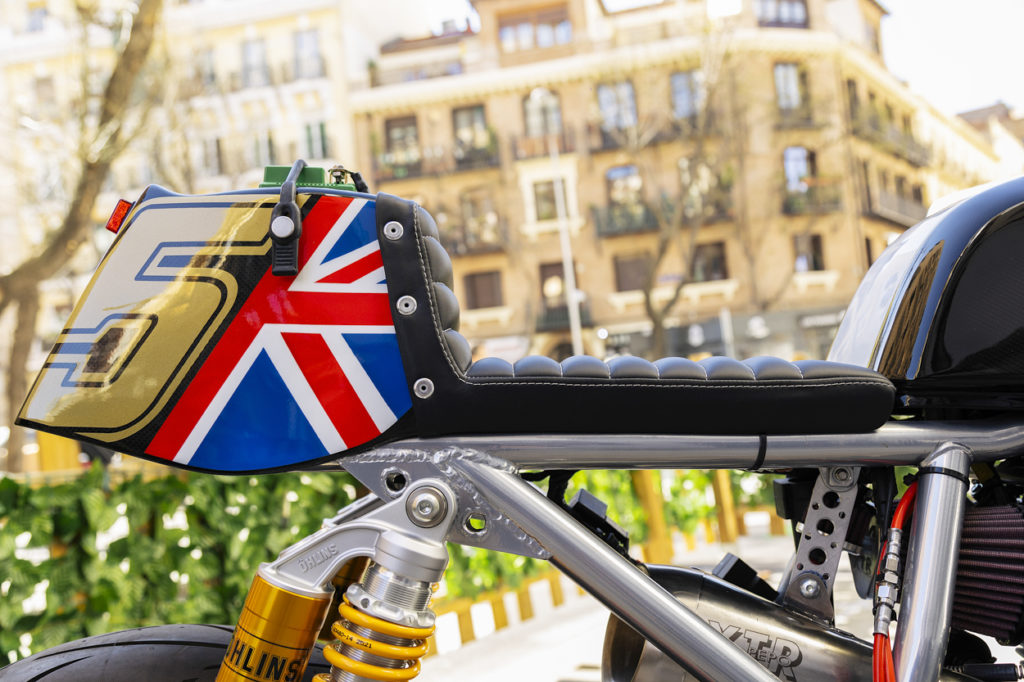 Performance mods – Engine
XTR went all out with the engine mods, without sacrificing reliability. The parts that have been used are tried and tested. There are the obligatory DNA pod filters, custom exhaust system curtesy of Wolfman and Spark, and high-performance HT leads. What's more interesting are the S&S performance cams and the high compression pistons. Combined with a custom fuel map with the help of a Power Commander, we wouldn't be surprised if this Royal Enfield produced more than 60hp at the rear wheel. Combine that with the ridiculous weight savings on the body and unsprung weight, and sticky Continental SPORT ATTACK rubbers, we are convinced that Pepo turned this easy-going Continental GT into a fire-breathing, hell-raising, racing machine!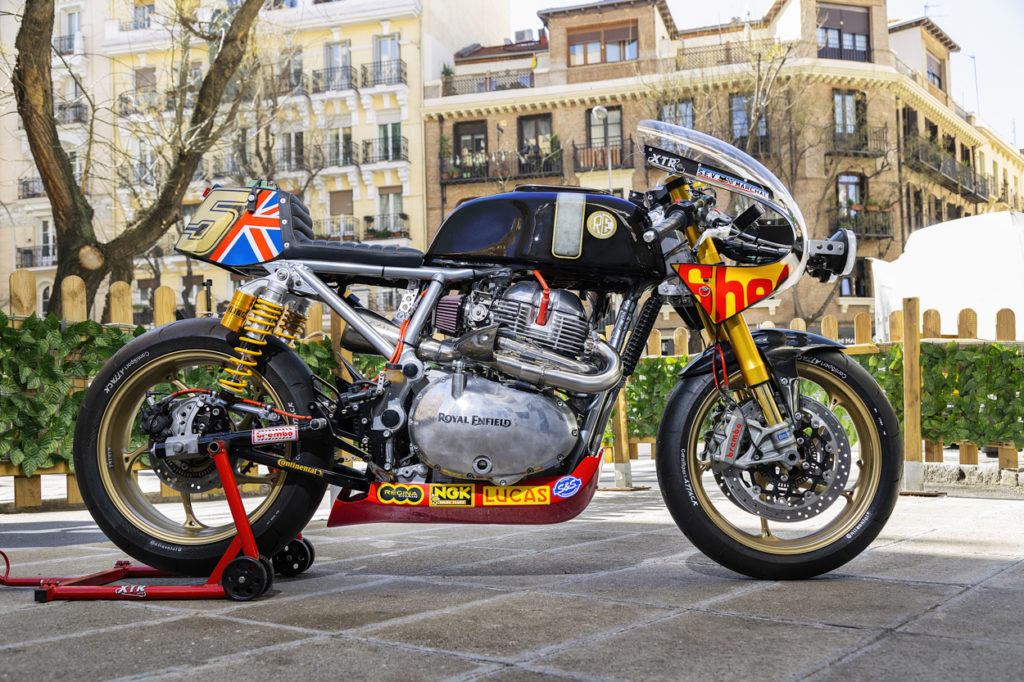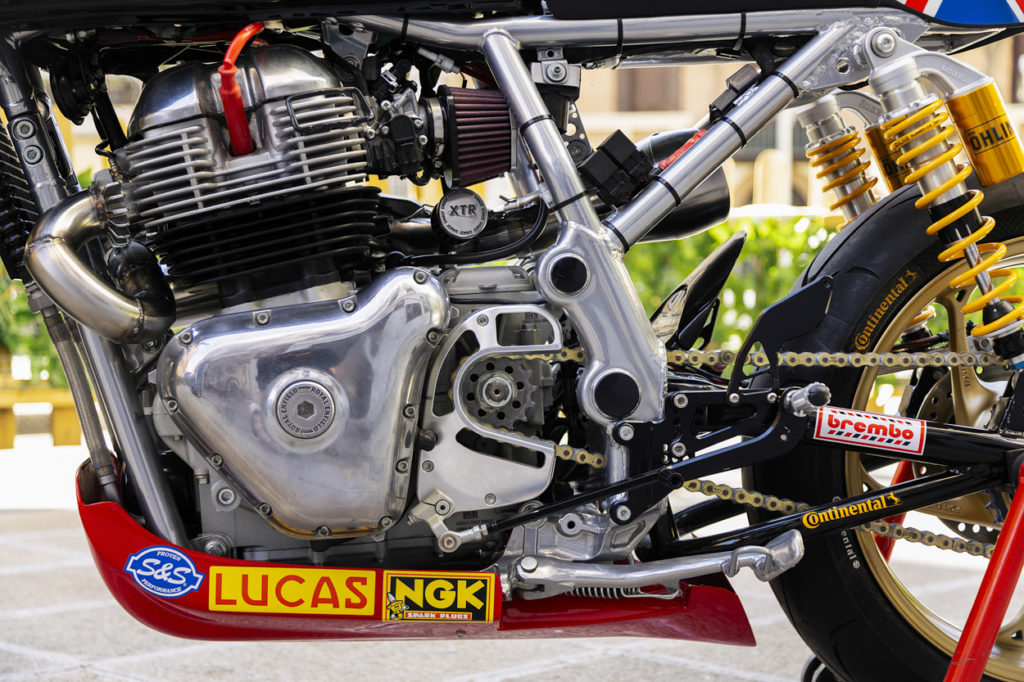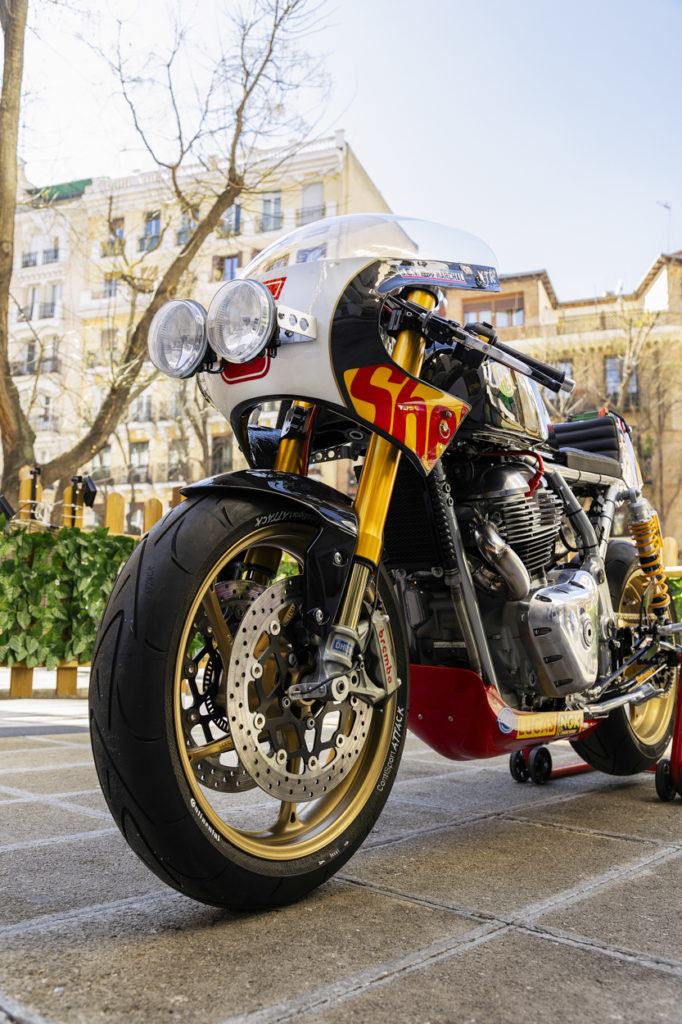 Finishing touches
What we love the most about XTR machines is the level of detail each build is delivered with. Whether it's the machines rear set, double headlight with external brackets, LED indicators, machined levers or unique paint-scheme (by ARTENRUTA Painting), each bike looks like it's doing a 100 mph at standstill. There is no doubt that Pepo has racing fuel going through his veins and for that we salute him.
PICTURES by SERGIO CARDEÑA
Builder details:
XTR Pepo
Website
Instagram
Facebook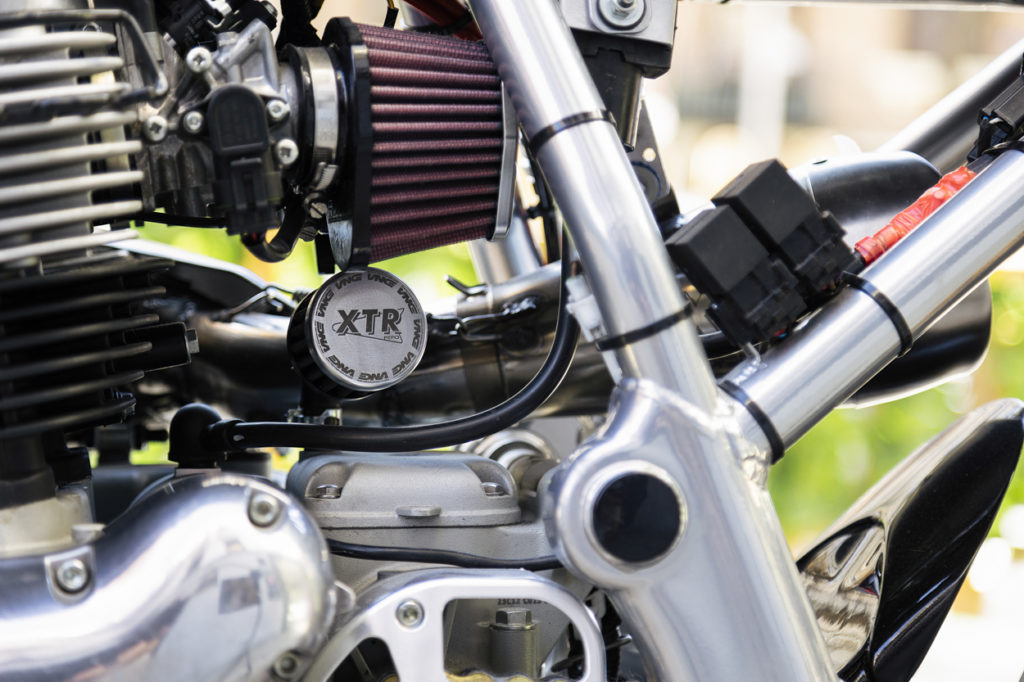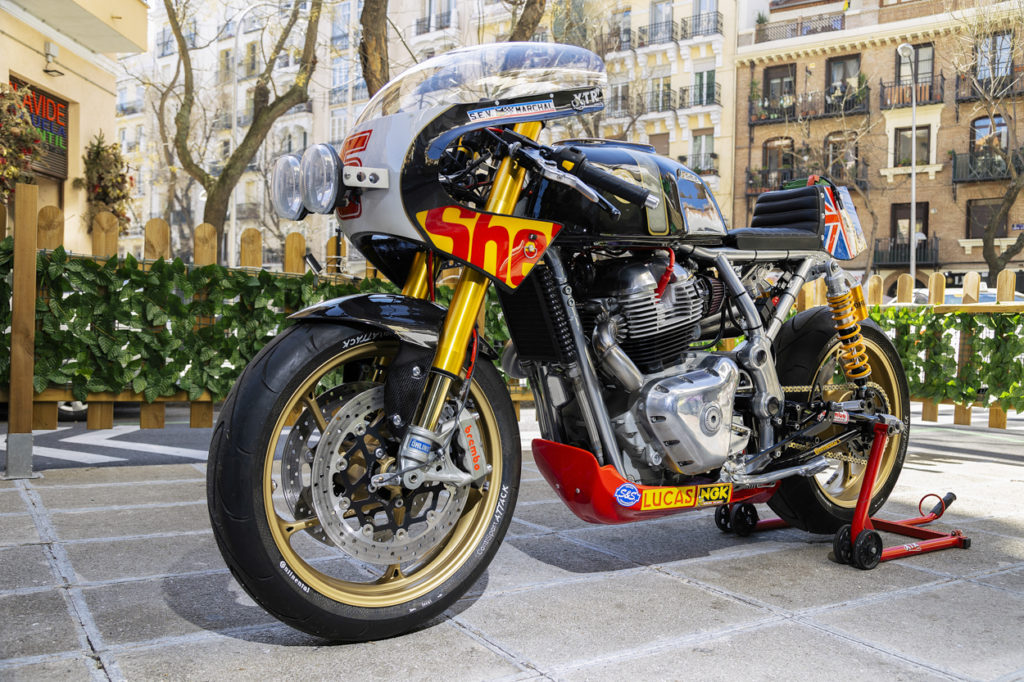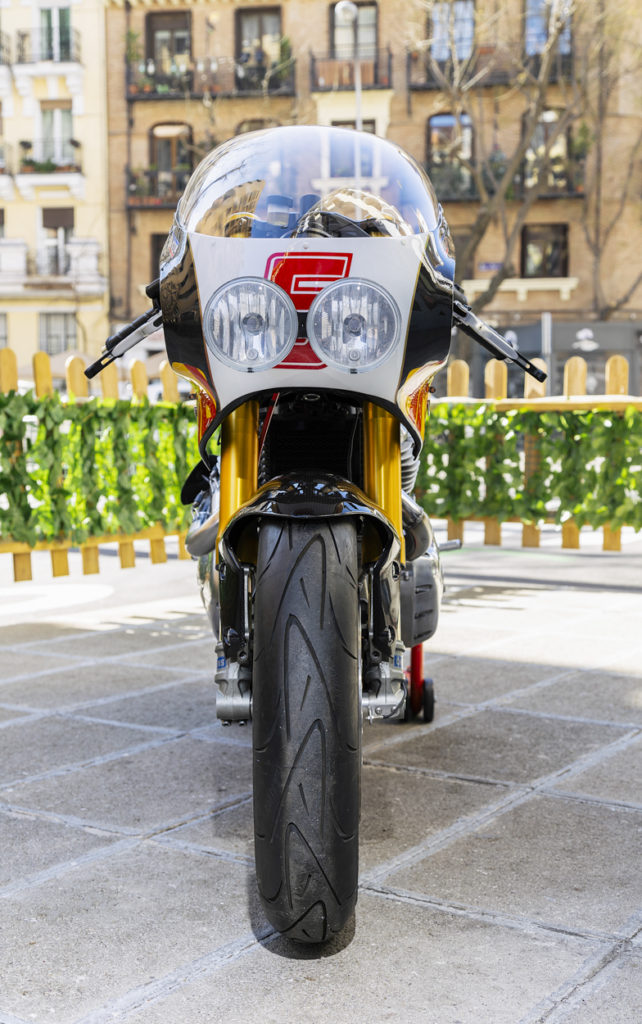 Share This Story, Choose Your Platform!
Tags