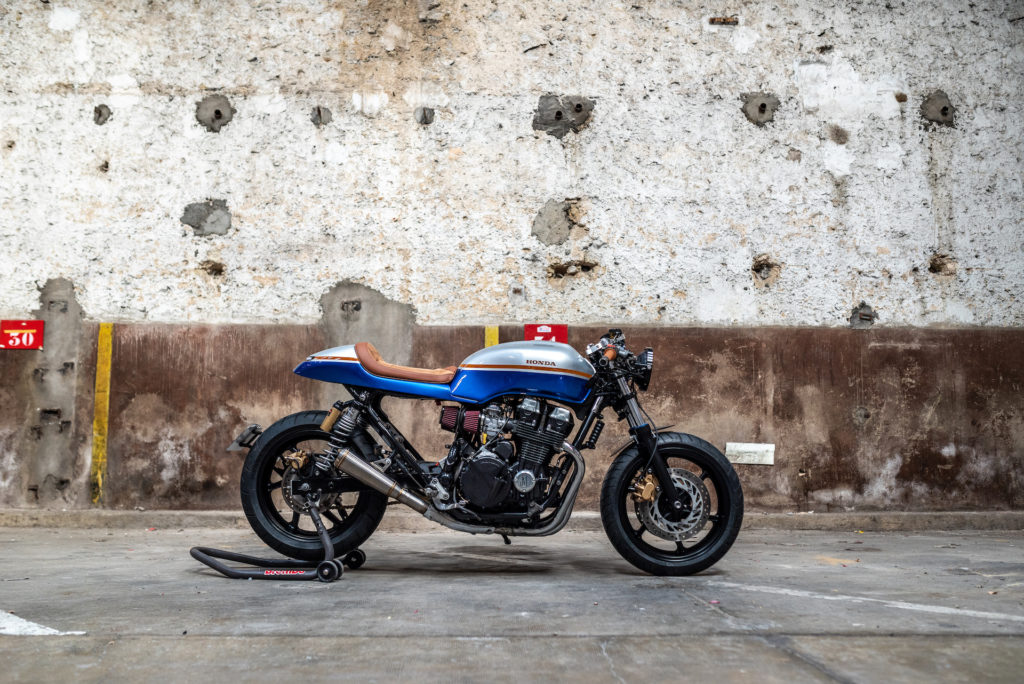 When I was 18 years old, many many years ago, I saw a Honda CB350F outside a club in Amsterdam. It looked dirty, had chrome wire spoked wheels, a little café racer seat, clubman style handle bar, no mirrors or indicators, no fenders, and a single gauge which was the tachometer. Oh, and a beautiful 4-1 Marshall exhaust system. I remember the guy who owned it, walking out of the club with his leather jacket. He put the key in the ignition, got on the foot pegs, and with one firm kick he started the little Honda up. Some smoke and noise caused a dramatic effect. When he took off, the Honda sputtered, but as he accelerated, the howl the bike made was magnificent! This was my first encounter that I remember, with a café racer. It is safe to say that for this reason, Honda café racers hold a special place in my heart.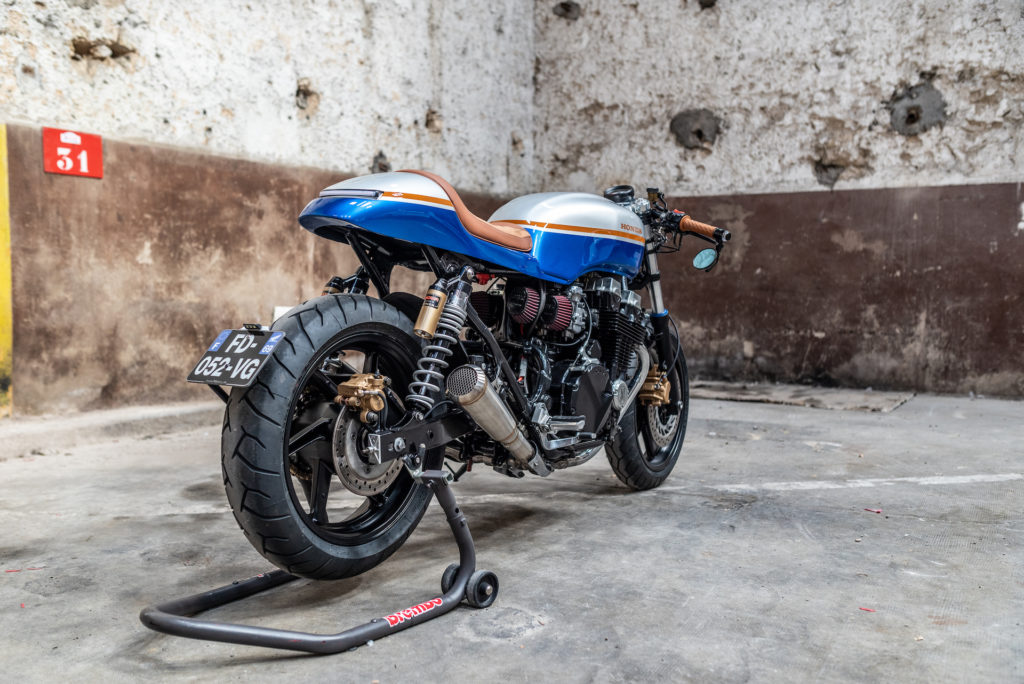 Lately we have been seeing a trend in the café racer scene. More and more builders are starting to look at the venerable Honda CB 750 to use as a base bike. We think that this could be the revival of the Honda café racers and we are digging it! Don't get me wrong, we love seeing Triumphs, BMW's and Moto Guzzi's being chopped and rebuilt into tasty café racers and scramblers. But there is something about the shape and style of a JDM inline-four that catches our interest. After all, they did deliver super-bike performance for moped prices back in the day.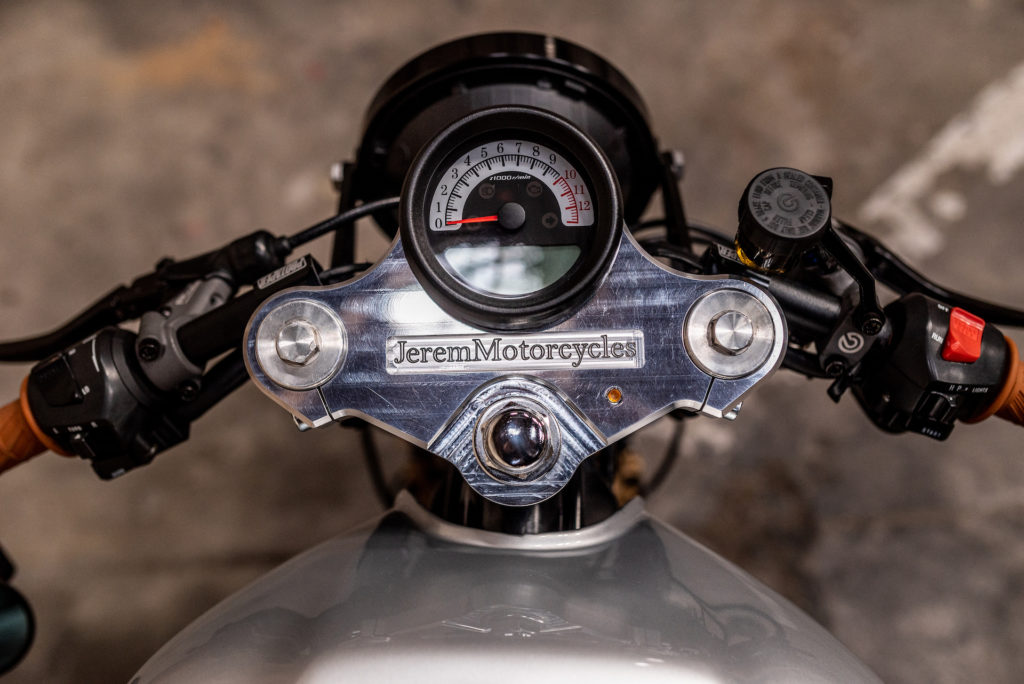 You may remember the name Jeremy Duchampt from some time ago. The Frenchman is responsible for two Ducati's and a Yamaha TR-1 that we featured here on BikeBrewers not so long ago. When we received a message from the main man behind Jerem Motorcycles that he had built a Honda CB 750 Rothmans café racer, we got warm and fuzzy feelings in our bellies; we knew it had to be good! Oh boy were we in for a treat. This Honda is so elegant, the proportions are so well-balanced, it looks like the CB is doing 100 mph at stand still!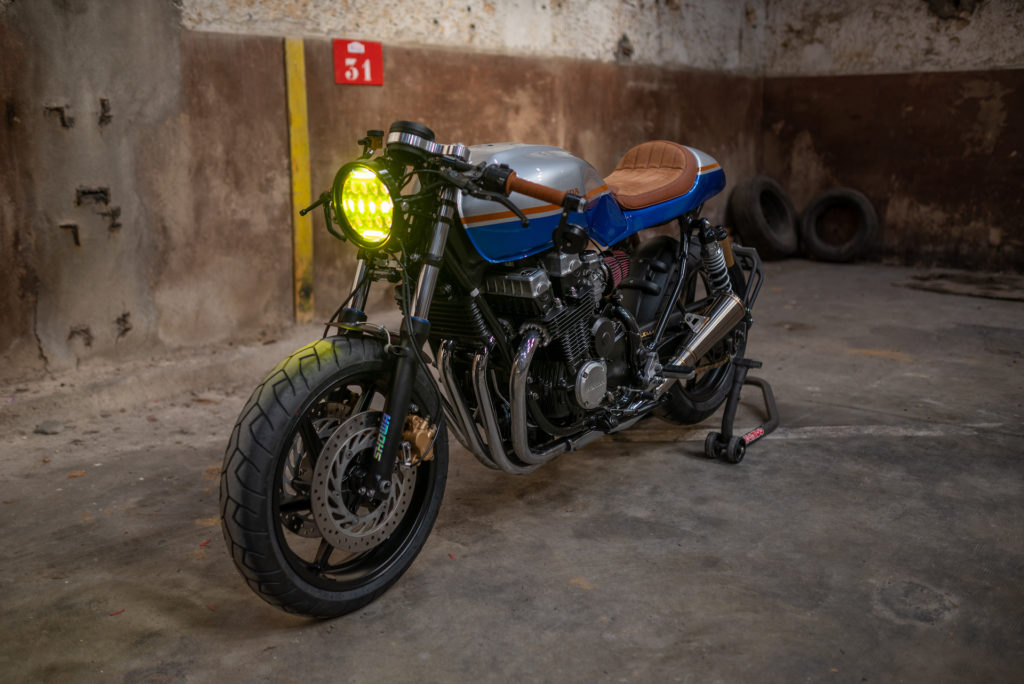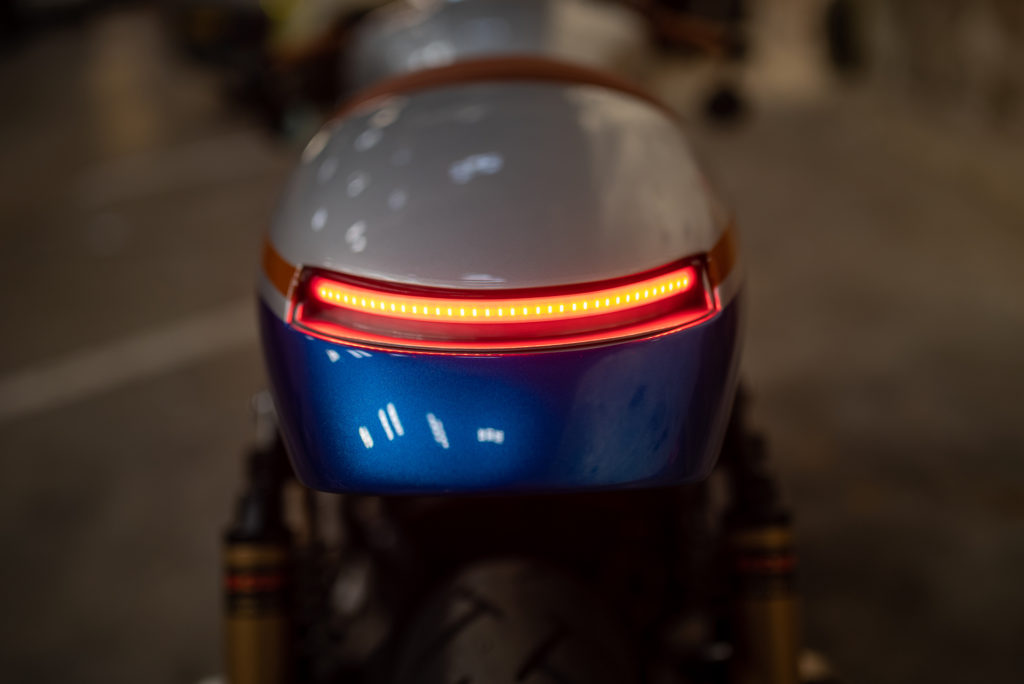 The foundation of this project is a Honda CB 750 F2, as it is officially called. A model which was produced by Honda from 1992 all the way up to 2007(!). Honda's R&D department must have been very pleased with this, no doubt. On paper, the CB 750 produced around 75 hp and 65 Nm of torque, with a claimed weight of around 210 kg. No mind boggling specs, but there is more to it. The Seven Fifty stands out in it's a simplicity, reliability, and overall reputation of being bulletproof.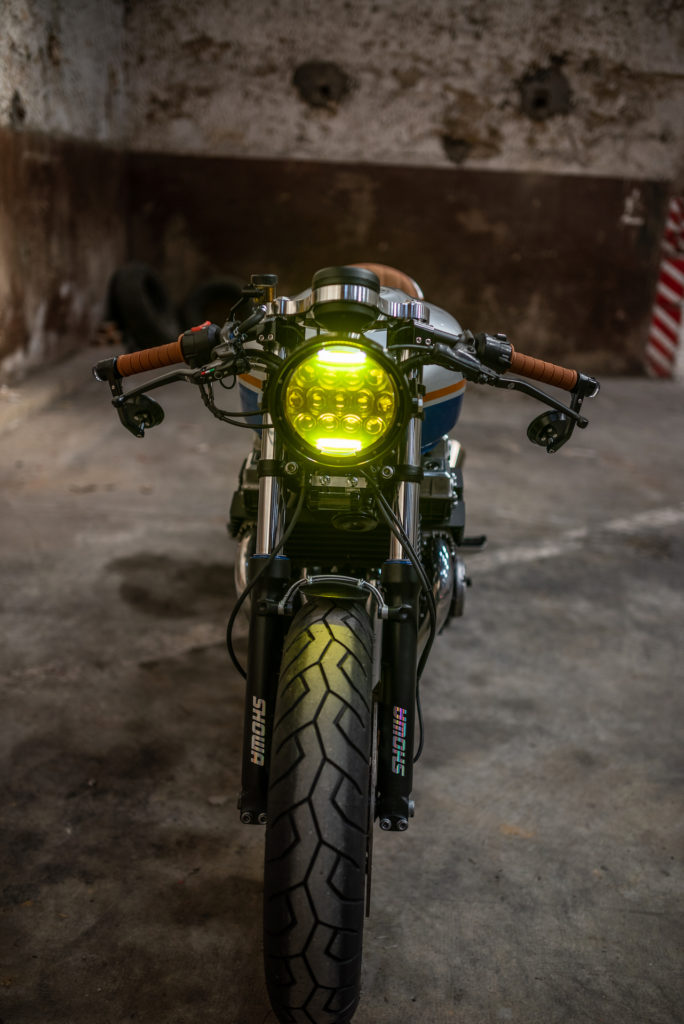 What Jeremy did to this bike is extraordinary. The list of modifications is long, so here's a brief summary.
• Custom front fender
• Modified subframe
• Custom café racer leather and Alcantara seat with stitching (Irina: Point saddler 34)
• Custom made cowl with integrated LED taillight (FFPro Design)
• LED bar-end indicators
• Bar-end mirrors
• LED vintage-style, round yellow headlight with custom brackets
• Keyless ignition (KAIROS RFID)
• Vintage speedo (FIVEACES)
• Laser-cut top triple clamp yoke (USVracing)
• Clip-ons with brown handlebar grips
• BREMBO brake master cylinder and levers
• Powder coated rims
• Modified rear shock absorber
• Air box removed to with DNA pod filters
• Blacked out engine, frame and swingarm
• Custom 4-in-1 exhaust
• Carb tuning
• Custom painting Rothmans Style (FFPro Design)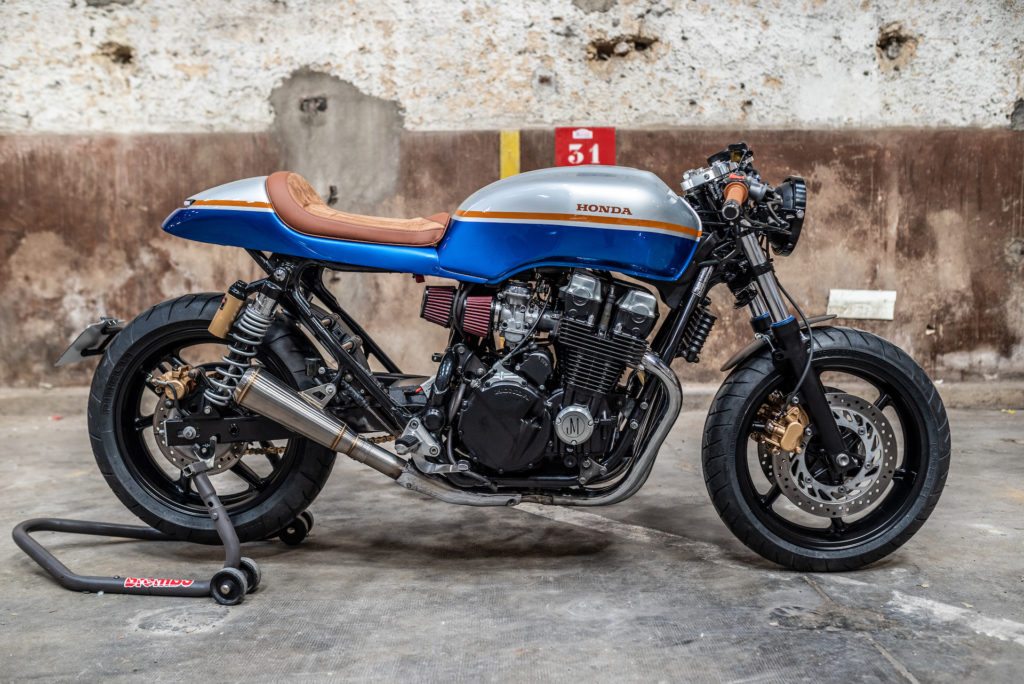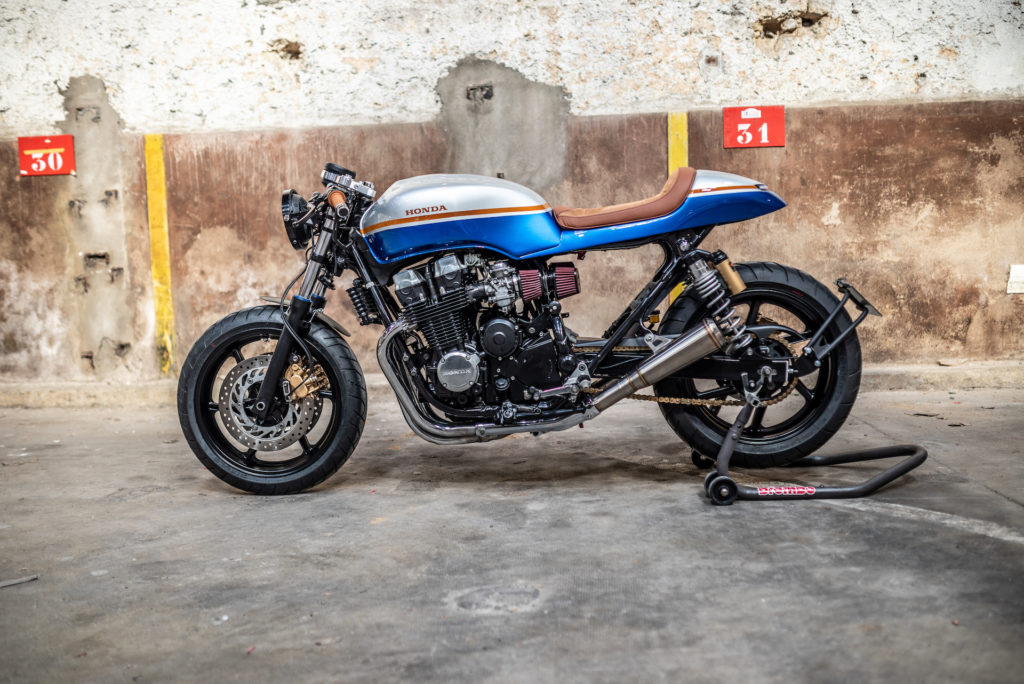 The way this café racer turned out is mesmerising. Growing up in the 1980s and 1990s, cigarette companies often sponsored race teams, one of which was Honda. Who remembers the NSR250, NSR500 or RC30? This Rothmans inspired design brings back memories of those days, where small displacement, high revving engines dominated the tracks and the streets. It's not a secret that we would love to get our hands on this Honda. For now, we have to do with the pictures.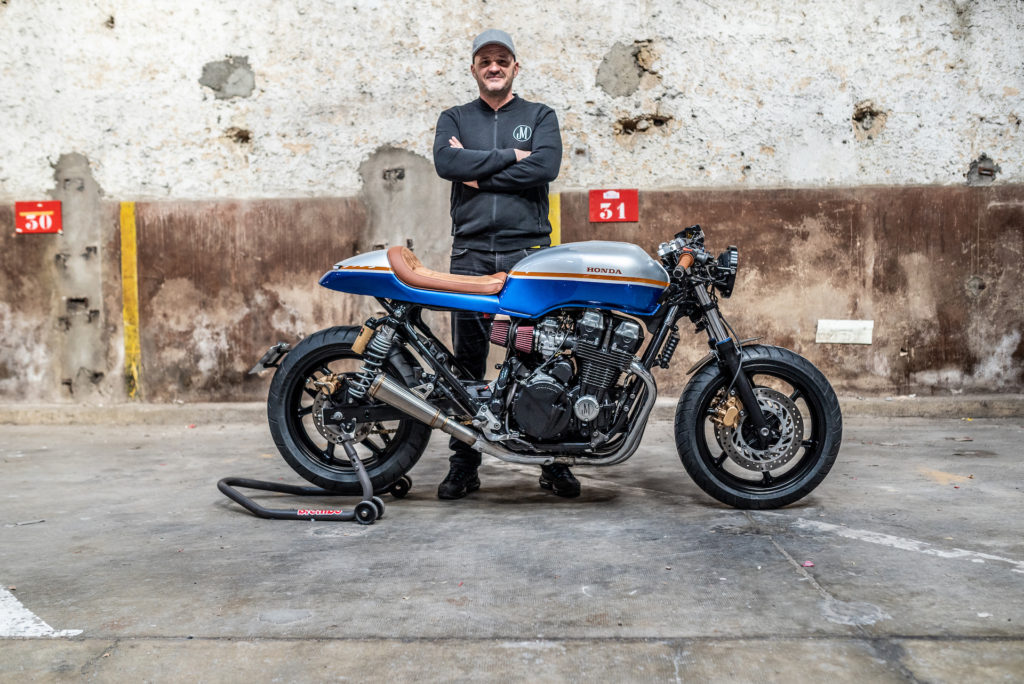 Share This Story, Choose Your Platform!
Tags