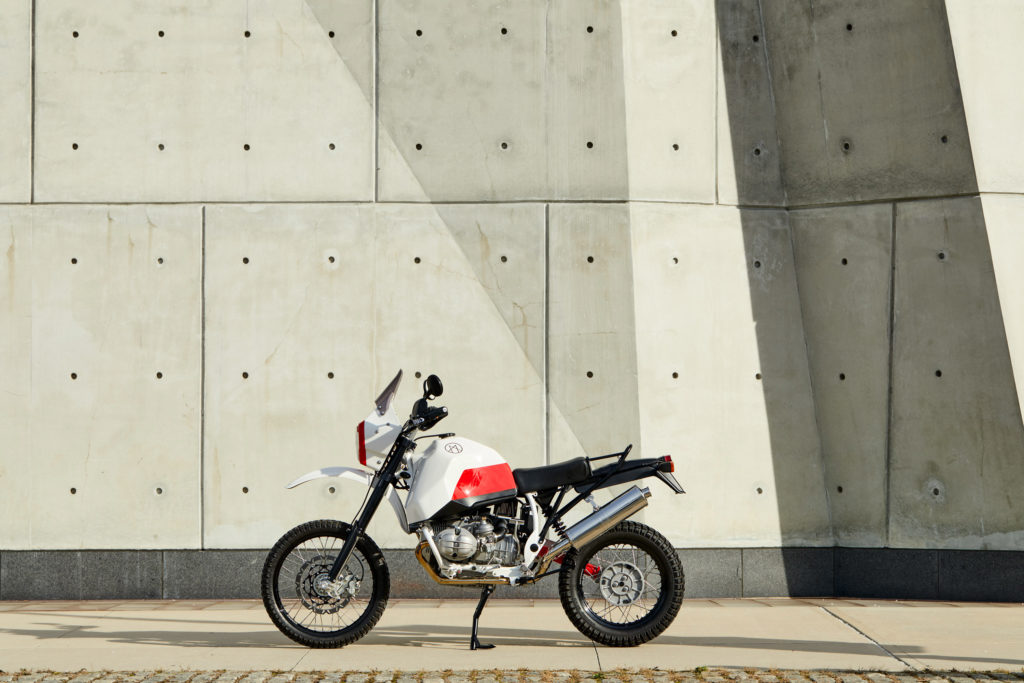 Two Wheels South
If the name Matias Corea sounds familiar to your ears, it may be because you have heard about his story, or perhaps even read his book "Two Wheels South". In 2016, Matias travelled 20,000 miles from New York to Ushuaia on his trusty 1983 BMW R80 G/S. This was an emotional journey for Matias, that led to many revelations. We are not going to spoil the contents of his journey yet; a review on Matias's book will follow soon. However, we are going to have a closer look at Matias's love for BMW airheads.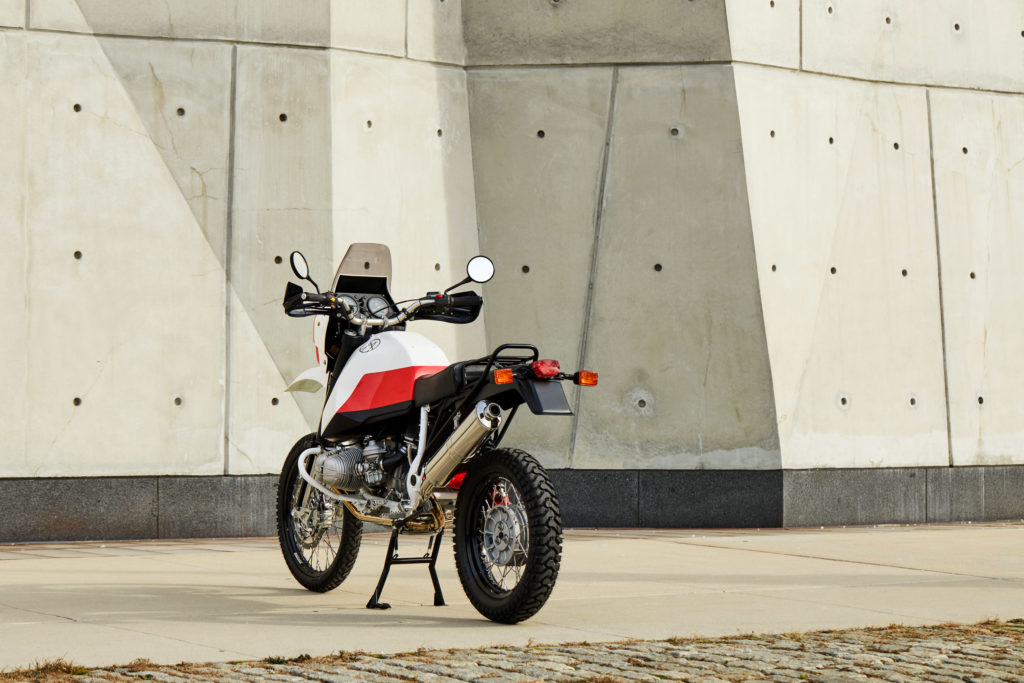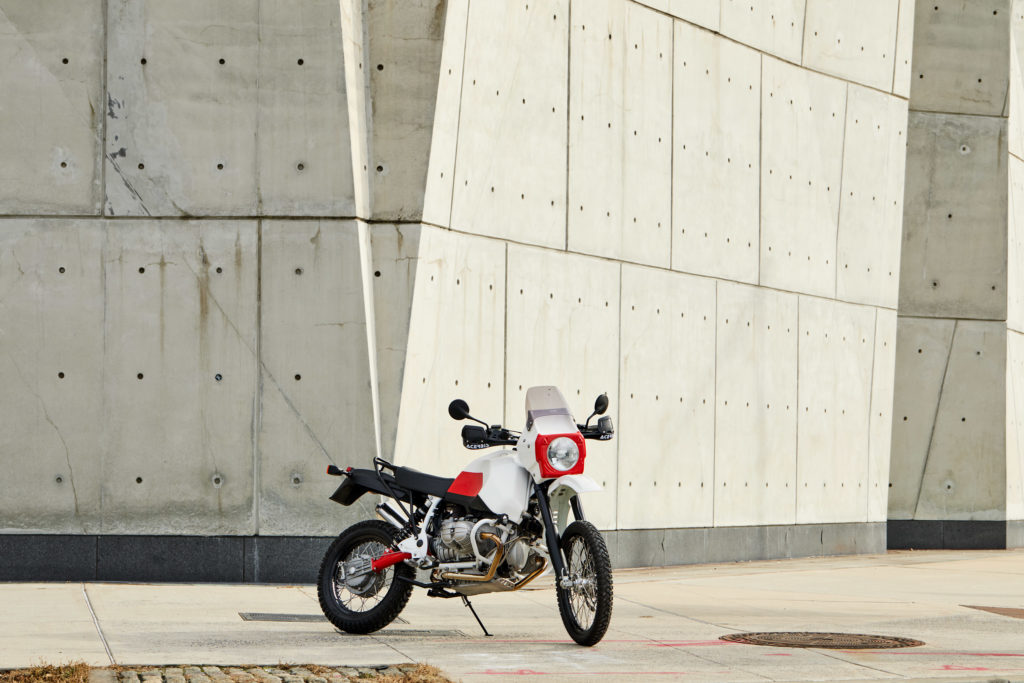 Overlander
After traveling 22,000 miles on his stock R80 G/S, Matias came up with the idea to build the ultimate adventure bike for a trip he has been dreaming about for a long time. He considers his Pan-American journey a great learning experience, and knew exactly what worked well on the BMW and what didn't. Matias wanted to build the ultimate overland machine, based around a BMW airhead, for obvious reasons. He also knew that slapping on a larger fuel tank and a pannier rack weren't going to cut it. It needed to be perfect.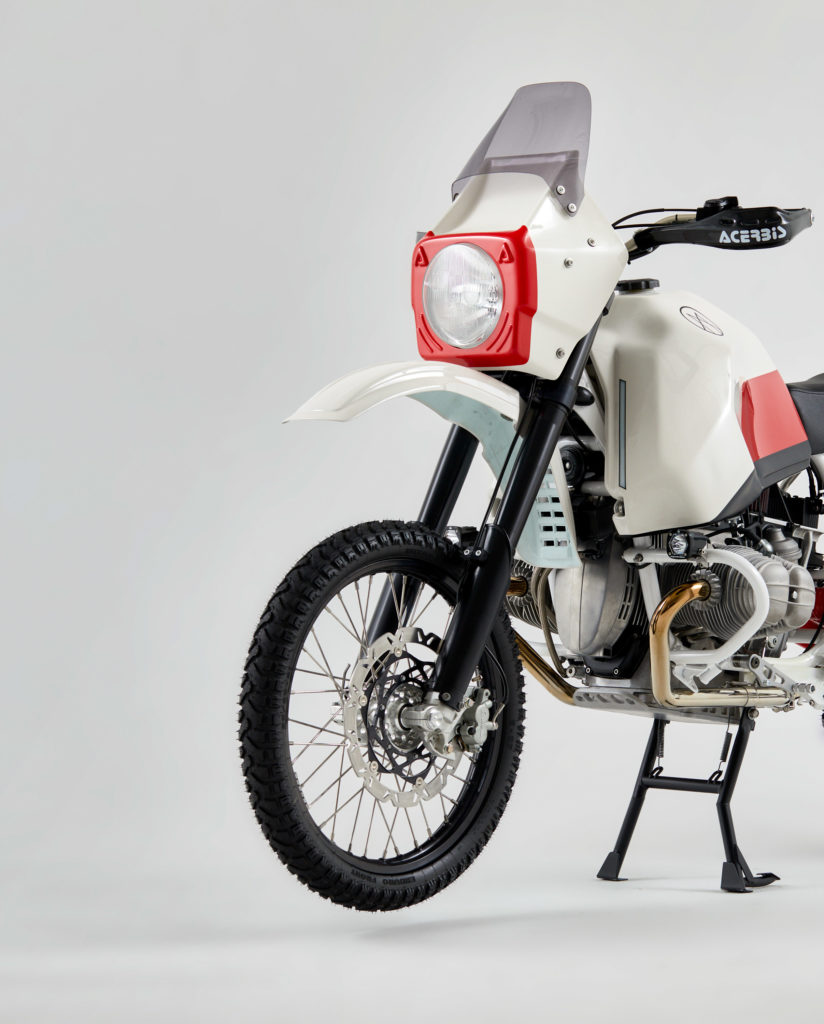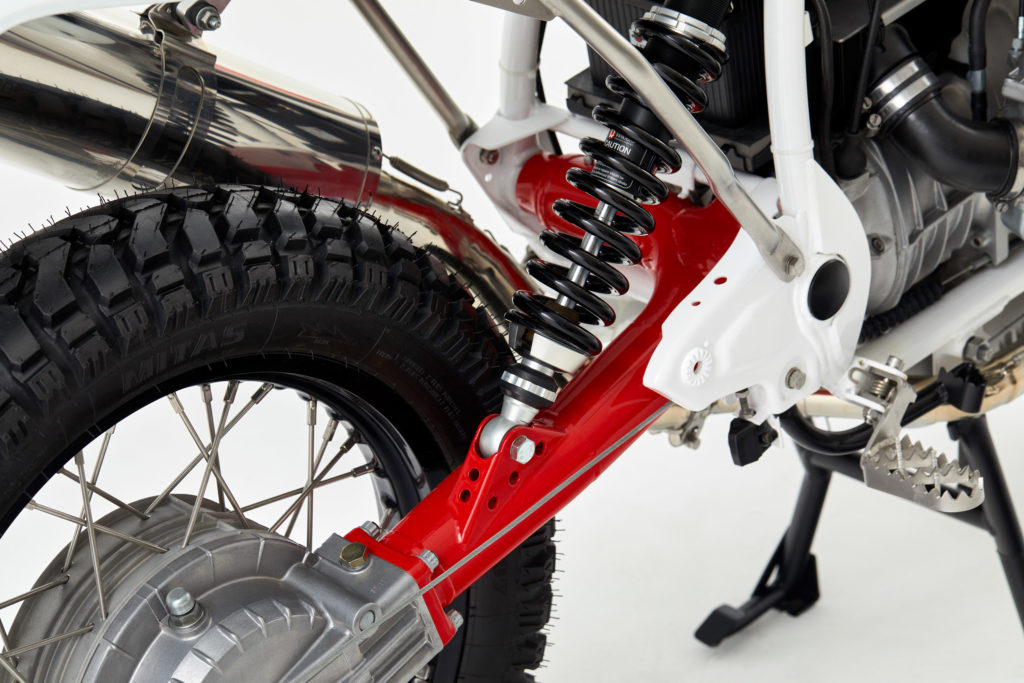 BMW R80ST
So why not start with the R80 G/S that was already at hand? The answer is simple: the G/S now holds a sentimental value. Modifying it to something else would be too painful. So a different bike was going to be needed. He managed to find a 1985 BMW R80 ST, which in many ways is nearly identical to the R80 G/S he did his trip on. Matias knew the R80 inside and out and felt confident in using it as a base bike. Being a perfectionist, Matias wanted to do as much of the work himself, including the welding, grinding, and electrics. A graphic designer by trade, Matias first started with a couple of sketches and drawings. Once he knew what look he wanted to go for, the project could commence.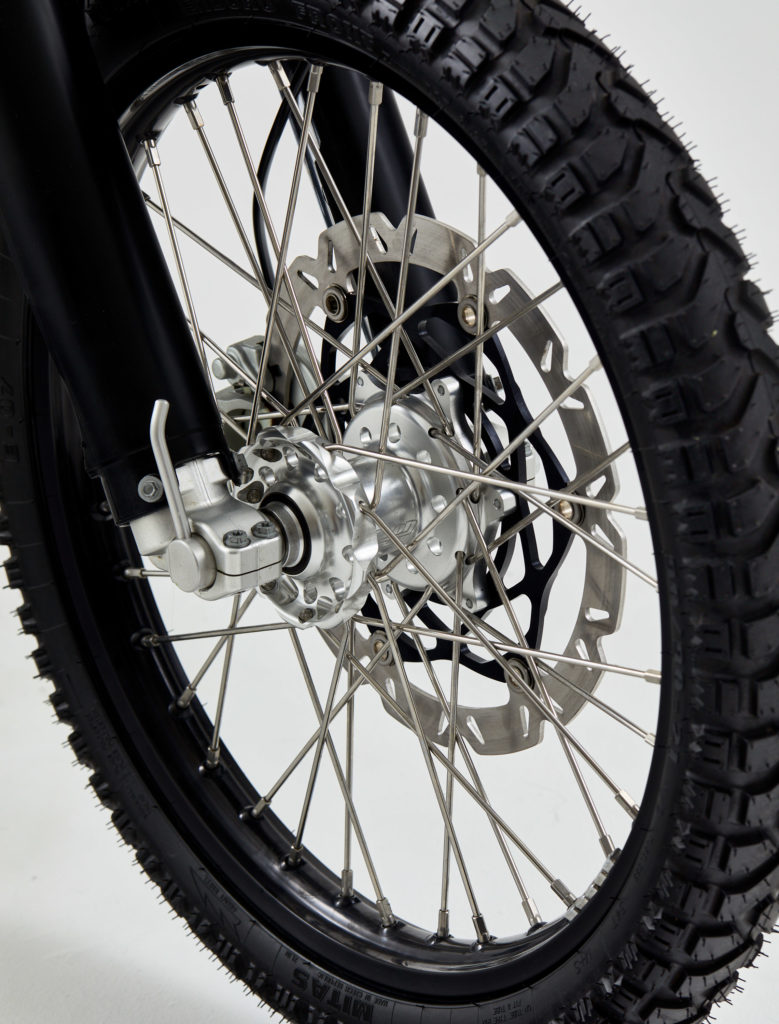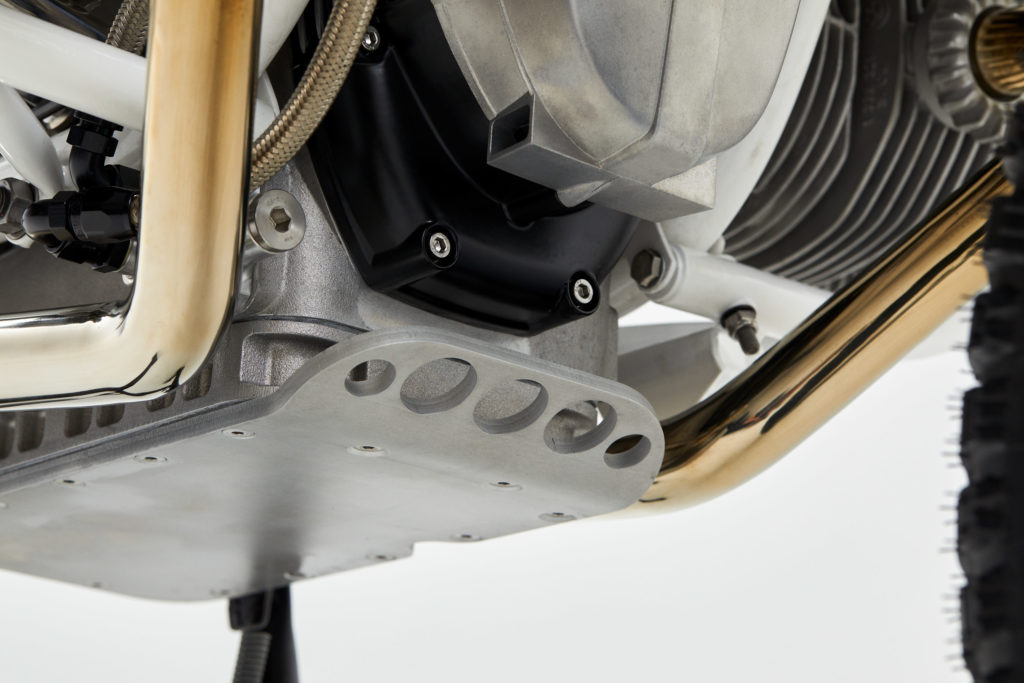 Long traveller or long travel?
Building the perfect overlander is not an easy process. Every part of the build needs to be well thought of, and often takes many hours before a final decision is made. First, the R80 ST got stripped to its bare bones. To improve the overall handling, the chassis needed some beefing up. 16 (!) reinforcement plates were welded in 6 different stress points on the frame. To improve front end responsiveness and increase suspension travel, the stock forks were replaced with a set of WP open chamber forks, now delivering a proper 250mm of travel. At the rear, a custom made Wilders shock was added to increase the rear wheel travel by 50%. The rear swing-arm has been extended with 100mm. All of which improves handling and stability at both low and high speeds.
Takasago rims on Talon hubs in the front and rear are held together by heavy-duty stainless-steel spokes. Interesting detail is that the rear wheel has a slight offset, allowing for a wider section rear tire. A Brembo 4-pot front calliper and a 320mm front brake disc give this BMW some modern stopping power.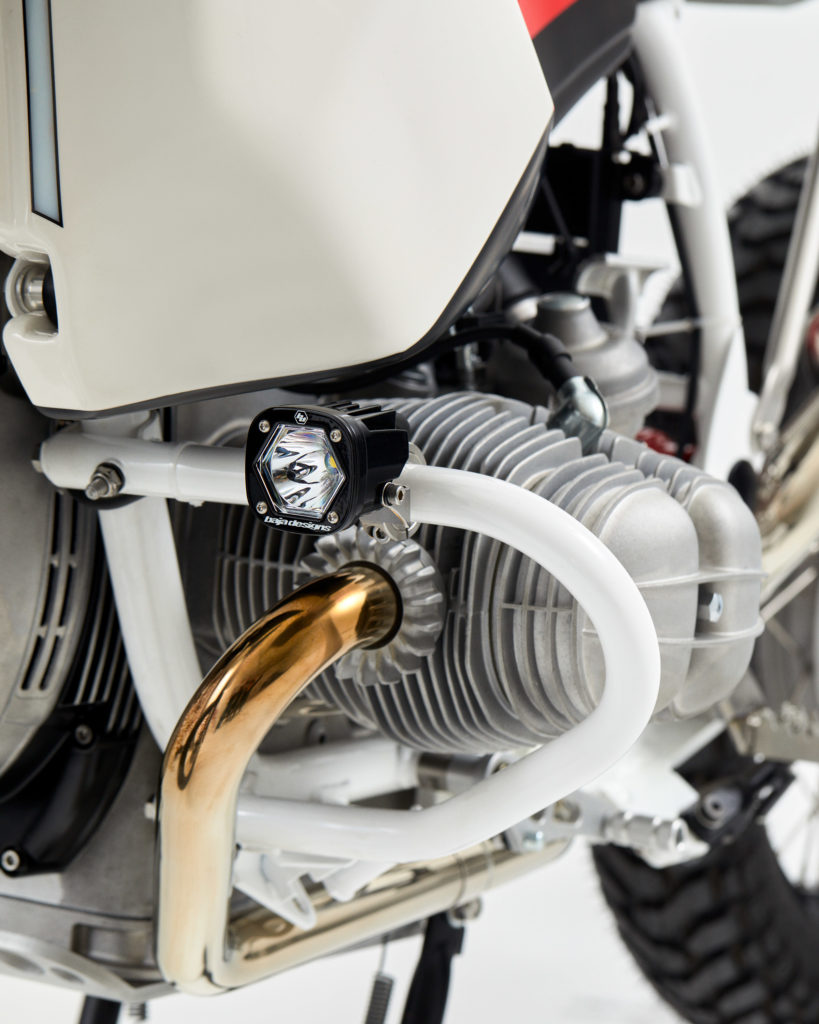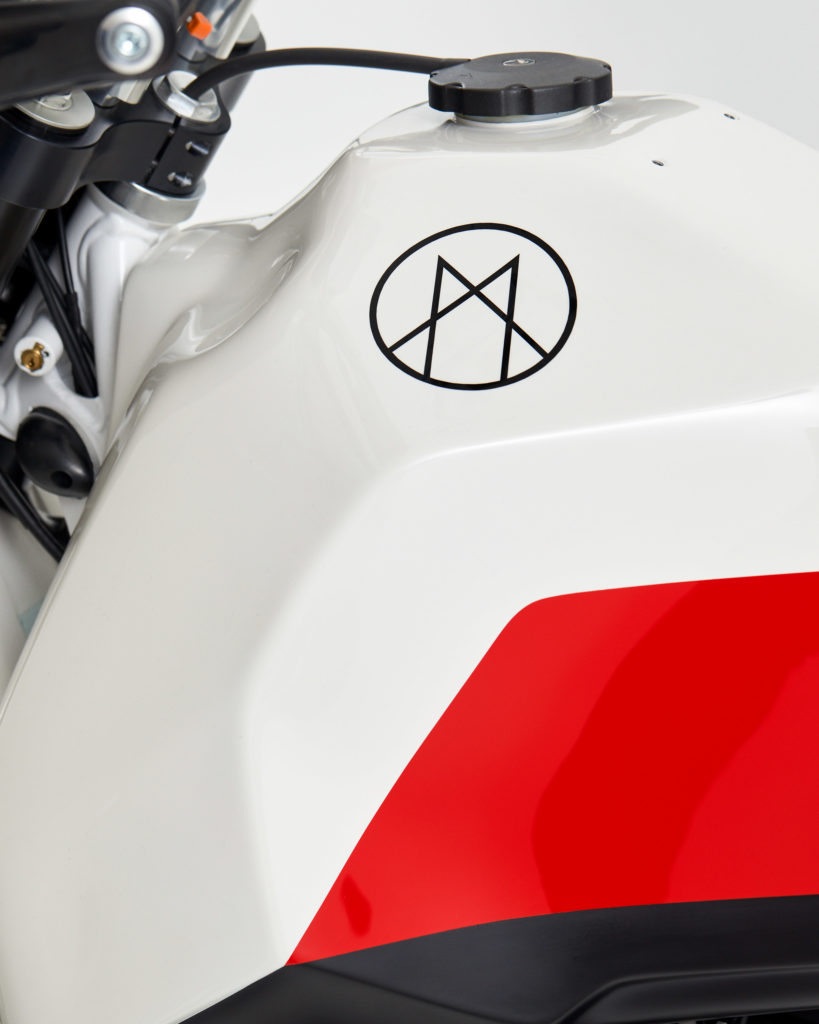 No replacement for displacement
1001cc. That's how much volune the boxer engine now measures. The cylinders were bored out to fit high compression 95mm pistons from Moorespeed. The crankshaft, rods, piston, and flywheel assembly were all dynamically balanced together for a smooth and responsive feel. This engine now pulls a healthy 72hp at the rear wheel.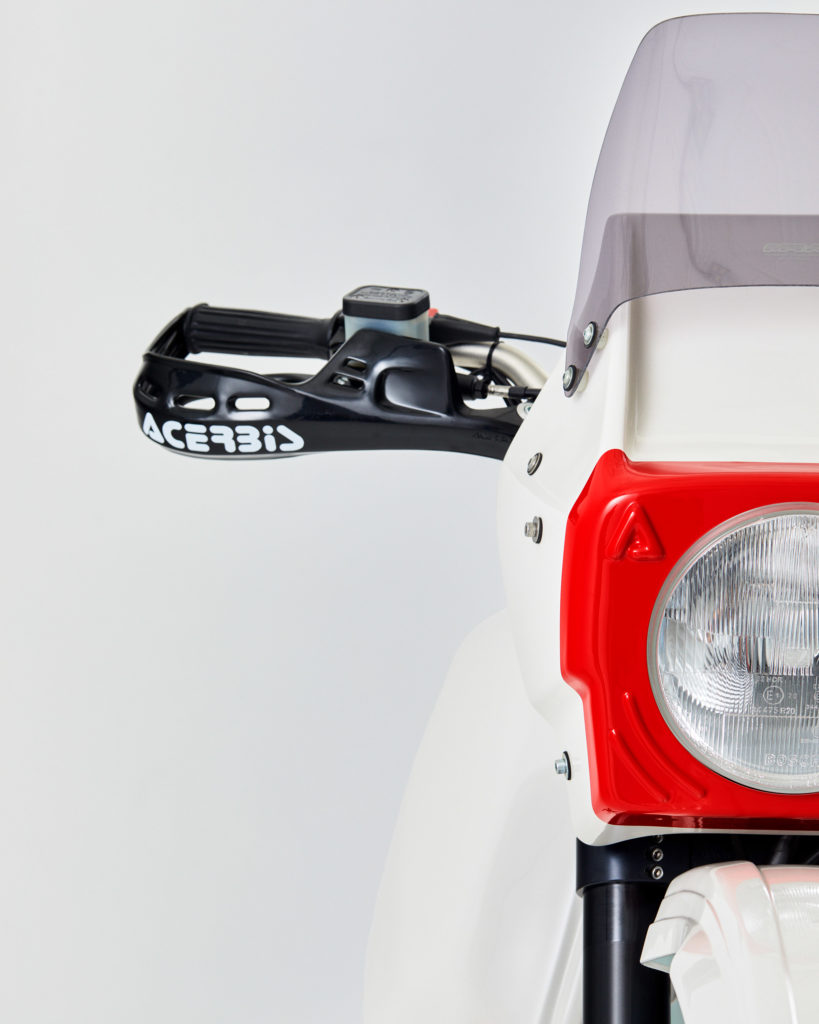 The displacement and flow increase, required larger carbs. Since this is ultimately a touring bike that will have to cruise at both 20 and 80mph, Matias decided to go with classic 40mm Bing units instead of more aggressive options. Bings are consistent, fuel-efficient, and easy to maintain.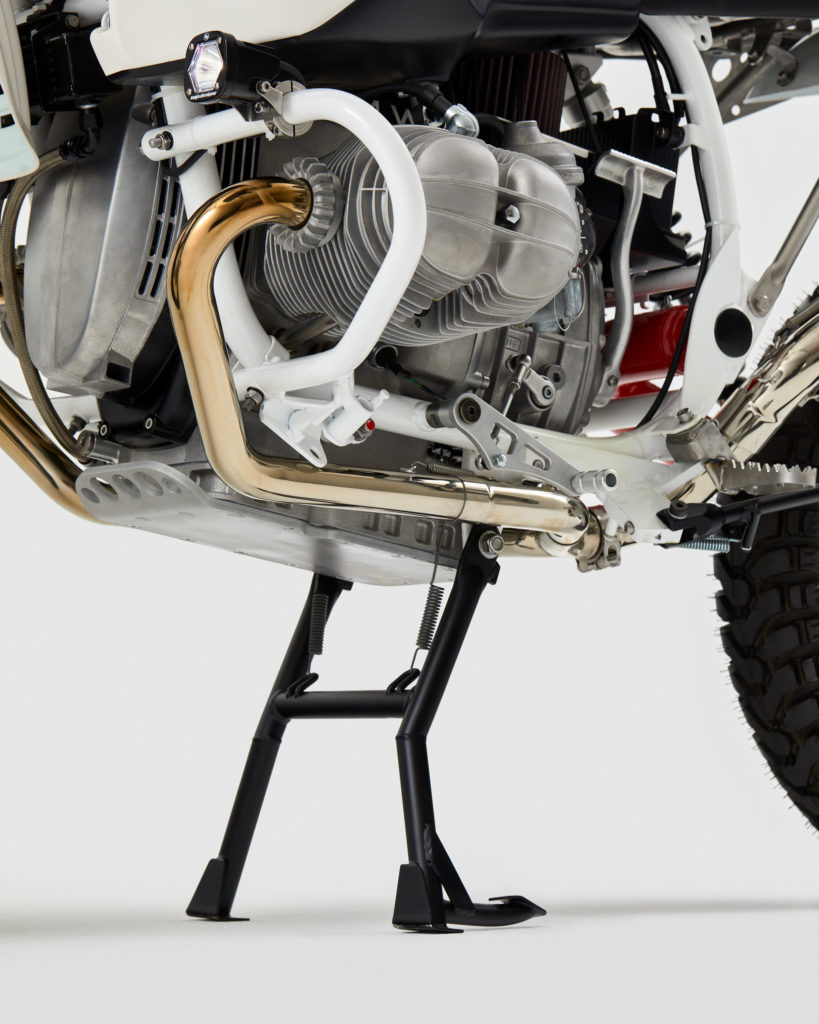 To improve the gas flow, the heads were ported, an open air filter were added, and a new Siebenrock exhaust was placed.  The new exhaust system helped get rid of the collector box, and simplified the removal and installation of the whole system on the road. The weight reduction of 11 lbs was an added bonus. With travelling across Africa in mind, Matias thought of a way to deal with poor fuel quality. The ignition was upgraded to a dual curve ignition. This can be switched from the dash to retard the timing and avoid pinging with poor quality fuel.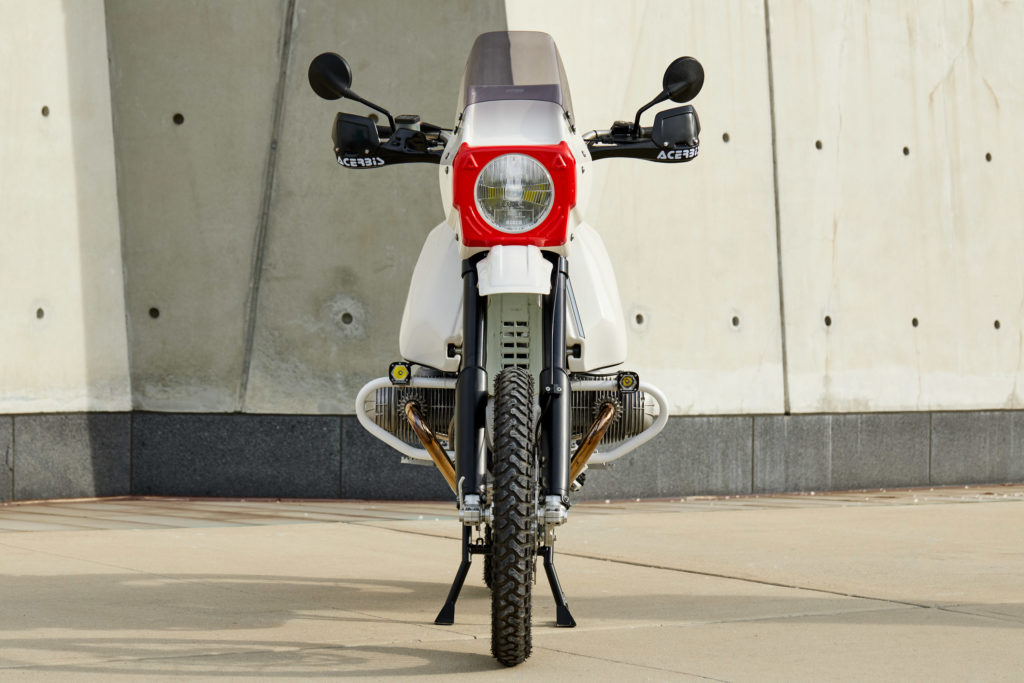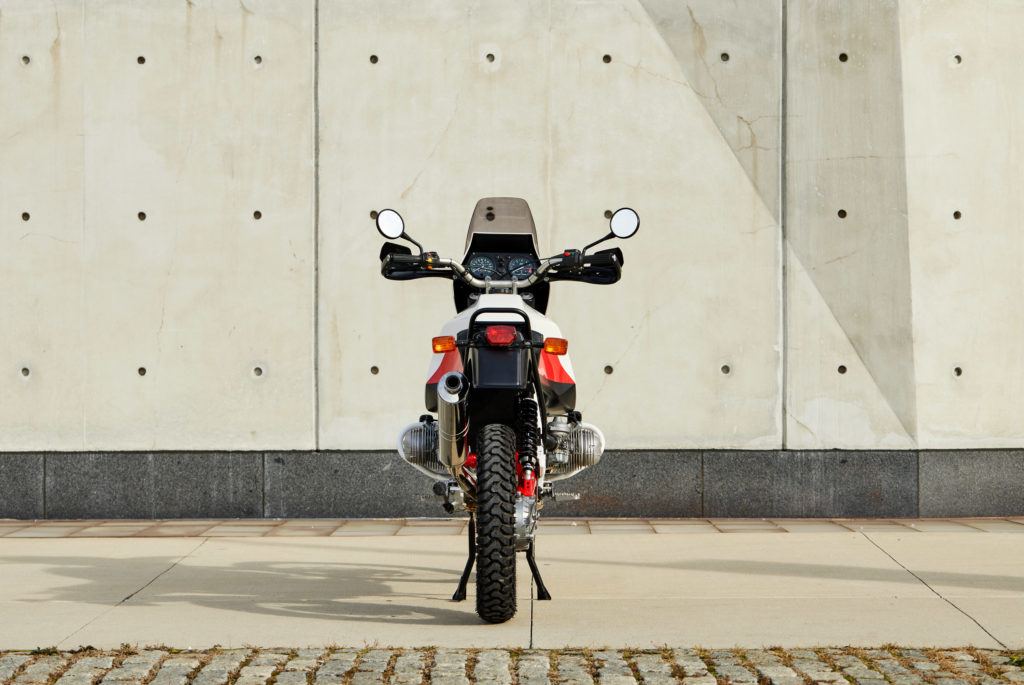 DAKAR vibe
Looking at the pictures Matias sent us, we can't help but notice the aesthetics of this BMW. First, there is that magnificent HPN 43 litre (11.3 gallon) nylon fuel tank, which was painted by the same people that paint Walt Siegl's bikes. A nice detail is a small strip that was left unpainted at the front, to act a as a visual aid to check the fuel level. The rear fender also comes from HPN, but uses stock BMW taillight and indicators. Matias left the dash pretty essential. He wanted it to be easy to read and operate, with gloves on. It's housed in a HPN Acerbis Cockpit with the stock ST gauges. Matias also added a dual-port marine USB hub, a hazard light switch, and a switch for the second curve on the ignition were added.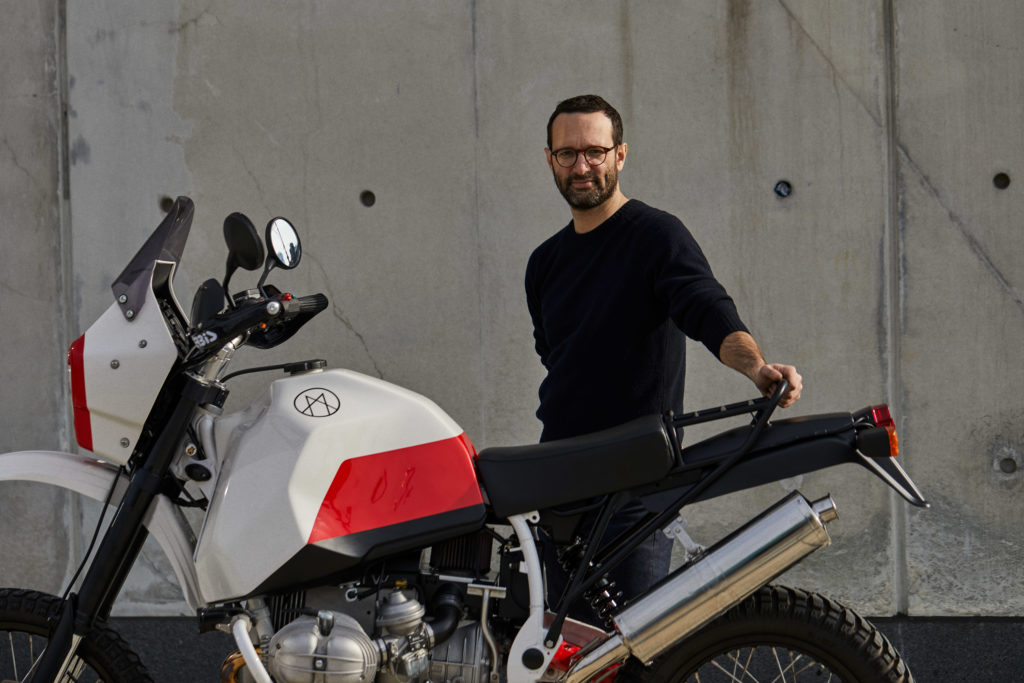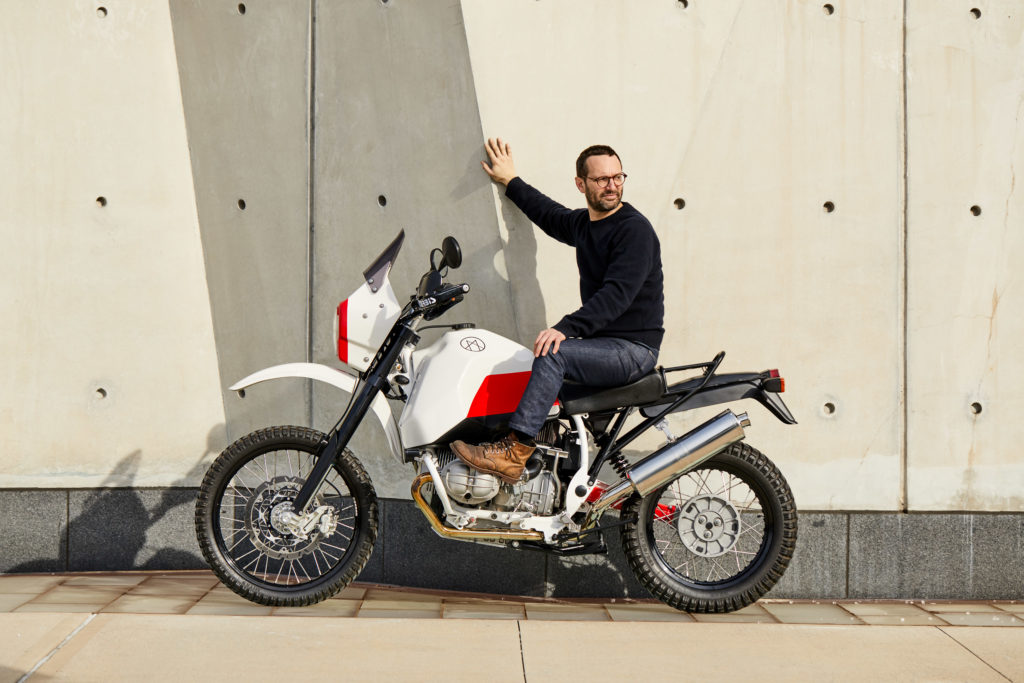 More to come…
With the completion of this build, a new era has started for Matias Corea. The responses to this BMW "Myth 001" were overwhelming, leading Matias to start a new company: Myth Motors. Customers can now order their own custom-built BMW "Myth" motorcycle, built to their needs. Something tells us that we will see a lot more from the Myth Motors workshop in the near future!
Photo Credits: Ryan Handt
Builder details:
Myth Motors
Website
Instagram
Facebook
YouTube
Share This Story, Choose Your Platform!
Tags