Flat Track racing may not be that well-known here in Europe, but it is certainly one of the most fun, and – importantly – most accessible forms of motorcycle racing out there. So, when Royal Enfield invited me to try it out, I was quick to accept and showed up for my day of training at the Flat Track in Noordeloos (South Holland).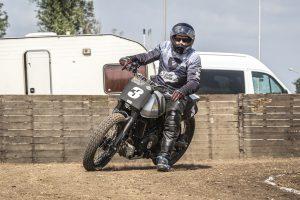 Royal Enfield already has started these so-called Slide Schools in India, Thailand, the USA, the UK, and Italy. Now Royal Enfield Europe is also launching this in the Benelux, under the name of "Flat Track Academy powered by Royal Enfield"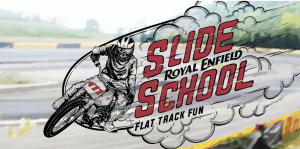 What these Slide Schools have in common is that the riding is done on flat-track prepared Royal Enfield Himalayan 411cc motorcycles… What does that mean? Well, these bikes are stripped down versions of stock motorcycles – no mudguards for instance, but what jumps out immediately is that there is no front brake!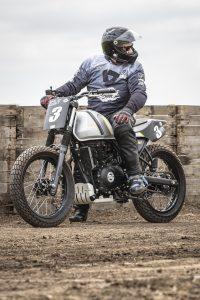 The other thing with flat track riding that really pulls you out of your comfort zone – as a more or less experienced motorcyclist – is the steel shoe you get to put on your left foot. Put on your gear, strap on the steel shoe and on to the track! An oval track, dirt or gravel with short straights and a 180-degree left hand corner at both ends, it's that simple.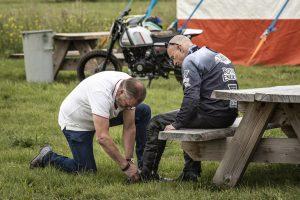 But that does not mean Flat Track is easy though! You have to forget a lot of stuff – like having a front brake… There is none so the only way to slow down is the engine and the rear brake.  And then putting your left leg out to slide on the metal also takes some time to get used to! The idea is to hit top speeds on the straight of the oval before leaning over, sticking your left leg out and sliding into the corner to make the 180-degree turn, and then race back down the other straightaway. That slide into the corner is really what makes Flat Track very different from any other kind of racing I have done….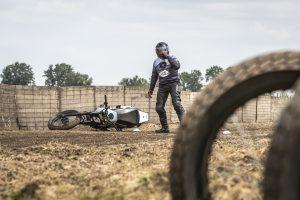 Maikel Dijkstra, our fully licensed motorsport trainer and international Flat Track racer, started us out with trying to make really small ovals, to get a feel for sliding with your left foot out, as your main cornering technique. Then on to practice runs on the whole track with some cones laid out to get to the optimal lines. Maikel showed us the basic techniques that will allow you to get around the track, but there are more – harder – ways to round that oval track much faster… Flat Track as it turns out is a sport that is easy to ride, but hard to master!
Anyway, by the end of just a couple of hours we got to do some real laps, even a quick race or two, and that really was a whole lot of fun!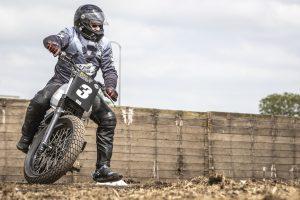 Flat Track racing is one of the fastest growing motorsports, and Royal Enfield and the Flat Track Academy are obviously keen to have many more folks getting into it… To celebrate the launch of the Flat Track Slide School in the Benelux, they are giving our readers a chance to win one of these courses!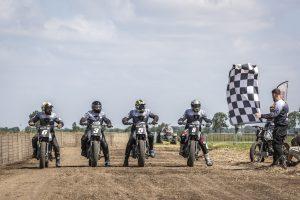 So, do you want to win a Slide School course, worth €190,-, given by the Flat Track Academy powered by Royal EnfieldBenelux?
The Flat Track Academy organizes these 3-to-4-hour courses at tracks in Vledderveen or Roden in the Netherlands. All you have to do is send me a note (jaco@bikebrewers.com)  telling me why you would like to win this Flat Track course… Please send in your entry by July 22 to be eligible to win! Keep in mind that the winner must be 15 or older, and you will have to bring your own motorcycle-riding gear (helmet, gloves, protective jacket/trousers and shoes over the ankle) to the course, date and place to be arranged with Maikel.
Disclaimer: By participating in this promotion, you give MotoMondo (Royal Enfield's distributor on the Benelux) permission to use your personal data. MotoMondo processes your personal data for marketing purposes and will treat your personal data confidentially.
Share This Story, Choose Your Platform!
Tags